There are lots of things to do this weekend and, if you're judicious with your timing, you just might be able to see it all. (Keep your time-travel suit at the ready, however, just in case.)
F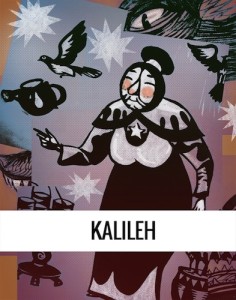 irst up is "Kalileh," a magical production by an Iranian composer and pianist who has written a piece especially for the Magic Smelt Puppet Troupe of Duluth and the Lake Superior Chamber Orchestra. The Lake Superior Youth Chorus will also perform.
Hooshyar Khayam, who lives in Iran and was commissioned to compose the work, will attend the performances at the Marshall Performing Arts Center at UMD on Thursday and Friday at 7:30 p.m.
Puppeteer Jim Ouray, who works with the Good Harbor Hill Players in Grand Marais for the winter and summer solstice pageants, is the artistic director of the Magic Smelt Puppet Troupe. To hear a snippet of the music and learn more about this remarkable collaboration, click here.
And on Friday, there's more magic to see when Hazel Belvo and Marsha Cushmore open an exhibit at the Johnson Heritage Post with new work and a new focus.
The opening reception is from 5-7 p.m.
Belvo will be showing a new series of paintings,  and Cushmore will have a number of prints based on her abstract studies of tree bark.
Both artists will also have other work on exhibit, including three Sky/Water paintings by Cushmore, and Belvo's paintings of the Zinfandel vines in Sonoma, Calif.
Immediately following the reception, wander over to Harbor Park where "troubadour" Ben Weaver will be in performance at 7 p.m.
Weaver is completing a 16-day circumnavigation of Lake Superior on his bicycle and is stopping in communities along the way to share poetry, music and stories to unify people who live on the shores of the Big Lake. The event is sponsored by Superior North Outdoor Center and the Grand Marais Music Collaborative. Everyone is invited. Weaver will stop in at WTIP's The Roadhouse around 5:20 p.m. to talk about his project.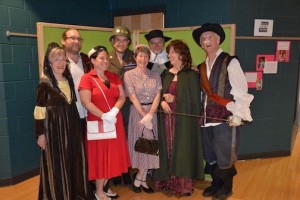 Meanwhile, up the hill aways, the Grand Marais Playhouse Summer Theater Festival continues at the Arrowhead Center for the Arts with the comedy "Moon Over Buffalo" and the musical "I Love You. You're Perfect. Now Change" in repertory through Aug. 2. "Moon Over Buffalo" will be performed at 7 p.m. Friday and 2 p.m. Sunday, "I Love You" at 7 p.m. Saturday. The reviews of both shows have been excellent. Tickets are available at the door.
On Friday and Saturday, there will be outdoor demonstrations at the Bally Blacksmith Shop from 10 a.m. to 5 p.m. All are invited to come watch and share stories.
On Saturday, the Cook County Farm & Craft Market will be held from 9 a.m. to 1 p.m. in the Senior Center parking lot. Hovland strawberries, early vegetables, flowers and plants will be featured as well as a variety of arts and crafts made by Cook County residents.
At Kah Nee Tah Gallery, photographer Nace Hagemann will be in-house from 11 a.m. to 4 p.m. to share stories about his adventures in the Northwoods looking for moose and northern lights.
Maggie Anderson will give a pottery demo at the Grand Marais Art Colony at 1 p.m., and poet Caroline Giles Banks will read from her new "Picture a Poem" at Drury Lane Books at 5 p.m.
And, there's lots going on at North House Folk School, too, including two-hour mini courses (breadbaking on Thursdays and raising a timber frame on Fridays). The craft residency this week features Allen Holzheuter demonstrating spinning in The Commons from 10 a.m. to 4 p.m., Thursday through through Saturday, and the good ship Hjordis sails daily on a two-hour cruise. Visit northhouse.org for more info.
And, if you're going to Thunder Bay on Saturday, stop off at the park near the Hoito and take in the Die Active Y-Art Sale from 11 a.m. to 4 p.m. (EDT). The event is being held in partnership with the  Valley Fresh Buskers Festival, Juy 25-26.  The Y-Art Sale features the unique works of young-blooded artists, clothing designers and crafters. Shop for original art & crafts, handmade jewelry, vintage clothing & treasures, zines, books, buttons, records and more! Plus, live music, lemonade and food vendors.
Upcoming:
Fisherman's Picnic, Grand Marais, July 30-Aug. 2
Pour at 4, Bronze pour at Last Chance Gallery, 4 p.m. Sunday, Aug. 2
Rendezvous Days and Pow-wow, Grand Portage, Aug. 7-9
Susan Frame: Sumi-e painting exhibit, Johnson Heritage Post, opens Aug. 14
The Rev. R.L. Bush and the Revived Sons, (the best gospel group on the circuit today), North Shore Music Association, ACA, Aug. 22.  The Rev. Bush was the lead singer for the Carpenter Ants, who performed here last year.
In other art news,
And last, but not least, the Chalk.a.Lot festival in Two Harbors was a great success this year, with lots of artwork on the sidewalks. Some of the artists who participated were ArtedeMoira, David Gilsvik, Lenn Soderlund, David Zinn and Lauri Olson Hohman. Her chalk art came in second. Here it is:
Alex Deters and Brian Borglum came in first with their chalk art, below.
There's lots of music this weekend. Here's the schedule:
Thursday, July 23:
Joe Paulik, Music by the Campfire, Lutsen Resort, 6 p.m.
Friday, July 24:
Portage Band, American Legion, 6 p.m.
Pete Kavanaugh, Music by the Campfire, Eagle Ridge Resort, 7 p.m.
Jim & Michele Miller, Cascade Lodge Pub, 7:30p.m.
Eric Frost, Voyageur Brewing Co., 8 p.m.
Bug Lite, Gun Flint Tavern, 9 p.m.
Joe Paulik, Bluefin Grille, 9 p.m.
Saturday, July 25:
Superior Siren, Voyageur Brewing Co. Rooftop, 3 p.m.
SplinterTones, Harbor Park, 4-7 p.m.
J Squared and the Makers, Papa Charlie's Deck, 6 p.m.
Joe Paulik, Music by the Campfire, Bluefin Bay, 7 p.m.
Jan Kallberg, Lutsen Resort, 7 p.m.
Michael Monroe, Log Cabin Concert, rural Grand Marais, 387-2919 for reservations
Pushing Chain, Gun Flint Tavern, 9 p.m.
Sunday, July 26:
The SplinterTones, Sunday Music on the Mountain, Caribou Highlands Lodge, 5-8 p.m.
Jim & Michelle Miller, Gun Flint Tavern, 6:30 p.m.
Tuesday, July 28:
Briand Morrison, The Pie Place Cafe, 6-8 p.m.
Summer has obviously arrived, and with it, photos of flowers. Here is a selection:
And here are some wonderful wildlife shots.
And here are some beautiful landscapes.
And finally, a beauty by Mary Amerman.
Have a good weekend, everyone!