Happy Winter Solstice! And Merry Christmas! Lots to celebrate this weekend!
There are lots of Winter Solstice celebrations scheduled for this week, as winter makes its official entry into our calendars. And Christmas is Tuesday!
And although it is wintery on Lake Superior (see photo, above), it's been much warmer on the shore. That "heat wave" (around 32 degrees) is scheduled to last for awhile, or at least until Christmas. so getting out for events and/or final shopping should be pretty easy.
First up this week is a great opportunity for Cook County artists to learn about grant opportunities offered by the Arrowhead Regional Arts Council.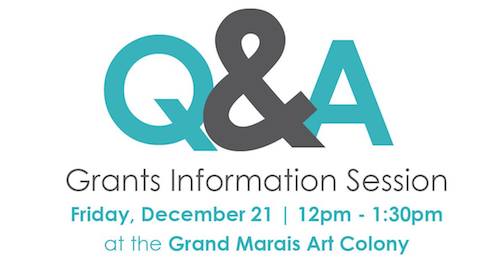 On Friday, Dec. 21, Holly Hackett-Rich, the grants manager at ARAC, will talk about its artistic grant programs at the Grand Marais Art Colony starting at noon. All artists are invited, whether they're dancers or potters or writers, or sculptors or fiber artists, printmakers, painters or poets — the grant programs are open to all.
Local artists who have recently been awarded ARAC grants include Corrie Steckelberg, Hovland; Mary Beth Garmoe, Grand Marais; Greg Mueller, Lutsen; Mike Smieja, Grand Marais; Melissa Wickwire. Grand Marais, Elizabeth Belz, Grand Marais; Briand Morrison, Grand Portage and Neil Sherman, Grand Marais.
Hackett-Rich will give a presentation and then be available for questions. This is a free lunch-time event, and participants are welcome to bring their own brown bag lunch. To learn more about ARAC, click here.
And Russell DuFresne, who's playing a Tom Petty Tribute Show at the Wunderbar on Friday night will be on WTIP's The Roadhouse to talk about his music and play a few songs. The Roadhouse airs from 5-7 p.m. on Friday nights.
Not to be missed,  the Good Harbor Hill Players will present its annual Winter Solstice Shadow Puppet Show at North House Folk School on Friday night starting at 6 p.m. This show is always a great community event, and includes live music, crazy plots, funny shadow puppets, a bonfire, a potluck and a surprise or two.  The title of this year's show? "Vexed by Beavers."
The bonfire is lit after the show and the audience is invited to toss in their "gloomies," handwritten notes about things they'd rather forget, things they want to change in the coming year, even things they are thankful for. Then everyone retires to the Blue Building for a celebratory potluck. (Please bring your own utensils.) All invited. Free.
If you're going to be in Duluth on Friday night, check out the Downtown Duluth Winter Solstice Arts Walk which features exhibits, music, glass blowing, photography, card-making, art shopping and more from 5-8 p.m. in a variety of studios and galleries downtown.
Click here to see a map of all the venues.
This is the final weekend before Christmas, and it's going to be pretty quiet in Cook County, as people make final preparations and shop for the Tuesday event.
At The Big Lake on Saturday, starting at 3 p.m., the shop will celebrate the first full moon of winter with the Cold Moon Fest. There will be refreshments, kids crafts, drawings and more starting at 3 p.m.
The Full Moon in December is traditionally called the Cold Moon.
There's lots of great live music for the rest of the week, too, see the music schedule, below.
Exhibits: 
The exhibit, "Remains of the Lake & the Northern Landscape" continues at the Johnson Heritage Post through Jan. 13. The exhibit includes beautiful black and white photographs by John Gregor detailing industrial "leftovers" in Lake Superior as well as a series of colorful landscapes by Tami Phillippi.
The Johnson Heritage Post is open from 10 am. to 4 p.m. Thursday through Saturday and from 1-4 p.m. Sunday.
Also on exhibit is the Holiday Art Underground Show at Betsy Bowen Gallery and Studios, featuring work by more than 30 local and regional artists.
The gallery is open from 11 a.m. 5 p.m. Wednesday through Saturday. After Christmas, it will be open from 11 a.m. to 5 p.m Thursday through Saturday, all through the winter.
At Tettegouche State Park, watercolor painter Dennis Murnyak is exhibiting a selection of his work in the Great Hall.
The exhibit continues through December.
The Tweed Museum of Art in Duluth continues its exhibit, "Intersections," featuring work from its collections of Native American art.
The Duluth Art Institute is exhibiting a variety of art at the Duluth City Hall through March in collaboration with the Duluth Public Arts Commission.
In Thunder Bay, this is the last weekend to see the Definitely Superior Art Gallery's exhibits, the annual juried exhibit of DefSup members as well as works by Sarah Mason.
The Thunder Bay Art Gallery has opened a group exhibition, "Lessons: The Artistry of Learning." which will be on view through March 3. The exhibit showcases works by seven artists from Thunder Bay and the region, including pieces by the late Moses Amik Beaver (1960-2017).
Upcoming:
Lots of places have scheduled New Year's Eve Parties on Dec. 31. Check out them out here. And stay tuned for details next week.
Trampled by Turtles will be at Papa Charlie's Friday, Jan. 4, to perform as part of Lutsen Mountains Ski Party Weekend, Jan.4-5. Erik Koskinen will also play on Friday night.  Details and tickets, here.
Here's a video of this exciting band.
Also coming up that weekend, the popular Gunflint Mail Run Sled Dog Race, sponsored by Trail Center Jan. 5.
A new arts organization is forming to provide networking for artists in the county. The North Shore Arts League will have its first organizational meeting at the Johnson Heritage Post from 11 a.m. to 1 p.m. on Tuesday, Jan. 8. All artists welcome.
And finally, the Winter Gathering and Dance with the SplinterTones will be held at the Hovland Town Hall Jan. 19. It is sponsored by the North Shore Music Association.
Window Shopping:
Here is just a taste of a few tidbits you will find at galleries and shops in the county this weekend.
Music:
Here's the music for the week:
Thursday, Dec. 20:
Eric Frost, North Shore Winery, 6 p.m.
Briand Morrison, Poplar River Pub, 6 p.m.
Gordon Thorne & the Wildcats– Holiday Show, Gun Flint Tavern, 7 p.m.
Friday, Dec. 21:
Matt & Laurel, Voyageur Brewing Co., 4 p.m.
A Very Petty Christmas with Free Falling, Wunderbar, 7 p.m.
Pushing Chain, Gun Flint Tavern, 8:30 p.m.
Saturday, Dec. 22:
Matt & Laurel, Wunderbar, 7 p.m.
Joe Paulik, Lutsen Resort, 7 p.m.
Mysterious Ways, Gun Flint Tavern, 8:30 p.m.
Sunday, Dec. 23:
Briand Morrison, Mogul's Grille, 10 a.m.
Open Stage with Joe Paulik, Wunderbar, 5:30 p.m.
Tuesday, Dec. 25:
Merry Christmas!
Wednesday, Dec. 26:
Apres-ski Acoustic with Boyd Blomberg, Papa Charlie's, 3:15 p.m.
Tim Fast, Gun Flint Tavern,  7 p.m.
Briand Morrison, Bluefin Bay, 8 p.m.
Photographs:
We are so lucky to have great local and regional photographers who are willing to share their work with us. Here are some of the photos we found this week:
First, wildlife:
Paul Sundberg met this momma bobcat and her kitten the other day.
Then another one showed up.
Here's a photograph that looks like it's been photoshopped, but the photographer says it wasn't… just happy chance. He was taking photos of this Snowy Owl perched on the roof of a hospital in Superior, Wis., with the moon behind it, when an airplane flew into the frame.
Frozen water:
Here's one from another Big Lake… Lake Michigan.
Rushing Water:
Curling water:
Quiet water:
Beauteous skies:
Meteor skies:
The moon as ornament:
And finally, what you do when the lakes freeze over.
Have a great weekend, everyone! And Happy Holidays!