Everything is pretty settled down on the North Shore until Earth Day on Saturday, when there is a Community beach clean-up, an Open Studio Artist Talk at the Grand Marais Art Colony, and the Art for Earth Day Gallery Hop in Duluth.
There's also an exciting new exhibit at the Johnson Heritage Post  and a great selection of live music, including the Freestyle Masters Weekend at Cascade Lodge. Here are the details.
The Freestyle Masters Weekend starts on Friday night at Cascade Lodge with Gordon Thorne, Randy Sabien and Phil Heywood. playing and talking about their music.
On Saturday, there will be music workshops all day, culminating in a concert with Phil Heywood at 7:30 p.m. Saturday night. For more information and to register for the workshops, contact Gordon Thorne at Oman-4@live.com or call 218-353-7308.
The Earth Day Community Clean Up is from 11 a.m. to 1 p.m. on Saturday and everyone is invited to come down and clean the harbor beaches for any amount of time. Meet in Harbor Park to sign up and get gloves and bags. Prizes will be awarded for the most discarded cigarettes collected, the most amount of trash collected and the team that traveled the farthest.
The are activities for kids, too. (Here's the art part) Cook County Soil and Water will hold a coloring contest, and there will be. fish print art activity, too. Then, from 1-3 p.m., Voyageur Brewing Co. will have a free cup of soup and a beverage available for all beach cleaners. At 3 p.m., Dr. John Green will give an Earth Day Talk about the Great Ice Age and our Minnesota Landscapes.
The Earth Day event will cap off with the screening of Al Gore's film, "An Inconvenient Sequel: Truth to Power" at 4:30 p.m. at the Grand Marais Public Library. Check out the trailer below:
Also on tap or Saturday,  the Grand Marais Art Colony will hold an Open Studio with Artist-in-Residence Dana de Ano, who has been working in the Founders Hall during her residency here. The talk/demonstration will be from 1-3 p.m.
The Chicago-based artist will discuss the work she has done while here as well as her Town and Country series of paired and single landscape drawings. All invited. Free.
In Duluth, the Art for Earth Day Gallery Hop will feature new work in a number of galleries in Duluth, including painting, pottery, photography, fiber art and more as well as hands-on activities and demonstrations. Here are just a few examples of what you can see:
For a complete listing of all participating galleries and a map, click here.
Here in Grand Marais, the North Shore Artists League exhibit continues at the Johnson Heritage Post, featuring a wonderful variety of artwork by members of the newly formed organization.
Also, an exhibit of George Morrison's poster art is on exhibit at the North Shore Winery in Lutsen as well as the Cedar Coffee Company in Two Harbors.
WTIP Community Radio has posted a fascinating interview about George Morrison's life and work entitled "Closing the Circle: Artist George Morrison." The radio feature was produced by the Cook County Historical Society in  collaboration with WTIP and the Minnesota Arts and Cultural Fund. Check out the interview here.
And, at the Tweed Museum of Art, "Intersections," works by Native American artists, continues.
In Thunder Bay, the Thunder Bay Art Gallery is featuring three new exhibits: the Dennis Franklin Cromarty High School Student Exhibition, Fragile, featuring the work of six contemporary Francophone artists, who explore the concept and experience of their Francophone heritage in relation to family identity in Ontario, and #nofilterneeded, which highlights a significant moment in Indigenous art history – the foundation of the Native Indian/Inuit Photographers' Association (NIIPA).They felt that, for far too long, Indigenous peoples had been portrayed through someone else's lens, and that it was time they took control of the image in order to contest and demystify stereotypical representations of Indigenous peoples.
 Upcoming:
The Grand Marais Art Colony's Member Show and Sale opens with a reception from 5-7 p.m. on Friday, April 26. The show will continue in the Founders Hall through May 5 and features a wide variety of artwork from member artists.
Members are invited to join in for a special appreciation event with artist and Grand Marais native, Josie Lewis. Lewis will lead participants through a process of "painting" their own cards by dipping them into floating ink. Non-members are also welcomed to participate for only $10 per person.
The annual meeting of the Art Colony will be held at 4 p.m. At the reception, Sheila Smith, director of the Minnesota Citizens for the Arts, will talk about the 19th anniversary of the Legacy Amendment and what arts advocacy means in Minnesota.
Food as Art: Food writer Joy Summers will give a presentation at Cook County Higher Education from 11:30 – 1p.m. on Monday, April 29. The title of her presentation is:"Escoffier to James Beard; Julia Child to Anthony Bourdain: The Modern State of Cooking." She will talk about he rise of food as art, hospitality as entertainment through the advent of the celebrity chef and what the future looks for the culinary world. Tickets are $30. A light lunch is included. Scholarships are available. For more information, see www.highed@northshorecampus.org or call 2180387-3411 to register.
Of Interest:
 Have you read that Duluth (and the North Shore) and Buffalo, N.Y are being touted as the places to be to escape global warming? Check out the video below.
The Arrowhead Regional Arts Council has a number of programs and grants for artists in the Arrowhead Region. Click on the link below for more information.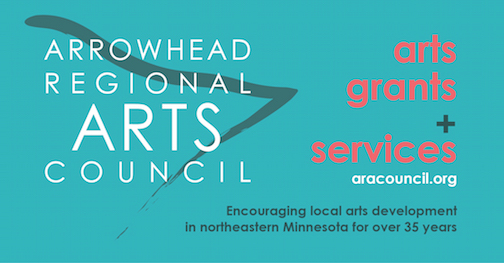 Music:
Here's the music schedule for this week:
Thursday, April 18:
Roxann Berglund, North Shore Winery, 6 p.m.
Briand Morrison, Poplar River Pub, 6 p.m.
Gordon Thorne and Chris Gillis, Gun Flint Tavern, 7 p.m.
Friday, April 19:
Rod & Caribou, Voyageur Brewing, 4 p.m.
Fingerstyle Masters Weekend, Cascade Lodge Pub, Gordon Thorne, Phil Heywood and Randy Sabien, 6 p.m.
Saturday, April 20:
Soul Shack, Wunderbar, 7 p.m.
Fingerstyle Masters Weekend, Cascade Lodge, Phil Heywood, Randy Sabien, Gordon Thorne, 7:30 p.m.
Cook County's Most Wanted, Grandma Ray's, 8 p.m.
Hobo Nephews of Uncle Frank, Gun Flint Tavern, 8 p.m.
Timmy Haus, Papa Charlie's, 9:30 p.m.
Sunday, April 21:
Briand Morrison, Mogul's Grille, 10 a.m.
Open Stage with Joe Paulik and Pat Flack, Wunderbar, 6 p.m.
Boyd Blomberg, Gun Flint Tavern, 7 p.m.
Tuesday, April 22:
Jim Miller, Poplar River Pub, 6 p.m.
Wednesday, April 23:
Jam Session, Gun Flint Tavern, 7 p.m.
Photographs:
This week is the week to see lots of storm shots, as photographers got out in that nasty nor'easter and took lot of great photos. First, though, lets look at the wildlife shots we found this week:
Not photographed here, but an interesting wildlife shot nevertheless.
Here's a lovely photograph of a wave by Christian Dalbec. A metal print of the work can be found at Sivertson Gallery.
And now, for some storm photographs.
Brian Peterson took a video of these waves crashing on shore. Click here to see.
And then, the storm was over.
But we did find some documentation of the frustration some felt over the never-ending winter.
Enjoy your weekend, everyone!
FYI: Help support this blog and keep it alive and healthy by donating today. Click on the icon below for more info.