Grand Marais will be jumping this weekend. The Memorial Day Weekend has always been the kick-off for the summer season in this small North Shore community, but this year, they've pulled out all the stops.
The Art Along the Lake: Spring Gallery Tour starts on Thursday and continues through Monday, and features everything from gallery openings. demonstrations, artist talks and hands-on activities in many media and at many venues.
Click here for the complete schedule.
First off, on Thursday, May 23, there will be stone drilling demonstrations at Yellow Bird Fine Art all day, starting at 10 a.m. The gallery will hold a variety of demonstrations over the weekend, too, including oil painting demonstrations starting at noon on Friday and Saturday. There will also be jewelry making demonstrations and more.
The gallery has a number of new artists exhibiting this year, including Scott Murphy, a Duluth artist who works primarily in realistic surrealism. It's always fascinating work.
Yellowbird Fine Art will hold the Season's Opening Reception from 4-6 p.m. on Friday. All invited.
The Big Lake, just down the street from Yellow Bird Fine Art, will feature a number of demonstrations over the weekend, including a a sustainable clothing pop-up starting at 11 a.m. on Friday. Anna Hess will give a painting demonstration starting at 11 a.m on Saturday, and Sunday.
Betsy Bowen will be demonstrating woodblock printmaking at her studio all weekend. The studio gallery features a number of local and regional artists, including new batik work by Nedra Nichols.
Sivertson Gallery in downtown Grand Marais will also feature new work, including photographs by Christian Dalbec, a new artist in the gallery.
And Greg Lecker, a plein air painter whose work is on exhibit at the Johnson Heritage Post, will be giving live plein air demonstrations throughout the weekend, as well as giving an artist talk at a reception at 2 p.m. on Sunday.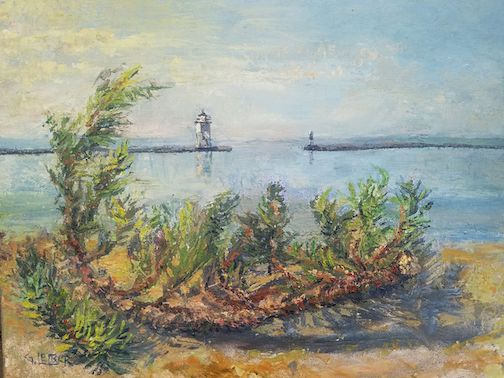 "Forever Drifting," by Greg Lecker. He did this painting in Grand Marais recently.
And Joy & Company is featuring a chance to explore art with a wide variety of art supplies at the shop over the weekend. All invited. Free.
In rural Grand Marais, on County Road 44, the Art of the Elements gallery will be exhibiting work by a number of local and regional artists as well as holding a number of  demonstrations over the weekend, including a stained glass demonstration at 10 a.m. on Friday, a Shou Sugi Ban, the Japanese Art of Charred Cider, demo with Paul Bondhus at  1-3 p.m., and a forging iron demonstration with Steve Frykman on Saturday. Artists featured at the gallery include Hazel Belvo, Marsha Cushmore, Martye Allen, Natalie Sobanja, Brittany Foster, Barbara MeierHusby, Dorothea Diver, Paul Bondhus, Kirsten Ross, Laurie Toth, Sharon & Steve Frykman.
Also this weekend, potter Lenore Lampi will have a Studio Clearance Sale this weekend at Mile Marker 92 on Highway 61 in Lutsen.
She will be there with a wide variety of pottery Friday through Sunday.
A new gallery and jewelry shop that has opened in Lutsen will have a Grand Opening on Friday from 10 a.m. to 5 p.m. Jeweler of the North Shore & JNS Gallery features a wide selection of handmade jewelry as well as work by local artists. There will be metal piercing demonstrations on Friday and Saturday.
Also, the Cross River Heritage Center will open for the season on Friday, May 23. The Heritage Center will be open from 10 a.m. to 4:30 p.m. The special exhibit this year is "Electrifying Cook County" and features displays, photographs and story boards telling how electricity was brought to the North Shore. It starts with home generators and takes you through decades of innovation, driven by the imagination and ambition of local entrepreneurs. The center also features on-going displays as well as work by local artists.
Up the Gunflint Trail, the Chik-Wauk Museum and Nature Center opens for the season on Saturday.
This year's exhibit tells the story of Tommy Banks and Billy Needhamn. Banks, a bootlegger  Banks, a bootlegger and gangster from Minneapolis was active during the days of prohibition. Needham lived on Bearskin and Hungry Jack Lake and became known for his diamond willow lodge furniture and hand drawn maps.The two men became friends on the shores of Hungry Jack Lake. The exhibit features newspaper articles, photographs and artifacts from the Banks' life and his cabin caretake, Needham.
There's lots more happening in Grand Marais this weekend, too.
At 1 p.m. Friday, the Grand Marais Art Colony will hold "Paint-A-Tile," a workshop that offers participants the chance to paint tiles using colorful glazes and have them fired in time for Sunday pick-up.
The cost of the workshop is $25. To register, call 387-2737 or email info@grandmaraisartcolony.com
On Friday night Rich Mattson and the Northstars. who are performing this weekend, will talk about their music and play a few songs on WTIP The Roadhouse. The Roadhouse airs from 5-7 p.m.
And the Cook County Market opens for the season in the Senior Center Parking lot on Saturday.
The market features a number of new vendors as well as old favorites and will be held from 9 am. to 1 p.m. All invited.
On Saturday, the Grand Marais Art Colony will host two Make-A-Bowl for the Empty Bowl Fundraiser sessions in the clay studio. They will be held at 11 a.m. and at 1 p.m. In each session, participants will learn to throw a bowl and handbuild a bowl, which will be donated to the EmptyBowls fundraiser next fall. To register and for more information, call 387-2737 or info@grandmaraisartcolony.org.
On Saturday night, a special concert celebrating the role of horns in the history of jazz, entitled "Sky Blue with Horns," will be performed aat the Bethlehem Lutheran Church at 7 p.m.
The concert, sponsored by the North Shore Music Association, will feature trumpet soloist Tom Pfotenhauer (veteran jazz teacher, UMD Dept. of Music & Jazz Studies Program), backed by local players Eric Anderson on trombone, Erik Hahn on sax and flute, and the Sky Blue Jazz Ensemble led by Mike DeBevec.
The talents of these remarkable musicians will be showcased in self-composed horn arrangements and original compositions by Pfotenhauer and DeBevec, as well as favorite jazz standards and jazz/pop fusion tunes (Chicago, Blood, Sweat and Tears, Chuck Mangione), with six vocalists rounding out the ensemble.
Tickets are $15 for adults, and $5 for youth ages 18 and under) will be sold at the event only, starting one-half hour before show time.
And on Sunday, the Art Colony will host Community Ink: Screenprinting in the Art Colony's print studio. Participants can screen print their own T-shirt, tote or apron with their choice of ink and one of several Art Colony designs. The drop-in fee is $20. The event will be held from 1″30-3:30 p.m. All invited.
Also on Sunday, the Lake Superior Trading Post will host Cary J Griffith, author of "Gunflint Burning: Fire in the Boundary Waters" at a booksigning at the store at 2 p.m. Sunday. All invited.
And on Monday, Betsy Bowen will continue her woodblock printing demonstrations at her studio gallery from 2-4 p.m. All invited.
If you're going to be in Duluth on Sunday, we have to recommend that you show up at the Amazing Grace Cafe in Canal Park to watch and listen to the 23rd annual Battle of the Jug Bands.
The music will be from 1-6 p.m. and there's no telling how many bands will show up. It's always a great time.
In Duluth, "Intersections," the Tweed Museum of Art's exhibit featuring works by Native American artists in their collection, continues.
Upcoming:
The Findings Jewelry Symposium will be held at the Grand Marais Art Colony June 11-15 and features workshops, artist talks, presentations and a group Trunk Show, which is open to the public.
Findings is a biennial event hosted in partnership with the Minnesota Jewelry Arts Guild. Classes and sessions are open to anyone with an interest in the jewelry arts and are geared toward all levels.
Not interested in taking a class but love jewelry? Come to the Saturday evening group trunk show to check out the work and wear something home! The Trunk Show is from 5-7 p.m. on Saturday, June 15. For more info, click here and/or call 218-387-2737.
And, last, but not least, the Arrowhead Regional Arts Council offers a wide variety of services to artists and arts organizations, including workshops and grants. For more info, click on the image below.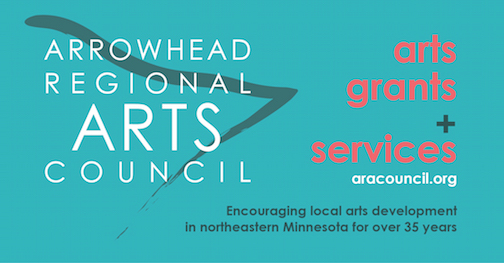 Music:
Here's the music for the week:
Thursday May 23;
Live Music at Mogul's, 4 p.m.
Briand Morrison, Poplar River Pub, 6 p.m.
Gordon Thorne, North Shore Winery, 6 p.m.
Joe Paulik, Gun Flint Tavern, 6 p.m.
Friday, May 24:
Timmy Haus, Voyageur Brewing Co., 4 p.m.
Portage, Grandma Ray's, 6 p.m.
Rox 'n' Soul, Wunderear, 7 p.m.
Joe Paulik, Lutsen Resort, 7 p.m.
Rich Mattson & The Northstars, Gun Flint Tavern, 8 p.m.
The Fish Heads, Grandma Ray's, 8:30 p.m.
Saturday, May 25:
Matt & Laurel, Voyageur Brewing Co., 11 a.m.
Brothers in Arms,  Voyageur Brewing, 2 p.m.
Brothers in Arms, Wunderbar at 7 p.m.
Micheal Monroe, Log Cabin Concert, 7 p.m., rural Grand Marais, www.michaelmonroemusic.com
Sky Blue With Horns, 7 p.m., Bethlehem Lutheran Church
Tommy Wotruba, Skyport Lodge, 7 p.m.
Rich Mattson & The Northstars, Gun Flint Tavern, 8 p.m.
DJ Beavstar, Papa Charlie's, 9:30 p.m.
Sunday, May 26:
Briand Morrison, Mogul's Grille, 10 a.m.
Open Stage with Joe Paulik and Pat Flack, Wunderbar, 6 p.m.
Tuesday, May 28:
Jim & Michele Miller, Poplar River Pub, 6 p.m.
Wednesday, May 29:
Briand Morrison, Bluefin Grille, 9 p.m.
Here is a selection of photos we found this week. First, colors for a dreary day.
And now, wildlife and wild plants.
Wild waves:
Wild sky:
And a waterfall …
And then, calm …
And calmer …
And calmest:
Have a great weekend, everyone!