There are a whole potpourri of events happening this weekend and into next week, as we prepare for the 4th of July.
First up is the launch of North House Folk School's mini courses that will be held throughout the summer: The Try-It series, which offers mini skills-learning workshops on Thursdays and Fridays through August.
On Thursdays, North House will hold Wood-fired Bread mini courses where students will learn about baking bread in a wood-fired oven.
There are two sessions per day, from 1-3 p.m. and from 4:30-6 p.m. Cost is $20 per session or $30 for adult and child. Limited to 8 participants for each session, which run through August. For more info and to register, call North House at 387-9762.
And the Local Food Market will be held in the parking lot of the Cook County Community Center from 4:30-6 p.m. on Thursdays, featuring vegetables in season, wood-fired artisan breads, fresh flowers and fresh eggs.
North House Folk School is holding Timber Frame mini courses on Friday mornings from at 10 a.m. to noon through the month of August.
Students will learn about timber framing tools and joinery, and put up a timber frame and then take it apart. For info and to register, call 387-9762 or click here.
Hands-on opportunities continue on Friday with a Paint-A-Tile workshop at the Grand Marais Art Colony from 1-2:30 p.m.. Participants will learn about Majolica glazing techniques and then decorate two tiles with their own designs. The tiles will be fired and ready for pick-up on Sunday, June 30. To register, call the Art Colony at 387-2737. Cost is $25.
And Joy & Co. will hold Try-Days on Friday from 4-7 p.m. where the public is invited to come into the shop and make are from their wide selection of art supplies. Free.
On WTIP's The Roadhouse on Friday night, Nate Cannon, the trans activist, trainer and author who will be speaking at the Grand Marais Library on Saturday, will talk about his work. Also on the Roadhouse, bluesman Randy Casey, who will be performing at the Wunderbar this weekend, will be on the show to talk about his music and play a few tunes. The Roadhouse airs from 5-7 p.m.
If you're going to be in Duluth on Friday evening, head downtown for the Downtown Duluth Arts Walk from 5-8 p.m. This is the First anniversary celebration of the event, which has been held on the last Friday of the month in galleries and a variety of venues in Downtown Duluth from 5-8 p.m. It's always full of new discoveries.
Of particular interest: An opening at the Joseph Nease Gallery, 23 W. 1st St. Artist Matthew Kluber will open his exhibit, "I'm in Love," featuring new and recent work, featuring three large-scale paintings with computer projections.
The opening will be from 5-8 p.m. All invited.
Saturday opens with the start of the Lutsen 99er, an ultra-marathon mountain bike race, catering to bikers of all ages and abilities. The race is sold out, but observers are welcome. It starts at 8 a.m. at Lutsen Mountains.
Then, at 9 a.m., the Cook County Market opens in the Senior Center parking lot in downtown Grand Marais, featuring a variety of work by local artists and artisans.
Look for woodwork, fiber art, pottery, handmade jewelry and more. Snacks and live music are often on-site, too.
Also on Saturday, fiber artist Cheryl Larsen will teach a mini-course on making a decorative needle case at North House Folk School starting at 10 a.m. Participants can assemble a small cloth needle case used for storing sewing needles. The process will include decorating the front of the needle case from a choice of different kinds of embellishment techniques, then sewing the front and back pieces together. Ties and a button can also be added for a closure. Children older than 8, accompanied by an adult, are welcome. The materials fee is $8.
On Saturday night, author Sheila O'Connor will read from and discuss her new middle-grade novel, "Until Tomorrow Mr. Marsworth" at Drury Lane Books starting at 7 p.m.
 O'Connor is a professor at Hamline University in the Creative Writing Programs where she serves as Fiction Editor for Water~Stone Review. Her books have won numerous awards. All invited. Free.
In Duluth, the Park Point Art Fair begins on Park Point at 10 a.m. on Saturday. The event, which features 120 juried visual artists, a food court and live music, is always a great experience.
The booths are open from 10 a.m. to 5 p.m. on Saturday and Sunday and feature clay, fiber, glass, painting, printmaking photography, jewelry, woodwork and sculpture. Free.
On Sunday, David R. Hakensen, author of "A Paradise Lost: Helen Hoover and Gunflint Lake" will give a presentation at Chik-Wauk Museum and Nature Center at 2 p.m.
On Wednesday, July 3, 9ainter
Kat Corrigan
will give an
Artist Talk
at Cook County Higher Education at 7 p.m. The event is sponsored by the
Grand Marais Art Colony
.
  In this talk, Corrigan will introduce you to some of her favorite and influential artists who use similar techniques of painting. This event is co-hosted with Cook County Higher Education and is free and open to all.
And, since July 4 is just around the corner, here's what you can expect next Thursday:
Tofte: Look for a great small-town 4th of July celebration in Tofte. It kicks off with the Tofte Trek 10K Trail Run at 8 a.m. from the Birch Grove Community School. A little later in the morning, in "downtown" Tofte, look for live music with Cook County's Most Wanted and Joshua Schmidt, food vendors, a beer garden and a craft fair. The 4th of July Tofte Parade is the best. It starts at 1 p.m.
Grand Marais: the Bazillions play in Harbor Park, and at 10 p.m. Fireworks over the Grand Marais Harbor,
Grand Portage: Fireworks at 10 p.m. at the Grand Portage Lodge and Casino.
Exhibits:
This is the last weekend to see
Alexa Carson'
s exhibit, "Calling" featuring a stunning collection of wildlife paintings. It is at the
Johnson Heritage Post.
This week, the Heritage Post will be open from 10 a.m. to 4 p.m. Thursday through Saturday and 1-4 p.m. Sunday, It will be closed July 1-4 to mount a new exhibit by Tara Austin. The opening reception will be held from 5-7 p.m. Friday, July 5. Stay tuned.
In Duluth, the Tweed Museum of Art continues its exhibit, Asymmetry, featuring three-dimensional works for its collection.
Also in Duluth, former Grand Marais printmaker Kelly Dupre is exhibiting a collection of her linocuts in the City Hall Rotunda in Duluth. She currently resides in Duluth.
The Thunder Bay Art Gallery in Thunder Bay, has opened a new exhibit by Joane Cardinal-Schubert, an artist, activist, curator, poet, writer and mentor from Western Canada.
The exhibit continues through the summer
Upcoming:
 The Hovland Arts Festival is next week, Friday, July 5 and Saturday, July 6, at the Hovland Town Hall.
The event features work from more than 40 local artists and artisans including paintings, fiber art, photographs, pottery, woodwork, multi-media work and more. There will also be live music, and food will be available. All invited.
The following weekend, July 13 & 14, the Grand Marais Arts Festival will be held in downtown Grand Marais, featuring original work by 70 local and regional artists.
The festival will be held from 9 a.m. to 5 p.m. on Saturday, July 13 and from 10 a.m. to 4 p.m. on Sunday. The festival also includes hands-on activities, demonstrations, and the Clothesline Art Sale. To see all the events and the artists who will participate, click here. Also, the event features An Artful Evening, a fundraiser for the Art Colony that is held on Friday night in Harbor Park and features fine food and drinks, live music, an Artful Auction, and a chance to support the work of the Art Colony. To find out more and purchase tickets, click here.
And, the Arrowhead Regional Arts Council offers a wide variety of grants for artists. To find out more, click on the icon below.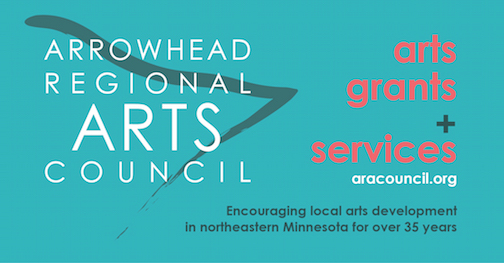 Music:
Thursday, June 27:
Terry Valdiva & Friends, Wunderbar, 5 p.m.
Gordon Thorne, North Shore Winery, 6 p.m.
Music by the Campfire, Joe Paulik, Lutsen Resort, 6:30 p.m.
Frozen Britches, Cascade Lodge, 8 p.m.
Bug Dope, Gun Flint Tavern, 8 p.m.
Friday, June 28:
North Country Fair, Voyageur Brewing Co., 4 p.m.
Randy Casey, Wunderbar, 7 p.m.
Josh Cleveland Band, Gun Flint Tavern, 8 p.m.
Saturday, June 29:
Randy Casey, Wunderbar, 5 p.m.
Gene Lafond and Amy Grillo, Cascade Lodge, 6 p.m.
Briand Morrison, Lutsen Resort, 7 p.m.
Luke Callen, Wunderbar, 7 p.m.
The Cruisers, Grandma Ray's. 8 p.m.
the 4onthefloor, Papa Charlie's, 9:30 p.m.
Sunday, June 20:
Briand Morrison, Moguls' Grille, 10 a.m.
Sunday Bluegrass, Ben Suchy, North Shore Wintery, 2 p.m.
Music by the Lake, Cookie, Skyport Lodge, 4 p.m.
Open Stage with Joe Paulik and Pat Flack, Wunderbar, 6 p.m.
Monday, July 1:
Mark Joseph & American Soul, Gun Flint Tavern, 8 p.m.
Tuesday, July 2:
Music by the Campfire, Joe Paulik, Lutsen Resort, 7 p.m.
Mark Joseph & American Soul, Gun Flint Tavern, 8 p.m.
Wednesday, July 3:
Timmy Haus, Moguls Grille, 5 p.m.
Jam Session, Gun Flint Tavern, 5 p.m.
Thursday, July 4:
Tofte 4th of July Celebration, Cook County's Most Wanted, Joshua Schmidt, noon
Jim Mller, Cascade Lodge Restaurant, 6 p.m.
Gordon Thorne & Friends, North Shore Winery, 7 p.m.
Space Monkey Mafia, Gun Flint Tavern, 8 p.m.
KutDown, Grandma Ray's, 8 p.m.
Friday, July 5:
Live Music, Hovland Arts Festival, Hovland Town Hall, 11 a.m. to 4 p.m.
Don Juan Trio, Grandma Ray's, 8 p.m.
Saturday, July 6:
Live Music, Hovland Arts Festival, Hovland Town Hall, 11 a.m. to 4 p.m.
Jim McGowan, Cascade Lodge, 6 p.m.
Log Cabin Concerts with Michael Monroe, rural Grand Marais, 7 p.m., www.michaelmonroemusic.com
We found some great photos this week. Here's a selection;
First, wildlife:
And flowers:
And moving water:
 On the way to water:
Rocks & Water:
The moon and Lake Superior:
Water reflections:
And finally, Boundary Waters:
Have a great weekend, everyone!