Celebrate the 4th in style this year and plan to go to Tofte for a full day of activities and celebrations. Then put the Hovland Arts Festival on your to-do map for the weekend as well as a note to yourself to visit all the great galleries and shops in Grand Marais. Oh, and not to forget a walk along the waterfront and a hike in the woods.
The 4th starts off with the annual Tofte Trek, which prides itself on the muddy conditions of its trails and the camaraderie of racers who participate from the entire region, including Canada. There are kids races, and a 10K Trail walk/run up the hill and along the Superior Hiking Trail, with lots of glorious mud on the way. (Note: In dry years, the organizers have been known to haul water up to the trails to make sure they were muddy.) The race starts and ends at Birch Grove Community School. Registration online or at 8 a.m. For more info about the race, click here.
Just down the road, the annual Tofte July 4th Celebration begins at 11 a.m. in downtown Tofte with live music, arts and crafts booths, fun events and food vendors. Cook County's Most Wanted with Joshua Schmidt will play. At 2 p.m., the best 4th of July parade in Cook County is held. All participants are welcome. Just come early and line-up at the start.
In the evening, look for fireworks in Tofte, Grand Marais and Grand Portage starting around 10 p.m. There's lots of live music in venues around the county as well.
Friday is a busy day in the county, too.
The 14th annual Hovland Arts Festival is this weekend, running from 10 a.m. to 4 p.m Friday, July 5 and Saturday, July 6 at the Hovland Town Hall.
More than 30 vendors will be there this year and will exhibit everything from glass to photographs, painting to pottery as well as mixed-media pieces and fiber arts, to name a few of the categories that are represented in this popular festival. The festival also features home cooked food as well as a great selection of live music on both days of the festival. Roxann Berglund & Friends, Jim McGowan and Pushing Chain play on Friday, Joe Paulik, Briand Morrison and Rod & Caribou play on Saturday. The music starts at 10 a.m.
(Note: Jim McGowan will be on WTIP's The Roadhouse on Friday night to talk about his music and play a few songs. The show airs from 5-7 p.m. He'll be on about 6:15 p.m.)
There are two art openings in the area on Friday as well.
Tara Austin's exhibit,  Boreal Ornaments II, opens at the Johnson Heritage Post with a reception from 5-7 p.m. on Friday night.
Austin is a local artist whose paintings are inspired by nordic traditions and natural patterns. She received her Master of Fine Art in Painting from the University of Wisconsin-Madison and a recently completed a rosemaling apprenticeship funded through the Wisconsin Arts Board. Her work is represented by Joseph Nease Gallery in Duluth. The exhibit continues through July 28.
The Johnson Heritage Post is closed on Tuesdays. It is open from 10 a.m. to 4 p.m. Wednesday through Saturday and Monday, and from 1-4 p.m. Sunday.
And Kat Corrigan will open an exhibit of her paintings in the Great Hall at Tettegouche State Park on Friday with a reception from 7-8:30 p.m.
Corrigan is an award-winning, Minneapolis-based artist whose work is widely collected around the world. She is committed to the concept of "A Painting A Day" and posts a daily blog of her work. She shows her work in area galleries and art fairs. The Tettegouche exhibit is a mix of whimsical deer portraits, wetland scenes and paintings of Lake Superior. To find out more about Corrigan and see her work, click here.
Saturday kicks off with the Cook County Market, which is held in the Cook County Senior Center parking lot.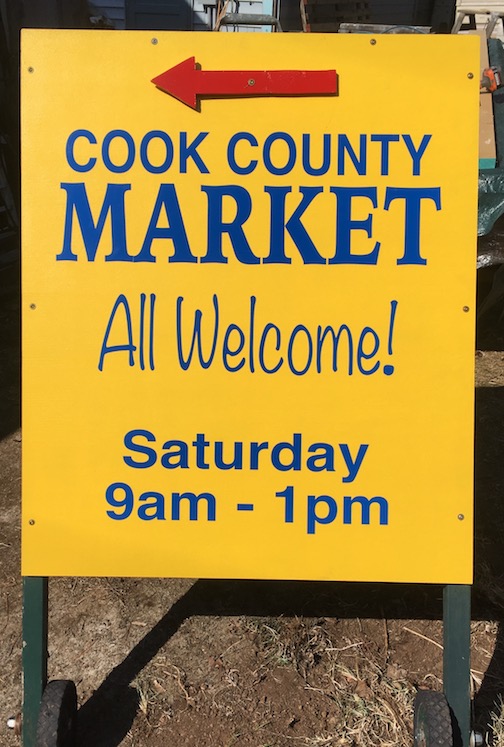 The Market features a variety of work by local artists and artisans as well as live music and snacks. The Market runs from 9 a.m. to 1 p.m.
And, not to forget, the Hovland Arts Festival continues, opening at 10 a.m. on Saturday.
For those who want to just get outdoors and explore the woods and lakes in Cook County, the local outfitters offer opportunities to get on the water. Also, there are presentations on the natural world offered daily. To find out more, check out www.visitcookcounty/events/
Drury Lane Books will hold a Writer's Salon with author Shannon Gibney at 7 p.m. on Saturday.
Gibney will read from her new young adult novel," Dream Country," a Minnesota Book Award 2019 winner. Click here to listen to an interview with her about her book and writing by WTIP's Lin Salisbury.
On Saturday night, there will be a Four Hands Piano Concert at Bethlehem Lutheran Church at 7 p.m. The concert features Elisabeth Pion, a London, England-based pianist named one of Canada's 2018 " 30 under 30 " musicians by the Canadian Broadcasting Co., and Ian Tomaz, University of Wisconsin-Madison graduate and Emerging Artist Resident at the Lunenburg Academy of Music Performance in Nova Scotia.
The pianists will present music for one piano, four hands by Franz Schubert and Sergei Rachmaninoff.
Upcoming:
The Grand Marais Arts Festival, featuring work by 70 local and regional artists, plus lots of fun hands-on activities, the Clothesline Sale, a food truck, An Artful Evening and more will be held in downtown Grand Marais Saturday, July 13 and Sunday, July 14.
This year's festival should be even bigger than last year, with lots of activities for children and adults as well as mini-classes, demonstrations and more. Here's a link to all the activities, as well as participating artists.
 Art News

The Grand Marais Art Colony announced a major expansion in downtown Grand Marais with its purchase of the former North Shore Pharmacy building.
The $500,000 development project will begin this summer and expand the nonprofit's studio and public space by more than 5,000 square feet, according to Thursday's announcement. The Art Colony currently occupies a former mission church, built in 1916, that serves as a multi-purpose studio, and the CC Graham Studio building, built in 2005, that has studios for glass, clay and printmaking. The Art Colony is located at 120 3rd Ave. W. in Grand Marais.
The expansion will involve the North Shore Pharmacy Building, formerly the Arrowhead Pharmacy, located at 21 W Hwy 61. "We have worked over the past decade to grow our programs, our infrastructure, and our staff," said Ruth Pszwaro, artistic director of the Art Colony. "And we've found that our artistic community has responded with increased interest and engagement. This includes both our local community as well as non-local members who consider us their creative home, many who have been coming here annually for 30 or more years. We are now operating our current facility at 125 percent, and we look forward to having the opportunity to expand our mission in a physical way and increase access to the arts."
The project, which involves private and public funding, will be carried out in several phases. Lyla Brown, the Art Colony's executive director said: "Our intent is that the new GMAC facilities will open in the first half of 2020 and include new studios, exhibition space, a small but state-of-the-art gallery store, and a potential community gathering space."
The Art Colony's current buildings at 120 3rd Ave W, will remain classroom and studio space, although reconfigured. The administrative offices of the organization will also remain at the current location. To find out more click here.
The Art Colony will hold an open house for the public to see the new space during the Grand Marais Arts Festival, July 13 & 14.  Listen to this interview by Rhonda Silence from WTIP Community Radio, who recently interviewed the representatives about the new building.
The Arrowhead Regional Arts Council provides a wide variety of services and grants for artists who live in the Arrowhead. Click on the image below learn more.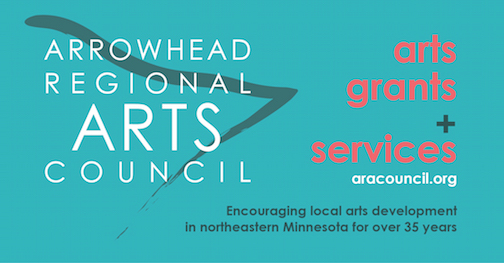 Music:
Here's the music schedule for this week:
Thursday, July 4:
Cook County's Most Wanted with Joshua Schmidt, Tofte 4th of July Celebration, Tofe, noon
Jim Miller, Cascade Lodge, 6 p.m.
Gordon Thorne & Friends, North Shore Winery, 6 p.m.
Plucked Up String Band, Wunderbar, 7 p.m.
Space Monkey Mafia, Gun Flint Tavern, 8 p.m.
KutDown, Grandma Ray's, 8 p.m.
Friday, July 5:
Hovland Arts Festival, Hovland, Roxann Berglund & Friends, Jim McGowan, Pushing Chain, 11 a.m. to 4 p.m.
Dave Cofell, Voyageur Brewing, 4 p.m.
The Sprigs, Wunderbar, 7 p.m.
Space Monkey Mafia, Gun Flint Tavern, 8 p.m.
Don Juan Trio, Grandma Ray's, 8 p.m.
Saturday, July 6:
Hovland Arts Festival, Hovland: Joe Paulik, Briand Morrison, Rod & Caribou, 11 a.m. to 4 p.m.
Jim MGowan, Cascade Lodge, 6 p.m.
Michael Monroe, Log Cabin Concert, rural Grand Marais, www.michaelmonroemusic.com, 7 p.m.
The Gentleman's Anti-Temperance League, Wunderbar, 7 p.m.
Joshua Schmidt, Lutsen Resort, 7 p.m.
Space Monkey Mafia, Gun Flint Tavern, 8 p.m.
Cook County's Most Wanted, Grandma Ray's, 8 p.m.
Sunday, July 7:
Briand Morrison, Mogul's Grille, 10 a.m.
Black River Revue, Bluegrass Sundays, North Shore Winery, 3 p.m.
Spruce Roots, Music by the Lake, Skyport Lodge, 4 pm..
Open Stage with Joe Paulik & Pat Flack, Wunderbar, 6 p.m.
Drew Peterson, Gun Flint Tavern, 8 p.m.
Tuesday, July 9:
Joe Paulik, Campfire Music, Bluefin Bay, 7 p.m.
Teague Alexy, Gun Flint Tavern, 8 p.m.
Wednesday, July 10:
Timmy Haus, Moguls Grille Patio, 5 p.m.
Jam Session, Gun Flint Tavern, 7 p.m.
Photographs:
And now, for the photos …
First, some wildlife shots:
And some weather shots:
And a few beauteous Northwoods photos:
And this…not a photograph, but what summer in Cook County is all about.
Happy 4th of July everyone! Celebrate by making a donation to NorthShore ArtScene today! Click on the image below. And Thank You!