An August on the North Shore is really something to experience, and this year it's been exceptional. Balmy breezes, warm sunny days, the peace of summer –  all are well-evident this year.
And then, of course, we're into fall with two music festivals back-to-back (the Radio Waves Music Festival and Unplugged XVIII) and then a great selection of art tours. Lots happening.
Meanwhile, this week …
We start out with wet felting demonstrations by Elise Kyllo at North House Folk School Thursday through Sunday from 10 a.m. to 4 p.m.
And on Saturday, Kyllo will teach a mini-workshop on how to make a wet- and needle-felted finger puppet.
This workshop is open to everyone over the age of 8 and will be held from 10 a.m. to noon. To register, call North House at 387-9762, There is a small materials fee.
Also. on Thursday, the Local Food Market will be held in the parking lot of the Cook County Community Center. This week look for all kinds of garden produce including kohlrabi, kale, green beans, tomatoes, peppers, cabbage, zucchini, cucumbers, herbs, fresh flowers and more.
The food demo is at 5 p.m.  and will feature Chef Christina of Rebel Girls Community Minded Catering, She will demonstrate how to make homemade herbed ricotta cheese. A tasting table is included.
On Friday, North House Folk School  will present "Try It: Timber Framing." Participants will learn how to put up and then take down a small timber-frame structure. The workshop will be from 10 a.m. to noon. Free. To register, call North House at 387-9762.
Also on Friday, the last Paint-A-Tile workshop of the season will be held in the ceramics studio at the Grand Marais Art Colony.
Participants will learn about Majolica glazes and then have a chance to paint two tiles with their own designs. The tiles will be fired and ready for pick-up on Sunday. Cost is $25. For more information and to register, call the Art Colony 387-2737.
WTIP's The Roadhouse welcomes a new band to its studio during the program on Friday from 5-7 p.m.  danG ol' Tri'olE, which will play at the Gun Flint Tavern on Friday night, will talk about their music and play a few songs.
And then, Ray Bonneville,  who plays blues-influenced, New Orleans-inspired songs,  will be in concert at the Arrowhead Center for the Arts at 7:30 p.m. Friday.
Bonneville strips his bluesy Americana to its essentials, steeps it in the humid grooves of the South, and creates a poetry of hard living and deep feeling. Rich guitar and harmonica, spare and spunky rhythms, and Bonneville's deep, evocative voice combine to give this "song-and-groove man" his unmistakable sound. He has released nine albums, won Canada's Juno Award as well as other prestigious awards, and earned an enthusiastic following in the U.S., Canada, and Europe. Here's one of his songs:
The concert is brought to us by the North Shore Music Association. Tickets are $18 and can be purchased at tix.com and at the door.
On Saturday morning, the Cook County Market opens at 9 a.m. in the parking lot of the Senior Center. The market runs from 9 a.m. to 1 p.m. It is held every Saturday, weather permitting, through MEA weekend.
The market features a variety of arts and crafts including glass, fiber art, pottery, woodworking, semi-precious stones, jewelry, clothing and more. All invited.
And on Saturday evening, author and illustrator Rachel Awes will be at Joy & Company to sign her latest book from 5-7 p.m. Refreshments will be catered by Rebel Girls. All invited.
On Wednesday, Aug. 28, WTIP Community Radio will be broadcasting from the Minnesota State Fair from 9 a.m. to 5 p.m. The broadcast can be heard on WTIP at 90.7 FM or by streaming on-line at www.wtip.org. And, if you're at the State Fair, watched live. There will be guest hosts, lots of great music and interesting conversations. Tune in.
Also on Wednesday, the Opening Celebration of the Felted Forest behind Sawtooth Elementary School will be held from 4-6 p.m. in conjunction with the ISD 166 Open House. The Felted Forest was created and installed by local felters this summer.
The celebration includes hands-on felting activities, refreshments (watermelon), and a walk through the Forest. Free. All invited.
Exhibits:
 The Lake Superior Circle Tour, plein air paintings by Douglas Ross continues at the Johnson Heritage Post through early September. The large-scale paintings depict the beautiful landscapes around Lake Superior.
The Johnson Heritage Post is closed on Tuesdays. It is open from 10 a.m. to 4 p.m. Wednesday through Saturday and Monday, and from 1-4 p.m. Sunday. Free.
Tettegouche State Park is featuring the artwork of illustrator/painter Kyle Voigtlander in the Great Hall through August.
In Duluth, the Tweed Museum of Art is exhibiting recent acquisitions, including this piece by ceramicist Robin Murphy.
AICHO Galleries in Duluth has opened a new exhibit. The galleries are located at 202 W. 2nd St. in Duluth.
Gallery News:
Photographer Roxanne Distad has new work at the JNS Gallery in Lutsen.
Yellow Bird Fine Art is exhibiting original prints by George Morrison.
Upcoming:
The 12th annual Radio Waves Music Festival is Sept. 6-8 at Sweetheart's Bluff in the Grand Marais Recreation Area. The festival is held rain or shine with two stages and a wooden dance floor housed under a large tent. There are also food booths and a kids' tent.
Acts new to Radio Waves this year include North Country Fair, Upjumped Trouble, Singleton Street, Gentleman's Anti-Temperance League, Joshua J Schmidt Band and Woodblind. A number of favorite bands are returning, including the Carpenter Ants from West Virginia. For the complete line-up, click here.
Tickets are $20 for the weekend, and $10 daily. Free for children under 12. Tickets can be purchased online. Click here.
North House Folk School's Unplugged XVIII and Birchbark Bash is the following weekend, Sept, 13 & 14.
Friday night, Sept. 13, will feature the Birch Bark Bash fundraising celebration with a dinner that explores the northern landscape provided by chefs Judi Barsness and Scott Graden, followed by guest speaker, Carol Sauvion of PBS' Craft in America.
The Saturday night concert, Sept. 14, features special gues Detroit-based roots & blues musician and 2018 Kresge Arts Fellow, the Rev. Robert Jones, and seven featured performers: Claudia Schmidt, Prudence Johnson, Dan Chouinard, Marc Anderson, Simone Perrin, Dane Stauffer, and Bradley Greenwald.
Click here for more info and tickets.
There are a number of art events scheduled for late September and early October on the North Shore, including the Art Along the Lake Fall Studio Tour.
Stops include home art studios as well as galleries with guest artists. All locations will be open daily, from 10 a.m. to 5 p.m., with a few special Fall Studio Tour events scheduled outside of these hours. Stay tuned for details.
And check out the opportunities for artists through the Arrowhead Regional Arts Council by clicking on the image below.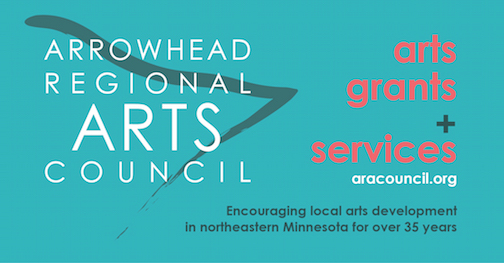 Music:
Here's the music schedule for this week:
Thursday, Aug. 22:
Joe Paulik, Cascade Lodge, 6 p.m.
Eric Frost, Lutsen Resort, 6:30 p.m.
Gordon Thorne & Friends, North Shore Winery, 7 p.m.
Friday, Aug. 23:
Portage, Grandma Ray's, 6 p.m.
Cassandra & Elle, Wunderbar, 7 p.m.
Eric Frost, Music by the Campfire, Eagle Ridge Resort, 7 p.m.
Ray Bonneville, Arrowhead Center for the Arts, 7:30 p.m.
That Dan'ol Tri'ol, Gun Flint Tavern, 8:30 p.m.
Saturday, Aug. 24:
Cook County's Most Wanted, Birch terrace, 3 p.m.
Roxann Berglund, Cascade Lodge Restaurant, 6 p.m.
Jim Miller, Wunder Bar, 7 p.m.
Briand Morrison, Lutsen Resort, 7 p.m.
Southpaws, Grandma Ray's, 8 p.m.
RichRath Project 3:13-Tribute to REO, Grand Portage, 8 p.m.
Crazy Chester, Gun Flint Tavern, 8:30 p.m.
DJ Beavstar, Papa Charlie's, 9:30 p.m.
Sunday, Aug. 25:
Briand Morrison, Moguls Grille, 10 a.m.
Pushing Chain, Music by the Lake, Skyport, 4 p.m.
Open Stay with Joe Paulik, Wunderbar, 6 p.m.
Bug Dope, Gun Flint Tavern, 8 p.m.
Monday, Aug. 26:
Matthew Griswold, Voyageur Brewing, 4 p.m.
The Lowest Pair, Monday Songwriter Series, Papa Charlie's, 8:30 p.m.
Tuesday, Aug. 27:
Campfire Music with Joe Paulik, Bluefin Bay, 7 p.m.
Timmy Haus, Gun Flint Tavern, 8 p.m.
Wednesday, Aug. 28:
WTIP Community Radio Live at the Minnesota State Fair, 8-5 p.m.
Timmy Haus, Patio Series at Papa Charlie's, 4-6 p.m.
Gordon Thorne & Chris Gillis, Live, on the Deck, Papa Charle's, 6 p.m.
Briand Morrison, Bluefin Grille, 9 p.m.
Photographs:
We found lots of great photos this week. Here's a selection;
First, wildlife:
Here's a potpourri of beauty:
Playing with sunrises/sunsets:
And a few North Shore landscapes:
And this great shot by Musa Abdel Rahman.
Enjoy the rest of summer everyone!