Lake Superior was definitely whipped into a frenzy this week as 60 mph winds blew across her waters. The next day, the Big Lake was as calm as a millpond and crispy leaves littered the ground. Fall — on the North Shore.
We start this week with WTIP Community Radio's Fearless Radio Fall Membership Drive.  The independent, community owned radio station can be found at 90.7 FM or streamed at WTIP.org.
The membership drive, which started on Wednesday, features live music in the radio station's studios, as well as creative programing and lots of fun. The station also invites listeners to visit the station to meet the staff and have a snack. Check out the Music Schedule below for who will be performing when, live, this week. And enjoy.
The Grand Marais Art Colony launches its Studio 21 Open House and Ideation Sessions for the new space at  21 W. Hwy 61 in Grand Marais today,  Thursday, Oct. 24 from noon to 2 p.m.
At the Open House, participants will learn more about the Art Colony's mission and artistic direction. They will also have the chance to draw their own ideas about how the space could be used on gridded floor-plans.
Open House/Ideation sessions will also be held from 10 a.m. to noon on Saturday, Oct. 26, and Tuesday, Oct. 29, from 4-6 p.m. All invited.
Also on Thursday, for a little levity in this change of seasons, check out the North American Comedy Brewery Tour at Voyageur Brewing Co., which will be held from 8-9:30 p.m. this Thursday, The Comedy Tour, which headlines Casey Flesch, brings talented North American comedians to local breweries across the United States to support local breweries. A portion of all proceeds go toward animal welfare organizations. Tickets are $10 in advance, $15 at the door. For more info, click here.
On Friday, North House Folk School will host a Pop-up Basket Market from 3-5 p.m. and an evening presentation by Greg Johnson, a basketmaker and cultural educator.
The Pop-Up Basket Market will feature work by the instructors teaching this week at North House and include everything from birchbark to sweetgrass baskets. All invited.
On Friday night at 7 p.m., basketmaker Greg Johnson will give a presentation in the Blue Building entitled "The Four Seasons of the Ojibwe Harvest."
His presentation will focus on the significance of a seasonal lifestyle in Ojibwe culture through the context of basketry. All invited. Free.
Also this weekend, Gunflint Lodge, in collaboration with the Grand Marais Playhouse, will host a Murder Mystery Weekend. The play starts on Friday night and segments continue through Sunday until the mystery is solved. For more info and to reserve a cabin, click here.
If you are planning to be in the Twin Ports on Friday, you are in for a treat. There are two community wide art events that evening: The Downtown Duluth Arts Walk from 5-8 p.m. and, across the bridge in Superior, Wis., the kickoff for the Goin' Postal Art and Music Festival.
The Downtown Duluth Arts Walk features everything from gallery openings, artist studio tours, live music. cultural center events and more in the downtown area. The list of participating artists and venues is impressive.
Among the many featured artists is Aaron Kloss, who has just opened a studio on the 3rd floor of the recently renovated Old City Hall Building at 132 E. Superior St. Kloss' work can be seen at Sivertson Gallery in Grand Marais.
The public is invited to see the studio, as well as other guest artists located there. To find out more and see all the openings and events, click here.
In Superior,Wis., there will be art and music at six locations to celebrate North End Days, including a Frozen Photographers show at the VIP and the  Goin Postal Fall Art Show, featuring work by more than 20 artists.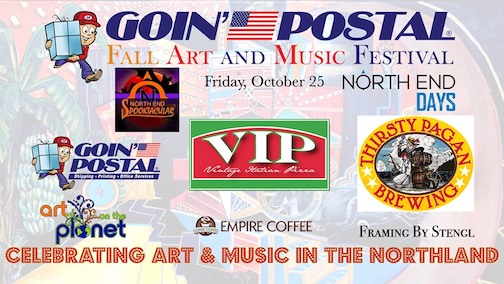 In Grand Marais on Saturday, author and historian, Tim Cochrane, will give a presentation at the Johnson Heritage Post at 4 p.m. Entitled "The Linklaters: People of the Canoe Country." The talk will feature photographs and focus on how the Linklaters managed to thrive and become notable in a world increasingly difficult for the Ojibwe.
The event is free and open to the public.
Also on Saturday, the Grand Portage Lodge and Casino will hold a dance/concert and Halloween Costume Contest with the Westside Band of St. Paul starting at 9 p.m. Free. Must be 21 or older to attend.
On Thursday, Oct. 31, the Johnson Heritage Post will be open from 3-6 p.m. for a little Trick or Treating.
The gallery will be open for extended hours that day, from 10 a.m. to 6 p.m.
Exhibits:
This is also a great time to see the exhibit, "Wild Wonder," by painters Deb Kirkeeide and Kristin Palm at the Johnson Heritage Post. 
The exhibit continues through Nov. 3. The winter gallery hours are from 10 a.m. Thursday through Saturday and from 1-4 p.m. Sunday.
The Art in Conflict exhibit continues at the Tweed Museum of Art. Curated by the Museum of Russian Art,  the Soviet-era exhibition covers the period from Stalin's death in 1953 until the dissolution of the Soviet Union in 1991.
 The Duluth Art Institute is featuring a number of different exhibits this month, including the Minnesota Black Fine Art Show.
Established and emerging Minnesota artists of African descent exhibit their work in this juried traveling show.Work on view includes fiber, mixed media, photography, graphic design and painting. It continues at the Art Institute through Jan. 2.
This is the last weekend to see "Displacement: Karen Cornelius and Peter Tittenberger" at the Thunder Bay Art Gallery in Thunder Bay. The exhibition features two reflections on childhood histories of displacement and the plight of displaced peoples as seen through the mediums of sculpture and printmaking.
The exhibit closes Oct. 29.
 Upcoming:
 The North Shore Music Association hosts the 29th Annual Bluegrass Masters Weekend at Lutsen Resort Nov. 1-3, with workshops by master fiddler Dan Kelly, jamming all weekend, and a Saturday night concert by the Michael & Jennifer McClain Band, featuring Dan Kelly.
Fiddle workshops with Kelly will be held on Saturday, Nov. 2. For more information about the classes and the event, click here. And stay tuned for details.
Plein air painter Greg Lecker opens an exhibit in the Great Hall at Tettegouche State Park on Nov. 1 with an opening reception from 7-8:30 p.m.
The North Shore Readers and Writer's Festival, hosted by the Grand Marais Art Colony, is Nov. 7-10.
The festival features 50 individual sessions with poets and writers, as well as publishers. Registration for the workshops and classes closes at 5 p.m. Friday, Oct. 25. Call 387-2737 for more info, or see the link below.
Just to give you a taste of what's planned: Author Leif Enger will present the keynote address as well as hold a craft seminar. Faith Sullivan, Beth Dooley, Sheila O'Connor and more will teach writing classes; learn literary craft from esteemed writers like poet David Mura and Mary Moore Easter as well as  local writers and publishers. There will also be author talks with Matt Goldman, Shannon Gibney, to name a few.
To see the complete schedule and register for classes, click here. 
Music:
 Here's the music schedule for this week:
Thursday, Oct. 24:
Terry V's Patio Party, Wunderbar, 5 p.m.
Gordon Thorne & Friends, North Shore Winery, 6 p.m.
Jazz Quattro, Gun Flint Tavern, 7 p.m.
Live at WTIP, Kenna Rose, WTIP Community Radio, 8 p.m.
Live at WTIP, Gordon Thorne, WTIP Community Radio, 10 p.m.
Friday, Oct. 25:
Live at WTIP, Eli Bentley, WTIP Community Radio, 1 p.m.
Live at WTIP, Colleen Myhre, WTIP Community Radio, 4 p.m.
Live at WTIP, Gene LaFond and Amy Grillo, WTIP Community Radio, 6 p.m.
Colleen Myhre, Gun Flint Tavern, 6 p.m.
Portage, Grandma Ray's, 6 p.m.
Briand Morrison, Lutsen Resort, 7 p.m.
Saturday, Oct. 26:
Live at WTIP, Big Tree, WTIP Community Radio, 2 p.m.
Colleen Myhre, Gun Flint Tavern, 6 p.m.
Big Tree, Wunderbar, 7 p.m.
Common Ground, Lutsen Resort, 7 p.m.
North Shore Community Swing Band, Wunderbar, 7 p.m.
The Cruisers, Grandma Ray's, 8 p.m.
Westside Band, Grand Portage Lodge & Casino, 9 p.m.
Sunday, Oct. 27:
Briand Morrison, Mogul's Grille, 10 a.m.
Open Stage with Joe Paulik and Pat Flack, Wunderbar, 6 p.m.
Live at WTIP, Portage, WTIP Community Radio, 7 p.m.
Vessel, Gunflint Tavern, 7 p.m.
Monday, Oct. 28:
North Country Fair, Voyageur Brewing, 5 p.m.
Photographs:
 It was a good week for photographs. Let's start with wildlife:
Here's an interesting shot. Apparently possums love eating ticks. The trail cam was not in Cook County.
The photo below was taken by Thomas Demma at the DNR eagle nest site near St. Paul, as a pair of eagles begin building their nest for next year.
 Here are a few great plant photographs.
Paul Sundberg shows how sunlight on leaves can affect their changing colors in the fall with these two photos.
And a sweet mushroom photograph.
As can be expected, we found a lot of storm photos this week. Here's a selection.
First, one wave.
And then, more waves …
And then …
The calm after the storm:
And finally, this:
Have a good weekend, everyone!