Happy Thanksgiving!
The full season of winter has arrived, and snow lovers are celebrating this week. It's beautiful to walk outdoors and see the white-covered landscapes shift and change with the wind … to hear the crunch of snow in the chilly night air, and to know that the ski trails and ski hills will be groomed and ready.
The week starts out with the Gobble, Gobble Fun Run sponsored by Voyageur Brewing Co. The run is held first thing Thanksgiving morning.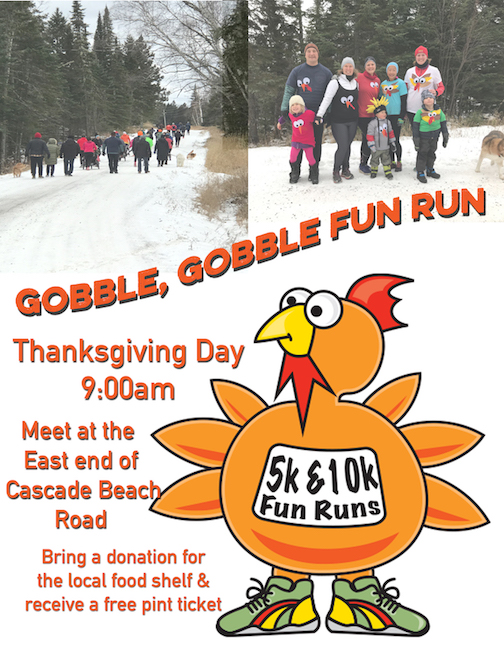 The Gobble Gobble Fun Run is an informal gathering of folks who want to get some exercise and get outside on Thanksgiving Day. The run of either 5k or 10k or anything in between begins at the east end of Cascade Beach Road at 9 a.m. In the spirit of Thanksgiving, participants who bring a monetary donation for the Cook County Food Shelf will receive a token for a free pint of beer at Voyageur Brewing. Note: This is not an official race. The road will not be closed and might be icy. Participants are responsible for their own safety. The event will not be timed and there will not be mile markers, awards or aid stations. But it is a chance to get a run before the feasts later in the day.
One of the most popular is the annual Community Thanksgiving Dinner held at the First Congregational Church starting at 1 p.m. on Thanksgiving Day. This is the 45th year the church has opened its doors to the community to gather together and enjoy this traditional home-cooked meal. There is no charge. The church is located at the corner of 3rd Ave. W. and Second Street. Call the church at at 387-2113 for special considerations about home delivered/ take-out/rides to the dinner. All are welcome.
Thanksgiving buffets will also be served at Gunflint Lodge from 11:30-5:30 p.m. and at Caribou Lodge from 3-8 p.m.
This weekend is full of holiday fairs and shows. It starts on Friday with the opening of the Holiday Art Underground Show at Betsy Bowen Studio from 11 a.m. to 5 p.m.
Dozens of local artists are showing their beautiful work here for the holidays, including a number of new artists. Come for cookies, hot tea and a colorful eyeful. The gallery will host an Opening Celebration from 3-5:30 p.m. on Friday, right before the parade. Refreshments will be served, with music by Fred Anderson. All invited.  The show continues through Dec. 29.
Also on Friday, the North Shore Winery will host a European-style Christmas Market from noon to 7 p.m..
The market will offer  holiday decorations, art, art gifts, sculpture, wreaths, soaps, maple syrup, and warm winter beverages. Among the artists featured at the market, look for work by Kari Vick, Mueller Studios, Anna Hess, Jillian Kratt, Kathy Weinberg and Jim Cordes, just to name a few.
Light-Up Lutsen, a holiday event held in downtown Lutsen featuring events and receptions at businesses, will be held from 2-5 p.m., including caroling, a tree lighting, tasting and a metal pour at 5 p.m. at the Mueller Studio. Open to all.
Friday caps off with the Oh Ole Night Parade in Grand Marais.
It's Grand Marais' quirky small-town Christmas parade with its Scandinavian heritage on full display. The parade starts at 5:30 p.m. on Wisconsin St., two loops around town and then a finish at Harbor Park for the tree lighting and fireworks, whatever the weather. DJ Beavstar will be emceeing the event, and there will be cookies from Crosby Bakery for munching. Murray the Moose will be out and about, too. To be in the parade, meet in the Senior Center parking lot at 5 p.m. Prizes will be awarded in a number of categories. All invited.
And finally, on Friday night, the New Standards Holiday Show will be featured at Papa Charlie's starting at 8:30 p.m. This is the 12th year the New Standards have launched their Holiday Show on Lutsen Mountains. It's one part variety show, one part homage to the season, one part irreverent, free-wheeling spectacle. The New Standards trio is joined by a supporting cast replete with vocalists and instrumentalists – and as always – a dazzling lineup of special surprise guests.
Here's a clip from an earlier show:
Tickets are $20 in advance, $26 day of the show.
Saturday is very busy, too.
In Grand Marais, the annual Cook County Community Center Holiday Craft Sale will be held from 10 a.m. to 3 p.m. at the Community Center.
This year, look for ornaments, wreaths, jewelry, artwork, pottery, knitted hats and mittens. Food by Rebel Girls Catering will be available as well.
In Hovland, the Hovland Arts Festival Christmas Sale will be held from 10 a.m. to 4 p.m. in the Hovland Town Hall.
This popular Christmas sale features a variety of artists and artisans and includes booths featuring birchbark crafts, photography, watercolors, candles, knitting, jewelry, beading, pottery, wreaths, handmade lotions and Christmas ornaments. There are a number of new artists this year, too. Refreshments available. All invited.
Also on Saturday, two beloved Minnesota musicians, Chan Poling and Lucy Michell will entertain the audience at Drury Lane Books with a reading of their new book,  "Jack and the Ghost," a discussion of how it came about, and, perhap, perform a few songs. The event will be from 7-8 p.m. "Jack and the Ghost" is a gothic, lyrical evocation of a shipwreck, ghosts, and living through grief in a seaside town told through pictures.
Poling is a founding member of the seminal New Wave rock group The Suburbs and the popular jazz/cabaret trio The New Standards. Michell is a musician and artist whose illustrations can be found on countless band posters, album covers, kids' menus, and even T-shirts for Target. The event is free and open to the public.
And finally, this season's best ski movie, "Return to Send'er" produced by Matchstick Productions, will be screened at Lutsen Mountains at 7 p.m. on Saturday. The exciting ski film is on a national tour and has some local connections: Beau Larson, son of Mike and Jana Larson, grew up on the slopes of Lutsen Mountains, fell in love with the out-of-doors and chased his dreams in college by pursing his arts degree in film and digital media. Beau now works for Matchstick Productions out of Crested Butte, Co., and served on the team that produced this movie. Also, photographs by Cook County graduate Emily Tidwell will be exhibited as well. She is now living in Reno, Nev.,, and is under exclusive contract to shoot photos for some Lake Tahoe's largest ski areas.
But let this film speak for itself. Here's the trailer:
Larson and Tidwell will talk about the film and their lives on WTIP's The Roadhouse on Friday. The program airs from 5-7 p.m.  Note: Tickets are $5. Proceeds will be donated to the Lutsen Jr. Alpine Ski Team.
And finally on Wednesday, Dec. 4, Voyageur Brewing begins its Artists in the Taproom series featuring work by local artists and music by Roxann Berglund from 4:30-6:30 p.m.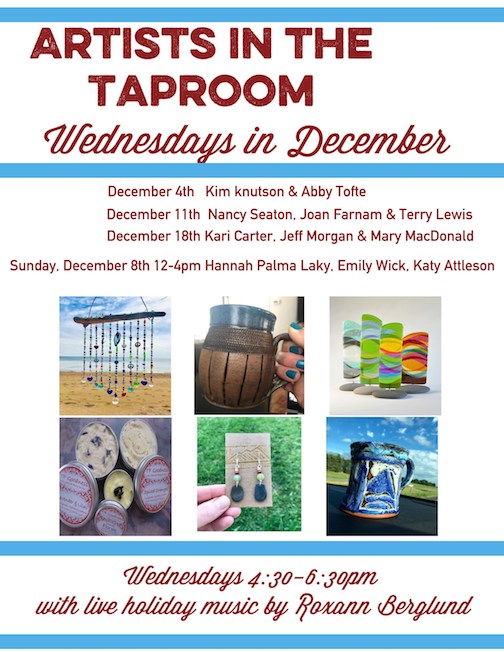 Kim Knutson and Abby Tofte will be on-site on Wednesday, Dec. 4.
And on Thursday, Dec. 5, Staci Drouillard will be at Drury Lane Books for a Writer's Salon to read and sign her newly published book, "Walking the Old Road: A People's History of Chipppewa City and the Grand Marais Anishinaabe."
The Writer's Salon is from 5-6 p.m. Drouillard will be on WTIP's The Roadhouse on Friday, Nov. 29, to talk about her book. The Roadhouse airs from 5-7 p.m.
Exhibits: 
This is the last weekend to see "Changing Seasons: Photographs by the Frozen Photographers" exhibit at the Johnson Heritage Post.
The Heritage Post is open from 10 a.m. to 4 p.m. Friday and Saturday and from 1-4 p.m. Sunday.
David Gilsvik has completed a number of new paintings, including "Turning of the Tamarack," below.
Painter Tom McCann is exhibiting his work at the Cook County Courthouse.
The Tweed Museum of Art is currently featuring a special exhibition about Soviet-era art from The Museum of Russian Art, which includes this painting. The exhibition presents nonconformist and state-sanctioned art that spanned the final Soviet decades, from Stalin's death in 1953 to the dissolution of the Soviet Union in 1991.
The Thunder Bay Art Gallery has just opened a spectacular new exhibit entitled "The North Now," featuring works by 47 artists from throughout Northern Ontario.
Artists throughout northern Ontario were invited to submit original works of art created within the last two years for consideration by a jury of arts professionals. Artists were encouraged to submit work that challenges, expands and innovates. The exhibit continues through Feb. 15.
 Upcoming:
Holiday events continue next weekend.
On Saturday, Dec. 7, the Northwoods Fiber Guild's Open House and Holiday Sale will be held at the Grand Marais Art Colony from 9 a.m. to 2 p.m.
The event features a wide variety of fiber art. Stay tuned for details.
Santa's Workshop, a chance for youngsters to pick out gifts for their family and have them wrapped, will be held at the Cook County Community Center from 9 a.m. to 2 p.m. on Saturday, Dec. 7.
A Night Out in the Pottery Studio with Natalie Sobanja will be held at the Grand Marais Art Colony rom 6:30-9 p.m. on Saturday, Dec. 7.
Participants will learn the ins and outs of wheel-throwing and hand building during this event. Dessert and wine will be provided and all supplies are included. Projects will be glazed by the instructor and available for pick-up one week later. To register, call the Art Colony at 387-2737.
The Borealis Chorale & Orchestra Christmas Concert will be held at the Bethlehem Lutheran Church from 7-8 p.m. Sunday, Dec. 8 and Monday, Dec. 9. The concert features traditional holiday music as well as world premiere of  ""The Lingering Light of Day," by composer Craig Carnahan and poet Julia Klatt Singer. The piece is based on material gathered from community listening sessions the artists hosted in Cook County last February, in which participants discussed what makes the North Shore a unique place to live. Open to all.
 Music:
Thursday, Nov. 28:
Terry V &. Friends, Wunderbar, 7 p.m.
Friday, Nov. 29:
Gene LaFond & Amy Grillo, Lutsen Resort, 7 p.m.
Super Duty, Gun Flint Tavern, 8:30 p.m.
The New Standards Holiday Show, Papa Charlie's, 8:30 p.m.
Saturday, Nov. 20:
Michael Monroe, Log Cabin Concert, 7 p.m.
Pushing Chain, Lutsen Resort, 7 p.m.
Plucked Up String Band, Grandma Ray's, 8 p.m.
Super Duty, Gun Flint Tavern, 8:30 p.m.
Sunday, Dec. 1:
Briand Morrison, Moguls Grille, 10 a.m.
Open Stage with Joe Paulik & Pat Flack, Wunderbar, 6 p.m.
Super Duty, Gun Flint Tavern, 8:30 p.m.
Tuesday, Dec. 3:
Pete Kavanaugh, Lutsen Resort, 8 p.m.
Photographs:
We found some interesting photographs this week, including a fair number of deer photos.
Interested in deer:
Snow & ice shots:
Sunset light:
Northern lights:
Lake Superior light:
Peaceful light:
And stormy light.
Have a great weekend, everyone!