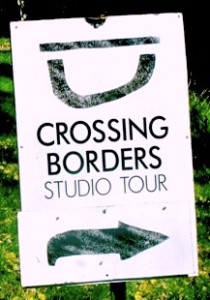 The last weekend in September brings one of the most anticipated fall art tours of the season: the Crossing Borders Studio Tour featuring a wide variety of art exhibited by professional artists in their studios up and down the North Shore.  The studios on the tour are open from 10 a.m. to 6 p.m. daily Sept. 25 through Oct. 4.
Everything from stone sculpture, Ojibwe art work, pottery, weaving, glass sculpture and jewelry, print making, wood turning and carving, furniture, metal works and jewelry, leather, and flint-knapping are included in this tour, as well as the spectacular views of Lake Superior in fall.
Many of the studios include guest artists as well, and offer a unique opportunity to meet the artists, see their work and talk to them about their creative processes.
Lake County hosts include, Blue Sky Glassworks  (Mike Tonder (kiln-formed glass sculptures) and Jody Friej-Tonder (recycled glass jewelry)   and Cooter Pottery and Handweaving with Dick & Debbie Cooter. Both studios include a number of guest artists. For details, click here.
Cook County studios include Last Chance Gallery in Lutsen. Bronze sculptor host Tom Christiansen welcomes guest artists John Books (bronze sculptor) and beadweaver Jo Wood.
Betsy Bowen's Studio & Galleries in Grand Marais
will feature a wide variety of Betsy Bowen's work, including new woodcut prints and cards as well as a new redesigned edition of "Tracks in the Wild."
Resident artists at the gallery, Melissa Wickwire (handmade tiles), Stephan Hoglund (photographs and jewelry) and Ron Piercy (jewelry) will be joined by J.D. Jorgenson (pottery) and Jim Sannerud (hand-turned bowls).
In Hovland, Dan & Lee Ross (ceramic and stone sculptures and monoprints) will feature a
variety of new animal sculptures inspired by their travels this summer, including a bison herd, a flock of puffins and a pod of orcas.
And finally Ojibwe beadworker Marcie McIntire will open her studio in Grand Portage for the art tour. For all the details and maps, see www.crossingborderstudiotour.com
There's lots more happening in Cook County this weekend, too.
The Vecchione/Erdahl Duo perform at the Arrowhead Center for the Arts on at 7:30 p.m. Friday night and as OboeBass! at the Grand Marais Public Library at 1 p.m. Saturday.
The duo (Carrie Vecchione (oboe) and Rolf Erdahl (bass) have invented  an enchanting body of work for this previously unexplored pair of instruments. You can see them perform a few pieces on their website, here. Tickets are available at www.tix.com and at the ACA door.
On Saturday, they will present "The Spirit Sings" at the library,  a history and legacy of African-American Music from African roots through slave times to Marian Anderson and jazz. The presentation is free and open to the public.
Amy Schmidt will present the Full Moon Reading at Drury Lane Books outside by the bonfire on Saturday at 5 p.m.
Briand Morrison will play for a special reception/ fundraiser and concert at the Arrowhead Center for the Arts on Saturday to welcome back the "Dawn and Sea," the painting his father, George Morrison,  gave to ISD 166 years ago. The painting has been restored and was on tour across America for two years. It comes home on Saturday night and Briand will perform his incomparable jazz along with a slideshow of George Morrison's work. A reception in the lobby of the Arrowhead Center for the Arts will begin at 6 p.m..
Tickets are $15 for adults and free to students 18 and under. The final installation of the painting will include archival glass and special lighting.

The Plein Air 2015 exhibition and sale opened at the Johnson Heritage Post Sept. 18 to accolades. In all, 70 plein air painters from throughout the region participated in the week-long Plein Air competition and the result of their work is on display (and for sale) at the Heritage Post through Nov. 15. The gallery is open from 10 a.m. to 4 p.m. Tuesday through Saturday and 1-4 p.m. Sunday and Monday.
The Lake Superior Watercolor Society continues its exhibit at the Cross River Heritage Center in Schroeder through Oct. 15.  In all, 17 watercolor painters have work in the show. The Heritage Center is open Tuesday through Saturday, 10 a.m. to 4:30 p.m. and Sunday from 1-4 p.m.
And plein air painter David Gilsvik's exhibit at Tettegouche State Park continues through the end of the month.
Also, the Lake Superior 20/20 Studio Art Tour continues in the Two Harbors area this weekend. In all, 20 artists are showing their work in a number of art studios. For maps and more info, visit www.lakesuperior2020.com
This weekend, Canada celebrates Culture Days, a nod to the arts, music and community throughout the country.
In Thunder Bay, there are a wide variety of activities throughout the entire weekend including the official launch of a new graffiti mural created by members of the Die Active Collective at Definitely Superior Art Gallery. The launch will be held on Court Street in an Open Streets event, with free art making, live music & assisted selfie taking for social media overloading from  11 a.m. to 4 p.m. on Sunday.
The Baggage Arts Center will hold a number of activities as well including pottery demonstrations and more. For all the activities in Thunder Bay this weekend, click here.
Also, St. Paul-based artist Ann Labovitz, is exhibiting her work at the Thunder Bay Art Gallery through Oct. 18. Entitled "122 Conversations," the exhibit was developed by the Tweed Museum of Art in Duluth and explores the cultural relationship between five Duluth Sister Cities, including Thunder Bay.
In other art news, Kah-Nee-Tah Gallery in Lutsen has two new artists: Jane Dierberger, who is exhibiting paintings from her Hiawatha Series and Rando, a painter from Fargo, N.D.
Sivertson Gallery has a new jeweler in the gallery. Candyce Westfield crafts earrings from bronze and Lake Superior stones. She is from Walker.
There is still room to sign up for the Tour d'Art, a fundraiser for the Grand Marais Art Colony in October. For more information, click here. And registration continues for Richard James Nelson's woodblock printing class at the Art Colony this weekend. Call 387-2737 for more information and to register.
The Blue Moose is featuring horsehair pottery by David Gordon including bowls, honeycomb pots and seed-pod vases. The gallery also has felted zipper pins by Kathy Jahnke our of Neenah, Wis.
Joy & Co. has new pewter jewelry by Richard Anscomb of Duluth as well as new red cedar furniture pieces by David Kasid.
Here's the music this weekend:
Friday, Sept. 25:
Portage Band, American Legion, 6 p.m.
The Vecchione/Erdahl Duo, Arrowhead Center for the Arts, 7:30 p.m.
Micheal Monroe, Bluefin Grille, 8 p.m.
Timbre Junction, Gun Flint Tavern, 8:30 p.m.
Saturday, Sept. 26:
OboeBass!, Grand Marais Public Library, 1 p.m.
Briand Morrison, Arrowhead Center for the Arts, 6 p.m.
Gordon Thorne, Lutsen Resort, 7 p.m.
Michael Monroe, Log Cabin Concert, rural Grand Marais, 387-2919.
Jim & Michele Miller, Cascade Lodge Pub, 7:30 p.m.
Timbre Junction, Gun Flint Tavern, 8:30 p.m.
Bughouse, American Legion, 8:30  p.m.
Timmy Haus, Papa Charlie's, 9 p.m.
Sunday, Sept. 27:
Timmy Haus, Gun Flint Tavern, 6:30 p.m.
Monday, Sept. 28:
Briand Morrison, Bluefin Grille, 8 p.m.
The Lowest Pair, Monday Songwriter Series, Papa Charlie's, 8:30 p.m.
Wednesday, Sept. 20:
Joe Paulik, Bluefin Grille, 8 p.m.
We are ever grateful to our local photographers who generously send us photos and/or post on Facebook so all can enjoy. Here is a selection of what we found this week.
Lighthouses are favorite subjects, too. Here are a few.
The Milky Way is always a favorite challenge, too.
Northern lights have been really active this summer. Here's a great example.
Sunsets and sunrises always top the list, though. Here are a few beauties. The first is by Bryan Hansel.
John Heino traveled around Lake Superior recently and posted these two photos.
And last, but not least, here's a Grand Marais sunrise by David Johnson.
Enjoy the weekend!