Greetings from the North Shore, where the sun is shining and the temps are hovering just around freezing…March begins on Sunday, and it looks like it's coming in like a lamb. All to the good, for indoor and outdoor activities this week.
First up this week indoors is an Open Studio Night for the Artisan Development Program at the Betsy Bowen Gallery and Studios Building from 6:30-8:30 p.m.
Drop by the studios at 301 1st Ave. W. to meet North House Folk School's resident artisans, see some of their current works-in-progress and enjoy light refreshments. The Artisan Development Program is a two-year professional development and residency program for craftspeople at North House. This month, meet the new first year artisans-in-residence and see what they've been doing. Free and open to all.
Also on Thursday, Duluth painter and muralist, Adam Swanson, will give an Artist Talk about science-centric art at 7 p.m. at the Grand Marais Art Colony.
Swanson, who is teaching a class at the Art Colony this weekend, will talk about his recent three-week residency aboard the R/V Falkor with the Schmidt Ocean Institute. He will also relate his previous artistic experience aboard the R/V Blue Heron and show his subsequent series of science-centric paintings based on research happening in the Lake Superior Water Basin, All invited. Free. No registration required.
This week is WTIP's winter membership drive and look for lots of live music in the studio. On Friday, the band Vessel with Kenna Rose, Eric Fontaine and Jay Tice will be in the studio on The Roadhouse to talk about their music and play a few songs. Check the music schedule below for other live music opportunities during this membership drive.
Also on Friday night, the Grand Marais Public Library will screen "The Professor" with JohnnyDepp at 6 p.m. as part of its Friday Night Reels series. Check out the trailer below.
The movie is free and starts at 6 p.m. It is rated "R." Light refreshments will be served.
On Saturday night, Celtic music lovers are in for a treat at the Hovland Town Hall. Organized by Michele Miller and North Country Fair, "Celtic Crossings: An Evening of Celtic Music from Far and Wide" will feature a number of local groups as well as a Celtic band from Thunder Bay.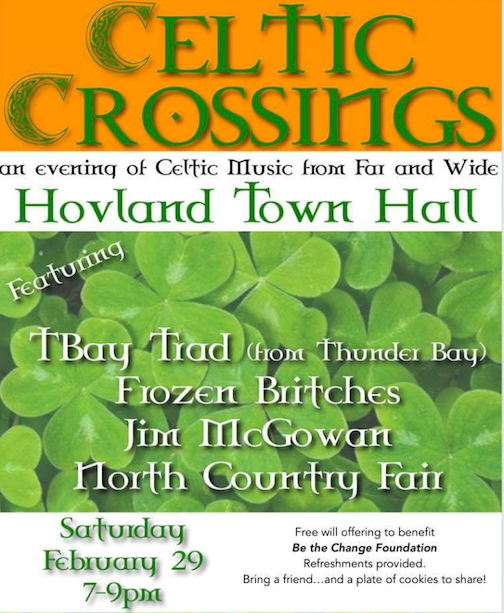 The music starts at 7 p.m. and features North Country Fair, Frozen Britches, Jim McGowan and TBay Trad. A Free-will offering will  benefit Be the Change Foundation.  Refreshments provided.  Bring a friend…..and a plate of cookies to share. The event runs from 7-9 p.m.
And, heads-up for artists–Registrations are still open for the workshops in "For the Love Of It!," a professional development conference about creating a sustainable life as an artist. For the complete schedule, click here.
The event will be held at the Grand Marais Art Colony March 6-8. Presentors include: Andrew Simonet, founder of Artist U and author of the open source guide, Making Your Life as an Artist; Drew Digby, director of the Arrowhead Regional Arts Council, Kathleen Durbin, musician and creative coach, Paul LaJeunesse, painter, public artist, and assistant professor of art  at the College of St. Scholastica, Greg Mueller, sculptor and public artist and Lynn Speaker, mixed-media artist and former Women's Art Resources of Minnesota mentor. Andrew Simonet will give the keynote address at 7 p.m. Friday, March 6 at the Art Colony.
Exhibits:
 A new community art exhibit opened at North Shore Health last weekend to accolades. The show, organized by the Spirit of the Wilderness Episcopal Church, is entitled "Kintsugi: Brokenness, Healing and Meaning," and artists were encouraged to create works speaking to the concept. A panel discussion about art and healing was held at the opening reception last Friday as well.
In this exhibit, look for a wide variety of inspiring work from every medium, including paintings, fiber art, mosaics, glass, pottery and more. The show is exhibited in the spacious halls of North Shore Health and is on view through April. Highly recommended.
(Note: The Johnson Heritage Post Art Gallery is closed this week. It will re-open with an exhibit of paintings by Kat Corrigan on Friday, March 6. Stay tuned.)
Printmaker Nan Onkka is exhibiting her work at the North Shore Winery this winter.
Photographer Christian Dalbec opens an exhibit of his photographs of Lake Superior and the North Shore in the Great Hall at Tettegouche State Park this weekend.
The exhibit continues through the end of March.
The Duluth Art Institute has a number of on-going exhibits, including "Integrated Vision."
Upcoming:
Next Thursday, March 5, the ISD 166 Education  Foundation will present "EATS (Enriching Academics Through Sustenance)," an annual fundraiser for the foundation.
The event will be held at the Middle High School from 6-7:30 p.m. on Thursday, March 5. This popular event features a delectable array of tasty samples from Cook County restaurants and food vendors, a silent auction and live music. Only 125 tickets will be sold and are available at the school office, Java Moose, Blue Water Cafe, or from any CCSDEF board member.
The ISD 166 Education Foundation awards grants for projects and activities that enhance the curriculum. A total of $189,000. in grants has been provided by this foundation to teachers and classrooms at the school.
And next weekend, the 2020 Dog Days of Winter will be held at Trail Center from 11 a.m. to 5 p.m. featuring sled dog derbies as well as skijoring races. For more information, click here.
And finally, the Lake Wobegon® Brass Band will perform at Betlehem Lutheran Church, 417 1st Ave. W. at 7 p.m. next Saturday, March 7.  The Lake Wobegon® Brass Band is a traditional British band ensemble whose mission is "to promote British band music throughout the Midwest of the United States." The group was formed in 1992 by three Twin Cities brass musicians. Over the past quarter century, the thirty-member brass ensemble has toured the U.S. and England, performing concerts and at educators' conferences. The concert is sponsored by North Shore Music Association. Stay tuned for details.
Music:
Here is the music schedule for this week:
Thursday, Feb. 17:
JonRuss, Lutsen Resort, 6 p.m.
Date Night at the Winery with Gordon Thorne, North Shore Winery, 7 p.m.
Vessel, Wunderbar, 7 p.m.
Friday, Feb. 28:
Jon Kallberg, Live on WTIP, 1 p.m.
Eric Frost & Jim Elverhoy, Live on WTIP, 4 p.m.
Vessel, featuring Kenna Rose, Eric Fontaine & Jay Tice, Live on WTIP,  5 p.m.
Portage, Grandma Ray's,  6 p.m.
4-Shore, Wunderbar, 7 p.m.
Joe Paulik, Lutsen Resort, 7 p.m.
Cabin Fever Trio, Gun Flint Tavern, 7:30 p.m.
Saints of Circumstance, Papa Charlie's, 9:30 p.m
Saturday, Feb. 29:
Spruce Roots, North Shore Winery, 3 p.m.
John Cron, Papa Charlie's, 3:15 p.m.
John Russ, Papa Charlie's, 6:45 p.m.
Common Ground, Wunderbar, 7 p.m.
Celtic Crossing: An Evening Celtic Music from Far and Wide, many bans, Hovland Town Hall, 7 p.m.
Eric Frost, Lutsen Resort, 7 p.m.
Wunderdogs, Wunderbar, 7 p.m.
Cabin Fever Trio, Gun Flint Tavern, 7:30 p.m.
Dance Party with DJ D'Angelo, Papa Charlie's, 10 p.m.
Sunday, March 1:
Briand Morrison, Mogul's Grille, 10 a.m.
Al Oikari & Friends, Live on WTIP, 11 a.m.
Ginstrings_ Sunday Bluegrass at Papa Charlie's, 3:30 p.m.
Open Stage with Joe Paulik, Wunderbar, 6 p.m.
Granddad's Favorite (Andrew Norcross, JennyMonfore, Heather Brown & Ben Byron). Live on WTIP, 6 p.m.
Monday, March 2:
Brothers in Arms, Voyageur Brewing, 5 p.m.
Erik Koskinen, Monday Night Songwriter Series, Papa Charlie's, 8 p.m.
Vessel, Bluefin Grille, 8 p.m.
Tuesday, March 3:
Gordon Thorne, Poplar River Pub, 6 p.m.
Photographs:
It was a pretty quiet week for photographs and photographers. Here's a selection of what we found.
First, a harbinger of spring:
And beauteous Lake Superior landscapes:
And finally, two skyscapes.
Have a great weekend everyone!