Hiking time in Cook County! The fall colors are finally beginning, and they promise to be gorgeous this year. There are great places to drive, too, to see the very best displays. Stop by the Grand Marais Visitor Center and get a copy of the fall color tour guide they have there.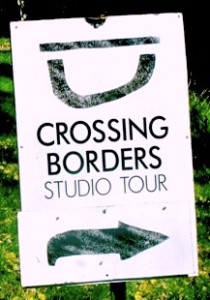 And, plan on investigating art this weekend. This is the final weekend of the Crossing Borders Studio Tour, which features open studios from Two Harbors to the Canadian border.
Here are a few photos of some of the art you will see. Many of the galleries have guest artists, too, adding to the pleasure.
Two Harbors: Blue Skies Glassworks, Cooter Pottery & Handweaving

Both Blue Skies Glassworks and Cooter Pottery and Handweaving have a number of guest artists, too.
Lutsen: Last Chance Studios & Fabricating

Grand Marais: Betsy Bowen Studio & Galleries
Hovland:  Lee & Dan Ross
Grand Portage: Marcie McIntire, Ojibwe bead artist

All of the studios on the Crossing Borders Tour are open from 10 a.m. to 6 p.m. daily through Sunday, Oct. 4. For more info and maps, see www.crossingbordersstudiotour.com.
There is lots more art to see in Cook County this weekend.
If you haven't stopped at the Cross River Heritage Center to see the Lake Superior Watercolor Society exhibit there, it's a must-stop this season. The Heritage Center has a number of other exhibits as well. The Heritage Center is open Tuesday through Saturday, 10 a.m. to 4:30 p.m. and Sunday from 1-4 p.m.
And the Grand Marais Art Colony's Plein Air Competition, Exhibit and Sale continues at the Johnson Heritage Post. In all, 70 painters from throughout the region painted the lake, the woods and the whimsies of Cook County for a week, and the results of their work are on display. It's a beautiful show and shouldn't be missed. The Heritage Post is open from 10 a.m.  to 4 p.m. Wednesday through Saturday and 1-4 p.m. Sunday and Monday.
First Fridays is this week, too, so look for special exhibits and events at participating galleries and shops. Cookies baked in a wood-fired oven are on-tap at Betsy Bowen's Studio and cellist Yvonne Caruthers will play at Sivertson Gallery from 4-6 p.m. on Friday as well.
And on Saturday, Sivertson Gallery will hold its annual raku extravaganza with award-winning raku artists, Richard Gruchalla and Carrin Rosetti. The couple brings lots of tea bowls ready to be glazed and a portable raku kiln to fire them. Buy a bowl and glaze it yourself. It's always a fun time. "Do You Raku? We Do" is held from 10 a.m. to 4 p.m.
Also on Saturday, the fiddling sisters, Emma and Carrie Dlutkowski, will perform at the Grand Marais Public Library at 1 p.m. Together with their mother Susan, accompanying on piano, the trio draws on the dynamic music of Canadian and American fiddle and dance traditions. All invited.
Potter Maggie Anderson has brought in new work to the Kah-Nee-Tah Gallery in Lutsen. Anderson has now moved to Cook County permanently and will be teaching a beginning ceramics class at the Grand Marais Art Colony this month. To find out more, call the Art Colony at 218-387-2737 or click here.
And finally, poet Jill Breckinridge will read from her book, "Sometimes …" at a Writer's Salon at Drury Lane Books at 5 p.m. Saturday.
In Thunder Bay next week, Definitely Superior Gallery will present Random Acts of Poetry Oct. 5-10, where poets and singer/songwriters will perform for the public on the streets, at city council meetings, at cafes  and other public places throughout the city of Thunder Bay. The event is an initiative to promote literacy, art and poetry in places where people live their everyday lives. In all, 25 of Thunder Bay's finest spoken word and singer-songwriters will perform in 120 individual performances. For the schedule of performances, click here.
In other art news, Thomas Spence opens a show of his photography at the Coho Cafe in Tofte this week. The exhibit runs through November.
The Thunder Bay Art Gallery is featuring four  exhibitions this month, including works by by local artists Susan Kachor Conlon, Carol Kajorinne, and Shayne Ehman, along with St. Paul-based artist Anne Labovitz, as well as 14 works from the collection by Carl Ray created in the 1970s.
A crew from the Discovery Channel's "How It's Made" were filming at North House Folk School last week. Over five days, they filmed three instructors doing four different crafts–Erik Simula, (wild rice harvesting and processing); Dennis Chilcote (birch bark berry basket) and Paula Sundet Wolf (pine needle basket.) The completed segments will air sometime next year — stay tuned!
WTIP's locally produced show, "The Music of Art" is looking for artists to be guests on upcoming shows. They will talk about their art and the music that inspires them.The show airs on Wednesdays. For more information, contact WTIP at 218-387-1070 or email themusicofartus@gmail.com.
Searching for Mary Beams
Up until a few months ago, all of Boston, Mass., was looking for Mary Beams,  now the part owner of The Pie Place in Grand Marais. Or, as Boston Globe journalist Malcolm Gay put it, "It was like a crowd-sourced manhunt, but for an artist."
About 35 years ago, Beams painted 19 murals for the Massachusetts Bay Transportation Authority (MBTA)  "that had achieved near iconic status during their 35-year residency,"  Gay wrote. "Transportation officials had removed the paintings in advance of the station's overhaul. Now they wanted to return them to the artist, but she had vanished." So the officials posted a Tweet… does anybody know where the artist is? they asked.
Here's the rest of the story as Gay tells it:
"I got a phone call one day," Beams explained, "and a voice I didn't know said, 'How does it feel to know that all of Boston is looking for you?' I had no idea what to say."
Gay continues: "Beams, it turned out, hadn't disappeared at all. An animator who had been a teaching assistant at Harvard's Carpenter Center for the Visual Arts, and whose work has been collected by the Museum of Modern Art, she'd simply left the art world, devoting herself instead to baking pies on the shores of Lake Superior.
"A part-owner of the Pie Place Café in Grand Marais, Beams will be returning to Boston, where next month, with her blessing, the MBTA plans to hold an online public auction of the artworks, giving Bostonians a chance to own a piece of the city's history."  Kudos to this talented artist!
Here's the music for this weekend:
Friday: Oct. 2
Briand Morrison, Voyageur Brewing Co., 4-7 p.m.
Michael Monroe, Bluefin Grille, Tofte, 8 p.m.
Ginstrings, Gun Flint Tavern, 9 p.m.
Saturday, Oct. 3
Dutkowksi Sisters Violin Performance, Grand Marais Public Library, 1 p.m.
Pushing Chain, Lutsen Resort, 7 p.m.
Michael Monroe Log Cabin Concert, rural Grand Marais, 7 p.m., call 387-2919
Mary Bue, Cascade Lodge Pub, 7:30 p.m.
Ginstrings, Gun Flint Tavern, 9 p.m.
Saturday Night Dance Party with DJ Beavstar, Papa Charlie's, 9:30 p.m.
Monday, Oct. 5:
Eric Frost, Bluefin Grille, 8 p.m.
Wednesday, Oct. 7:
Gordon Thorne, Bluefin Grille, 8 p.m.
Stories (and photos) of fall abound this week.
The Supermoon Eclipse was the big story of the day, but here in Cook County, we only got to see part of it, as clouds drifted in about halfway through the show. Nevertheless … our trusty photographer friends were out in force. Here's a  sampling.
Some people did catch the eclipse. Here's a  beautiful composite from Spooner, Wis. by Kathryn DesForges.
Here's another document of change… the Paul R Tregurtha unloads what may be the last load of coal at Taconite Harbor. Thomas Spence took the photo and writes: "I am quite emotional about the probability of never seeing another laker arrive here. I was told that this is likely the last load. She leaves in the early morning hours and I'll likely go see her off…"
Recent rains changed the waterfalls.
And fall colors are beginning to sparkle. Here's a beauty by Mary Amerman.
Here's another Thomas Spence and a harbinger of fall … a bear in an apple tree.
And finally, this perfect "promise of fall" shot by Thomas Spence.
Enjoy your weekend, everyone!