When two seasons collide,  like they did this week on the North Shore, it's easy on the eyes. That's not so easy if there's more than six inches of snow and you aren't quite ready for winter in the middle of October, but … we are keeping on.
North House Folk School celebrates this week with a great webinar, "Raptors of the North Shore," co-hosted with the Raptor Center in St. Paul. The webinar on Thursday, Oct. 22, will explore the fascinating world of northern raptors –eagles, hawks, owls, falcons, and vultures. Come eye to eye, closer than you ever could in the wild, with a live Bald Eagle, Peregrine Falcon, Red-tailed Hawk, and Great Horned Owl during this live and interactive online program. Free.
Learn about different raptor species found along the north shore, learn where to find them, and about their migrations. This program will last 45 minutes and will be followed by a 15-minute Q&A.  The webinar is free. To register, click here.
The Grand Marais Art Colony will host multi-media artist Galilee Peaches as its Instagram takeover artist on Thursday and Friday, Oct. 22-23.
Peaches is an interdisciplinary artist with a studio practice of drawing, painting, sculpture, photography, and writing. She was one of the Art Colony's 2020 juried Artists-in-Residence. Follow her Instagram Takeover here.
Both North House Folk School and the Grand Marais Art Colony are offering online and in-person classes and workshops this fall. Check out their websites to learn more.
FYI: WTIP Community Radio holds its annual Fall Membership Drive this week with live music featured for Friday and Saturday. Boyd Bump Blomberg plays at 1 p.m. on Friday with Fred Anderson performing at 4 p.m. On Saturday, Gene Lafond and Amy Grillo will play at 2 p.m.
Also, WTIP has set up a special Listener Comment Line for fans to share a favorite program or just say hello to a friend in the world-wide listening area of the radio station. To comment, call 218-353-1033 to record your message for the fall drive.
Our online lives continue.
On Monday and Tuesday, the Grand Marais Playhouse will stream their production of the play, "The Remarkable Susan," live, from the Cook County Courthouse at 7 p.m. each evening. The short play by Tim Kelly is about the trail of Susan B. Anthony, who was on trail for the "crime" of casting a ballot.
Also, a recording of Cook County Higher Education's outstanding webinar, "We Are All Treaty People: the History of Treaties in Minnesota," will be available free, online, on Monday, Oct. 26.
The webinar is one of the series of Lifelong Learning webinars sponsored by CCHE. To learn more and see the webinar, as well as links to others, click here. 
Exhibits:
A new exhibit, "Cook County Through My Eyes II: Photographs by David R. Johnson" continues at the Johnson Heritage Post. Johnson's exhibit includes a wide variety of landscape and wildlife photographs, including the amazing photograph, below, of a wolf running off with lunch.
The  Johnson Heritage Post is open from 1-4 p.m. Fridays and 10 a.m. to 2 p.m. Saturdays, with Covid protocols in place. You can also see the exhibit online here,
The Duluth Art Institute, located in the Depot in Duluth is open to the public, with Covid protocols in place. There are a number of different exhibits on view, including "Identity" by fabric artist Blair Treuer.
In this exhibit, Treuer becomes a storyteller delivering a message, "magic can be created when two people from different cultures love each other and build a life together."
Other exhibits at the Depot include "Integument," multimedia by Susanna Gaunt, "Material," by Alyssa Swanson, "Reflections" by Kristen Kaas and "Tignon" by Chelsea Antoinette. To learn more, click here.
The AICHO (American Indian Community Housing Association) Gallery in Duluth has installed a new exhibit entitled "Manidoominens: Still Beading After 10,000 Years." The exhibit is curated by Fond du Lac Band of Ojibwe tribal member and artist Wendy Savage and features the works of 29 beadwork artists in the region representing 14 tribal Nations in the midwest and Canada.
The exhibit is virtual. To see outstanding photographs of the artwork as well as take a virtual  tour of the show, click here. The exhibit continues through Jan. 8.
Artists at Work:
Here's a treat. Perfect Duluth Day has created a series of videos featuring the artists who will be participating in a new exhibit at the Tweed Museum of Art entitled "Creating Apart: Local Artists Respond to a Global Pandemic." The videos were filmed by Mike Scholtz and produced by Ann Dugan. The Tweed exhibit has been made possible by the National Endowment for the Humanities,
Artists from a variety of media who are included in the exhibit include Adam Swanson, Aaron Kloss, Karen Savage-Blue, Moira Villard, Brian Barber, Lyz Jaakola, Joe Klander, Sarah Brokes and Ivy Vainio. The videos were filmed by Mike Scholtz and produced by Ann Dugan. The exhibit
To get a taste, here is a video of Adam Swanson working in his studio. There are links to the other artists here as well. Check it out. It's really fun.
 Perfect Duluth Day has also produced a series of stories about local artists entitled "Selective Focus." Grand Marais potter Hannah Palma was featured in one of these.
 Here's a link to the story and more photographs of Hannah Palma and her work.
Here are some of the recent artworks we found this week:
Also of interest: WTIP's Annie Possis recently interviewed internationally renowned wolf expert Dave Mech about how he got his start studying wolves on Isle Royale when a graduate student in the late 1950s. At 62 years and counting, the Isle Royale Project is now the longest continuous study of any predator-prey system in the world. Dave and outdoors writer Greg Breining have written an account of those first years called "Wolf Island," and they joined Annie on The Roadhouse to talk about it.
To listen to this outstanding interview, click here.
Virtual Music:
 A classical piece:
A song for our times:
And this gift:
Live Music:
Thursday, Oct. 22:
Friday, Oct. 23:
Bump Blomberg, Live from WTIP, 1 p.m.
Fred Anderson, Live from WTIP, 4 p.m.
Saturday, Oct. 24:
Gene Lafond and Amy Grillo, Live from WTIP, 4 p.m.
 Photographs:
First, wildlife:'
 Plants and trees:
Landscapes, waterscapes and skyscapes:
Potpourri and peoplescapes:
A 3-season image.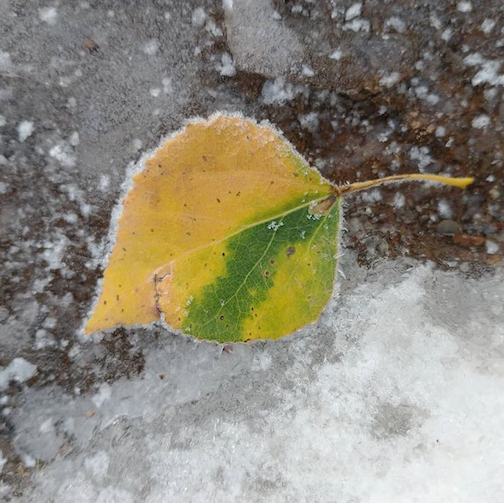 Grand Marais, Oct. 21,2020 , photo courtesy  of Joy & Co.
And finally, this:
Have a good weekend, everyone. Keep safe!