Greetings from the North Shore, where a new day dawns over the big waters,  bringing us promises of light and possibilities. And our virtual life continues…
First up, is the North House Folk School's Winter Virtual Film Festival, with a great variety of movies scheduled for the rest of the month. Week 3 concludes tonight, with the films Good Work: Masters Of The Building Arts  a 65-minute documentary  about artisans from across America working in the building trades to Woodlanders, a series of documentaries about people around the world who care for forests and depend on them for their livelihoods.
Starting Friday, Jan. 22, North House will feature the final series of films, including The Spoon, the Bowl and the Knife with Wille Sundqvist (available this week only), a story of traditional Scandinavian woodcraft told through the life and work of craftsman Wille Sundqvist, master of the knife and axe; Whang-Od: The Last True Tattoo Artist, and Ben's Mill, a documentary about one of the few water-powered, wood-working mills left in this country. Here's one to whet your appetite.
Also in virtual land, WTIP's 'Tip Jar Performances continue on Friday from 4-7 p.m. featuring local musicians.
This week, listen to Chris Gillis, John Gruber, and Jim McGowan. 'Tip Jar is a fundraiser dedicated to raising money for grants to Cook County musicians, who have suffered severe loss of income due to the pandemic and their inability to perform in front of live audiences. You can make a donation here.
Exhibits:
There are two exhibits at the Johnson Heritage Post this month: the virtual exhibit, "The Art of Healing," and David Johnson's photography exhibit in the art gallery itself entitled "Cook County Through My Eyes, Vol. 11. The gallery is now open to the public with Covid protocols in place. The hours are from 1-4 p.m. Thursdays, 10 a.m. to 4 p.m. Fridays and Saturdays and 10 a.m. to 2 p.m. Sundays.
The Art of Healing exhibit is totally online, and features a wide variety of work by local artists. Here are a few examples:
\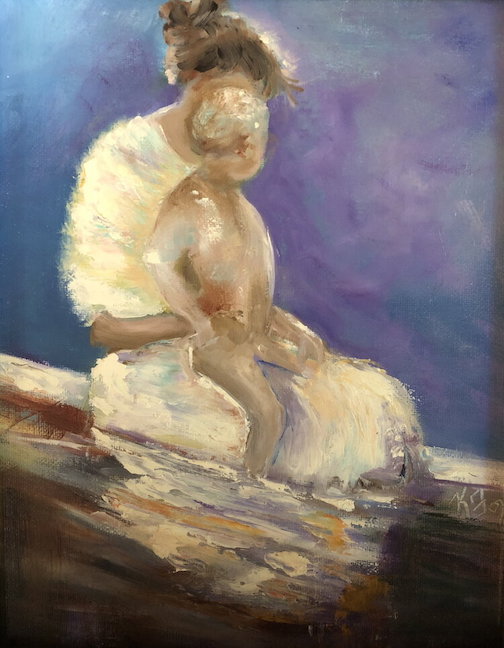 "Bath" by Kathy Weinberg.
 David Johnson is exhibiting a number of landscape and wildlife photographs at the Heritage Post.
This is the last weekend to see both exhibits.
Upcoming:
For opera lovers, Lyric Opera of the North will hold a virtual gala  with a program designed by the listener. Participants can make a $15 donation and suggest what they would like to hear, whether its an aria, duet or trio. Deadline to vote is Jan. 31. The virtual gala includes cocktails from Vikre and antipasto trays and dinner kits. Here's a link to find out more.
Meanwhile:
Artists at Work:
Here's a selection of pieces created by local artists this month:
Art Potpourri
There will be a presentation about the legacy of Tom Thomson, one of the Group of Seven painters on Feb. 10 at 7 p.m. It is free, but preregistration is required.
To learn more and register for the virtual talk, click here.
Here are some fantastic tips on how to be an artist that came out of interviews with Georgia O'Keeffe.
To read the article, click here.
Rainbow Village: Here's an article about a man who saw his village deserted but refused to leave. Instead, he painted every surface and the village is again populated, this time with people who just want to see his work.
 To read about this colorful village and see lots more photographs, click here.
Paper Samurai: This elaborately armored Samurai was folded from a single piece of paper.
Here's a video of how he did it.
Check out these book benches in Bulgaria:
Making Containers:
American whiskey barrels:
Korean Onggi:
 Music Potpourri:
Singing Sea Chanties is the latest rage on TikTok
Here's the Ukulele Orchestra of Great Britain
Here's a fascinating story about three elderly South Korean women fisherwomen who catch all the fish for their local village by putting on wetsuits and diving for the. They are teaching younger fisherwomen their traditional songs.
And then listen:
t
And this wonderful aria.
And to conclude, check out this video of sea lions surfing in Hawaii. Sound can certainly be turned off to enjoy the spectacle.
 Photographs:
Let's start with wildlife:
Landscapes, ices capes, lakescapes and skyscapes:
Have a good week, everyone. Stay well. Stay safe.