Happy Thanksgiving!
The holiday season begins in Cook County with art events, a holiday concert and a Christmas Parade, not to mention the first chance to get on the ski slopes at Lutsen Mountains and a photo op with Santa and his sled dogs.
First up is the Christmas Parade  ("Oh Ole Night") in Grand Marais on Friday. It's a holiday parade with a Nordic theme, and it's OK if you're a little late. The parade makes two loops around town, so you have two opportunities to see everything. It starts at 4 p.m. on Wisconsin Street and the whole community turns out to enjoy the show.
Immediately afterwards, the lights on the Christmas tree  in Harbor Park will be turned on followed by carol singing. Many of the downtown shops will be open, too, and Santa Claus will be at Stone Harbor Wilderness Supply with his sled dogs for photos.
On Friday night, the 9th annual New Standards Holiday Concert with Chan Poling, John Munson,  Steve Roehm & Friends will be at Papa Charlie's at 8:30 p.m. It's a family friendly show.
The New Standards are three friends, musicians and raconteurs who have been performing together since 2005 in clubs and theaters everywhere, from Shanghai to New York City. They've released half a dozen CDs and populated YouTube with a number of popular videos. In their original state, they take the form of an unusual trio (standup bass, piano and vibraphone), but of-late have been the soul and creative core of a hydra-headed, funny, freewheeling, nutty yet very moving "Variety Show." Catch a preview of the show at Papa Charlie's before sold-out performances at the State Theater in Minneapolis and Lincoln Center, New York. Here's a video clip of what they do.  You can purchase tickets here.
On Saturday, attention turns to holiday sales with the Hovland Holiday Arts Festival at the Hovland Town Hall from 10 a.m. to 4 p.m. and the Crafts and Consultants Open House at the Community Center from 10 a.m. to 3 p.m.
The Hovland Arts Festival features a wide variety of crafts and art by local artisans including photographs, weaving, wood-turned bowls, jewelry, candles, pottery and more. Refreshments and baked goods will also be available.
The Open House at the Community Center will feature holiday crafts, the Girl Scouts Poinsettia Sale and specialty product consultants. Tom Crosby will have hand blown Christmas ornaments and a wide variety of other handblown glass items, Hana Senty will have handmade soaps and other body care items, to name a few of the craftspeople who will be there.
Also on Saturday, the Home for the Holiday Market at Last Chance Gallery is a must-see. The gallery, with lots of new work by local and regional artists, is open from 10 a.m. to 4 p.m. with a bronze pour at 4 p.m. and a traditional tree lighting and caroling at 6 p.m. Refreshments will be served. All invited.
Upcoming
Holiday Art Underground at Betsy Bowen Studio, opens Friday, Dec. 4, 5-8 p.m.
 Northwoods Fiber Guild Annual Holiday Sale, Grand Marais Art Colony, Saturday, Dec. 5, 9 a.m. to 2 p.m.
 Annual Craft and Bake Sale, Evangelical Free Church, Dec. 5, 10 a.m. to 3 p.m.
 Jewelry Trunk Show: Sivercocoon, Tia Salmela,  Sivertson Gallery
 Borealis Chorale and Orchestra Annual Christmas Concert, Bethlehem Lutheran Church, Dec. 6 & 7,  7 p.m.
In other art news:
There are lots of art activities in Duluth this weekend, including the Wolf at the Door, Studio Sale at the Kenspeckle Letter Press in the DeWitt-Seitz Building in Canal Park Nov. 27-29. from 11 a.m. to 4 p.m each day. Rick Allen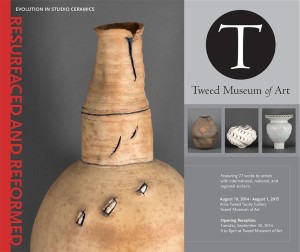 This is the last month to see the spectacular ceramics exhibit, Resurfaced and Reformed: Evolution in Studio Ceramics at the Tweed Museum Art. The exhibit opened in September last year, and was extended through the end of this year. It closes Dec. 31. Other exhibits at the Tweed include Robert Minichiello: Spontaneous Acts and and Sharon Louden: Windows.  The museum, on the campus of the University of Minnesota, Duluth, is open Tuesdays, 9 a.m. to 8 p.m., Wednesdays through Fridays, 9 a.m. to 4:30 p.m. and Saturdays and Sundays, 1-5 p.m. For more info, click here.
In Thunder Bay, the Definitely Superior Art Gallery in Thunder Bay is featuring two exhibits: "Sensibilia: Annual Regional Juried Exhibition," works by 40 local and regional contemporary artists and Quentin Maki's "Kurrents," an exhibit of new work by the Thunder Bay artist.
At the Thunder Bay Art Gallery, "Unlimited Edition,"  an exhibit organized by the Kamloops Art Gallery in Kamloops, B.C. and curated by Tania Willard, continues through Jan. 10.
Sandi Pillsbury-Gredzens' exhibit at Tettegouche State Park continues through early January. Pillsbury-Gredzens reports that the exhibit space is beautiful, and that Tettegouche is the only state park in Minnesota that has rotating art work. Previous exhibitors include David Gilsvik and Tim Pearson.
And here's a note: Many of the photographers featured on these pages have photo calendars for 2015 including Bryan Hansel, David Johnson and Christian Dalbec.
Here's the music for this weekend:
Thursday, Nov. 26:
Jon Kalberg, Poplar River Pub, 6 p.m.
Friday, Nov. 27:
Maria Nickolay, Voyageur Brewing Co., 4 p.m.
Cook County's Most Wanted, American Legion, 8:30 p.m.
The New Standards Holiday Show, Papa Charlie's, 8:30 p.m.
Black River Revue, Gun Flint Tavern, 8:30 p.m.
Saturday, Nov. 28:
Eric Frost, Voyageur Brewing Co., 4 p.m.
Gene LaFond & Amy Ann Grillo, Lutsen Resort, 7 p.m.
Michael Monroe Log Cabin Concert, rural Grand Marais, reservations at 387-2919
Black River Revue, Gun Flint Tavern, 8:30 p.m.
Sunday, Nov. 29:
James Moors, Gun Flint Tavern, 6:30 p.m.
Tuesday, Dec. 1:
Jim & Michele Miller, Poplar River Pub, 6 p.m.
Wednesday, Dec. 2:
Open Mic Night, Gun Flint Tavern,  5 p.m.
We found some interesting photographs this week.
Let's start out with an evocative photo of a moose in fog taken by Nace Hagemann.
Here's another "quiet" photograph. This one is by Paul Sundberg, taken after a new snowfall.
The Sleeping Giant in Thunder Bay always draws photographers, and Crystal Nielson made this extraordinary image of the iconic formation.
Waves were a subject this week, too, as storms lashed the shore. Here are a few wonderful images.
Lots of rain brought rushing waterfalls. This photo was taken by Sierra Parsons.
Rain plus freezing temps yielded this shot. Tim Cope, the Australian who wrote "On the Trail of Genghis Khan" and gave a presentation during Winterer's Gathering at North House Folk School last weekend, took this shot.
Here's another interesting ice shot.
Nanette Tyle caught this moment on the Gooseberry Nov. 21.
Not to change the subject, but…Gail Baldwin found this incredible rock in the woods recently.
And the holidays would not be the same if it weren't for lights… here's Bentleyville in Duluth on the night the switches for 2015 were turned on.
Happy Holidays everyone!