Greetings from the North Shore, where we are getting ready to start the summer season over the Memorial Day weekend with the Art Along the Lake spring gallery tour and the Spring Sound Garden in Harbor Park.
Plan to celebrate the art and artists of  Cook County by visiting galleries and studios throughout Grand Marais, the Gunflint Trail, Grand Portage, Lutsen, Tofte, and Schroeder. Look for new work and new artists as well as the launch of a new gallery, The North Country, which has opened in the former Kat-Nee-Tah Gallery building just east of Lutsen.
Here's a link to the Gallery Guide.
The Cross River Heritage Center in Schroeder opens this weekend, too, with new exhibits, as does the Chik-Wauk Museum & Nature Center on the Gunflint Trail.
Also this weekend, the Spring Sound Garden is featured in Harbor Park in Grand Marais from noon to 5 p.m. on Saturday and Sunday.
The Sound Garden is a self-guided, site-specific sound + performance installation on the shore of Lake Superior, featuring roving live music, dance, painting, poetry, history, storytelling, and more.
The Cook County Market opens for the season this weekend, too.
The market features a variety of work by local artists and artisans as well as live music. There are new hours, too. It will be open from 10 a.m. to 2 p.m. on Saturdays.
The busy weekend starts on Thursday with an online event when Kari Halker-Saathoff and Danny Saathoff will be the takeover artists for the Grand Marais Art Colony's Instagram page. The duo will post on Instagram on Thursday and Friday.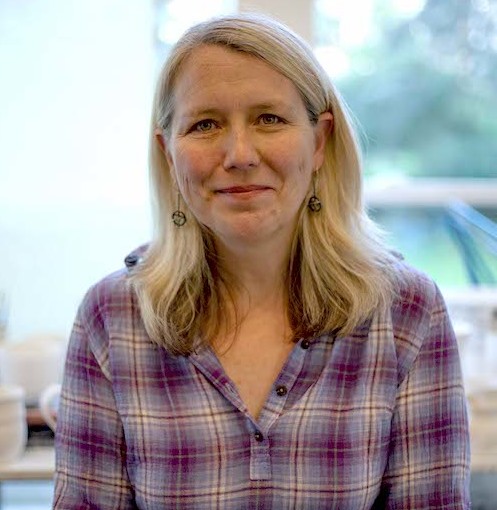 Kari is a multidisciplinary artist and has been an art educator for the past 25 years. Her teaching role requires her to be well-versed in all core artistic media, allowing her to combine her skills in drawing with ceramics and sculpture.
She will be teaching a class at the Art Colony this summer. For more info, click here.
Danny is a jewelry designer and a sculptor. He refers to his jewelry as small-scale sculpture and his sculptures as large-scale jewelry. He is a faculty member at Carleton College in Northfield, Minnesota, where he is an instructor of Metalsmithing.
Danny will be teaching a class at the Art Colony this summer. To find out more, click here.
On Friday, the Johnson Heritage Post Gallery will host an opening reception for a new exhibit entitled "Off the Grid: Paintings by Patricia DeVries." 
The opening reception is from 5-7 p.m. on Friday.
The Art of the Elements gallery, located in rural Grand Marais at 306 Co. Rd. 44, opens for the season on Friday. The gallery will be open from 10 a.m. too 5 p.m. on Fridays and Saturdays. The gallery features the work of Sharon and Steve Frykman as well as wide variety of local and regional artists.
 To find out more about the gallery, click here.
Drury Lane Books is kicking off summer with the return of The Muffin Man. The Muffin Man will read a collection of books to kids and families every Saturday at 11 a.m. outside at the bookstore, weather permitting.
Weather decisions will be made at 10:30 a.m.on Saturday. Call the store at 218-387-3370 if you're unsure of what it's like by the harbor.
Next week, North House Folk School will hold Community Boat Building Days: The Herring Skiff to launch the Wooden Boat Show 2021, which is on-line from June 3-25 and on campus June 18-20
North House Folk School Next week, North House Folk School will hold Community Boat Building Days: the Herring Skiff to launch the Wooden Boat Show 2021, which is on-line from June 3-25 and on campus June 18-20.  Josh Tolkan will lead the boatbuilding workshop Wednesdays through Saturdays in June in an outdoor workshop. No experience is required, just a willingness to learn. Tasks will include woodworking, finishing, fairing the hull, painting, building and installing seats, decks and knees. To sign up, click here.
But It Was Still There, an exhibit by artists Moheb Soliman, Moira Bateman, Annie Hejny and Nick Wroblewski continues at Studio 21, the Grand Marais Art Colony's new building on Hwy. 61.
Another Art Colony project, a collaboration with Sugarloaf Cove Nature Center begins this week. Sugarloaf is hosting host Minneapolis artist Sean Connaughty to create an installation on-site. Working  from May 24 – June 7,  Connaughty will complete a site-specific installation at Sugarloaf Cove entitled "The Art of Reciprocity."  The installation will be exhibited through Sept. 30. The public is invited to visit Sugarloaf as the installation progresses. Stay tuned for details.
In Duluth, the Joseph Nease Gallery has a new exhibit, "A Warm Reset" featuring New and recent work by gallery and invited artists – Tara Austin, David Bowen, James Brinsfield, Cary Esser, Liz James, Matthew Kluber, Kathy McTavish, Allen Killian-Moore, and Tim White.
 Claudia Faith is exhibiting her work at the Dovetail Cafe, 1917 W. Superior St., in Duluth.
Opportunities:
Music for the Graduates on WTIP: Fellow classmates, family and teachers are welcome to request a song dedicated to a graduating senior a tribute to the class of '21 to be played on WTIP. The songs will be played on Saturday afternoon along with a personal message. Send in your song for a graduate at Matthew@wtip.org
The Local Food Market will be held in the parking lot of the Cook County Community Center every Thursday from 4:30-6 p.m. starting next week, June 3. Early season produce will be available. Open to all.
There is still time to sign up for Theater Summer Camps! The schedule:
June 2-18- The Snow Queen's Revenge on Hercules
June 21-July 2- Perstephanie goes Underground
July 5- 16 – Playwriting

 

Aug. 9-20 The Dragon and the Pearl
For more info and registration, click here.
Cook County Higher Education will hold a series of Google App Trainings in June. Click to find out more and to register.
Artists At Work:
Online Music:
Live Music:
Thursday, May 27:
Gordon Thorne, North Shore Winery, 6-8 p.m .Make reservations here or  call (218) 481-9280.
Saturday & Sunday, May 29-30:
Spring Sound Garden, Harbor Park, noon-5 p.m.
Log Cabin Concert with Michael Monroe, 6:30-8:30 p.m., rural Grand Marais. For more info and reservations, click here. socially distanced/Covid considerations: In-person 6:30 p.m. arrival, concert 7 p.m. Call for details: 612-789-2255.  Streaming on Facebook here,  7 p.m.
Photographs:
We were lucky again this week and found lots of photographs, especially amazing bird photos. Let's start with those:
More wildlife photographs:
Photographs of the Plant Kingdom
Treescapes:
 Landscapes, Skyscapes & Waterscapes
When it was much colder:
And finally, this:
Have a good weekend, everyone. Stay safe!
If you'd like to donate to NorthShore ArtScene this week, click on the icon below. It's fast and easy.