Beautiful handmade arts and crafts are up front and center this weekend with three events offering a wide variety of beautiful things.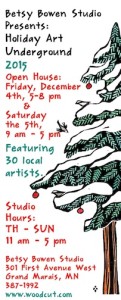 First up is the Holiday Art Underground Show at Betsy Bowen's Studio featuring work by more than 30 local and regional artists. Paintings, pottery, fiber art, glass, jewelry, photography, woodcarving and more are featured at this show, which opens with a reception on Friday, Dec. 4 from 5-8 p.m. and continues with an open house on Saturday, Dec. 5 from 9 a.m. to 5 p.m. Refreshments will be served.
The show continues through Dec. 24 with the gallery open from 11 a.m. to 5 p.m. Thursday to Sunday.
This year, Art Underground will also hold a booksigning and card-making demonstration with Betsy Bowen on Saturday, Dec. 12.
Also this weekend, the Northwoods Fiber Guild holds its annual Holiday Open House & Sale at the Grand Marais Art Colony from 9 a.m. to 2 p.m. on Saturday, Dec. 5.
This event should be really spectacular this year with a great collection of handmade fiber art. Everything from tiny little booties to felted bags, sweaters, scarves, mittens and socks, to name a few, can be found at this sale.
Members also make a wide variety of homemade holiday goodies for everyone to enjoy, and there are spinning and weaving demonstrations throughout the day.
The holiday sale also features a Christmas tree loaded  with handmade ornaments, and the craft table offers the public a chance to learn a new fiber craft and take it home.
All invited to come enjoy the creativity of your neighbors.
Also on Saturday, the Evangelical Free Church holds its Annual Craft and Bake Sale from 10 a.m. to 3 p.m. The event is a fundraiser for Patti Gamer.
There's more happening on Saturday as well. The Girl Scouts will hold Santa's Workshop and a Pancake Breakfast at the First Congregational Church from 8 a.m. to 2 p.m. There is a secret shopping area for kids under 12. Free crafts, a bake sale and snacks will also be available.
On Saturday evening, Drury Lane Books will hold a Farewell Party for Lee Stewart  and Bruce Stahly from 5-7 p.m.
Stewart and Stahly have been sharing their passion for books and helping to curate Drury Lane Books since Joan Drury first opened the bookstore in 2002. Refreshments will be served. All invited.
The weekend concludes with the Borealis Chorale & Orchestra's Annual Christmas Community Concert with performances at the
Bethlehem Lutheran Church at 7 p.m  Sunday, Dec. 6 and Monday, Dec. 7.  The concert includes visiting soloists, a 90-piece choir and a 20-piece orchestra. Accomplished composer, director and musician William Beckstrand directs. The concert is a collaboration with the North Shore Music Association.
This year will be a special treat with performance of the song "Snowfall," a selection from the song cycle "Crazy Cold Beautiful" about John Beargrease and the history and culture of sled dog mushing along the North Shore.
Composer Robin Escher received a grant to write a song cycle about John Beargrease and sled dog mushing in northern Minnesota. The Ojibwe was the mail carrier from Two Harbors to Grand Marais from 1880 to 1900. Escher followed the route taken by Beargrease and talked to mushers and sled-builders, librarians, writers, historians, musicians, and people from families who have lived along the North Shore area for generations, as well read letters and journal writings from the era in researching the song cycle. The Borealis Chorale and Orchestra will perform the complete song cycle on Feb. 5 at Bethlehem Lutheran Church and at the Sacred Heart Music Center in Duluth Feb. 6.
In other art news,
Chris Monroe, a cartoonist, illustrator and author who received the George Morrison Artist Award from the Arrowhead Regional Arts Council this year, will open a show at the Red Mug Coffeehouse in Superior with a reception from 5-7 p.m. on Thursday.
Neil Sherman is one of the artists exhibiting at the Grand Hill Gallery, 333 Grand Ave., St. Paul. The show opens with a reception from 6:30-9:30 p.m. on Thursday.
Cooper Ternes will be one of the artists exhibiting at the Julmarknad, Christmas Market, at the American Swedish Institute in Minneapolis Dec. 5-6.
The Thunder Bay Art Gallery is featuring "Form and Flow: Sculpture from the Collection" including work by David General.
The Definitely Superior Art Gallery in Thunder Bay is currently showing two exhibits: Kurrents-new paintings by Quentin Maki, and Sensibilia-Regional Juried Exhibition.
And finally, Cook County is seeking submissions from artists to display their work at the Cook County Courthouse. Artists are invited to submit proposals for an exhibition in the public spaces of the main floor of the courthouse. There are four walls with approximately 60 feet of display space. The intention is to have up to four 12-week displays in 2016. For more information, click here and/or contact Jeff Cadwell, Cook County administrator, at 218-387-3687. The deadline for submission is Feb. 26.
Here's the music schedule for the weekend:
Thursday, Dec. 3:
Boyd "Bump"Blomberg, Poplar River Pub, 6 p.m.
Frozen Britches, Cascade Lodge Pub, 7 p.m.
Gene LaFond, Gun Flint Tavern, 6:30p.m.
Friday, Dec. 4:
Pete Kavanaugh, Voyageur Brewing Co., 4 p.m.
Ginstrings, Gun Flint Tavern, 8:30 p.m.
Saturday,Dec. 5:
Heck Yeah Holler String Band, Voyageur Brewing Co., 4 p.m.
Corey McCauley Band, Gun Flint Tavern, 8:30 p.m.
Joe Paulik, Lutsen Resort, 8:30 p.m.
Sunday, Dec. 6:
Jon Miller & Eli Bentley, Gun Flint Tavern, 6:30 p.m.
Borealis Choral & Orchestra Annual Christmas Concert, Bethlehem Lutheran Church, 7 p.m.
Monday, Dec. 7:
Borealis Choral & Orchestra Annual Christmas Concert, Bethlehem Lutheran Church, 7 p.m.
Tuesday, Dec. 8:
Maria Nickolay, Poplar River Pub, 6 p.m.
Here are some of the great photos we found this week:
First up is this fascinating historical photo. It is in the Cook County Historical Society's files and was taken on Nov. 28, 1960. (BTW, the Historical Society has a received a donation for a dollar-for-dollar match up to $20,000 that runs until Dec. 31. Visit www.cookcountyhistory.org to learn more and make a donation.)
And now for some wildlife shots. Here's one by David Johnson.
Paul Sundberg caught this weasel in winter dress.
And Michael Furtman took this great shot of a red fox.
We found some beautiful landscapes, too. Here's a selection:
And last, but not least, here is a crazy wonderful photo of Sherri Moe's pet pig, Petunia.
Have a great weekend everyone!