Christmas is here! And we are celebrating it in Cook County with snow… in some cases, lots of it, in other places close to the Big Lake, not so much, but we don't care. It's white and we love it!
The downhill skiing is grand at Lutsen Mountains and some of the cross country ski trails and snowmobile trails are being opened up, too, after freezing rain and wet, slushy snow downed trees and bushes. To find out the latest on these trails, see www.boreal.org.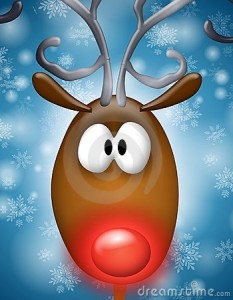 And here's some advice for children around the world who want to track Santa as he makes his way from the North Pole. They can call or Skype a special telephone number at the North American Aerospace Defense Command (NORAD) at  1-877-HI-NORAD, or they can email noradtrackssanta@outlook.com.
Track Santa also has a Twitter account that will be activated on Christmas Eve @NoradSanta.
For more info on how infrared radar keeps track of Rudolph's red nose as he flies through the sky and to see Santa's progress, click here.
Meanwhile, shops in Grand Marais and Cook County are open for last-minute shopping, including Betsy Bowen's Studio, which features the Holiday Art Underground Show from 11 a.m. to 2 p.m. on Thursday. After that, the gallery will be closing for the season, although special mid-winter mini art shows are being planned. Stay tuned for details.
Look for other art by local and regional artisans at Kah Nee Tah Gallery in Lutsen, which now has an online store at www.kahneetah.com.
Drury Lane Books and Birchbark Books & Gifts are open for awhile tomorrow, too, and both have a wide selection of great books as well as the latest 2016 calendars.
At Sivertson Gallery, look for new work by your favorite painters, printmakers and jewelers as well as a great collection of Northwoods photographs by Mark Tessier and Jim Brandenburg.
Grand Marais photographer David Johnson is a new artist at the gallery this month, and a selection of his favorite photographs are on display.
Galleries in both Thunder Bay and Duluth are open briefly tomorrow and then most are open over the weekend.
The Tweed Museum of Art on the University of Minnesota-Duluth campus is featuring three exhibits through the end of the month, when the museum will close for renovations through April. The exhibits include Sharon Louden's "Windows," a multi-media exhibit, "Spontaneous Acts," paintings by Robert Minichiello and Resurfaced and Reformed: Evolution in Studio Ceramics, featuring pottery from around the world.
Portrait of an Artist and (Self) Portrait of an Artist by Sarah Brokke, continues at the Duluth Art Institute through Jan. 21. This multi-faceted exhibit includes portraits of artists who have influenced and inspired Brokke as well as a separate exhibit of those artists' work.
On the way to Duluth, stop at Tettegouche State Park and enjoy paintings by Sandi Pillsbury Gredzens, which will be on display in the Great Hall through mid-January.
Two Harbors photographer John Gregor of Coldsnap Photography will exhibit his work in this great venue next. He is calling his exhibit "Views from the North Shore."
Tettegouche State Park is looking for artists to display work themed on the North Shore to be shown in 2016. For more info about how to submit proposals, email Kurt.Mead@state.mn.us.
Also, if you're in Duluth this weekend, Glensheen Mansion is offering a self-guided tour of the mansion decorated for Christmas from noon to 4 p.m. Admission is $15.
And, if you're a Christmas lights fan and haven't seen the Bentleyville Tour of Lights on the harbor in Duluth, now is the time. The show continues through Dec. 27.
The Thunder Bay Art Gallery's exhibit, "Unlimited Edition: Kamloops Art Gallery" continues through Jan. 10. The show was curated by Tania Willard (Secwepemc), Aboriginal curator in residence.
Definitely Superior Art Gallery in Thunder Bay is closed through Jan. 4.  The Derelicte Show, a wearable art, fashion, music and performance event, is Jan. 23.
Next week, Naniboujou Lodge will hold the 32nd annual Christmas Caroled  Dinner Dec. 27 & 28. This fun community event features an elaborate menu and caroling between the courses. Reservations are required. For more info, click here.
There's some fun music this weekend. Here's the schedule:
Thursday, Dec. 24:
Briand Morrison & Roxann Berglund, Moguls Grille & Tap Room, 3:30 p.m.
Briand Morrison & Roxann Berglund, Lutsen Resort, 7 p.m.
Friday, Dec. 25:
Briand Morrison & Roxann Berglund, Moguls Grille & Tap Room, 6 p.m.
Saturday, Dec. 26:
Joshua & Jacob Schmidt, Papa Charlie's, 3:15 p.m.
Plucked Up String Band, Voyageur Brewing Co., 4 p.m.
Tim Fast, Lutsen Resort, 7 p.m.
Bug Lite!, Gun Flint Tavern, 8:30 p.m.
Sunday, Dec. 27:
Timmy Haus, Gun Flint Tavern, 6:30 p.m.
Josh Von Mink, Lutsen Resort, 7 p.m.
Monday, Dec. 28:
James Moors, Papa Charlie's, 3:15 p.m.
Joe Paulik, Lutsen Resort, 7 p.m.
Tuesday, Dec. 29:
Eric Frost, Papa Charlie's, 12:15 p.m.
Briand Morrison, Papa Charlie's, 6:30 p.m.
Joe Paulik, Gun Flint Tavern, 6:30 p.m.
Jim & Michele Miller, Lutsen Resort, 7 p.m.
Wednesday, Dec. 30:
Bug Lite!, Papa Charlie's, 3:15 p.m.
Joe Paulik, Papa Charlie's, 6:30 p.m.
Eric Frost, Lutsen Resort, 7 p.m.
Thursday, Dec. 31:
Timmy Haus, Papa Charlie's, 3:15 p.m.
Eric Frost, Papa Charlie's, 6:30 p.m.
Jim & Michele Miller with Amy Schmidt, Cascade River Pub, 7 p.m.
Pushing Chain, Lutsen Resort, 7 p.m.
Michael Monroe, Log Cabin Concert, rural Grand Marais, reservations: 612-789-2255
Floydian Slip, Gun Flint Tavern, 9 p.m.
DJ D'Angelo, Papa Charlie's, 9:30 p.m.
We found some great photos this week.
Let's start out with a beautiful shot to welcome the Winter Solstice, Dec. 21.
And here's another beautiful indirect sun image taken through an icy window.
Thomas Spence caught this peaceful image.
We found some great wildlife shots. Here's one by Michael Furtman.
And this one of  a Great Grey.
Check out this beautiful composition by Layne Kennedy.
Lake Superior hasn't frozen yet, as Bryan Hansel shows with this aerial view.
Lake Superior isn't always quiet, either, as this photo shows.
And there's just a whisper of snow at Split Rock above a calm lake.
But the big story this week was big snows! Here are some images.
First, this cozy shot by Betsy Bowen.
Then, the drama of the snow fall this week by Paul Sundberg.
Here's a beauty, too.
And this one:
Here's a gorgeous shot of the snow and ice on the High Falls at Grand Portage.
And last, but not least, a breath-taking view of the beauty on the Trail
Happy Holidays, everyone!