Lots of exciting things going on this weekend, both indoors and out.
On Friday, the Grand Marais Library launches Friday Night Reels, a film series that will be held at 6 p.m. each Friday through March, This week's film, "Marie's Story" is the story of a blind and deaf girl who was left in an orphanage by her father in hopes that she would learn to communicate. The film is free. To see the trailer, click here.
Also on Friday, the 2-day Lake Effect Music & Ski Festival will be held at Papa Charlie's and Lutsen Mountains on Friday and Saturday nights. Useful Jenkins and DJ Abilities will perform on Friday night, The People Brothers Band and Heatbox on Saturday night.
For a special perk,  the Plucked Up String Band will play for the Apres Ski event Papa Charlie's at 3:15 p.m. on Saturday. The band will be on WTIP's The Roadhouse on Friday night to talk about their music and play a few tunes. The Roadhouse airs from 5-7 p.m.
It's perfect outdoors for gorgeous cross country skiing. Crews continue to work on the many of the trails where wet heavy snow downed trees and bushes, blocking access. But some of the favorites are open. For updates, visit www.boreal.org for complete ski trail and snowmobile trail reports.
This is also the weekend for the Gunflint Mail Run Sled Dog Race. This year, there will be two competitions: a 12-dog team and an 8-dog team, with a total of 24 mushers registered for the race.
The races start at Trail Center at 8 a.m. Saturday and conclude on Sunday. For more info, click here.
Continuing the week's entertainment, cellist Yvonne Caruthers, who performed with the National Symphony Orchestra in Washington, D.C. for years before retiring to Grand Marais,  will play at the Bluefin Grille on Sunday at 6 p.m. as part of the restaurant's Sunday classical music series.  All invited. Free.
Caruthers is also teaching a class in classical music on Tuesday nights in Room No. 107 in the Cook County Middle School. $10 per session.
Then on Monday, Cook County's own Barbara Jean will perform at Papa Charlie's in the Monday Songwriter series. The performance starts at 8 p.m.
And next weekend the North Shore Music Association presents the Grand Marais Ole Oprey at the Arrowhead Center for the Arts at 7:30p.m. Stay tuned for details.
There's a potpourri of things to do and see outside of Cook County, too, in the next few weeks.
Ann Gumpper, who designs and paints the backdrops for the Minnesota Ballet, will be conducting a scene painting event for the Lake Superior Community Theatre's production of West Side Story. The scene painting will be held from Friday, Jan. 15 to Sunday, Jan. 17, with sessions starting at 9 a.m. at William Kelley High School in Silver Bay. Participants should use the Horn Blvd. glass door entrance. For more info, email Paul Deaner at deaner@lakeconnections.net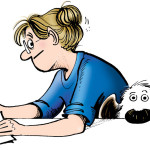 The Thunder Bay Art Gallery will open an exhibit "For Better or Worse: The Comic Art of Lynn Johnston" on Jan. 15. Johnston was nominated for a Pulitzer and is the first woman to win the National Cartoonists Society Reuben Award. She also has been inducted into the National Cartoon Museum Hall of Fame and the Canadian Cartoonists' Hall of Fame.
She will give a talk at the gallery on Jan. 21 and be available for book signing on Jan. 22. Stay tuned for details.
In conjunction with the exhibit, the gallery has also organized an exhibit of five Thunder Bay artists and illustrators entitled: "Unconstrained: Comic Art by Five Emerging Artists" which also opens Jan. 15. Both exhibits continue through March 6.
The Sensibilia exhibit continues at the Definitely Superior Art Gallery through Jan. 16. The juried exhibit features a wide variety of artists in a number of different media. Then, on Jan. 23, the gallery will hold Direlicte 8: A Fashion Odyssey. Held at Black Pirates Pub in Thunder Bay, the event showcases wearable art, fashion, music and performance.
In Duluth, "James and the Giant Peach" will be performed at the Duluth Playhouse Jan. 15-24 with performances at 7 p.m. Fridays, 1 and 4 p.m. Saturdays and 2 p.m. Sundays. For tickets, click here.
In other art news, Kah Nee Tah Gallery in Lutsen has new acrylics from Minneapolis painter Douglas Ross.
Last Chance Gallery in Lutsen, featuring works from a variety of local and regional artists, including sculptor Tom Christiansen, is open from 10 a.m. to 5 p.m.on Saturdays.
Staff from Sivertson Gallery are in Anchorage, Alaska this week, attending a show featuring walrus and mammoth carvings. Look to see some of them at the Inuit Premiere in March, if not earlier.
Melissa Wickwire of Wickwire Clay Works will be exhibiting tiles in the Art Tile Exhibition in the Edina Art Center's Margaret Foss Gallery  Jan. 11-Feb. 10. The exhibit is a juried collection of artwork by the Handmade Tile Association. HTA is a diverse group of independent artists that design and create artwork incorporating tile. To see more of her work, click here.
Grand Portage photographer, Travis Novitsky, will have four of his photographs, including the cover, in the February issue of Minnesota Monthly Magazine.
Plein air painter, Neil Sherman, will be the awards juror for GoPaint!, a plein air event in May in Durand, Wis. He will also be teach a plein air workshop at the event.
And for plein air lovers, the Grand Marais Art Colony will hold a pop-up exhibit of work created by participants in the Winter Arts Festival: Outdoor Painting & Photography. The exhibit will be from 3-5 p.m.on Friday, Jan. 29.
Here's the music schedule for this week:
Thursday, Jan. 7:
Eric Frost, Moguls Grille & Tap Room, 3 p.m.
Timmy Haus, Poplar River Pub, 6 p.m.
Dance Party with DJ Beavstar, Papa Charlie's, 9 p.m.
Friday, Jan. 8:
Timmy Haus, Moguls Grille & Tap Room, 3:30 p.m.
Portage Band, American Legion, 6 p.m.
Boyd Blomberg, Bluefin Grille, 8 p.m.
Spencer & John Miller (Ginstrings), Gun Flint Tavern, 8:30 p.m.
Useful Jenkins and DJ Abilities, Papa Charlie's, 9 p.m.
Saturday, Jan. 9:
Plucked Up String Band, Papa Charlie's, 3:15 p.m.
Gordon Thorne, Cascade Lodge Pub, 7 p.m.
Briand Morrison, Lutsen Resort, 7 p.m
Spencer & John Miller (Ginstrings), Gun Flint Tavern, 8:30 p.m.
The People Brothers Band and Heatbox, Papa Charlie's, 9 p.m.
Sunday, Jan. 10:
Yvonne Caruthers, Classical, Bluefin Grille, 6 p.m.
Gene LaFond, Gun Flint Tavern, 6:30 p.m.
Monday, Jan. 11:
Boyd Blomberg, Bluefin Grille, 8 p.m.
Barbara Jean, Monday Night Songwriters Series, Papa Charlie's, 8 p.m.
Tuesday, Jan. 12:
Gordon Thorne Fingerstyle Guitar Workshop, Lockport Marketplace, 5 p.m., Free
Jon Kallberg, Poplar River Pub, 6 p.m.
Wednesday, Jan. 13:
And now, for the photos we found this week:
Let's start with the two realities we currently have on the North Shore: lots of picturesque snow "over the hill," very little snow but fantastic waves and sunsets over the lake.
Here are two examples:
Sunset near Devil Track Lake, by Don Davison.
A little earlier, on the same evening, Travis Novitsky caught this incredible sunset over Lake Superior:
In the snowy region over the hill, it's peaceful.
And more dramatic closer to the Big Lake.
But there's ice, too.
And skyscapes:
We found some wonderful wildlife shots.
And lots of waves on Lake Superior.
Have a good weekend, everyone!