This weekend covers most of the bases in the arts.
There's a pottery show, an art talk on designing, building and then tearing down an art installation, a presentation on writing and publishing your own book, a fiber art show, two multi-media art shows and a photography show as well student performances, a play from the Duluth Playhouse and lots of live music. And then, early next week, the Grand Marais Art Colony opens its doors to youth during their spring break for artmaking.
Here are the details.
First up is Sports Theatre, an improv theatre show put on by senior students at ISD 166 at the Arrowhead Center for the Arts. It's really a fun show, as the students are thrown situation challenges and respond with some great acting. It starts at 7 p.m. on Thursday. Tickets are $5.
Also on Thursday, from 6-7:30 p.m., students at Great Expectations School will share their writing. The evening will include excerpts of student novels, puppet theater presentations of personal narratives and hands-on activities. All invited.
On Friday, the Duluth Playhouse brings "The Imaginarium Myth Adventure" featuring the Theatre for Young Audiences to the Grand Marais Public Library for a performance at 1:30 p.m. Free and open to the public.
That evening,  the Mid-Winter Art Quickie, an exhibit of work by Art Colony potters, opens at Betsy Bowen's Studio Gallery. It's going to be short and sweet: The opening reception is from 5-7 p.m. on Friday, March 25, and includes music and refreshments. The exhibit continues from 11 a.m. to 5 p.m. on Saturday and Sunday, when it closes.
In all, 11 potters will be showing their work, including Maggie Anderson, Kari Carter, Elaine Dean, Joan Farnam, Beth Ferry, John Franz, Bob LaMettry, Clair Nelezny, Natalie Sobanja, Bob Tamanaha, and Ann Ward.
There's an interactive table as well. Many of the potters created unusual functional pieces that might be a mystery to many of us. They're on the "What's THAT For?" table, and everyone is invited to make their guesses as to what they are. The winner gets to take one home.
Also, Betsy Bowen will have new cards and prints, and the gallery's regular artists will have work on display as well. All invited.
There are two events on Saturday.
St. Paul installation artist, Charles Matson Lume, is in residence at the Grand Marais Art Colony and is working on an installation in Founders Hall. He will give an Artist Talk at noon on Saturday.
Lume uses materials such as holographic papers, plastic magnifying lenses, and sequins to create light-reflecting art. In this residency, he will explore the light and space of northern Minnesota as it compares to his recent experiences in Scandinavia. In his Artist Talk, he will discuss the process of making his installations, from their initial germination to their de-installation. The public is invited.
Also on Saturday, the Grand Marais Public Library will host local author Rose Arrowsmith DeCoux, who will present and talk about her recently published book, "The Marvelous imagination of Katie Addams."She will discuss the inspiration for the book, as well as the process of writing and self-publishing in general.
Arrowsmith DeCoux writes fiction and poetry. She is also a story-teller, an actor and a stilt-walker. She has performed around the US, in India and in Sweden. The presentation is at 1 p.m. Free. All invited.
Next week, art instructors John Franz and David Hahn will offer open studios for youth on spring break at the Grand Marais Art Colony. Two-dimensional art supplies will be on hand, and Franz and Hahn will be there to assist and encourage. Open to all ages. Tuition is $5. For more information, call 387-2737.
This is the last weekend for the exhibit, "A Sense of Wonder: Expressing This Place," the multi-media show featuring artwork from novices to professionals at the Johnson Heritage Post. It closes on  Saturday. The Heritage Post is open from 10 a.m. to 4 p.m. Thursday through Saturday.
This is also the last weekend for an extraordinary exhibit by the Thunder Bay Weavers and Spinners Guild at the Baggage Building Art Centre at Prince Arthur's Landing in Thunder Bay.

The exhibit features weaving, felting, knitting and more. It closes on Saturday. The Baggage Building Art Centre is definitely worth a visit. There are exhibits, a gifts shop and on-going classes. Check it out here.
The Thunder Bay Art Gallery, on the campus of Confederation College, is featuring the Annual Lakehead University Juried Student Exhibition through April 10.
Upcoming

The internationally acclaimed Minetti Quartett from Vienna will be in concert at the Arrowhead Center for the Arts at 7:30 p.m. April 1. The musicians will perform here on the heels of their "Great Performers" concert at the Lincoln Center. The concert is sponsored by the North Shore Music Association. Tickets can be purchased at tix.com.
The Grand Marais Art Colony is holding open studios in the Founders Hall April 4, 6 & 13 for anyone interested in experimenting with art, regardless of their backgrounds. A variety of materials will be available as well as artist volunteers for guidance as needed. This informal opportunity to be creative is open to all. Tuition is $12. For more info, register here or call 387-2737
The Fingerstyle Masters Weekend with Gordon Thorne, Pat Donohue and Tom Schaefer  will be at Bluefin Bay Resort April 8-9. Nightly concerts and guitar and fiddle workshops are planned. Stay tuned.
In other art news, Neil Sherman's painting, "The Blues of Spring" was juried into the Outdoor Painters Society's Plein Air Southwest Salon.
The exhibit will be at Southwest Gallery in Dallas, Texas. For more information about this organization, click here.
Registration is now open for the Woodland Chamber Music Workshop at Surfside Resort June 21-26. For more information and to register, visit www.woodlandchambermusic.org
Katharine Skibbe of Edina will teach a class in oil pastel painting at Kah-Nee-Tah Gallery April 2. For more info and reservations, call 218-387-2585. To updates on future classes, click here.
Layne Kennedy has released a great new video: "60 Seconds: Winter in Minnesota. To see it, click here.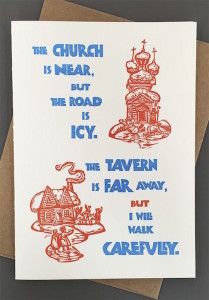 And Sivertson Gallery has received  new cards from Rick Allen.
Here's the music schedule for this week:
Thursday, March 24:
Timmy Haus, Moguls Grille, 3:30 p.m.
Jim & Michelle Miller, Poplar River Pub, 6 p.m.
Gordon Thorne, Bluefin Grille, 8 p.m.
Dance Party with DJ Beavstar, Papa Charlie's, 9 p.m.
Friday, March 25:
Jim Miller, Moguls Grille, 3:30 p.m.
Bug Lite, Bluefin Grille, 8 p.m.
Black River Revue, Gun Flint Tavern, 8:30 p.m.
Kind Country, Papa Charlie's, 9:30 p.m.
Saturday, March 26:
James Moors, Papa Charlie's, 3:15 p.m.
Joe Paulik, Lutsen Resort, 7 p.m.
Dat Dere Jazz, Cascade Lodge Pub, 7 p.m.
Black River Revue, Gun Flint Tavern, 8:30 p.m.
Pop Rocks, Papa Charlie's, 9:30 p.m.
Sunday, March 27:
Ever Green Grass Band, Papa Charlie's, 3:30 p.m.
Briand Morrison, Bluefin Grille, 6 p.m.
Dat Dere Jazz, Gun Flint Tavern, 6:30-9 p.m.
Monday, March 28:
Communist Daughter, Monday Night Songwriter Series, Papa Charlie's, 8 p.m.
Joe Paulik, Bluefin Grille, 8 p.m.
Tuesday, March 29:
Joe Paulik, Poplar River Pub, 6 p.m.
Open Mic Night, Papa Charlie's, 7 p.m.
Wednesday, March 30:
Gordon Thorne, Papa Charlie's, 8 p.m.
The photos we found this week reflect our spring weather perfectly. Wet snows and cascading waterfalls. Here's a selection:
And then, there's open water and the hint of spring.
And we found some wildlife shots.
And last, this beautiful shot.
Have a good weekend, everyone! And Happy Easter!