Earth Day is coming up this weekend, and there are celebrations and special events up and down the North Shore.
In Grand Marais, installation artists Mary Bergs and Lisa Hochstein have been in residence at the Grand Marais Art Colony working with repurposing found materials — i.e cardboard.
The artists will  hold an open studio from 2-4 p.m on Thursday and give an Artist Talk on at noon on Saturday. Free. All invited.
Also in Grand Marais, this is the final weekend for the Grand Marais Playhouse production of "Little Red Robin Hood."
Tickets are $10 adults, $5 students. It's a very funny play and well-acted. Highly recommended.
Two other Earth Day events of note in Grand Marais–it's Volunteer Weekend at North House Folk School, with two service learning courses offered (Building Exterior Doors and Incise Letter Carving) as well as a wide selection of volunteer projects. Also, on Saturday, the community is invited down to Harbor Park for a beach clean-up from 10 a.m. to 2 p.m.
Duluth celebrates the special day with the Art for Earth Day Gallery Hop. This year, nine galleries are participating in the event. Here is just a small sample of what can be seen: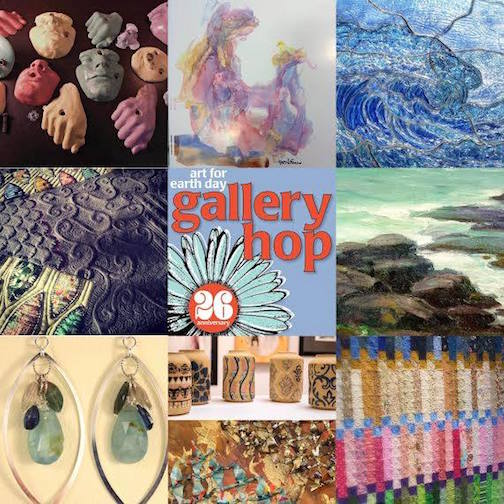 Galleries participating include Siivsiis, the Art Dock, Lake Superior Art Glass,  UMD School of Fine Arts, Washington Studios Artist's Co-op, McTavish Quilting Studio, Waters of Superior, Lizzards and the Duluth Art Institute. Receptions and open studios at each location are from 11 a.m. to 5 p.m. on Saturday.
Siiviis has organized a special exhibit for Earth Day. "Waters Deep and Bright" is an exhibit focused on celebrating the most important element of life in the North, and the world. It features a number of Siiviis' artists, with all artwork measuring 12″ x 12."
Artists at Siiviis include: Aaron Kloss, Adam Swanson, Carrin Rosetti, Dave Gilsvik, Dave & Judy Hedblom, Liz Sivertson, Marian Lansky, Mary Jo Van Dell, Michael Tonder, Neil Sherman, Richard Gruchalla, Rick Allen and Tim Pearson. The reception is from 1-4 p.m. on Saturday.
The Duluth Art Institute opens two new sports-themed exhibits on Thursday: "Team Spirit" and "Hat-Trick."

"Team Spirit" features the work of Jen Dietrich and Robb Quisling, whose experiences with sport and the rituals within games inform their interactive installations. Many of the displayed pieces will invite viewers to engage their senses as they see, touch, hear and smell their way through the gallery
"Hat-Trick" celebrates Minnesota hockey culture. Photo-realistic colored-pencil drawings by nationally celebrated sports artist Tim Cortes will be showcased, as will representational paintings and sculptures reveling in hockey, made by 10 additional artists. The exhibit continues at The Depot through June 12.
Many art galleries and studios in Duluth will be open for the gallery hop, too, including  Kenspeckle Letterpress gallery in the DeWitt-Seitz Building.
Also, the Duluth Playhouse production of the musical "42nd Street" opens at The Depot on Thursday and runs through May 8. Performances are Wednesday through Saturday, 7:30 p.m. and Sunday 2 p.m. Saturday matinees are April 30 and May 7. Tickets are $30 adults, $25 youth/students. For more info, click here.
In Thunder Bay, three international exhibits continue at the Definitely Superior Art Gallery, "Three Minute Miracle," a film/multimedia presentation by Amalie Atkins; "Canadian Contemporary 32," from the collection of Dr. Bob Chaudhuri and "Boundless" by Michael Belmore, a sculptural/drawing installation.
This is the last weekend to see the Lakehead University Major Studio Exhibition at the Thunder Bay Art Gallery that ends Sunday April 24. Also on exhibit is the Dennis Franklin Cromarty student exhibition, and Storytellers: The Art From the Northwest from the gallery's Permanent Collection. The gallery is also exhibiting work by Frank Shebageget.

 Upcoming
 The Grand Marais Art Colony is hosting the Creative Self-Care Workshop Weekend April 30-May 2 featuring a great selection of one-day classes, as well as include yoga sessions, panel discussions, an outdoor excursion, and more.
Workshops include: "Personalized Journal Making" with  Bevie LaBrie; "Creative Play and Emotional Resilience" with Kelly O. Finnerty and "Exploring Your Journey Through Story Cloths – Arpilleras" with Tessa Larson. There will also be a panel discussion as well as a number of presentations. To find out more, click here and/or call the Art Colony at 218-387-2737.
The St Croix Valley Pottery Studio Tour is May 6-8 this year. The tour is hosted by eight Minnesota potters located in the Upper St Croix River Valley.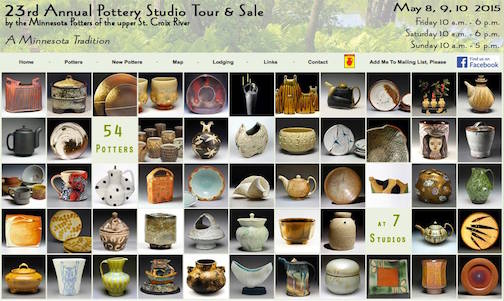 The host potters are: Connee Mayeron, Linda Christianson, Richard Vincent, Jeff Oestreich, Guillermo Cuellar, Robert Briscoe, Will Swanson and Janel Jacobson.
Each of the hosts invites potters from around the country to exhibit with them, and is a must-see for pottery lovers. The format is simple –place long tables outside and stack them with beautiful pots. Refreshments are available at each site. For more info, maps, etc., click here.
In other art news, Neil Sherman is one of the artists featured at the Grand Hill Gallery's Spring Show, April 21-28. The gallery is located at 333 Grand Ave. in St. Paul.
The clock is ticking in Washington, D.C.  In a little more than a week, the Washington National Opera will open the curtain for the first of Wagner's Ring Cycle at the Kennedy Center and Grand Marais cellist Yvonne Caruthers will in the orchestra pit performing.
She has been rehearsing with the orchestra since March 14. The Ring Cycle will be performed April 30 through May 22.
It's an incredibly elaborate production. To read Caruther's humorous and informative take on it, click here.  To learn more about the Washington National Opera, and see videos of the preparation for The Ring Cycle, click here.
Here's the music for this week:
Thursday, April 21:
Pete Kavanaugh, Poplar River Pub, 6 p.m.
Gordon Thorne, Gun Flint Tavern, 6:30 p.m
Friday, April 22:
Plucked Up String Band, Scandinavian Chalet across from Papa Charlie's, Lutsen Mountains, 2-4 p.m.
Pushing Chain, Voyageur Brewing, 4 p.m.

Earth, Wind & Todd, Grand Marais Legion, 8 p.m.
The Spruce Roots, Gun Flint Tavern, 8:30 p.m.
Saturday, April 23:
Plucked Up String Band, Scandinavian Chalet across from Papa Charlie's, Lutsen Mountains, 2-4 p.m.
Jim & Michele Miller, Voyageur Brewing Co., 4 p.m.
Plucked Up String Band, Lutsen Resort, 7 p.m.
Spruce Roots Trio, Gun Flint Tavern, 8:30 p.m.
Sunday, April 24:
Sunday Afternoon Jazz with Briand Morrison, Gun Flint Tavern, 3 p.m.
Jim &Michele Miller, Gun Flint Tavern, 6:30 p.m.
Tuesday, April 26:
Joe Paulik, Poplar River Pub, 6 p.m.
Wednesday, April 27:
Open Mic Night, Gun Flint Tavern, 5 p.m.
Here are some great photos we found this week–first, a selection of wildlife shots.
And then some beautiful landscapes!
Have a good weekend, everyone!