Gala openings, demos, Afro-Cuban music, a Writer's Salon, puppet workshops, a CD release concert and a wolf art competition are all on the calendar for this weekend.
First up is a great concert at the Arrowhead Center for the Arts by singer/songwriter Maria Nickolay, who is releasing her first CD. "Through the Ashes," at a concert on Thursday night.
Nickolay wrote, produced, recorded, mixed and mastered the CD herself. The concert is free, and the new CD will be available in the lobby. All invited.
Nickolay will play at the Cascade Lodge Pub from 6-8 p.m. on Friday, as well. The pub is hosting Castle Danger Brewing for a tasting party from 5-7 p.m., too.
Also on Thursday night, the Voyageur Art Club of Two Harbors opens a show in the Great Hall at Tettegouche State Park with a reception at 7 p.m.
More than 14 artists will be exhibiting in the show, which includes paintings and photographs. The public is invited to the reception. Many of the artists will attend and a presentation is planned. The exhibit continues through the end of the month.
If you're going to be in Duluth on Thursday evening, consider attending the Grand Re-Opening of the Tweed Museum of Art on the University of Minnesota-Duluth campus.
The opening reception is from 6-8 p.m. and features three new shows for the summer: Jeffery Larson's "Domestic Space," Vance Gellert's "Iron Country,"  and Colescott and Coe's "Lucky Shot: The Animals Dance." Sharon Louden's spectacular installation "Windows" is also on exhibit.
On Friday, the public is invited to the Banner Design Gala and reception at The People's Hall, (formerly called What's Upstairs?) above Betsy Bowen's Studio in Grand Marais from 5-7 p.m.
Earlier this year, Art 'Round Town put out a call for artists to design banners for the light posts in downtown Grand Marais. The designs will be revealed at the reception on Friday. The public is invited to come take a look at the submitted designs and vote on their favorite. The display is open through Sunday, and votes will be accepted through the weekend. A committee from Art 'Round Town will then make a decision on which banner designs to use. To find out more, come to the opening on Friday! Refreshments will be served.
Saturday is really busy in town with back-to-back events and a few conflicts where a time-travel suit would come in handy.
The day starts out with the Cook County Farm & Craft Market, which is held from 9 a.m. to 1 p.m. in the Senior Center parking lot. A variety of arts and crafts as well as baked goods, starter plants and more are offered by more than 20 vendors.
At 1 p.m., Lutsen potter Maggie Anderson will give a clay demo at the Grand Marais Art Colony's ceramics studio.
Anderson, who exhibits her work at Kah-Nee-Tah Gallery, works in porcelain. The public is invited. Free.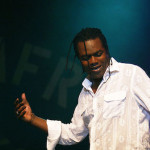 Also at 1 p.m., Ricardo Lemvo, the celebrated pioneer of Afro-Cuban/ pan-African music, will perform and talk about his musical tradition at the Grand Marais Public Library.
Lemvo has established himself as a pioneer with his innovative music, blending Afro-Cuban rhythms with pan-African styles (soukous, Angolan semba and kizomba). And he is truly multi-cultural, comfortably singing in English, French, Spanish, Portuguese, Lingala, and Kikongo.
On Saturday night, Lemvo and his band, Makina Loca, will perform at the Arrowhead Center for the Arts at 7:30 p.m.
Since forming Makina Loca in 1990, Lemvo has released five CDs and been featured on radio and television programs, including BBC Radio, Radio France Internationale, National Public Radio, CBS Sunday Morning, NBC Today Show, CNN World Beat, and National Geographic World Music.
At the Grand Marais concert, Lemvo will perform with his full 8-member band. And there will be plenty of room to dance! Tickets are $20 adults, $5 youth (18 and under) and are available at tix.com or at the door.
Meanwhile, back to this Saturday afternoon:
There will be a bronze pour at Last Chance Gallery in Lutsen at 4 p.m. This is part of the summer-long series of Saturday bronze pours organized by the gallery. Free and open to the public.
Then, at 5 p.m., Linda Legarde Grover will be hosted at a Writer's Salon at Drury Lane Books. She has recently released her first novel, "The Road Back to Sweetgrass."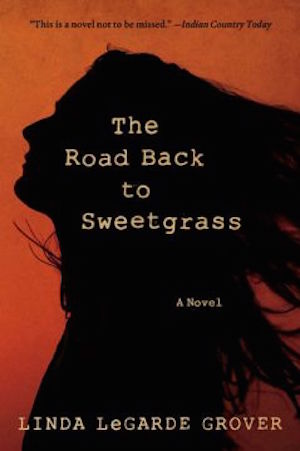 Grover is associate professor of American Indian studies at the University of Minnesota-Duluth and is a member of the Bois Forte band of Ojibwe. "The Road Back to Sweetgrass" has been awarded the Native Writers Circle of the Americas First Book Award. Grover has also received the Flannery O'Conner Award and the Janet Heidinger Kafka Prize, whose previous recipients include Ann Patchett, Anne Tyler, and Toni Morrison. The public is invited to hear her talk about her book and read from it.
In Thunder Bay, the Definitely Superior Art Gallery has put out a call for submissions for its upcoming Members Show, which opens June 18.
Art drop-off dates are Tues. June 7 through Saturday, June 11, from noon to 12-6 p.m. Artists may submit up to two artworks.  Artists, including American ones, who are DefSup members, can submit work. Membership at DefSup is $20. Stay tuned for details of the upcoming openings at the gallery.
The Thunder Bay Art Gallery has opened a new exhibit: "Every Picture Tells a Story."
The photos in the exhibit are the product of a research project funded by the Ministry of Education named the Teacher Learning and Leadership Program.
Opportunities
 Solstice Puppet Workshops
All ages are invited to help make puppets for this year's Summer Solstice Pageant.  No experience required. There is no cost to help, either – just come and have fun at the colorful tent just outside Betsy Bowen's Studio.
Workshop times are:
Thus. June 9: 6-8 p.m.
Sat. June 11: 10-12, 2-4
Mon. June 13: 6-8 p.m.
Tues. June 14: 6-8 p.m.
Wed. June 15: 6-8 p.m.
The big show is on Saturday, June 18,  at 8 p.m. at North House Folk School. Interested in creating cool stuff for this great show? Just drop in and help make puppets and scenery (no requirement to perform!)
The Art Colony Sketching Group
The Art Colony Sketching Group has just formed and is open to all who are interested in gathering together to sketch on location with a supportive group. The group will  meet next at Last Chance Gallery to sketch metalsmith tools and sculpture, then get together and share sketches. For more info, call the Art Colony at 387-2737.
Win a Wolf Print at Sivertson Gallery
Sivertson Gallery has launched a wolf art competition on Facebook. Every vote enters you into a drawing for the grand prize, a print of the winning image. The drawing will be held during Sivertson Gallery's Solistice Party June 18.
The way the contest works: The gallery posts two images of wolves by different artists each day and you vote on your favorite each time. Here is what the images are for Thursday,Day 3.
Click here for the link to the gallery's Facebook page. Enter your vote in the comment section underneath. And good luck!
Kah-Nee Tah Gallery has new fiber paintings by Bonnie Gay Hedstrom.
Hedstrom will be teaching a fiber painting class at Kah-Nee-Tah gallery on Saturday, June 25 from 5-7 to 7 p.m. The cost is $50 per person and includes all supplies. For more info and to register, visit www.kahneetah.com/ or call 218-387-2585.
Upcoming
 Kelly Dupre and Betsy Bowen are among the artists to be featured in the exhibit: "In Words and Pictures: Minnesota Women Author-Illustrators" which opens in the Second Floor Galleries at the Minneapolis College of Art and Design June 17. The exhibition highlights the accomplishments of 13 Minnesota women artists who intertwine word and image to create notable children's picture books. Representing different generations of artists, the show presents both shifts and continuities in this unique form of visual storytelling.
Curated by Chris Monroe and Kerry Morgan, the exhibition features materials drawn from the artists' personal collections as well as the Kerlan Collection of Children's Literature at the University of Minnesota. The exhibit continues through July 17.
Marty Harris will open a solo exhibit at Tettegouche State Park July 1. Entitled "Sidewalk to Superior," the work was inspired by the northern Minnesota landscape, from Jay Cooke State Park, up along the Big Lake to Grand Marais.
The opening reception is from 7-9 p.m. July 1. Michael Monroe will play. All invited.
Also that weekend, the Hovland Arts Festival will be held at the Hovland Town Hall July 2-3. The Grand Marais Arts Festival will be held in downtown Grand Marais the next weekend, July 9-10. Stay tuned for details.
Here's the music for the week:
Thursday, June 9:
Joe Paulik, Music by the Campfire, Lutsen Resort, 6 p.m.
Ian Alexy, Gun Flint Tavern, 7 p.m.
Maria Nicolay, "Through the Ashes" CD Release Party, ACA, 7 p.m.
Friday, June 10:
Timmy Haus, Voyageur Brewing Co., 4 p.m.
Maria Nicolay, Cascade Lodge Pub, 6 p.m.
Portage Band, Grandma Ray's, 6 p.m.
Wild Berry Jam, Gun Flint Tavern, 8:30 p.m.
Briand Morrison, Bluefin Grille, 9 p.m.
Saturday, June 11:
Pete K, Voyageur Brewing Co., 4 p.m.
Dat Dere Jazz, Gun Flint Tavern, 4 p.m.
Shoot from the Hipsters, Grandma Ray's, 6 p.m.
Briand Morrison, Lutsen Resort Lobby, 7 p.m.
Ricardo Lemvo and Makina Loca, Arrowhead Center for the Arts, 7:30 p.m.
Andrew D. Huber, Cascade Lodge Pub, 7:30 p.m.
Wild Berry Jam, Gun Flint Tavern, 8:30 p.m.
Sunday, June 12:
Timmy Haus, Gun Flint Tavern, 6 p.m.
Monday, June 13:
Pete K, Bluefin Grille, 9 p.m.
Wednesday, June 15:
Timmy Haus, Moguls Grille, 5 p.m.
Gordon Thorne & Bob Bingham, Bluefin Grille, 9 p.m.
We found quite a few wonderful photos this week. Here's a selection:
Thomas Spence saw and photographed two Sandhill Cranes in Tofte this week. Here's one of his photos.
And Don Davison caught this great photo of a tiny frog on his rhubarb.
Paul Sundberg celebrated green this week, too, with this breathtaking photo of unfolding ferns.
Truth be told, we've had a lot of foggy days this spring.  They, too, can be lovely.
And, check out this great B&W by Jim Christiansen.
Color is king, though, especially when it comes to Layne Kennedy. Check these out.
And this one:
Here are some beautiful, subtle colors. Bryan Hansel said this is one of his favorite photos, taken a few years ago.
And here's another long view — hand-made, but also beautiful.
Enjoy your weekend, everyone!