We're gearing up for summer! All kinds of things are planned for Memorial Day weekend, the "official" beginning of summer on the North Shore, including the Art on the Lake gallery hop May 22-24, with lots of exhibits, workshops, demonstrations and music planned at 12 galleries along the shore. Check out the schedule here and stay tuned for details over the next few weeks.
Meanwhile, there's plenty to do and see this weekend.
But first, some breaking news. The Arrowhead Regional Arts Council has selected Chris Monroe, the nationally recognized visual artist and illustrator who lives in Duluth, will receive the George Morrison Artist Award.
Amy Demmer, the executive director of the Grand Marais Art Colony and a community arts advocate, will be awarded the Maddie Simons Advocate Award. The award ceremony that will be held at the Grand Marais Art Colony from 6-8 p.m. May 29. The public is invited.
For art exhibits this week:
The Summerfields Photography exhibit continues at the Johnson Heritage Post with a selection of landscapes by Larry and Linda Dunlap. The show continues through May 24. The Heritage Post is open from 10 a.m. to 4 p.m. Wednesday through Saturday, 1-4 p.m. Sunday and Monday.
The Heritage Post is on a state art map, too. The Minneapolis StarTribune ran a story recently entitled: "Art Worth the Drive–20 Great Museum Artifacts in Outstate Minnesota" and included the Heritage Post in its recommendations. The painting, "Gunflint Pines," by  Anna C. Johnson, which is in the Heritage Post's collection, is a must-see, they write. Kudos! You can read the story here.
Spring hours are in effect at Last Chance Gallery in Lutsen, where a variety of new work by the gallery's artists is on display. The gallery will be open from 10 a.m. to 5 p.m. Thursday through Sunday and, by chance.
The SplinterTones will be playing up a storm on WDSE's The Playlist on Thursday, May 7, at 9 p.m. They were videotaped (and interviewed) by the crew from The Playlist when they performed at Papa Charlie's earlier this year. To see a clip, click here.
On Saturday, Jan Johnson will teach a workshop on constructing a Mother's Bracelet at Joy & Company (formerly The Garage and Threads) from 10 a.m. to 4 p.m. on Saturday. Entitled "Jemz by Jan," the class will offer participants the opportunity to choose from natural stones, sterling silver charms and more to create the perfect bracelet for mother. For more information, call Joy & Company at 387-1004.
Also, Saturday is National Drone Music Day in Canada, and Thunder Bay will be celebrating with the rest of the country with live music performances in a number of different venues from noon to 11 p.m. (EST) in the Waterfront District downtown, including the Definitely Superior Art Gallery. For the complete schedule, click here.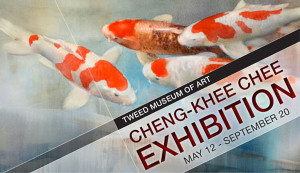 In Duluth, the Tweed Museum of Art will open a retrospective of work by internationally acclaimed watercolorist Cheng-Khee Chee  May 12.
Entitled "The Way of Cheng-Khee Chee: 1974-2014," the exhibit will feature 40 paintings spanning 40 years which follow the evolution of Chee's art from his Chinese homeland to Duluth, where he now lives. Taoist philosophy, Chinese brush techniques and Western painting styles merge in the tranquil beauty of his work, much of it shown for the first time in more than 25 years. The exhibit continues through Sept. 20.
In another take on fish in art,  Sivertson Gallery is featuring a  selection of Cameron Norman's gyotaku, or fish rubbings in the traditional Japanese style. The collection includes acrylic and black and white pieces. Norman will be teaching a class on gyotaku at the Grand Marais Art Colony in August.
Also new at the gallery are Elyse Kyllo's felted scrubbies, potholders and kid's hats.
The Kah-Nee-Tah Gallery in Lutsen is featuring stained glass by Dorothy Hall, ceramics by Katherine Maves and turned wood pens by Wayne Johnson.
The Waterfront Gallery, 632 First Ave. in Two Harbors. is exhibiting block prints and rubbings by Shelley Getten.
Thunder Bay author Michael Christie read from his successful new novel, "If I Fall, If I Die" at the Thunder Bay Art Gallery recently. His book was published by Harper Row and has been favorably reviewed in the New York Times.
The Cook County Farm & Craft Market opens on Saturday, May 23, and members are looking for new vendors. For more information, send an email to Millie Spry at
email-ccfarandcraft@gmail.com.
Here's something to look forward to: the opening reception for the Grand Portage Ojibwe Heritage Mural painted by David Gilsvik.
The Two Harbors artist has been working for months to create a visual tribute to the handiwork and human ingenuity of the Ojibwe culture with larger-than-life murals covering more than 500 square feet on four continuous walls at the Grand Portage Monument Heritage Center. The reception will be from 6-8 p.m. on Thursday, May 21. Everyone invited. It should be spectacular!
And last, but not least, the Park Point Art Fair in Duluth has put out a call for emerging artists from 15-30 to participate in an exhibit during this year's art fair, June 27-28. The juried show will be exhibited in a special tent at the art fair. The application deadline is May 10. For more information, email cameronconlin@yahoo.com.
Here's the music schedule for this week:
Thursday, May 7:
Rod & Caribou, American Legion, 6 p.m.
Friday, May 8:
Rod & Caribou, Voyageur Brewing Co., 8 p.m.
Gun Flint Tavern, TBA, 8:30 p.m.
Saturday, May 9:
Boyd Blomberg, Lutsen Resort, 7 p.m.
Rod & Caribou, Voyageur Brewing Co., 8 p.m.
Gun Flint Tavern, TBA, 8:30 p.m.
Sunday, May 10:
Briand Morrison, Moguls Grille, 11 a.m.
We found some wonderful photos this week.
First off, some wildlife shots. Paul Sundberg caught these sharp-tailed grouse during their spring rituals.
David Johnson caught this tense moment between a bald eagle and a raven.
And Nace Hagemann caught this moose with sunlight glittering off its coat.
Alan Netland took this peaceful shot. He commented: "Tofte Park … it must be some kind of dream."
Here's an interesting optical illusion. The photo was taken by Mary Amerman of the Joanna C and local fishermen in Duluth. And no, the boat isn't floating in the sky.
Bryan Hansel took this beautiful photo of the full moon setting over the Sawtooth Mountains the other night.
Staci Drouillard calls this photo "Rock Steady."
Paul Pluskwik took this shot of the falls on the Vermillion River recently.
And Paul Sundberg captured this awesome portrait of a sunrise in Grand Marais.
Have a good weekend, everyone!