This is a big weekend for studio tours along the North Shore. The Crossing Borders Studio Tour & Sale celebrates its 20th anniversary starting this Friday, Sept. 23 at 10 a.m.,and fans are anticipating a great show. The six host studios in Lake and Cook counties will be open from 10 a.m. to 6 p.m. daily through Oct. 2.
Here is just a tiny sampling of the artwork that you will see.
The studio tour started 20 years ago when potters Dick Cooter and Fritz Lehmberg began talking about creating a studio tour that would allow art lovers to learn about the experience of making art within the environment the creative work takes place. They thought the tour would also help build community among North Shore artists. Their idea was greeted with enthusiasm by area artists and the first tour was held in the fall of 1996.
Six studios and nine individual artists participated, and sales managed to just cover expenses. Cooter claimed he was surprised anyone came. But Crossing Borders has continued to grow every year and has become a staple for art lovers to enjoy in the fall.
The host studios are Blue Skies Glassworks and Cooter Pottery and Handweaving in Lake County and Last Chance Fabricating, Betsy Bowen Studio, Lee and Dan Ross and Marcie McIntire in Cook County.
This is the last year for the Crossing Borders Tour, so there will be lots to see. All the artists are onsite, and refreshments are served each day.
For more information about the artists and the tour, as well as maps, see www.crossingbordersstudiotour.com.
There's another studio tour this weekend, too. The Lake Superior 20/20 Studio Tour features open studios from Two Harbors to Gooseberry Falls. It features glass, ceramics, woodwork, painting, printmaking, jewelry, sculpture, and photography for three days, Sept. 23-25. Artists include by John Gregor, David Gilsvik, Sandi Pillsbury-Gredzens, Gail Rosenquist and Paul Zoldahn, to name a few. For maps and more info, see www.lakesuperior2020.com
And  printmaker Jerry Raich will hold an open studio at his home/studio at 6452 Hwy. 61 from Sept. 23 through Oct. 2.
The studio will be open from 10 a.m. to 6 p.m. He will be available for printmaking demos as well. All invited.
Another fun event this weekend is "Behold the Mug!" an exhibit of mugs crafted by local and regional potters in the Midwest to be held concurrently at Sivertson Gallery in Grand Marais and Siivis in Duluth on Saturday and Sunday.
The handcrafted mugs come in every variety of style and, of course, coffee and treats will be served.
And for another great visual feast, visit the Johnson Heritage Post to see the more than 200 landscapes created by artists during Grand Marais Art Colony's Plein Air 2016. The show opened last Friday, and the crowds were lined up outside the door to see it. It's a pretty amazing show and highly recommended.
Plein Air 2016 continues through Nov. 13. The Heritage Post is open daily from 10 a.m. to 4 p.m.
Also this weekend, author Peter Geye will give a presentation at the Grand Marais Public Library on Friday at 6 p.m. about his latest book, "Wintering."
Geye's third novel is set on the shores of Lake Superior and follow a father and son's epic journey into the wilds of the Boundary Waters.  The presentation will include slides of the sources that inspired and informed the writing of this novel, including images of the maps that play a central role in the story, and in the exploration of BWCA. The presentation is free. All welcome.
The Cross River Heritage Center will host Charlotte Durie, who is exhibiting work there, for a demonstration on printmaking and a talk about her family history in Schroeder.
Durie will give her presentation at 11 a.m. All invited.
Also on Saturday, singer/songwriter Ann Reed will be in concert at the Arrowhead Center for the Arts at 7:30 p.m.
The beloved Minnesota performer has toured Canada and the U.S. from coast to coast, performing at theaters, clubs, and music festivals. She's appeared on Garrison Keillor's "A Prairie Home Companion," ABC's "Good Morning America," NPR's "Morning Edition," and countless radio stations across the U.S.
In 2007 she wrote and performed "Heroes: A Celebration of Women Who Changed History and Changed Our Lives," a theatrical presentation produced by Minnesota Public Radio. In a departure from her usual repertoire, she has developed a musical tribute (with Denise Tabet) called "Nothing but Class: The Songs of Dorothy Fields," honoring the first woman to be inducted into the Songwriters' Hall of Fame.
Tickets are $18 adults, $5 youth (18 & under) and are for sale in advance (no fees) at www.tix.com and at the door. The box office opens at 6:30 p.m.
And on Monday, Dave Simonett, the frontman for Trampled by Turtles and Dead Man Winter, will be the featured songwriter at Papa Charlie's at 8:30 p.m.
Simonett, who has become recognized as one of the Midwest's most popular musicians, will sing and talk about his music. Free. All invited.
In Thunder Bay, this is the final weekend for the exhibit, "Arthur Shilling: The Final Works" at the Thunder Bay Art Gallery.
The gallery also features the Thunder Bay Potters' Guild 40th Anniversary Juried Exhibition with 38 works by 17 of the area's best potters.
In Duluth, the Duluth Art Institute opens three new exhibitions with a reception from 5-7 p.m. Thursday, Sept. 23.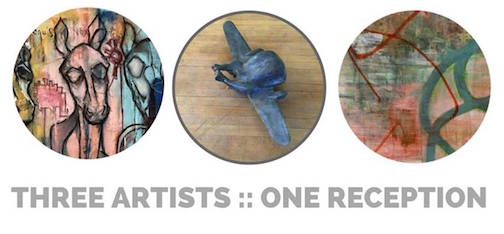 The exhibits include: "Rust & Flow: David Asher Everett," "Fragments/Memory: Adam McCauley," and "From the Basement: Brent Kustermann."
Upcoming
 Plein air painter Neil Sherman will exhibit recent and new work outdoors ON his house next weekend. Entitled "Art On the House: An Outdoor Exhibit of Landscape" the paintings will literally be hung on his house at  4194 North Road — unless it rains. Then it will held indoors.
The exhibition will be held on Saturday, Oct. 1 from 6-9 p.m. and Sunday Oct. 2, from 12-3 p.m. All welcome.
Drury Lane Books will hold a Writer's Salon with author Paul Gilk at 5 p.m. Saturday, Oct. 1. Gilk will talk about his book, "Get Poor Now, Avoid the Rush." Open to the public.
In Thunder Bay, Definitely Superior Art Gallery will have a gala opening for two new exhibitions from 7-10 p.m. on Friday, Sept. 30. The exhibit features work by Sarah Link and Riaz Mehmood.
In Other Art News:
Great news! The mural designed by Mila Horak and painted by community members has been installed! Look for it on the alley wall of Birchbark Books & Gifts.
The Blue Moose has just received new work by the Levandowski Pottery of Dassel, Minn., and birchbark wall-hanging baskets by Dennis Turnquist of Finland.
Ann Patchett's latest book, "Commonwealth" is at Drury Lane Books. Patchett also wrote Belconto,  and State of Wonder.
Kah Nee Tah Gallery in Lutsen has a new artist. Shaina Ruder of Bovey crafts beach glass copper necklaces and ear rings. She also uses rough-cut amethyst in her pieces.
There will be bronze pour at Last Chance Gallery at 4 p.m. on Saturday. It is open to the public. All invited.
And finally, the Cook County Farm & Craft Market is held every Saturday from 9 a.m. to 1 p.m. in the Senior Center's parking lot. The market traditionally runs through MEA weekend. (Unless it snows.) MEA weekend this year is Oct. 22.
There's lots of great live music this weekend. Here's the schedule:
 Thursday, Sept. 22:
Frozen Britches, Cascade Lodge Pub, 6 p.m.
Friday, Sept. 23:
Jim McGowan, Voyageur Brewing Co., 4 p.m.
Portage, Grandma Ray's, 6 p.m.
Mysterious Ways, Gunflint Tavern, 8:30 p.m.
Joe Paulik, Bluefin Grille, 9 p.m.
Brothers in Arms, Grandma Ray's, 9 p.m.
Saturday, Sept. 24:
Pete K, Voyageur Brewing Co., 4 p.m.
Michael Monroe, Log Cabin Concert, rural Grand Marais, 7 p.m., reservations at www.michaelmonroemusic.com
Eric Frost, Lusten Resort, 7 p.m.
Ann Reed, Arrowhead Center for the Arts, 7:30 p.m.
Blueberry JAAM, Cascade Lodge Pub, 7:30 p.m.
Mysterious Ways, Grandma Ray's, 8 p.m.
Common Ground, Gunflint Tavern, 8:30 p.m.
Timmy Haus, Papa Charlie's, 9:30 p.m.
Sunday, Sept. 25:
Gene LaFond & Amy Grillo, Gunflint Tavern, 8 p.m.
Monday, Sept. 26:
Dave Simonett, Monday Songwriter Series, Papa Charlie's, 8:30 p.m.
Bug Dope, Bluefin Grille, 9 p.m.
Wednesday, Sept. 28
Timmy Haus, Moguls Grille, 5 p.m.
Gordon Thorne & Bob Bingham, Bluefin Grille, 9 p.m.
Here is a selection of landscapes from the North Shore.
Sunsets have been pretty nice, too.
On the opposite spectrum, here are two great monochromes.
Here are some waves in vibrant technicolor.
Here's a beauty by Kjersti Vick.
Late afternoon peace…
And then there are moose:
And last, but not least this one by Kathleen Gray-Anderson. She calls it "Anticipate Problems."