Fall has definitely arrived on the North Shore, with trees beginning their fall color bloom in the final celebration of the year.
And for the last 20 years, fall colors have been accompanied by an equally outstanding display: The Crossing Borders Studio Tour, with local artists exhibiting new work in their studios up and down the North Shore.
Crossing Borders concludes its 20-year run this weekend, and, if you haven't experienced this cornucopia of beauty and inspiration, now's the time.
Here in Cook County, four art studios have opened their doors for the tour:
Last Chance Gallery in Lutsen, with bronze sculptures by Tom Christiansen and luxury hand knits by Sue Stavig.
If you'd like to see how bronze sculptures are made, come to the gallery at 4 p.m. on Saturday for the Bronze Pour. All invited.
Betsy Bowen Studio and Galleries with woodcut prints, books, cards and painted woodblock fragments by Betsy Bowen.
Two other resident artists are exhibiting in the Betsy Bowen Gallery as well. Tilemaker Melissa Wickwire and woodturner Jim Sannerud.
Hovland sculptors and monoprint artists, Dan & Lee Ross, are part of the Crossing Borders Studio Tour as well.
And, in Grand Portage, Ojbwe beadworker Marcie McIntire is exhibiting her work in her gallery there.
Crossing Borders Studios in Lake County include Blue Skies Glassworks in rural Two Harbors and Cooter Pottery and Handweaving, also in rural Two Harbors.
All the studios are open from 10 a.m. to 6 p.m. daily through Oct. 3. To find out more and see maps, visit www.crossingbordersstudiotour.com.
This weekend is packed with other events as well.
First up is the Tour d/Art 2016, the Grand Marais Art Colony's annual fundraiser, which will be held this Saturday starting at 1 p.m.
The  guided tour features four dynamic beach homes on the Cascade Beach Road which draw on the history, landscape, and neighborly-feel to this scenic stretch along the shores of Lake Superior.
These houses have evolved from their historic uses to spectacular homes that evoke the beauty and elegance of the lake and Boreal forests.  Homeowners are present to give context to the story of their homes and share what they enjoy most about their artistically designed space.
The tour culminates in a private reception at the Johnson Heritage Post, highlighting the Plein Air Grand Marais exhibit.
A few tickets are still available. For more information. contact the Art Colony at 387-2737 or email programs@grandmaraisartcolony.org.
Also this weekend, plein air painter Neil Sherman will exhibit recent and new work on his house. "Art On The House: An Outdoor Exhibit of Landscape," will literally exhibit paintings on the outside of his house … unless it rains. Then it will be held indoors.
The exhibit will held on Saturday, Oct. 1 from 6-9 p.m. and Sunday, Oct. 2 from noon to 3 p.m. at 4194 North Rd., in rural Hovland. All welcome.
For more art, see the Grand Marais Art Colony's Plein Air 2016 exhibit at the Johnson Heritage Post. The exhibit features more than 200 paintings created by plein air artists spent a week painting in Cook County. It's a very popular exhibit. More than 35 paintings have sold so far, said Don Davison, the Heritage Post director.
Plein Air 2016 awarded a number of prizes. Here are the winners of the Quick Paint and the Night Paint.
The Heritage Post is open from 10 a.m. to 4 p.m. daily through Nov. 13.
The Cook County Community Fund is partnering with Voyageur Brewing Co. to put on an Oktoberfest all weekend with a reception at 5 p.m. on Friday at the brewery. At the reception on Friday, participants will hear stories from the 2015 grantees and share in the 2016 successes. They will also learn about year-end goals of the community fund. The Oktoberfest will be held Thursday through Sunday with games, contests, live polka music and, of course, a special beer.
And it's Book Arts Weekend at the Grand Marais Art Colony with a variety of classes taught by representatives from the Minnesota Center for Book Arts.
Topics include everything from printing on a tabletop letter press, decorative techniques on paper and  a variety of book binding techniques. To register, call 387-2737l
On Saturday, Drury Lane Books will host a Writer's Salon with Paul Gilk at 5 p.m. at the bookstore. He will talk about his book, "Get Poor Now, Avoid the Rush."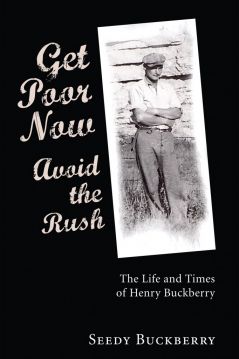 Gilk will share stories of his father, Henry Buckberry. Born before the First World War and the oldest boy in a family of thirteen kids, he left North Dakota in 1921 for the woods of northern Wisconsin, where he learned to fish, trap , hunt, lumberjack and farm. Gilk's entertaining, vivid stories tell of a rural lifestyle now lost to many of us.
Also, this week is Banned Book Week and Drury Lane Books has assembled quite a collection of them. Here are a few examples: "Canterbury Tales," Geoffrey Chauser,  "Go Ask Allice," Anonymous, "In Cold Blood," Truman Capote, "Cracking India," Bapsi Sidhwa, "I Know why the Caged Bird Sings," Maya Angelo, "Fahrenheit 451," Ray Bradbury, "The Absolutely True Diary of a Part-Time Indian," Sherman Alexie, "To Kill a Mockingbird," by Harper Lee, the kid's book,  "And Tango Makes Three," by Justin Richardson and Peter Parnell. This is only a small selection. Check them out at the book store.
Upcoming
 There's lots of news from Betsy Bowen's Studio & Galleries.
First up, Jim Sannerud and Kristopher Bowman will present, in collaboration with the artist, Will Bentsen: "The Summer 100 + Monuments & More" upstairs, at the Betsy Bowen Galleries Oct. 7-9. The opening reception will be from 5-7 p.m. Friday, Oct. 7.
Bentsen is a contemporary artist living in St. Paul. His work fluctuates between painting and sculpture. He finds inspiration in the periphery of everyday life, such as a discarded pile of papers or a tennis ball in a swimming pool. Using both traditional and nontraditional materialsm his work is often playful and irreverent with an experimental quality.
Bentsen has exhibited nationally, and his work is held in many private collections. He was co-founder of the legendary Houston anti-art collective "I Love You Baby" with Paul Kremer and Rodney Elliott (1997-2007). In 2007 Bentsen moved to Saint Paul where he began the process of working with color, form, texture, and weight.
Betsy Bowen will hold a 25th anniversary party for her book, "Antler, Bear, Canoe" with a reception from 11 a.m. to 5 p.m. on Saturday, Oct. 8 at the Betsy Bowen Gallery.
Also that weekend, the Northern Lake County Arts Board will present "The Music and Magic of Patsy Cline" performed by Cassie and the Bobs at the William Kelly High School Auditorium in Silver Bay at 7 p.m. Oct. 8.  Tickets and more information are online at www.northernlakecountyartsboard.com.
Sivertson Gallery's Inuit Premiere will be from 10 a.m. to 7 p.m. Oct. 15, featuring a wide selection of new work by Inuit artists, including prints and sculptures.
Throat-singing performances will be at 1 p.m. and 3 p.m. followed by a Fireside Chat and poetry reading by Taqralik Partridge. Partridge is an Inuit poet, spoken word artist & throatsinger from Kuujjuaq, a town in Nunavik, the most northern part of Quebec. Stay tuned for details.
In Other Art News:
 Life Drawing sessions begin at the Grand Marais Art Colony next Wednesday. For more information and to sign up, call the Art Colony at 387-2737.
The new band, Blues Happy with Pete Kavanaugh, Pat Flack and Tim Dalin  play at Grandma Ray's on Friday and Saturday night.
.The music starts at 8:30 p.m.
Last Chance Gallery has new pottery by Guillermo Cuellar and a new artist: potter Martye Allen.
Kah Nee Tah Gallery in Lutsen is featuring the glass work of  Duluth glassblower, Tony Scorza.
Joy & Co. has a great selection of handmade pillows.
Here's the music schedule for the week:
Thursday, Sept.29:
Richie Yurkovich and Polkarioty, Voyageur Brewing Co., 6 p.m.
Billy Johnson, Gunflint Tavern, 7 p.m.
Axtell Farewell Show, Hovland Town Hall, 7 p.m.
Friday, Sept. 30:
Richie Yurkovish and Polkarioty, Voyageur Brewing Co., noon
Timmy Haus, Voyageur Brewing Co., 4 p.m.
Blues Happy, Grandma Ray's, 8:30 p.m.
Gypsy Lumberjacks, Gunflint Tavern, 9 p.m.
Jim & Michelle Miller, Bluefin Grille, 9 p.m.
Bug Lite! Papa Charlie's, 9:30 p.m.
Saturday, Oct. 1;
Billy Johnson, Voyageur Brewing Co., 4 p.m.
Harbor Drive Hookup, Voyageur Brewing Co., 7 p.m.
Joe Paulik, Lutsen Resort Lobby, 7 p.m.
Gordon Thorne, Cascade Lodge Pub, 7 p.m.
Michael Monroe, Log Cabin Concert, rural Grand Marais, 7 p.m.
Blues Happy, Grandma Ray's, 8:30 p.m.
Gypsy Lumberjacks, Gunflint Tavern, 9 p.m.
Bughouse!, Papa Charlie's, 9 p.m.
Sunday, Oct. 2:
Jim & Michele Miller, Gunflint Tavern, 6 p.m.
Monday: Oct. 2:
Joe Paulik, Bluefin Grille, 8 p.m.
Tuesday, Oct. 4:
Rogue Valley, Songwriter Series, Papa Charlie's, 8:30 p.m.
Wednesday, Oct. 5:
Gordon Thorne & Bob Bingham, Bluefin Grille, 8 p.m.
Here are some of the great photos we found this week:
Fall colors are starting to appear.
And we've had some incredible sunrises.
We found some calm beauties, too.
Here's a Christian Dalbec.
And this almost painterly photo by Don Davison.
And finally, this great moose by Thomas Spence.
Enjoy your weekend!