Lots of handmade empty bowls in clay, glass and wood will be set out on tables at the Bethlehem Lutheran Church on Thursday for Empty Bowls 2016.
The event, which is fundraiser to help the hungry in Cook County, offers two seatings for participants to enjoy soups crafted by local restaurants and bread: Lunch, from 11 a.m. to 1 p.m. and dinner, from 5-7 p.m. There is also a silent auction as well as a bake sale. Half of the proceeds from the fundraiser go to the Cook County Food Shelf. The rest is donated to programs to help the hungry, including the Snack Packs for Kids program. Tickets are $5 for a bowl of soup, $15 for a handmade glass or ceramic bowl made at the Grand Marais Art Colony and soup. The turned wooden bowls by Sam Gathje, an intern at North House Folk School, are $20.
Empty Bowls is always a fun event for the community as they enjoy a meal together and help others at the same time. All welcome.
This is also the weekend for the Lake Superior Storm Festival, with lots of events planned.
First up is Taking Fashion by Storm, a lifestyle and outdoor fashion show presented by Stone Harbor Wilderness Supply. The event is from 5:30-8 p.m. on Friday,
Also on Friday night, Cook County Historical Society and WSDE present a big-screen showing of the WDSE's documentary "Steamship America : A North Shore Legend" at the Arrowhead Center for the Arts at 6 p.m.
This excellent documentary weaves oral histories, new and vintage photographs, newspaper accounts and dramatic images to capture life on the North Shore in the early days. There will be a Q & A afterwards on the 'making of' and it's free. WDSE's Karen Sunderman and Steve Asch, who produced the documentary, will be there. All invited.
Also on Friday, author Michael Schumacher, who wrote "Torn in Two,"a shipwreck story just published by the University of Minnesota Press, will talk about his book on WTIP's The Roadhouse. The band Floydian Slip, which plays at the Gunflint Tavern this weekend, will also be on the show to talk about their music and play a few songs. The Roadhouse airs from 5-7 p.m. on Fridays.
On Saturday, Lutsen Resort will host the Wave Dash at noon. Then Jim Shinners will give a presentation about the loss of the Edmund Fitzgerald at 2 p.m. at Caribou Highlands.
Author Peter Geye will read from his book, "Wintering" at Voyageur Brewing Co. at 3 p.m.
Cascade Lodge will hold a  Storm Fest Survivors Night with two bands, Dat Dere Jazz and Common Ground. The music starts at 6 p.m.
And, to top it all off, Kah Nee Tah Gallery will host "Painting Up a Storm" from 5-7 p.m. on Saturday.
Local artist Kathy Fox-Weinberg will guide participants through painting a Lake Superior-themed piece that you'll be able to take home with you. Refreshments (including wine) will be served. $25. Reservations are required. Call 218-387-2585.
On Sunday, Voyageur Brewing Co. will host a painting party from 1-3:30 p.m. $35 includes artist-lead instruction, canvas and paint materials and one beer. For reservations call 218-387-3163 or email info@voyageurbrewing.com
This is the last weekend to see the extraordinary work of the painters who participated in the Grand Marais Art Colony's Plein Air 2016. More than 240 landscapes are featured in this show at the Johnson Heritage Post.
The show ends on Sunday. The Heritage Post is open from 10 a.m. to 4 p.m. Thursday through Saturday and 1-4 p.m. Sunday.
Another Art Colony art show is a must-see, too: The Members Show, which is currently on exhibit in the Founders Hall at the Art Colony.
The Members Show includes work in a variety of media — paintings, photographs, prints, ceramics and fiber art are all represented. The Art Colony is open from 9 a.m. to 4 p.m. daily. The exhibit continues through Nov. 20.
In Duluth, the Duluth Art Institute will host two openings on Thursday night with a reception from 5-7 p.m — the 61st Arrowhead Regional Biennial and the 4North Exhibition. The Biennial is the longest running Biennial in the Midwest, and features some of the best artwork coming out of the region, judged each year by a distinguished guest.
The 4North exhibit showcases new work by Alison Aune, Kirsten Aune, Ann Klefstad and Arna Rennan. The exhibits continue through Feb. 9.
The Thunder Bay Art Gallery will open an exhibit by sculptor John Books with a reception and an artist talk at 7:30 p.m. (EST) Thursday. "The Oxen of the Sun," the title of the show, refers to a passage in Homer's "The Odyssey."
John Books writes: "In the book, Ulysses and his crew, having survived many dangers together, are stranded by unfavorable winds on the island of Thrinakia. They had been warned, should they land on this island, to not harm the sacred oxen that belonged to the Greek sun god, Helios. Still wind-bound after a month, having gone through all their provisions, they were without any water or food. While Ulysses was climbing a mountain to pray for help from the gods, his companions, in desperation, took what was close to hand and lunched on the sacred. The next day the winds relented and they set sail. Suddenly, a storm arose and all drowned except Ulysses."
Upcoming
 This year's Winterer's Gathering and Arctic Film Festival at North House Folk School will be Nov. 18-20 with Dave and Amy Freeman as the featured speakers.
The festival also features screening of films about the Arctic all weekend, the first ever Cold Snap Poetry Slam, the Gear & Ski Swap, a chili feed, classes and more. Stay tuned for details and visit www.northhouse.org for more.
In Other Art News:
Local photographer, Thomas Spence, received the Grand Prize for a photo published in the new issue of Capture Minnesota, a hardcover, photographic journey through Minnesota's seasons sponsored by TPT, the Twin Cities PBS. Three other of his photographs are also featured in the book.
Grand Marais photographer David Johnson also had a photo published in Capture Minnesota.
And, another nod to our talented local photographers, a photography by Bryan Hansel was selected as the cover for the December/January issue of Lake Superior Magazine.
Printmaker Rick Allen has recently completed his annual poster for Lutsen Mountains. Look for it around the county.
And Two Harbors painter, David Gilsvik, has new work at Sivertson Gallery.
 The music for the week:
Thursday, Nov. 10:
Boyd Blomberg, Poplar River Pub, 6 p.m.
Friday, Nov. 11:
Jim & Michelle Miller, Voyageur Brewing Co., 4 p.m.
Floydian Slip. Gun Flint Tavern, 8 p.m.
Saturday, Nov. 12:
Plucked Up String Band, Voyageur Brewing Co., 4 p.m.
Timmy Haus, Mogul's Grille and Tap Room, 5 p.m.
Storm Fest Survivors Night, Date Dere Jazz and Common Ground, Cascade Lodge Pub, 6 p.m.
Jim & Michelle Miller, Lutsen Resort Lobby, 7 p.m.
Flyodian Slip, Gun Flint Tavern, 8 p.m.
Sunday, Nov. 13:
Jim & Michelle Miller, Gun Flint Tavern, 8 p.m.
Tuesday, Nov. 15:
Eric Frost, Poplar River Pub, 8 p.m.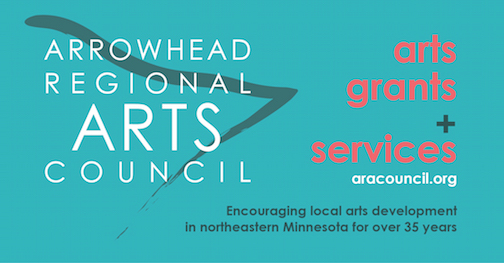 We found lots of great wildlife photos this week. Here's a sampling:
We found some other fun photographs, too. Here's one by wood-turner Jim Sannerud.
And here's a lovely photo.
And here's a lovely shot by Ann Possis.
Have a great weekend, everyone!