First we had our November gale, and then the SuperMoon and now snow is predicted for the North Shore on Friday. … none too soon… North House Folk School's Winterer's Gathering and Arctic Film Festival is this weekend, and a little snow would be an added perk.
The four day event (Nov. 16-20) is always packed with activities, including workshops, a winter tent camp, a gear swap, community dancing, on-going films about the Arctic as well as presentations.
Dave and Amy Freeman, who have just completed a yearlong adventure in the Boundary Waters Canoe Area Wilderness, are the featured speakers this year. They will give a presentation on Saturday night and screen a short film about their adventure, "Bearing Witness."
The featured programs kick off on Friday with film screenings starting at noon. The films run the gamut, from documentaries about the people who live in the Arctic to how global warming is impacting them. Films include "The Great Alone," a documentary about Alaskan musher Lance Mackey, "Arctic Superstar," a documentary about Sami rapper SlinCraze which has been called one of the best music documentaries of the year and "Gold Rush," a favorite Charlie Chaplin film, just to name a few. Click here to see the complete film festival schedule.
Also on Friday, an All Things Arctic Trivia Game, hosted by WTIP Community Radio will be aired at 4:30 p.m. followed by "Dinner on a Stick" by the bonfire at 5:30 p.m. The Snowshoe Shuffle Community Contra Dance with Over the Waterfall starts at 7 p.m. and, new this year, the Coldsnap Poetry Slam. Want to participate? Call 218-387-9762. The Poetry Slam begins at 8 p.m.
On Saturday, the ever-popular Great Gear & Ski Swap is at 10:30 a.m. The Deep-Freeze Chili Feed ($10 per person) is at 6 p.m. followed by Dave and Amy Freeman's presentation.
There are some great presentations scheduled, too. Chel Anderson will lead a discussion at 11 a.m. on Saturday entitled "Winter Survival: From Mammals to Amphibians and Beyond" and Lonnie Dupre will talk about "Vertical Nepal" at noon on Sunday, to name a few.
There's also a tour of the winter tent camp as well as presentation on surfing Lake Superior, as well as lots of courses and workshops.
To find out more and to see the complete schedule, click here.
Also, for holiday cheer, go to the  Cross River Heritage  Center Saturday Nov.19 from 10 a.m. to 2 p.m. to enjoy Holidays in Schroeder. There will be Lefse and Krumkaka demonstrations, fabulous sales in the gift shop. The Kaleidoscope quilt drawing is at 2 p.m. North Country Creations will be having their bazaar up at the Schroeder Town Hall from  10 a.m. to  2 p.m. as well, featuring lots of holidays crafts and refreshments. All welcome.

There some great art viewing opportunities this weekend, too.
The Members Show continues at the Grand Marais Art Colony through Nov. 20 with work in a variety of mediums.
The Art Colony is open from 9 a.m. to 4 p.m. daily.
Mary Jo Van Dell has new work at Sivertson Gallery, too.
In Thunder Bay, the Definitely Superior Art Gallery will hold a gala reception and opening for two exhibits on Friday, Nov. 18 from 7-10 p.m. The exhibits include "Ineffable: 28th Annual Juried Exhibition" and Creators Project 6 – international video screenings.
At the Thunder Bay Art Gallery, bronze sculptor John Books' solo show, "Oxen of the Sun," which opened last week, continues. Other exhibits include "The Unvarnished Truth: Exploring the Material History of Paintings" and "Recent Acquisitions to the Collection: Norval Morrisseau."
There's a new exhibit at Tettegouche State Park this month, too. Pastel artist Rita Corrigan is exhibiting her work in the Visitor Center there.
In Duluth, the Tweed Museum of Art, on the campus of the University of Minnesota-Duluth, opens a new exhibit entitled "Un-Typing Casta" with a reception from 5-7 p.m. Thursday, Nov. 17.
This exhibit is an installation by transnational Mexican-American artist Maria Cristina Tavera from Minneapolis, and curator Dr. Jamie Ratliff, assistant professor of Art History at the University of Minnesota-Duluth. The site-specific installation is comprised of prints and paintings pieced together to create an ingenious visual dialogue about Latinx (pronounced La-teen-ex) identity. (The fairly recent terminology is to denote a gender-neutral alternative to the use of Latino, Latina or Latin@ words. )

The Duluth Art Institute is exhibiting two shows this month: "4North: New Work by Alison Aune, Kirsten Aune, Ann Klefstad and Arna Rennan" and the "61st Arrowhead Regional Biennial exhibition."
 Upcoming
 Last Chance Studio & Gallery in Lutsen is hosting their 11th annual Holiday Market Nov. 25 through Nov. 27.  All weekend they will also be collecting money and food donations for the local food shelf. The holiday party also includes ornament-making as a fund-raising activity for the Cook County Community Fund.
On Saturday, Nov. 26,  there will be plein air painting by Kristin Blomberg starting at 3 p.m., a bronze sculpture pour at 4 p.m. by Tom Christiansen and at 5 p.m. there will be caroling and the annual tree lighting ceremony.  Holiday art and refreshments will be available all weekend.  The event is free and open to the public.
The 10th annual New Standards Holiday Show will be at Papa Charlie's, 8:30 p.m. Friday, Nov. 25. Click for tickets.
The Hovland Christmas Sale will be held at the Hovland Town Hall from 10 a.m. to 4 p.m. on Saturday, Nov. 26 featuring a variety of work by Cook County residents. Stay tuned for details.
Opportunities: Call for Artists
Tettegouche State Park is putting out a call for artists to submit work for consideration to be exhibited at the Visitor Center in 2017. The Visitor Center exhibits the work of Minnesotan artists. This is an open call for submissions, with work to be selected by a jury panel of three. Work should have a "North Woods Aesthetic," with some relevance to the expectations of travelers to the North Shore, and should be appropriate for family audiences. Exhibiting artists must be present at the park for a "show opening" event while their work is hung, and they may provide contact info for direct sales.
To apply, email six representative images, under 1MB each, to Kurt Mead, Interpretive Naturalist, Tettegouche State Park: kurt.mead@state.mn.us. Submissions are due Dec.31, to program through 2017.
The Grand Marais Art Colony seeks applications for its 2017 Artists-in-Residence. Applications are now open and available by clicking HERE. Application deadline: Dec. 9.
Cook County seeks submissions for its 2017 exhibitions. Artists are invited to submit proposals for an exhibition in the public spaces of the main floor of the Courthouse. For full details and specific questions contact Jeff Cadwell, Cook County administrator,  218-387-3687 or email jeff.cadwell@co.cook.mn.us. The application deadline is Dec. 30.
In Other Art News:
 Kari Vick has created a series of delightful letters of the alphabet using her signature style. She calls the series "ABC–A Boreal Collection."
Each of the letters of the alphabet are illustrated with plants or animals that have that letter in their name. She writes: "I initially did a painting as a baby gift for Abby (Tofte), spelling out Freya (Abby's daughter's name). I had so much fun doing it that I decided to do the whole alphabet. I call the project 'ABC – A Boreal Collection.' Let me tell you, "X" was really hard. I finally found Xanthophyll in Chel Anderson's book (it's the plant pigment that causes the color in autumn leaves)."
Vick said people can custom order giclees of her letters at Sivertson Gallery to spell out names, and there is a full-alphabet giclee available as well.
Cathryn Peters has antler baskets at Kah-Nee-Tah Gallery in Lutsen.
Thomas Spence is exhibiting his photographs at the Coho Cafe in Tofte.
Last Chance Gallery is exhibiting work by two new potters for the gallery: Karin Kraemer and Martye Allen.
Here's the music schedule for this weekend.
Thursday, Nov. 17:
Joe Paulik, Poplar River Pub, 6 p.m.
Gordon Thorne, Gun Flint Tavern, 7 p.m.
Friday, Nov. 18:
Josh and Brady of the Step Rockets, Voyageur Brewing Co., 4 p.m.
Portage, Grandma Ray's, 6 p.m.
Over the Waterfall, Community Contra Dance, North House Folk School, 7 p.m.
Evergreen Grass Band, Gun Flint Tavern, 9 p.m.
Saturday, Nov. 19:
Jim McGowan, Voyageur Brewing, 4 p.m.
Gordon Thorne, Lutsen Resort Lobby, 7 p.m.
Evergreen Grass Band, Gun Flint Tavern, 9 p.m.
Sunday, Nov. 20:
Timmy Haus, Gun Flint Tavern, 7:30 p.m.
Monday, Nov. 21:
Open Mic Night, Grandma Ray's, 6 p.m.
Tuesday, Nov. 22:
Timmy Haus, Poplar River Pub, 6 p.m.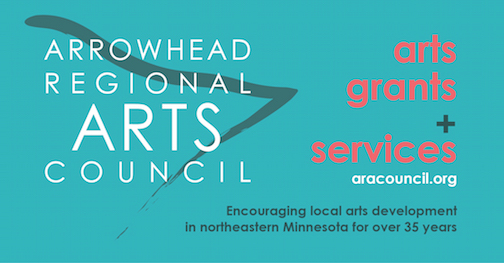 We found great photos of the Lake Superior Storm Festival gale and the Super Moon. Here are some examples.
Let's start with the gale.
And the Super Moon:
We found some other great shots, too. David Johnson calls this "Cool Window Reflections."
Don Davison says he took this when he walked out of the Johnson Heritage Post the other day.
But winter is on the way… first, frost on leaves.
And then, skim ice on the rivers.
Enjoy your weekend, everyone!