Cook County welcomed a white Christmas on Thursday, when more than six inches of new snow covered roads and trees in one afternoon. It was a snow storm for a few hours, then it cleared and a balmy (31 degrees) ushered in the Winter Solstice.
The snow and warm weather was perfect for the Good Harbor Hill Players' Winter Solstice Shadow Puppet Pageant at North House Folk School. A large crowd, including many children, watched the show, which featured whimsical and humorous shadow puppets and live music, concluding with the arrival of the krampus, some with lights entwined in their horns. Then everyone tossed their "Gloomies" into the bonfire and walked over to the Blue Building to enjoy food and camaraderie with friends and neighbors. The Winter Solstice—marking the longest night of the year with fire, music, stories, laughter and community. Tomorrow, we start the long hike toward summer. Meanwhile, there's lots of snow!
And Christmas is only a few days away. We've done some "window shopping."
Upstate MN has a fun and eclectic collection of work, ranging from pottery and clothing to tiny little carved spoons, games and more.
Sivertson Gallery has giclee prints of many of Howard Sivertson's fanstastic paintings.
The Holiday Art Underground Show at Betsy Bowen's Studio and Galleries features work by more than 3o local and regional artists. Just arrived: a package of woodcut prints and cards by Noah Prinsen, including  prints entitled "Horse and Rider," "Rabbit," "Wolf Child" and "Owl."
The Holiday Art Underground Show continues through Jan. 8, with gallery hours from 11 a.m. to 5 p.m. Thursdays through Saturdays.
Kah-Nee-Tah Gallery in Lutsen has a wide variety of work by local and regional artists.
Last Chance Gallery in Lutsen features the bronze work of co-owner Tom Christiansen as well as a number of other artists and media.
For exhibits, check out the Duluth Art Institute in Duluth, currently exhibiting two shows: the 61st Regional Arrowhead Biennial and 4North: New Work by Alison Aune, Kirsten Aune,  Ann Klefstad, and Arna Rennan.
The Tweed Museum of Art on the UMD campus has a variety of exhibits, including works from its Permanent Collection.
In Thunder Bay, the Thunder Bay Art Gallery is exhibiting recent acquisitions of work by Norval Morrisseau.
 Upcoming
 At the Table, an installation exhibit by Jim Sannerud, opens at the Grand Marais Art Colony on Thursday, Dec. 29 and runs through Jan. 8. The installation, which is also a performance piece, grew out of a trip Sannerud took to his ancestral farm in Norway. An accomplished woodturner in his own right, the artist was inspired by the woodwork he saw there and returned to the U.S. with an idea to create an art experience where the participants could engage in dialogue about place, memory and how traditions are translated as they eat a meal together.
To do that, he has built a large table, chairs, and serving vessels for a potluck meal with community members who have been asked to bring a dish and a story about it to the dinner.
Sannerud  was named "Best Of" in the home category for Minneapolis St. Paul Magazine's "Made in the North" contest. It's the January issue, now on newsstands.
New Year's Eve Parties:
Michael Monroe's Log Cabin Concert, rural Grand Marais, 7 p.m., reserve at 612-789-2255.
Earth, Wind & Todd, Grandma Ray's, 8:30 p.m.
Big Wave Dave & the Ripples, Papa Charlie's, 9:30 p.m.
There's lots of great music this week, too. Here's the schedule:
Thursday, Dec. 22:
Pete K, Mogul's Grille, 4 p.m.
Plucked Up String Band, Voyageur Brewing Co., 4 p.m.
Joshua Schmidt, Poplar River Pub, 6 p.m.
Gordon Thorne, Bluefin Grille, 8 p.m.
Friday, Dec. 23:
Bump Blomberg, Mogul's Grille, 4 p.m.
Joe Paulik, Voyageur Brewing Co., 4 p.m.
SplinterTones, Grandma Ray's, 8 p.m.
Gordon Thorne, Bluefin Grille, 8 p.m.
Sunday, Dec. 25:
Scandinavian Jazz Brunch with Briand Morrison, Mogul's Grille, 10 a.m.
Monday, Dec. 26:
Open Mic Night, Grandma Ray's, 6 p.m.
Tuesday, Dec. 27:
Dat Dere Jazz, Lutsen Resort Lobby, 7 p.m.
Plucked Up String Band, GunFlint Tavern, 7:30 p.m.
Wednesday, Dec. 28:
Open Mic, GunFlint Tavern, 5-9 p.m.
Thursday, Dec. 29:
Spruce Roots, GunFlint Tavern, 7:30 p.m.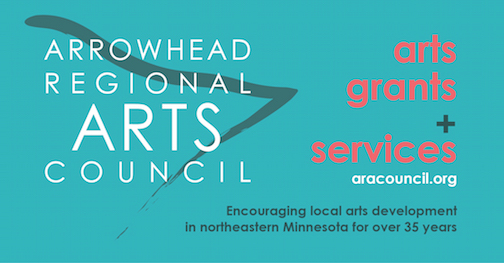 Winter has definitely arrived, and we found some inspiring photographs. Here's a selection:
First, two photos by Michael Furtman.
Furtman says he has seen the hen pheasant, below, for the past few years near Duluth.
And here's a portrait of a river otter.
For landscapes, let's start with this beauty by Mary Amerman.
An inspiring shot by Travis Novitsky.
A photographer's eye…
Hello from here…
The long view …
Water, ice and looming clouds …
Sea smoke I
Icy shores …
Sea smoke II
Sea Smoke III
!!!
And then we found two halo shots — First, with the moon:
And this one, with the sun:
And finally, this beauty.
Enjoy the weekend, everyone!
P.S. Putting this blog together every week is a joy and is my contribution to the arts on the North Shore.  If you enjoy it, please consider making a donation to support it. Thank you!