Greetings from the North Shore where snow, freezing rain, gales and occasional beautiful blue skies greeted residents this week. It made for great photos, as David Johnson's shot of one of the waves crashing into the lighthouse illustrates. The snow pack is great for skiing, snowshoeing and sledding, too, as well as eye candy for those of us who live here.
It will be pretty quiet in Grand Marais this week, but there's still lots to see.
Jim Sannerud opens his installation exhibit, "At the Table" at the Grand Marais Art Colony this weekend. The woodcarver and woodturner has been working for months crafting tables and chairs inspired by his visit to his ancestral farm in Norway.
The dining room 8-piece set, including tableware, will be on exhibit at the Art Colony through Jan. 8. The Art Colony is open from 9 a.m. to 4 p.m. daily. It will be closed on New Year's Day.
And the Holiday Art Underground show at Betsy Bowen's Studio and Galleries continues through Jan. 7 featuring works by more than 30 local and regional artists. Woodcuts, glass, pottery, paintings, jewelry, fiber arts, photography and multi-media works are in the show. It's definitely worth a visit … or two.
The gallery is open from Thursday through Saturday,  Dec. 29-31 and Jan. 5-7 from 11 a.m. to 5 p.m.
And, for snippets of all the great live music featured on WTIP Community Radio this year, tune into The Roadhouse on Friday night from 5-7 p.m. and enjoy. Buck Benson will be on the show, too, talking about biking around Nepal. He will give a presentation at North House Folk School next week, too. Stay tuned.
In Thunder Bay, the Thunder Bay Art Gallery is featuring a number of exhibits, including pieces from its Permanent Collection.
New Year's Eve falls on a Saturday this year, and there lots of parties to choose from: Earth, Wind & Todd play Grandma Ray's,  
Gary Croft with Rod 'n' Real play the Gun Flint Tavern and Big Wave Dave and the Ripples play Papa Charlie's. (See times below.)
And next Wednesday, the Grand Marais Public Library launches its Wednesday Winter Series  at 6 p.m. Fred Keller will present "Tales from the Deep Woods," songs and stories about lost, but not quite forgotten, Minnesota. Free and open to the public.
Upcoming
The Lake Effect Ski and Music Festival will be held on Lutsen Mountains next Friday and Saturday, Jan. 6-7. Frogleg and Black Market Brass play on Friday night at Papa Charlie's, Sonny Knight and the Lakers and The People Brothers Band play on Saturday night.
Next Friday night, Jan. 6, the Grand Marais Library begins Friday Night Reels, weekly screening of films for adults, at 6 p.m. The first film is "My Love Don't Cross That River," an award-winning documentary about a Korean couple who have been together for 75 years. Free.
And the Gunflint Mail Run, featuring lots of dogs and mushers, will be held Jan. 6-7 at Trail Center on the Gunflint Trail next weekend. Stay tuned for details.
The North Shore Music Association will present Grand Marais Ole Oprey on Jan. 14 in the Arrowhead Center for the Arts.  Emceed by WTIP's "Classic Country" host Carl Solander, this year's lineup features two Twin Cities groups, The Saddle Sores and Cherry Dirt, and local luminaries Gordon Thorne and Rose & Jay Arrowsmith DeCoux.
And the the Grand Marais Playhouse will open Disney's Beauty and the Beast on Jan. 26.
Window Shopping
 There are lots of fun things to see in our local shops and galleries. Here are a few examples.
And finally, the Tweed Museum of Art on the UMD campus has an incredible collection of Royal Canadian Mounted Police illustrations that have been crafted into prints, cards, calendars and puzzles.
To peruse through the collection and read more, visit the Tweed's website here.
And last, but not least, if you missed the Winter Solstice Shadow Puppet Show that was at North House Folk School last week, don't worry. Patrick Knight (Good Measure Media)  has uploaded a video he took of the shenanigans. It is totally fun.
The show, entitled,  "Winter Lives Here: A Snow Angel Solstice" was put on by the Good Harbor Hill Players and included music, poetry and wonderful shadow puppets, including the snow plow, above.  Watch it here.
Here's the music for this week:
Thursday, Dec. 29:
Bugdope, Papa Charlie's, 3:15 p.m.
John Gruber, Mogul's Grille, 4 p.m.
Plucked Up String Band, Lutsen Resort Lobby, 7 p.m.
Spruce Roots, Gun Flint Tavern, 7:30 p.m.
Michael Monroe, Bluefin Grille, 8 p.m.
Friday, Dec. 30:
Timmy Haus, Mogul's Grille, 4 p.m.

Pete K, Voyageur Brewing, 4 p.m.
Tim Fast, Lutsen Resort, 7 p.m.
Joe Paulik Band, Gun Flint Tavern, 9 p.m.
Timmy Haus, Papa Charlie's, 9:30 p.m.
Saturday, Dec. 31:

Timmy Haus, Voyageur Brewing, 4 p.m.
Michael Monroe, Log Cabin Concert, rural Grand Marais, 7 p.m.
Thea Ennen and Dave Ja Vue, Cascade Lodge Pub, 7 p.m.
Pushing Chain, Lutsen Resort, 7 p.m.
Earth, Wind & Todd, Grandma Ray's, 8:30 p.m.

Gary Croft with Rod 'n' Real, Gun Flint Tavern, 9 p.m.
Big Wave Dave and the Ripples, Papa Charlie's, 9:30 p.m.
Monday, Jan.2:
Joe Paulik, Bluefin Grille, 8 p.m.
Erik Koskinen, Monday Songwriter Series, Papa Charlie's, 8 p.m.
Tuesday, Jan. 3:
Jon Kallberg, Poplar River Pub,  6 p.m.
Open Mic with Bump Blomberg, Papa Charlie's, 7 p.m.
Wednesday, Jan. 4:
Alan Sparhawk, Wednesday Songwriter Series, Papa Charlie's, 8 p.m.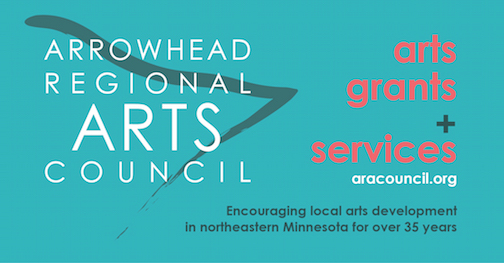 We found lots of wonderful photos of ice and waves this week. Here's a selection:
And finally, this one by Christian Dalbec.
Have a great weekend, everyone! And Happy New Year!
P.S. Putting this blog together every week is a joy and is my contribution to the arts on the North Shore.  If you enjoy it, please consider making a donation to help support it in the New Year. Thank you!