So, the website thrillist.com claims that Minnesota has the absolute worst winters in the country, but there's beauty in that cold.
Check out this:
And this:
Here on the North Shore, we do hunker down (a little) when the wind chills are -30F, but that means we find lots of interesting things to do indoors.
First up is a fascinating presentation on cycling in Nepal's Annapurna Mountain Circuit with Buck Benson, who will talk about his adventure at North House Folk School at 7 p.m. Thursday, Jan. 5.
From the steamy jungles to the nearly 18,000 foot Thorung Pass, this challenging route made for an epic bike experience for Benson. He will share stories and photos of the spectacular Annapurna and Dhaulagiri mountains, the challenging bike terrain, picturesque Buddhist villages, colorful culture, and amazing geography.
The presentation is free and the first of the "Making It Through Winter" Thursday-night series at North House this winter. All invited.
Also on Thursday night, weekly modern Western square dance lessons and dancing begin at the 4-H Log Building at the Community Center from 7:30 to 9 p.m. No experience is necessary, and participants do not need to bring partner. Cost is by donation. All invited.
On Friday night, the Grand Marais Public Library begins its weekly winter film series, Friday Night Reels, with the screening of  "My Love Don't Cross That River."
The film is a documentary and the film crew spent 15 months with a Korean couple who have been together for more than 75 years and now face prospects for the transition to their next future. The award-winning film is rapidly becoming Korea's most successful film ever. Free. The library will be screening free films every Friday through March 10.
Also on Friday night, David Gredzens will have an opening reception for an exhibit  of his photography at Tettegouche State Park from 7-8:30 p.m. in the Great Hall. Refreshments will be served and an artist's talk begins at 7:30 p.m.
Gredzens' work focuses on Lake Superior and its environs. All invited. The exhibit continues through early February.
Mushers and sled dogs are front/center this weekend for the Gunflint Mail Run Sled Dog Race,  a premier sled-dog race on the Gunflint Trail featuring some of our favorite mushers. This is a continuous race consisting of two legs of equal distance, separated by a mandatory layover for the 12-dog teams. There are two classes: a 12-dog race (110 miles) and an 8-dog race (70 miles).
The fun starts at Trail Center Lodge on Saturday at 7 a.m. with the Blessing of the Teams. The race starts at 8 a.m. with a mid-afternoon layover for the 12-dog teams. The 8-dog teams finish is on Saturday night. Early on Sunday morning, the 12-dog teams will finish at Trail Center. The awards breakfast is at 9 a.m. Sunday. There are lots of great places to watch this race and don't forget to layer-up to stay warm.  For more info, click here.
And on Wednesday, Jan. 11, Dat Dere Jazz will perform at the Grand Marais Public Library at 6 p.m. The band includes  Fred Anderson, guitar, Dave MacLean, drum kit, Martha Marnocha, piano, Bob LaMettry, percussion, Pat Flack, bass, and Don Grant, trumpet.
The band plays a mix of jazz standards in Latin, Swing and Bebop styles.  Anderson, MacLean, Marnocha and Grant are also members of the North Shore Community Swing Band. Dat Dere Jazz will play at the North Shore Winery on Jan. 14 and Cascade Lodge Pub on Jan. 28.
There are some great exhibits to see in Grand Marais, too.
Jim Sannerud's installation, "At the Table" opened at the Grand Marais Art Colony Dec. 29 and continues through Sunday, Jan. 8.
Sannerud crafted the table and chairs as well as made the drinking cups and a platter. He was inspired to do the work when he visited his ancestral farm in Norway. The installation is also a performance piece that will come to life through a potluck dinner in which participants will engage in dialogue about place, memory, and how traditions translate as they share the food they brought to the table.
Also this weekend, check out the Holiday Art Underground Show at Betsy Bowen Studio & Galleries.
The show features work by more than 30 local and regional artists and includes pottery, photographs, tiles, paintings, woodcut prints, fiber art, jewelry and more. The gallery is open from 11 a.m. to 5 p.m. Thursday through Saturday.
This is the last weekend for a great show at the Thunder Bay Art Gallery in Thunder Bay as well. John Books' exhibit, "Oxen of the Sun" closes on Sunday.
The Canadian sculptor is now a resident of Grand Marais. The exhibit features more than 80 works. The gallery is located on the campus of Confederation College.
The Definitely Superior Art Gallery, 250 Park Ave., in Thunder Bay,  re-opened after the New Year and features a number of exhibits, including "Ineffable," a juried show featuring the works of more than 45 local and regional artists.
The gallery is open from noon to 6 p.m. Tuesday through Saturday.
Upcoming
 The North Shore Music Association presents Grand Marais Ole Oprey at the Arrowhead Center for the Arts at 7:30 p.m. Jan. 14.
There are two Community Conversations at the Grand Marais Art Colony this month. Melissa Wickwire will present "Large Scale Functional Installations" at noon on Jan. 18 and Ryuta Naka will present "The History and Nature of Installation and Conceptual Art" at noon on Jan. 21.  The Community Conversations are a way for people to connect and dialogue about various aspects of the arts in a guided discussion format, and are held from noon to 1 p.m. in the Founders Hall. Participants are invited to bring a lunch if they wish. They are free.
The Grand Marais Writers Guild meets at the Grand Marais Public Library at 6 p.m. Jan. 19. All writers invited. The group meets each month to talk and write. Bring a notebook.
The 100-Day Project, an opportunity for artists to explore their creativity in any medium for 100 days, will be Jan. 21 to April 30 this year. Last year, 45 artists in the community registered to be part of the project. A Kick-Off Information Session will be at noon  in the Founders Hall of the Grand Marais Art Colony on Tuesday, Jan. 17. All invited.
Reservations are now being taken for the Robert Burns Dinner at Cascade Restaurant Jan. 21. The program includes a full course dinner followed by poetry readings and a sing-a-long after the meal. A piper from Thunder Bay will bring in the haggis with much pomp and ceremony. The meal is from 7-9 p.m. but a cocktail hour starts at 6 p.m. with live music and a tartan weaving demonstration. For reservations, call Jeff Morgan or Mary MacDonald at 218-387-1221.
The cost of the dinner and program is $35/person.
Opportunities
 CALL FOR ARTISTS: Applications for the Isle Royale National Park's 2017 Artist-in-Residence Program will be accepted through Feb. 16. This program provides professional artists the opportunity to become part of a long-established tradition of interpreting national parks through art. Click here for more information. Applications must be postmarked by Feb.16.
BIG BEND, TEXAS PAINTING CLASS Feb. 28-March 3: The Grand Marais Art Colony is hosting a never-before-offered off-campus class with Neil Sherman in Big Bend, Texas. For those of you who winter in the southern states or who are looking for a warm get-a-way, consider moseying over to the Bighorn state and paint away! Click here to view the full class description. Call the Art Colony at 218-387-2737 to register.
Window Shopping
Two Harbors plein air painter David Gilsvik has new work at Sivertson Gallery.
Drury Lane Books has a wide variety of 2017 calendars featuring the North Shore and the Northwoods.
The bookstore will remain open this winter. Hours are 10 a.m. to 4 p.m. Thursdays, Fridays and Saturdays.
Tara Block has her pottery at Joy and Company.
Kah Nee Tah Gallery is featuring work by watercolor artist Trish Hunter of Lutsen.
In Other Art News
Molly Rider is the new market manager at the Grand Marais Art Colony.
A Cook County High School graduate, Rider holds a visual arts degree from Bowdoin College and has worked most recently in the area of marketing and design for Maurices' corporate office in Duluth.
Betsy Bowen is painting this winter. "Happy," she writes. Here's the latest.
Here's the music schedule for this week:
Thursday, Jan. 5:
Boyd Blomberg, Mogul's Grille, 4 p.m.
Briand Morrison, Poplar River Pub, 6 p.m.
Gordon Thorne, Bluefin Grille, 8 p.m.
DJ Beavstar, Papa Charlie's, 9:30 p.m.
Friday, Jan. 6:
Jim & Michele Miller, Mogul's Grille, 4 p.m.
Pete K, Voyageur Brewing Co., 4 p.m.
Black River Revue, Gun Flint Tavern, 8 p.m.
Jim & Michele Miller, Bluefin Grille, 8 p.m.
Jim McGowan, Raven Rock Grille, Skyport Lodge, 8 p.m.
Lake Effect Festival, Frogleg & Black Market Brass, Papa Charlie's, 9:30 p.m.
Saturday, Jan. 7:
Gordon Thorne, 3 p.m., North Shore Winery
Jim McGowan, Voyageur Brewing, 4 p.m.
James Moors, Cascade Lodge Pub, 7 p.m.
Pushing Chain, Lutsen Resort, 7 p.m.
Blues Happy, Grandma Ray's, 8 p.m.
Black River Revue, Gun Flint Tavern, 8 p.m.
Lake Effect Festival, The People Brothers & The Lakers, Papa Charlie's, 9:30 p.m.
Sunday, Jan. 8:
Briand Morrison, Scandinavian Jazz Brunch, Moguls, 10 a.m. to noon
Briand Morrison, Bluefin Grille, 7 p.m.
Timmy Haus, Gun Flint Tavern, 7:30 p.m.
Monday, Jan. 9:
Charlie Parr, Monday NIght Songwriters Series, Papa Charlie's, 8:30 p.m.
Pete Kavanaugh, Bluefin Grille, 8 p.m.
Tuesday, Jan. 10:
Eric Frost, Poplar River Pub, 6-8 p.m.
Open Mic with Bump Blomberg, Papa Charlie's, 6 p.m.
Wednesday, Jan. 11: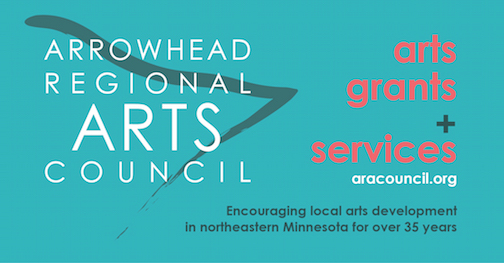 We found lots of fun photos this week.
Let's start with a little lesson.
Michael Furtman posted these two photos of a ruffed grouse on Facebook the other day.
The photo at left shows the grouse in a tree limb, in quest of fruit. In winter, they feed primarily in trees. The photo at right shows how they can climb icy branches.  They have tiny comb-like growths on their toes, called pectinations, that help them grip slippery surfaces. Furtman also suggests the pectinations act like snowshoes in deep snow.
And our local photographers caught two of our wild neighbors with lunch.
Here's a shot of what it can be like on the Gunflint Trail after a heavy snowfall.
And here are more wildlife photos.
Check out this great sled dog photo by Layne Kennedy.
Meanwhile, it's cold outside. Here are some photos of that.
It was the new moon this week.
And during a warm spell, everyone was ready to play. Kjersti Vick took this funny shot the other day.
And finally, as Minnesotans know well, cold is beautiful.
Have a great weekend, everyone!
P.S. Putting this blog together every week is a joy and is my contribution to the arts on the North Shore.  If you enjoy it, please consider making a donation to help support it. Thank you!