The official start of the summer season is only a weekend away, and everybody is gearing up for it. There are lots of events, openings, demonstrations and celebrations next weekend, so stay tuned.
Meanwhile, there's plenty to do along the North Shore.
First up is a performance by the popular acapella group, the SVEA Singers, at the Spring Choir Concert at Bethlehem Lutheran Church tonight at 7 p.m. The singers include Erika Ternes, Rose Arrowsmith DeCoux, Erin Swenson Klatt and Yvonne Mills.
The SVEA Singers will perform a few songs during the choir concert. Ternes is the music director of the group as well as the music director of the school choir. The concert is free. All invited.
On Friday, the Johnson Heritage Post opens a highly anticipated exhibit by the Frozen Photographers with a reception from 5-7 p.m. More than 40 local and regional photographers have submitted work for the show, which is entitled "Be There or Be Square." The photographers are required to submit at least one photo that is square, with a 1:1 ratio.

Frozen Photographers was formed as a closed Facebook group a few years ago with the caveat that member photographers must demonstrate, through their photos, that they got cold (and/or frozen fingers) while shooting. The Facebook page currently has 2,177 members, some from as far away as Siberia. And yes, the exhibit will undoubtedly have lots of snow and ice shots, but there will be all kinds of other great photos of the North Shore as well.
The exhibit continues through June 18. Refreshments will be served at the opening reception. All invited.
Also on Friday, it's music night on WTIP's The Roadhouse, which airs from 5-7 p.m. The show kicks of with a set by guitarists Sam Miltich (Clearwater Hot Club) and Briand Morrison.  Both musicians play jazz guitar. The Pete K Group plays the second half of the show, featuring lots of blues. The musicians will also talk about their music  during the show as well.  Miltich and Morrison play at Voyageur's Brewing Co. on Friday, starting at 4 p.m. The Pete K Group plays Grandma Ray's on Friday and Saturday nights.
On Saturday, Drury Lane Books hosts the Aboreal Writer's Salon featuring Josh MacIvor-Andersen, author and editor of "Rooted: The Best New Arboreal Nonfiction" as well as winners of the bookstore's Aboreal Writer's Contest.

"Rooted" is a collection almost seven years in the making, MacIvor-Andersen says.
"I really wanted to anthologize contemporary essays that both manifested the incredible dexterity of the genre–the acrobatic, muscular nature of nonfiction–and illuminated the tree, a multi-specied organism that has been more than prominent in my life," he writes. "I figured there's not a person alive who doesn't have some connection, some story, some relationship to a tree. I really wanted to create a home for those stories. A kind of arboreal love letter."
The writing contest winners will also read their pieces. The winners include Kate Fitzgerald, 1st, for "Sisters"; Judy Budreau, 2nd, for "Writer's Block." Honorable Mentions include Maggie Jones for "Mabel's Understand of Loss" and Rachel Andrus for "Taking Root."  A discussion about writing, editing and trees will follow the readings. All invited.
On Wednesday at 4:30 , look forward to an energetic Artist Talk about Solarplate Printing by artist Dan Welden at the Grand Marais Art Colony.
Welden is a master printmaker, painter, educator, and author. His work has been shown in more than 80 international solo exhibitions in museums and galleries and in more than 700 group exhibitions in the U.S., Europe, China, Japan, Switzerland, Australia, New Zealand and Peru. The originator of the technique called, Solarplate, Welden will talk about his innovative work at the forefront of the alternative health and safety-oriented movement of printmaking. The Artist Talk is open to the public. Free.
There are some great on-going exhibits on the North Shore, too.
Watercolorist Tim Pearson has an exhibit in the Great Hall at Tettegouche State Park that continues through this month.
In Thunder Bay, the Definitely Superior Art Gallery will hold an opening reception for "Retrograduate Exhibition 2017″ featuring work by graduates of Lakehead University. The exhibit features paintings, drawings, printmaking, ceramics and sculpture.
The opening reception is rom 7-10 p.m. EDT and runs through June 17. All invited.
At the Thunder Bay Art Gallery, painter Bob Boyer is the Permanent Collection Spotlight artist this month.
At the Tweed Museum of Art, the installation of a new exhibit, "Sinew: Female Native Artists of the Twin Cities" is on-going.
The exhibit opens with a reception from 6-8 p.m. June 1.
Upcoming
Memorial Weekend Art Along the Lake, a county wide celebration over the Memorial Day weekend is full of all kinds of art activities, events, two art show openings and a lot more.
There's a bronze pour at Last Chance Gallery in Lutsen, a Pop-Up Made At the Art Colony exhibit at the Grand Marais Art Colony, the opening of the Spring Underground Art Show at Betsy Bowen's Galleries and Studio, demonstrations and a lot more. The Cross River Heritage Center in Schroeder opens for the season with lots of demonstrations over the weekend as does the Chik-Wauk Museum and Nature Center on the Gunflint Trail.  For the complete schedule, click here, and stay tuned for lots of details next week.
The North Shore Music Association makes history with this one when they host the first-ever live music + silent film event: "The Fall of the House of Usher," Jean Epstein's 1928 silent film masterpiece, with an original musical score performed live by the group Pyrrha. Based on Edgar Allen Poe's Gothic horror story, the film seethes with dreamy visual experimentation and surreal imagery. The music will be fabulous as well. Check out Pyrrha's work playing for old-time silent movies here.
The performance is June 10 at the Arrowhead Center for the Arts. Get tickets at www.tix.com and stay tuned for details.
Window Shopping
In Other Art News
 Photographer Nace Hagemann has work  at Kah Nee Tah Gallery in Lutsen, as well as at Joy and Co.
The Grand Marais Playhouse has almost firmed-up the casts for the Summer Theatre Festival.
The cast of "The Games Afoot" is Rose Arrowsmith DeCoux, Jane Gellner, Jan Healy, Kevin Kager, Gary Latz, Aliya Marxen, Sam Seitsema and Diane Stoddard.
The Cast of "The Pajama Game" is Mark Abrahamson, Karen Blackburn, John Bragstad, Susan Bragstad, Kate Fitzgerald, Hilja Iverson, Thomas Stamps and Karina Roth. The Playhouse is still searching for one more guy to complete the cast. The Summer Theater Festival is July 20 through Aug. 13. Go to grandmaraisplayhouse.com to see schedule and buy tickets.
In other Playhouse news, visiting director and choreographer Carrie Nath is in town where she will direct "The Games Afoot" and choreograph "The Pajama Game." Nath comes to Grand Marais from Louisville, where she most recently served as the executive director for The Kentucky Center Governor's School for the Arts.
While here, she will hold three workshops in June for children and adults and will return this fall to direct Shakespeare's "Twelfth Night" for the Playhouse and do residencies in the schools.
Here's the music schedule for this week:
Thursday, May 18:
Boyd Blomberg, Poplar River Pub, 6 p.m.
Friday, May 19:
Briand Morrison with Sam Miltich, Voyageur Brewing Co., 4 p.m.
Pete K Group, Grandma Ray's, 8:30 p.m.
Oak, Steel and Lightning, Gun Flint Tavern, 8:30 p.m.
Saturday, May 20:
Pete K, Cascade Lodge Pub, 6 p.m.
Gordon Thorne, Lutsen Resort, 7 p.m.
Pete K Group, Grandma Ray's, 8 p.m.
Oak, Steel and Lightning, Gun Flint Tavern, 8:30 p.m.
Sunday, May 21:
TBA, Gun Flint Tavern, 6 p.m.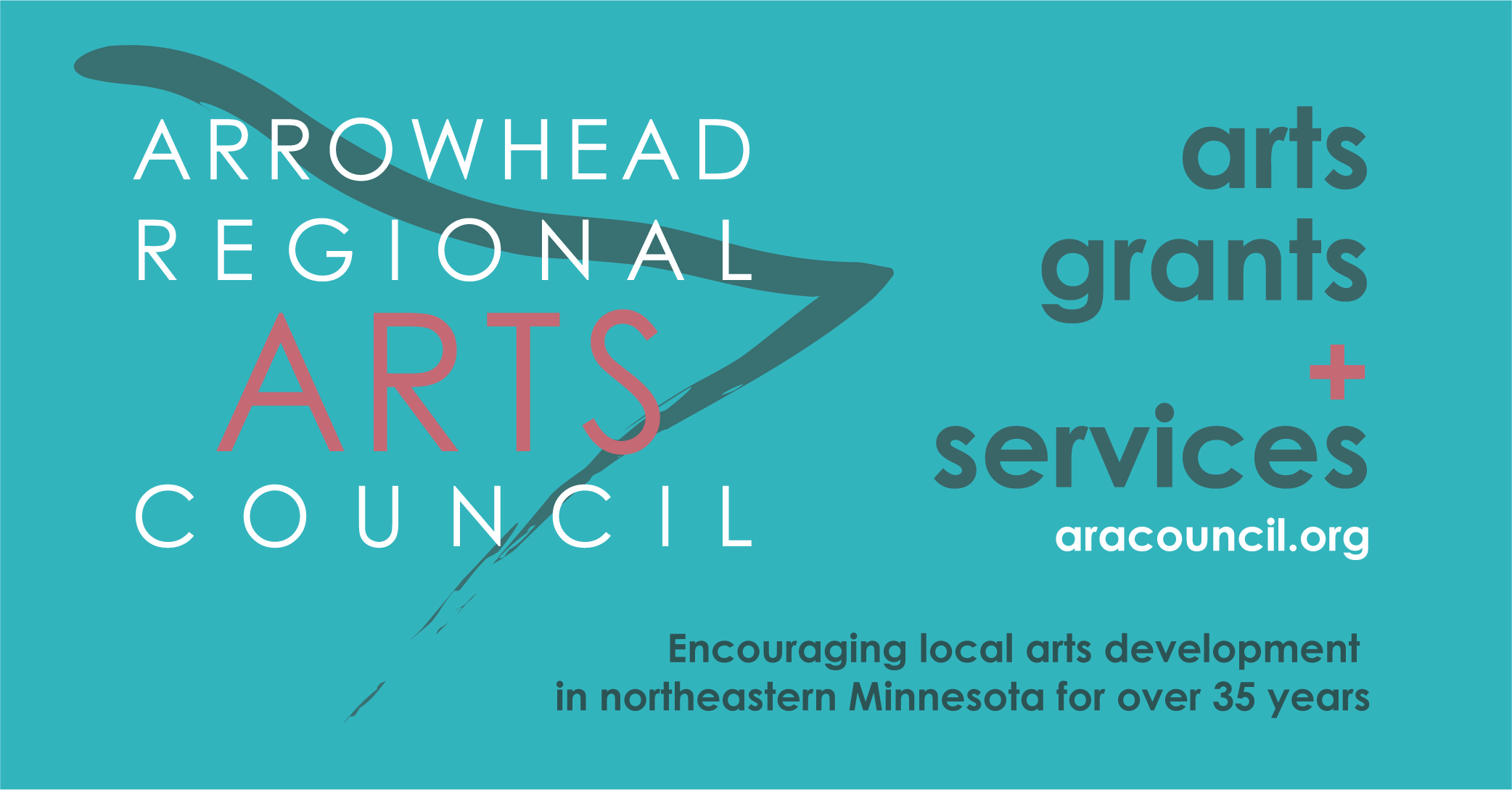 Here is a potpourri of photos we found this week.
Have a great weekend, everyone!
We hope you enjoyed this week's issue of NorthShore ArtScene. It takes a lot of time and effort to put this blog together every week. If you'd like to help support NorthShore ArtScene, please consider making a donation.  Thank You!