Labor Day Weekend is marked this year by lots of live music, some great art exhibits, interesting demos and and a fun seconds pottery sale/fundraiser called "Not Shards Yet!"
First up, though, is the Arrowhead Sketchers event, the last of the 2017 season. This week, the Sketchers will meet in the parking lot  of the Whole Foods Co-op in Grand Marais.  Sketching subjects will include historic and commercial buildings, street scenes and the lakeshore. Everyone is invited to join the group, sketchbook, pens and/or camera in hand. Free and open to everyone. After the session, the group will adjourn to  share a beverage at the upstairs deck lounge at the Gunflint Tavern.
The Sketchers may have impromptu adhoc sketch-sessions during September, weather permitting.  To be notified watch, the Northshore ArtScene, register for notifications at www.MeetUp.com or be sure you are on the sketcher's email list of the Grand Marais Art Colony. Call 218-387-2737 for more info.
Also on Thursday night, the nationally acclaimed group, Monroe Crossing, will perform at the Arrowhead Center for the Arts at 7:30 p.m. Alyce's will serve a dinner at 6:30 p.m. Tickets are for the dinner and show are $45. Dinner/show tickets receive priority seating.
Concert-only tickets are available as well for $25
Advance tickets can be purchased at www.grandmaraisplayhouse.com
The Playhouse is front and center on Friday as well when Ole and Lena (Mike and Julie Bateson) return to the Grand Marais to perform "Ole Plays Nursemaid! Call 911!" Performances are at 7 p.m. Friday and Saturday and 2 p.m. Sunday at the ACA. Tickets are $15 adults, $5 under 18. Tickets are available at the door.
Saturday begins with the Cook County Market, which opens at 9 a.m. in the parking lot of the Senior Center in Grand Marais. A wide variety of artists and artisans have booths at the market. All invited.
Also on Saturday and Sunday, the Grand Marais Art Colony will host "Not Shards Yet! A Seconds Pottery Sale" as a fundraiser for a new kiln.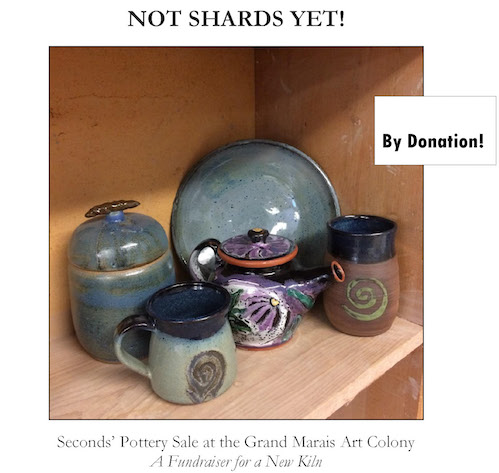 The fundraiser will be held outside the Pottery Studio at the Art Colony from 9 a.m. to 4 p.m., Saturday, Sept. 2 and from 10 a.m. to 4 p.m. on Sunday, Sept. 3.
All invited. Come see what treasures you can find!
Also on Saturday at the Art Colony, plein air painter Neil Sherman will give an outdoor painting demo at 1 p.m. as part of the summer series, Saturdays at the Art Colony. Free and open to the public.
At 4 p.m. on Saturday, there will be a Bronze Pour at Last Chance Gallery in Lutsen. All invited. Free.
And, on Saturday night, a new group will perform at the Cascade Lodge Pub. Gillis, Bichel and Bob will play at 7 p.m. (Chris Gillis (keyboard), Max Bichel, violin) and Bob LaMettry (percussion.) Sounds like a good show. Free.
And finally on Wednesday, the great acapella group, SVEA, will sing at a Full Moon Gathering at Drury Lane Books at 7 p.m.
The bookstore is switching to its fall hours on Sept. 1 and will be open Monday – Saturday 10 a.m. – 5 p.m, Sundays 10 a.m. – 4 p.m.
Exhibits:
 David Johnson's solo photography exhibit, "Cook County Through My Eyes," continues at the Johnson Heritage Post through Sept. 10.
Johnson's exhibit includes a wide variety of wildlife and landscape photos. The Heritage Post is open from 10 a.m. to 4 p.m. Mondays and Wednesdays through Saturdays, and from 1-4 p.m. Sundays. It is closed on Tuesdays.
The Tweed Museum of Art in Duluth is exhibiting a variety o works from the Pacific Northwest, including a Kawkiutl mask created by Cecil Dawson, a Dzawada'enuxw First Nation member, one of 13 Kwakwaka'wakw bands.
Also at the Tweed, the photographic exhibit entitled "A Thousand Words" continues, featuring outstanding photographs of people from around the world.
Marion Post Wolcott is best known for the more than 9,000 photographs she produced for the Farm Security Administration (FSA) from 1938 to 1942. Her work is preserved at the Library of Congress Prints and Photographs Division and is also available online.
In Thunder Bay, the Thunder Bay Art Gallery continues its exhibit, "The Perspective From Here: 15o Artists from the North."
The exhibition continues through Sept. 24.
Upcoming:
 Briand Morrison will present "Musical Impressions: The Art of George Morrison" at the Johnson Heritage Post at 6 p.m. Thursday, Sept. 7. The opening reception is at 5:30 p.m. All invited.
Plein Air Grand Marais is just around the corner. Venture up the North Shore for fall colors and meet over 60 artists painting throughout Cook County in this friendly painting competition Sept. 8 – 14, followed by an exhibition at the Johnson Heritage Post showcasing the artist's work Sept. 15 – Oct. 29.
Also next weekend, the 10th annual Radio Waves Music Festival will be held at Sweetheart Bluff in the Grand Marais Rec Park Sept. 8 -10. The event is hosted by WTIP Community Radio and features 27 musical acts under the tent over the entire weekend. For the complete line-up next weekend, click here. And stay tuned for details next week.
The Art Along the Lake: Fall Studio Tour is Sept. 29-Oct. 8, featuring 40 artists and 14 stops in Cook County.
To read more and see the brochure, click here.
Opportunities:
North House Folk School is accepting applications for the intern program through Oct. 16. North House accepts four interns each year. The internship runs from January 2018 through November.
Information about the internship program, as well as the application packet request form, can be found here.  Interested individuals should request an application packet. For more info, call North House at 218-387-9762.
The Northern Clay Center in Minneapolis has put out a call for ceramacists and potters to apply for a number of grants that they have available as a re-granting institution. There are grants available for artists who are just starting their careers as well as those who have worked their entire lives in the ceramic arts. For example, one of the awards the Northern Clay Center distributes is the McKnight Fellowship Award for mid-career or lifetime ceramic artists. This award is $25,000 each, for two Minnesota artists. It is not a project grant. There is no application fee. Interested? Visit the Northern Clay Center's Artist Services page here to find out more.
Window Shopping:
Here's the music for the week:
Thursday, Aug. 31:
Joe Paulik, Music by the Campfire, Lutsen Resort, 6:30 p.m.
Monroe Crossing, Arrowhead Center for the Arts, 7:30 p.m.
Rich Lewis Band, Gun Flint Tavern, 9 p.m.
Friday, Sept. 1:
Joe Paulik, Voyageur Brewing Co., 4 p.m.
Eric Frost, Music by the Campfire, Eagle Ridge Resort, 7 p.m.
Saturday, Sept. 2:
Jim & Michele Miller, Voyageur Brewing, 4 p.m.
J Squared and the Makers, Papa Charlie's, 6 p.m.
Gillis, Bichel & Bob, Cascade Lodge Pub, 7 p.m.
Joe Paulik, Music by the Campfire, Bluefin Bay, 7 p.m.
Michael Monroe, Log Cabin Concert, rural Grand Marais, 7 p.m., www.michaelmonroemusic.com
Jon Kalberg, Lutsen Resort, 7 p.m.
Cook County's Most Wanted, Grandma Ray's, 8 p.m.
Rich Lewis Band, Gun Flint Tavern, 9 p.m.
DJ Beavstar, Papa Charlie's, 9:30 p.m.
Sunday, Sept. 3:
Briand Morrison, Gun Flint Tavern, 2 p.m.
Jim & Michele Miller, Skyport Lodge,  5 p.m.
Monday, Sept. 4:
Bump Blomberg, Gun Flint Tavern, 7:30 p.m.
Scott Frazier, Bluefin Grille, 9 p.m.,
Wednesday, Sept.6:
We found some great photos this week. Let's start with some wildlif shots:
And here are some skyscapes:
And a city scape:
And woods-scapes:
And a rockscape:
A waterscape:
And two peoplescapes:
An early fallscape:
And last, but not least, a harborscape:
Enjoy your weekend!