Greetings from the North Shore, where we welcome the beginning of fall colors and our tiny, sweet rains with gratitude. Add to that  days of blue skies and gentle breezes that beckon to the soul, and you have some idea of what it's been like here for the last few weeks. And we're being as Covid-careful as we can, too.
Up this week are two stellar events: the culmination of Grand Marais Plein Air 2021 and North House Folk School's Unplugged XX, followed, next weekend, by the highly anticipated Art Along the Lake Fall Studio Tour. Here are some details:
Grand Marais Plein Air 2021 is underway with more than 66 invited and juried-in artists as well as an Open Class of painters who have been painting Cook County since last Friday. The event is sponsored by the Outdoor Painters of Minnesota and the Cook County Historical Society.
The artists have had opportunities to take mini-workshops as well many stellar days to paint the beauty of the North Shore.
On Thursday, the artists will hold a painting preview in Harbor Park from 11 a.m. to 12:30 p.m. followed by the Quick Paint Competition on Artist's Point at 3:30 p.m. In that competition, the artists are required to complete a painting in 90 minutes. It's a fun event to watch and the public is invited.
The grand finale is Friday, when the exhibit of artists' work will open at the Johnson Heritage Post Gallery with a reception from 5-8 p.m.  The awards will be announced at 6:30 p.m. Plein air painter David Gilsvik is the juror this year. (Note: a VIP Preview will be held from 4-5 p.m. at the Heritage Post gallery on Friday. A $20 or more online donation to Outdoor Painters of MN or the Cook County Historical Society, or $20 at the door, gets you in.) For more info and details, click here.
The exhibit continues at the Heritage Post through Oct. 10. The gallery is closed on Tuesdays. It is open from 10 a.m. to 4 p.m. Wednesday through Saturday and Monday, and from 1-4 p.m. Sunday.
Unplugged XX is at North House Folk School on Friday and Saturday and is both a virtual and in-person event.
On Friday, North House will kick off the weekend with a Harborside Gathering & Pie Social from 5-8 p.m. The public is invited to "pull up a straw bale and watch the sunset over the Big Lake and the Sawtooth Mountains" beside cozy fires.
There will be freshly pressed apple cider and old-time music as well as lots of pies. Apple to pumpkin to berry pies will be on hand for this pie social, and North House artisans will be demonstrating as well as have their crafts for sale. Open to all.
On Saturday, the campus opens for the evening events at 5:30 p.m. (Click here for tickets)
It begins with fresh focaccia from woodfired ovens, smoked fish and cheese. Offerings from The Bad Seed and The Crooked Spoon food trucks will be served on the commons, in addition to beverages from Voyageur Brewing Company, North Shore Winery, and Fulton Brewery. Also, look for live music, freshly pressed cider, and a dessert prepared by North House instructor, Kim Ode.
Following the social hour, attendees will gather in the Red and Blue buildings to watch the evening's online stream with friends of the school. The online stream will kick off at 7  p.m. with a musical performance by the trio of Barbara Jean Meyers,  Molly Dean, and Mike Lewis. Jay Blades is the featured speaker. Amythyst Kiah is the featured performer.
For more info and tickets, click here.
It will be a busy weekend throughout the county as well.
On Saturday, the the Annual \Fall Fly-in/Drive-In Pancake Breakfast, hosted by the Arrowhead Eagles Agitation Organization to support the Eagles Scholarship Program, will be held at the Cook County Airport from 8-11 a.m. Tickets are $10.
Private aircraft will be available and on display, along with information on Cook County aviation history, a profile of the life of Kathryn Krotz whose father Clarence J. Krotz built the first official airport of Cook County in 1948, information on the history of Skyport Lodge and more.
Also available will be aviation career scholarship application forms for the 2022 scholarship cycle, and a drawing of names of 10 youth ages 13-17 for a free one-year subscription to Minnesota Flyer magazine. Door prizes for a free flight the day of the event will also be offered.
The Cook CountyMarket opens in the parking lot of The Hub at 10 a.m. on Saturday and features work by local artists and artisans showing a variety of crafts. It is open until 2 p.m.
At 1 p.m. on Saturday, consider taking the Harbor History Tour led by the members of the Cook County Historical Society. The tour is free, and takes about an hour.
And on the Gunflint Trail, the Chik-Wauk Museum and Nature Center will hold a presentation about the 1999 Blowdown from 2-3 p.m. led by local resident Jim Block. The title of his presentation is "The Meteorology of the 1999 BWCAW Derecho Windstorm." Open to all. Masks required.
On Sunday, the Lutsen Volunteer Fire Department will hold is annual Pancake Feed from 8-11 p.m. at the Lutsen Town Hall. Tickets are $10 adults, $5 kids. Open to all.
Exhibits:
Upcoming:
The Library Friends of Cook County will hold a Pop-Up Book Sale Sept. 25 at the Hub. For details and how to donate books, see below.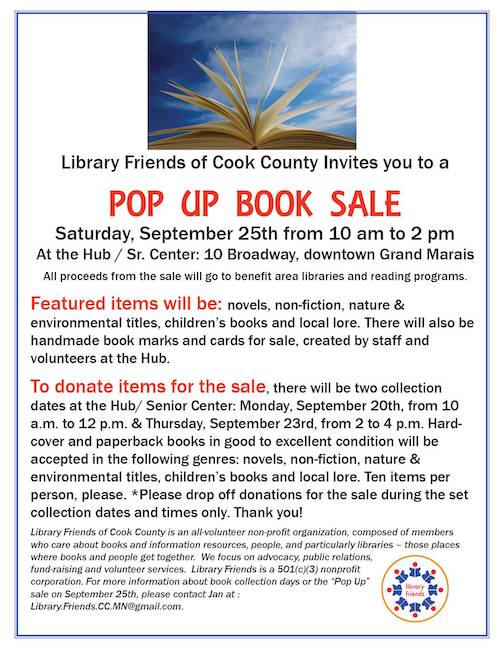 The Art Along the Lake Fall Studio Tour begins next Friday, Sept. 24 and runs through Oct. 20, featuring art from one end of Cook County to the other. Stops include home studios as well as galleries with guest artists. A total of 40 artists are exhibiting on this tour. Here are a few examples of what you can see:
 FYI
The Borealis Chorale and Orchestra will not be going into rehearsals for its annual holiday concerts this year. In a letter to the public, they write:
"We find ourselves in yet another period of "let's wait for a better time" for the Borealis Chorale & Orchestra (BCO) to gather. Given the unpredictability of the highly contagious Delta variant in our community over the past couple of months, including breakthrough cases, we recognize that coming together to sing and play our instruments is still not in the best health and safety interest of our group and that of our larger community.
"Right now, we are looking forward to spring of 2022, with hope for better conditions to rehearse and perform.
"For those of you who find joy in making music: until we can get together for rehearsals, we hope you enjoy raising your voices and instruments right where you are! For those who enjoy listening: we can't wait until we are able to present for you the beautiful sounds you love to hear! Be safe, be strong, be well, until we can all gather again."
Bill Beckstrand (BCO director), Kris Garey (BCO admin. asst.) and Kate Fitzgerald (North Shore Music Association director).
 Artists at Work:
Reading:
All about flax: Christine Borland looks at one of the oldest known forms of fabric in the world-linen.
Online Music:
   Live Music:
Thursday, Sept. 16:
Don Bauer, Cascade Lodge Restaurant & Pub, 6 p.m.
Gordon Thorne, Date Night at the Winery, 7 p.m.
Billy Johnson, Gunflint Tavern, 7:30 p.m.
Friday, Sept. 17:
Joe Paulik & Friends, Harbor Park, 5 p.m.
Saturday, Sept. 18:
Tom Knutson, Cook County Market, Hub parking lot, 10:30 a.m.
Boyd Blomberg, Harbor Park, noon
Michele Miller, Harbor Park, 5 p.m.
Jim McGowan, Cascade Lodge Restaurant & Pub, 6 p.m.
Kenna Rose Trio, Gunflint Tavern, 8:30 p.m.
Sunday, Sept. 19:
Folkytonk, Harbor Park, noon
Billy Johnson, Weekend Wine Down, North Shore Winery, 3 p.m.
Monday, Sept. 20:
Folkytonk, Harbor Park, noon
Tuesday, Sept.21:
Folkytonk, Harbor Park, noon
Photographs:
 Here is a selection of photographs we found this week:
 Amy writes:
And in the late afternoon, when the autumn sun, low on the horizon, bestows everything that achingly beautiful glow, the trees fancy themselves royalty, their slender limbs adorned, not with stone fruit, but with rubies and garnets.
Landscapes, Skyscapes, Waterscapes and Creative Scapes:
Have a great weekend, everyone! And stay safe!
n