Greetings from the North Shore where moon shadows on new snow make walking at night a magical experience. This is especially true when the snow is new and fluffy and just deep enough to kick up energetic white swirls at every step.
That's what this Holiday Season is shaping up to be… swirls of energy, pleasing all the senses. Music, theater, art, and science are featured this week.
First up is the science/magical part. — The Dark Sky Festival, which will be held Dec. 8-10 featuring a wide variety of events and presentations about the importance and value of a dark sky.
Cook County is home to one of the darkest skies in the world. Every year, explorers, adventurers, artists, and photographers from around the world travel to Cook County to experience the northern lights. The Boundary Waters Canoe Area Wilderness has been named one of only 15 certified International Dark Sky Sanctuaries in the world.
The event features guest speakers from NASA, presentations, a book signing, dinners at Justine's at Gunflint Lodge, and an opportunity to view the night sky through a telescope, as well as the screening of a PBS documentary  featuring work by Grand Portage-based dark sky photographer Travis Novitsky and painter Carl Gawboy. To learn more and see the schedule of events, click here.
On Thursday, the North Shore Swing Band will play a Holiday Concert from 6-8 pm in the Blue Building at North House Folk School.
The event is well known for its energetic performances and creative arrangements and plays old favorites as well as newer works. Their music is definitely danceable. The event is free and open to the public. All ages are welcome for dancing and/or listening pleasure.
On Friday, Dec. 9, a new exhibit opens at the Johnson Heritage Post entitled, "But Does It Pour?" featuring pottery by 11 Cook County artists. The potters will be exhibiting a variety of new works, including mugs, bowls, casseroles, platters, vases, and more.
The potters all have been asked to make a few things that pour. Think teapots and pitchers, creamers and batter bowls, for example.
At the opening reception, the vessels will be tested. Do they pour without dripping? Does the stream of liquid pour smoothly? Are they easy to pour? The opening reception is from 5-7 pm with the Pouring Contest at 6 pm.  Prizes will be awarded.
Potters in the show include Maggie Anderson, Adrea Beres, Joan Farnam, John Franz, Kathleen Gabrielsen, Robert LaMettry, Terry Lewis, Hannah Palma, Kathy Reeves, Natalie Sobanja, and Jason Trebs.  The exhibit continues through Jan. 1.
Also this weekend, final performances of the Grand Marais Playhouse production of "Rudolph the Red-Nosed Reindeer, Jr" will be at 7 p.m Friday and Saturday, Dec. 9-10, and 2 pm Sunday, Dec. 11.
Based on the hit holiday classic song, "Rudolph the Red-Nosed Reindeer,"  the play brings one of the most beloved characters of all time to the stage. Kudos all around for this production. Tickets are $15 adults and $5 for those under 18. They can be purchased at the door or online here.
On Saturday, Dec. 10, a special exhibition opens at the Grand Portage Heritage center entitled "The People Behind Northern Nights, Starry Skies."
This exhibit is in conjunction with a PBS documentary, celebrating stars and dark sky places, Indigenous star knowledge, and stewardship of the night sky. The work of Carl Gawboy and Travis Novitsky is on display upstairs at the Heritage Center beginning Dec. 10 and running through Jan. 31, 2023.
The North Shore Music Association will hold Member Appreciation Night with music by the Hand family Saturday, Dec. 10 at the Johnson Heritage Post. It is the Music Association's way to express thanks to members and business contributors, It will be an evening of fabulous music, tasty noshes, and libations to lift your spirits in celebration with friends and neighbors. Those who would like to become an NSMA member, are invited to attend as well.
The event features singer, songwriter, and pianist Amanda Hand who will be joined by her father, master steel guitarist, and longtime "A Prairie Home Companion" house band member Cal Hand, along with her vocalist mother Marilyn Hand, and local bass player Will Moore.
Masks are encouraged at this event, except while eating and drinking.
Note: The North Shore Music Association's mission is to inspire lives and create community by offering exceptional live performance and artistic diversity, engaging all ages with opportunities to experience, learn, and participate… for the love of music.
On Sunday, Dec. 11, The Local Artists' Market will be held at the Superior Creamery from 10 am to 4 pm.
This one-day event features six local women artists including Ebenezer Stone, Hannah Palma Ceramics, Nan Onkka Prints, North Woven Goods, The Wilder Woodshop, and Up North Leather Craft.  The Creamery's ice cream will be available.
The Borealis Chorale & Orchestra will perform a Christmas concert.
Three years after their last concert, the Borealis Chorale & Orchestra (BCO) has reconvened and is excited to perform for the community! Concerts will be held on Sunday, Dec. 11, and Monday, Dec. 12, from 7-9 pm. Featuring more than 75 talented Cook County singers and musicians, and led by new director Karina Roth, "A Gift of Music – Compositions of Beckstrand & Muus" is a tribute to the talents of previous directors William Beckstrand and B.J. Muus. It is also a gift from the BCO to the Cook County community.
The program includes Beckstrand's "The Mystical Rose," "People Look East," "What Greeting This," and "Lord Our God (Herre Gud)." Pieces by Muus are "Come Thou Savior of Our Race" and "Come Unto Him." Many other beautiful seasonal selections round out the program. There is no charge for the concerts, but donations to the Borealis Chorale & Orchestra are greatly appreciated! Masks are encouraged at this event.
The Winter Solstice is Thursday, Dec. 21 this year, and a well-loved Cook County tradition, the Winter Solstice Shadow Puppet Show returns, with a performance at North House Folk School outdoors at 6 pm, Dec. 21.
There will be delightful handmade puppets and live music to tell the story, a bonfire to burn your "Gloomies," with a potluck to follow.
The theme this year is Ravens. Everyone is welcome, all ages. Free.
Exhibits:
The Holiday Art Underground show at Betsy Bowen Studio continues through Dec. 31. The exhibit features new work by more than 30 local and regional artists as well as prints, paintings, books, and cards by Betsy Bowen.
Here's a small selection of what is in the show:
 The Duluth Art Institute has several exhibits that close at the end of the year including Jaafar Alnabi & Ahmed Alshaikhli | Home of Memories: Portraits & Stories of Iraqi Minnesotans. "
The exhibit features work by two photographers who explore Iraqi-Minnesotan portrayals of home through images, stories, and artifacts. Photographers Ahmed Alshaikhli and Jaafar Alnabi capture the personalities and passions of Iraqi Minnesotans and offer an authentic glimpse into their lives.
Home of Memories is a traveling exhibition curated by CarryOn Homes (Peng Wu, Shun Jie Yong, Zoe Cinel), and produced as part of Iraqi Voices, a collaborative arts storytelling lab run by Minneapolis nonprofit The Iraqi and American Reconciliation Project. The exhibit is in the Corridor Gallery and closes Dec. 31.
Opportunities:
The next grant cycle for the Arrowhead Regional Arts Council opens on Dec. 16.  For more information about what grants are available, click here.
Hungry Hippie Tacos is hosting a Holiday Fun Fest on Saturday, Dec 17, and is looking for artists/artisans to participate. For more info, click here.
Call for Artists
The Spirit of the Wilderness Episcopal Church is once again holding a Community Art Show at the Johnson Heritage Post, opening on Jan. 6.
The exhibit is open to all North Shore artists, professional or emerging, in a variety of mediums. The theme this year is "Deep Winter Dreaming" and invites artwork reflecting the creativity that stirs within on cold, dark winter nights. Stay tuned for details.
Artists At Work:
Online Music:
Your Turn 
What was your favorite song in 2022?
Leave a message in the comment section at the end of the blog, and we'll post a few in the next issue.
 Live Music:
Thursday, Dec. 8:
North Shore Swing Band – Holiday Concert,  North House Folk School, 6-8 pm
Gordon Thorne, North Shore Winery, 7-9 pm
Saturday, Dec. 10:
Amanda Hand and Family – Member Appreciation Event for North Shore Music Association, Johnson Heritage Post Art Gallery, 4-6 pm
Sunday, Dec. 11:
Borealis Chorale & Orchestra Concert, Bethlehem Lutheran Church, 7-9 pm
Monday, Dec. 12:
Borealis Chorale & Orchestra Concert, Bethlehem Lutheran Church, 7-9 pm
Friday, Dec. 16:
The Northwoods Band – Cook County Ridge Riders, Up Yonder (at the Harbor Light), 9-12 am
Photographs:
We found some great shots this week. Here's a sampling.
Wildlife:
Peoplescapes:
Lack-of-Peoplescapes:
Landscapes, Waterscapes & Sunscapes: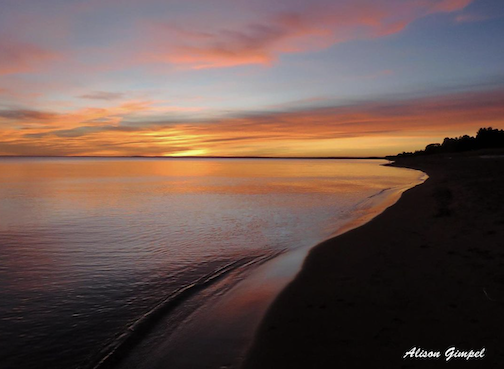 Have a great weekend, everyone!
And I just want to give a big Thank You to our supporters this week! It has made such a difference. If you'd like to contribute, you can click on the icon below.
Our support team this week includes Jeremy Lopez for backdoor support, music videos, and proofreading as well as Yvonne Mills for proofreading and checking all the details. Thank you both!! A special Thank You! goes out to Kari Crater, my part-time assistant, for editing outlines and captions. 
Our next issue is Thursday, Dec. 29.