Spring exploded over the North Shore on Monday, with a lightning festival that crashed and strobed across the sky for more than an hour before slowly advancing across the Big Lake to say hello to Wisconsin and Michigan. It's tempting to quip that dog owners probably didn't like it that much, because continuous thunder and lightning went on for a long time. On the other hand, it was a historic display and beautiful.
Here are just a few of the photographs which have turned up so far.
David Johnson posted several great shots.
Travis Novitsky caught this image, too.
Luckily, no fires had been reported as of Thursday, either. Here's a report about the storm and the fire danger from the U.S. Forest Service reported on WTIP Community Radio. The storm ushered in a few days of light rain, for which we are thankful.
Meanwhile, our online lives continue, with additional in-person perks.
First up, a the Arrowhead Regional Arts Council  and DanSan Creatives' will co-host a virtual event "History & Art: The Duluth Lynchings. A Family's Perspective" at noon on Thursday, April 8.
Attorney Karen Nance will discuss art and the Duluth lynchings with a panel of local artists. Daniel Oyinloye will facilitate a panel with local artists John Staine, Glenn Simmons, and Diona Johnson. 
Nance is the granddaughter of Ethel Ray Nance, (1899-1992) was a civil rights activist. Her family was one of the few biracial families in Duluth in 1920. They lived just four blocks from the site of the lynchings. As a result of this incident, her great grandfather, William Henry Ray started the first NAACP Chapter in Duluth and her grandmother, Ethel Ray Nance, was able to convince W.E.B. DuBois to speak at St. Mark's AME Church to support her father's  efforts.
The panel will address the role of art in remembering the events. If you'd like to attend this virtual event,  send an email to info@aracouncil.org and we'll send you a Zoom link. Free.
Also on Thursday, the Grand Marais Art Colony will feature  artist Susan Goethel Campbell as its Instagram Takeover Artist for the week.
Goethel Campbell is a multi-disciplinary artist whose work considers the engineered environment as a natural process. She works in several formats, including installation, video, prints, photographs, drawings, and projects that engage communities to look at local and global environments.
Goethel Campbell has been exhibited nationally and internationally. For more info, click here.  To see her Instagram posts, click here .
Exhibits:
For an in-person treat, stop by the Johnson Heritage Post and see its latest exhibit, "Voices of Spring," which features work by six North Shore women artists in a multi-media show. The artists include Kathy Weinberg (paintings), Maxene Linehan (multi-media works), Lee Ross (mono prints, collage), Maggie Anderson (ceramics), Marti Mullen (paintings) and Mary Matthews (contemporary quilts).
The exhibit continues through April 25. The Heritage Post is open Thursday 1-4 p.m., Fridays and Saturdays, 10 a.m. to 4 p.m. and Sundays 10 a.m. to 2 p.m. Covid Protocols, including masking and hand sanitizing, are in place.
Photographer Bryan Hansel has opened an exhibit of his work at Split Rock Lighthouse. The photographs will be on display in the lobby of the Visitor Center through the end of April.
Hansel will be at the center to talk  about his work and approach to photography on Friday, April 9, from 1–4 p.m. All invited.
In Duluth, the Duluth Art Institute, which is located in The Depot in Duluth, is now open daily from 10 a.m. to 5 p.m. This month, exhibits include clay artists of the Duluth Art Institute Ceramic Studio, Harrison Halker Heinks, Ann Magnusson, and Adam Swanson.
Online Exhibits:
 The Tweed Museum of Art, located on the campus of the University of Minnesota-Duluth, is currently closed to the public, but the museum has organized online exhibits for all to enjoy. including the newest ,the 2021 annual Student Exhibition.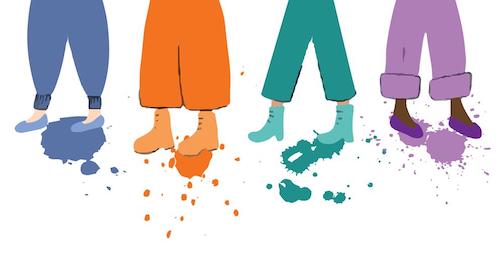 The Virtual 2021 Annual Student Exhibit at the Tweed Museum of Art has opened, featuring work by students and staff.
Students who have taken an Art & Design course in 2020-2021 entered up to four pieces of artwork to be juried for the exhibition. This year's show was juried by Artist Ricky Allman and Graphic Designer Julia Zeltser. To learn more and see the works, click here.
Here's a great video of the retrospective exhibit of Carl Gawboy, "A Life Well-Painted." It's currently on view at the Tweed.
Here's a great story, with photos, about the past, present and future of Inuit art. Many of the works reflect the changing life and world of the Inuit peoples.
To read about this exhibition and see the work, click here.
The Seattle Museum of Art is currently exhibiting the 30-panel series by painter Jacob Lawrence, works on his reflections on the American struggle for identity.
The exhibit, entitled, "Struggle: From the History of the American People (1954–56)" also includes work by Black artists influenced by Lawrence. To read about him and see his work and selections from the exhibit, click here.
The Thunder Bay Art Museum is currently closed, but the outside sculpture gallery is open to visitors. Here's a video about the sculptures.
And, much closer to home, have you ever seen the Tortoise and Hare Shoe Store Mural at 40th Ave. W. and Grand Avenue in West Duluth? Painted by Duluth muralist Tom Napoli, the mural re-imagines the story of the Tortoise and Hare taking place in Duluth. a. Here's an example, and then watch a video produced bay Making It Up North, WDSE-TV.
Here are a few details from the mural:
\
Here's a great short clip of two cats: One is blind. The other cat is guiding him.
For movie fans… a short, wrenchingly sad film. The Silent Child, won an Oscar. It's 20 minutes long
Here's another video about how good it's going to feel when the pandemic is over.
Artists at Work: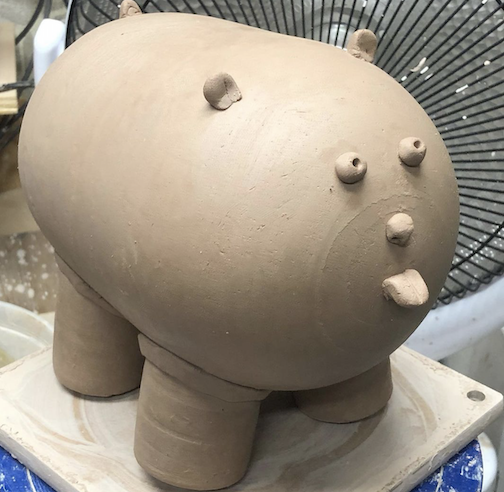 Twin Cities potter Randal Anderson said he sat down at the wheel yesterday to have some fun and this little guy popped up. It will probably be wood-fired.
Online Music:
Here's a full concert with Ben Harper and Charlie Musselwhite.
And then this:
 Live Music:
 Thursday, March 25:
Photographs:
We found lots of great images this week. Let's start with wildlife:
 Humanscapes:
Landscapes, Skyscapes, Waterscapes:
And, finally, this.
Happy Spring, everyone! And stay safe!
I am accepting donations to keep this blog a vital part of your North Shore art news source. Click below to make a donation to support this volunteer effort. Just click on the button below. It's fast and easy. And Thank You!