Greetings from the North Shore where spring finally arrived, the ice disappeared from the lakes and the 2022 summer season begins.   Welcome!
On Friday Bailey Aaland, a stained glass mosaic artist will be featured at Tettegouche State Park for the month of June. There will  be a public reception for her on Friday, June 3 at 7 pm in the Visitor Center.
Also, the first festival of the summer season is the Northern Landscapes Festival held at North House Folk School this weekend. The festival offers a number of workshops as well afield trips to learn about this beautiful place. To find out more, click here.
A public presentation will be held at 7 p.m. on Saturday featuring an outdoor presentation entitled: Owls of the Eastern Ice: Blakiston's Fish Owl Conservation in Russia with Jonathan Slaght.
Slaght is an award-winning author and researcher and he will talk about his work as well as showing slides. Free. Open to all. Please dress warmly because the presentation will be outside.
Also on Saturday, the Cook County Market will be held from 10 am to 2 pm in the parking lot of the Hub, or Senior. Center. The market features a wide variety of arts and crafts from local mkakers.
In Hovland the Fox & Beggar Theater presentation has been canceled.
On Tuesday, the Grand Marais Playhouse will participate in the Cook County Pride Festival by hosting Tuesday evening movies each week in June. The movies share LGBTQ2S themes and the titles can be found by calling or emailing the Playhouse. Due to licensing agreements and copyright laws, we cannot share movie titles through public media. The June 7 movie is rated PG-13, and the rest on June 14, 21, & 28 are rated R.
Admission to the movies is free but a donation box is available.
Exhibits:
Multimedia artist Kimberly Layer is exhibiting work at the Johnson Heritage Post, the title of her exhibit is "the giving forest." The exhibit continues through June.
The Johnson Heritage Post is open from 10 AM to 4 PM Wednesday through Saturday and Monday and from 1 PM to 4 PM on Sunday.
"Connections," an exhibit of George Morrison's work, is open at the Culture; Heritage Center in Grand Portage.
For this exhibit, the National Park Service (NPS) has gathered works in their collection, along with works and artifacts from private collections, to curate the exhibition. The show will run through September of 2022.
The annual Members show opened at the Duluth Art Institute recently. The show features work by artists throughout the region in a variety of different media. This show will be on exhibit at the art institute through June 26.
The Duluth Art Institute is located in the Depot in downtown Duluth.
Artists at Work: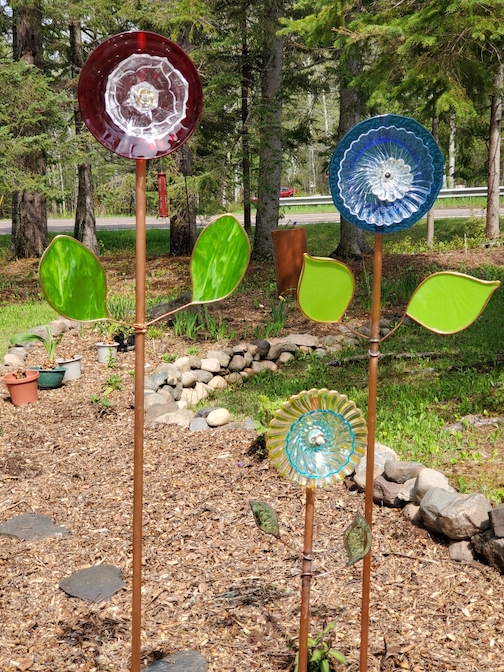 Glass garden ornaments by Diane Booth.
Online  Fndings: 
Listen to a Black Hole Sing
Since 2003, the black hole at the center of the Perseus galaxy cluster has been associated with sound. This is because astronomers discovered that pressure waves sent out by the black hole caused ripples in the cluster's hot gas that could be translated into a note – one that humans cannot hear some 57 octaves below middle C. Now a new sonification brings more notes to this black hole sound machine. This new sonification – that is, the translation of astronomical data into sound – is being released for NASA's Black Hole Week this year.
 For the full story click here.
Online Music: 
Live Music:
 Thursday, June 2:
Gene Lafond & Amy Grillo, Cascade Restaurant & Pub, 6 -8 pm
Gordon Thorne, "Date Night at the Winery", North Shore Winery, 6 – 8 pm
Friday, June 3:
Jim McGowan, Bluefin Grille – Bluefin Bay Resort, 7 – 9 pm
Saturday, June 4:
Billy Johnson, Gunflint Tavern, Grand Marais, 6 – 10 pm
Sunday, June 5:
Billy Johnson, "Weekend Wine Down", North Shore Winery, 6 – 8 pm
Monday, June 6:
Pete Kavanaugh, Bluefin Grille – Bluefin Bay Resort, 7 – 9 pm
Wednesday, June 8:
Southpaws Duo, Bluefin Grille – Bluefin Bay Resort, 7 – 9 pm
Photographs
Wildlife
Potpourri
Landscapes, Skyscapes  & Cloudscapes
Have a great weekend, everyone!!!
N