It's Hygge Festival week in Cook County, a festival celebrating coziness, friendship and the love of winter in the Northwoods.
 This is the second annual festival and will feature several new events, including fat tire bike demonstrations, knitting lessons, a cross-country skiing tour at twilight, a SVEA concert in front of the bonfire at Drury Lane Books, and a grand fireplace tour, featuring some of the most historic fireplaces in Cook County, 19 in all! For a list of all the grand fireplaces you can experience in Cook County, click here.
Favorite events from last year will also be back, too, including Hygge-themed menus, bonfires with live music and a Mukluk Ball. It kicks off tonight, Jan. 8, with a 5-Course Jazz & Candlelight Dinner with Scandinavian comfort foods featuring music by Briand Morrison at Mogul's Grille. For the complete schedule for the weekend, click here.
In Duluth, multi-media artist Penny Perry will give an artist talk at the Duluth Art Institute at 6 p.m.
 Perry uses a variety of mediums in her art; ink on paper, acrylic paint on canvas, stained glass, both painted and leaded, photography, and wood. All invited. Free.
On Friday, the Hygge Festival continues at Voyageur Brewing with  the Big Lake Pop-Up shop featuring a variety of its artists including Anna Hess, Richard Nelson, Jan Wise, Adam Turman, Jahna Vashti, Mark Herman, Jeff Gray, Nick deVries, Guillermo Cuellar and Natalie Sobanja and Hanna Laky.
The shop will be open from 4-7 p.m. on Friday and Saturday at the brewery.
Also on Friday, Thomas King, author of the "The Inconvenient Indian," a brilliantly subversive and darkly humorous history of Indian-White relations in North America since first contact, will talk about his book on WTIP's The Roadhouse. Later in the program, musicians Chris Gillis, Thomas Stamps, Max Bichel and Carah Thomas will talk about the music of Mardi Gras and play a few tunes. They will perform at the Wunderbar on Saturday. The Roadhouse airs from 5-7 p.m. on Friday.
Drury Lane Books will host two events on Friday night. At 6 p.m., an ice globe display will be lit by Mila Horak, the art teacher at ISD 166. The event is a fundraiser for Sawtooth Elementary School's art program. You can buy an ice candle ahead of time from Horak, and enjoy the beautiful display on Friday night. Cost is $5/candle, cash or check payable to PTA. They can be dropped off at the ISD 166 office.
Then, at 6:30 p.m. on Friday, SVEA, an outstanding local acapella group which sings Swedish folk songs, will sing in front of the bonfire at the bookstore.
The performance is open to the public. All invited. Free.
Also on Friday night, The Grand Marais Public Library's winter film series continues, this time with a documentary on Angela Davis entitled "Free Angela and All Political Prisoners." Here's the trailer.
The film screening is at 6 p.m. Free.
On Saturday, the  Big Lake Pop-Up Shop continues, from 4-7 p.m at Voyageur Brewing. The Mukluk Ball is from 5-9 p.m. at the venue.
And the band Cloud Cult will be in concert at Papa Charlie's at 9 p.m. on Saturday.
The nationally acclaimed group features the rock band along with violin, cello, trumpet, trombone and French horn. Two live painters create original artwork on stage during each performance. Tickets are $14 in advance, $18 at the door.
And on Tuesday, the Grand Marais Art Colony will host a brown-bag lunch at noon for those participating in the 100Day Project. The meeting will focus on networking, exploring resources, sharing goals and progress.
Exhibits
 Matt Kania is exhibiting his work at Ron's World Rocks in Grand Marais, including this latest, painted during the Winter Plein Air Retreat last month.
The 'Winter Wonderland" exhibit at Tettegouche State Park has opened, featuring 20 images by participants in John Gregor's photography workshop held earlier this month.
The exhibit, which is in the Great Hall, continues through this month.
Photographer David Gredzens will have an opening reception at Cedar Coffee Company in Two Harbors on Thursday, Feb. 15 at 6:30 p.m.
The exhibit of his landscape photographs, "Lake Superior North Shore Reflections" began this month and continues through March 5.
In Duluth, painter Adam Swanson has opened an exhibit at the Zeitgeist Cafe entitled "Art and Science."
The exhibit features 40 paintings, including four he completed during the Winter Plein Air retreat at YMCA Camp Menogyn last month. The exhibit continues through April 20.
In Thunder Bay, an exhibit entitled "The National Blanket Story" has opened at the Thunder Bay Art Gallery, featuring story blankets from across Canada addressing the theme of reconciliation.
The Thunder Bay Story Blanket uses the Thunder Bay flag as the outline with the green Sleeping Giant as the focus. Red maples leaves and Lake Superior continue the story with hand prints from the participants to symbolize all the different people who live in Thunder Bay. The Story Blanket exhibit continues through Feb. 11.
Upcoming
 The Northern Fibers Retreat will be next weekend, featuring a wide variety of classes, workshops and presentation at North House Folk School and the Grand Marais Art Colony.
To find out more and register, visit www.northhouse.org and www.grandmaraisartcolony.org.
 Opportunities
Consider sharing pieces from your art collection with others for "A Collectors Art Sale," a fundraiser for Art 'Round Town. Donations in any media are now being accepted. The donor can either donate the piece outright or sell at 50/50.  The artwork will be exhibited at two two different locations: The North Shore Winery, with an opening at 6 p.m., Feb. 15, and at the Johnson Heritage Post, with the opening from 5-7 p.m. Feb. 16. The Art Sale will continue for a month at the North Shore Winery and from Feb. 16-19 at the Johnson Heritage Post. For more information, contact Ann Marie Mershon at 387-2245, amershon@boreal.org The deadline to donate artwork is Feb. 12.
A Call to Artists:  The Spirit of the Wilderness has put out a call for artists to participate in this year's exhibit at the Johnson Heritage Post. The title of the exhibit will be "Chaos, Cracks, Creativity" and artists in every genre and age group are invited to submit a piece for the show.
Questions artists might ask themselves include: How do you as a writer, sculptor, ceramist, wood-worker, glass-worker, painter or fiber artist encounter the chaos? How does your creative process invite the light in? Where do you see muddle and magnificence in the natural world or on the North Shore? How does the natural world create new models for you? Do you seek to soothe or expose, clarify or challenge?
The deadline for entries is March 5 & 6 at the Heritage Post. The show opens March 9 and runs through March 25. For more information, contact Mary MacDonald at  387-1221 or  Bonnie Gay Hedstrom 387-2538 
Artist News
Hovland woodturner Lou Pignolet was featured in "Making it Up North," a production of WDSE in Duluth. Check it out.
One of Pignolet's bowls in on exhibit at the American Swedish Institute in Minneapolis. The exhibit, CraftBowl features bowls by regional and international artists.
The exhibit at the American Swedish Institute continues through April 8.
Grand Marais photographer Bryan Hansel's photograph of the northern lights was selected for the cover of Lake Superior Magazine recently.
Have you seen this logo on a building downtown?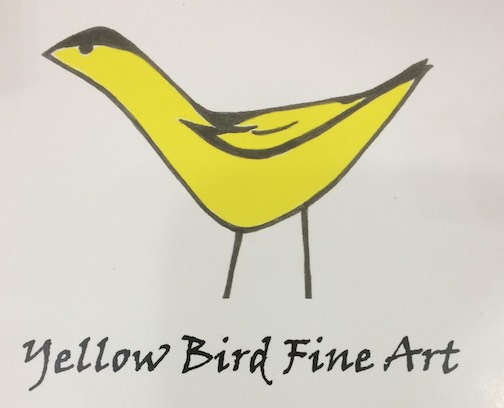 It's the new logo for Ron Piercy's gallery, which will open in April. His gallery is currently located in a space in the same building, but he'll be moving to the bigger space soon. Stay tuned.
Here' the music for this weekend.
Thursday, Feb. 8
Jim Miller, Mogul's Grille, 4 p.m.
Gordon Thorne, North Shore Winery, 6 p.m.
Jon Kallberg, Poplar River Pub, 6 p.m.
James Moors, Gun Flint Tavern, 7 p.m.
Friday, Feb. 9:
Pete K, Moguls Grille, 4 p.m.
Timmy Haus, Voyageur Brewing Co., 4 p.m.
Cherry Dirt, Cascade Lodge Pub, 6 p.m.
Portage, Grandma Ray's, 6 p.m.
SVEA, Drury Lane Books, 6:0 p.m.
Jim & Michele Miller, Bluefin Grille, 8 p.m
Pete K Group, Wunderbar, 8 p.m.
Sleeping Giant Soul Band, Grandma Ray's, 8 p.m.
Mark Verdin Trio, Gun Flint Tavern, 8:30 p.m.
Timmy Haus, Papa Charlie's, 9:30 p.m.
Saturday, Feb. 10:
Gordon Thorne & Chris Gillis, North Shore Winery, 3 p.m.
Shane Martin, Papa Charlie's, 3:15 p.m.
Mukluk Ball, Voyageur Brewing Co., 5-9 p.m.
Eric Frost, Cascade Lodge Pub, 6 p.m.
Michael Monroe, Log Cabin Concert, rural Grand Marais, Reservations at michaelmonroemusic.com, 7 p.m.
Jim & Michele Miller, Lutsen Resort, 7 p.m.
Mardi Gras Party, Chris Gillis & Thomas Stamps, special guests Carah Thomas and Max Bichel, Wunderbar, 8 p.m.
Pete K Group, Grandma Ray's, 8 p.m.
Cloud Cult, Papa Charlie's, 8 p.m.
Tempted Fate, Grand Portage Casino, 9 p.m.
Sunday, Feb. 11:
Briand Morrison, Mogul's Grille, 10 a.m.
Jim Lundorff, Wunderbar, 11 a.m.
Briand Morrison, Gun Flint Tavern, 1 p.m.
Timmy Haus, Gun Flint Tavern, 7 p.m.
Monday, Feb. 12:
Lehto and Wright, Papa Charlie's, 3:30 p.m.
Shane Martin, Bluefin Grille, 8 p.m.
Dead Horses, Songwriter Series, Papa Charlie's, 8 p.m.
Tuesday, Feb. 13:
Briand Morrison, Poplar River Pub, 6 p.m.
Wednesday, Feb. 14
Happy Valentine's Day!
Briand Morrison, Skyport Lodge, 6 p.m.
Reina del Cid, Wednesday Songwriter Series, Papa Charlie's, 8 p.m.
We found some great photos this week. One of the highlights for everyone was a series of photos Tom Spence took of a Mama Lynx and her four kittens on a snow-covered road near Tofte.
He said on his Facebook page that he stopped when he saw "Mama" sitting quietly alone on the road. He got out of his truck and stood in the snowbank and watched. Suddenly an almost full-grown kitten came over the snowbank on the other side of the road and sauntered over to her, rubbing her, like cats do. Then two more appeared! And then, a fourth!!!
The lynx saw Spence standing there, but didn't seem concerned, he wrote. After about five minutes, they got up and quietly walked down the road.
What a truly extraordinary experience. "I couldn't believe it," Spence said in numerous interviews on the radio, television and in newspapers. Kudos, Tom! To see all his photos, click here.
There are plenty of snow shoe hare in the woods this year, and lynx have been caught by several different photographers. Here's one by David Johnson.
Owls are plentiful this winter, too.
 And here's a great portrait of a Marten.
Not wildlife, but a great portrait of one of the dogs during the John Beargrease Sled Dog Marathon.
And, of course, there are lots of icy landscapes.
And last, but not least:
Have a great weekend, everyone! And Happy Valentine's Day!