This would be a great weekend to explore the North Shore. The trees are just beginning to bud and early spring wildflowers are blooming in abundance. Plus the waterfalls are fantastic, and offer such a variety of experiences. From the gorge at Cascade to the thundering of the High Falls at Grand Portage, waterfalls are in this month. And a trip across the border to experience the Kakabeka Falls is definitely worth the trip. The falls are almost as tall as Niagara Falls — something to see.
And, to get a preview of waterfalls on the North Shore, check out this month's art exhibit at Tettegouche State Park. Photographer and author "Waterfalls of Minnesota," Lisa Crayford, is exhibiting some stunning photographs of waterfalls this month in the Great Hall there.
And for outstanding indoors entertainment, join 3-time Grammy Award nominee, blues singer Ruthie Foster,  in concert at the Arrowhead Center for the Arts at 7:30 p.m. on Friday night.
Foster is the recipient of seven Blues Music Awards, three Austin Music Awards, the Grand Prix du Disque award from the Académie Charles-Cros in France, and a Living Blues Critics' Award for "Female Blues Artist of the Year." She has performed all over the world and performed with a number of famous artists including Bonnie Raitt and the Allman Brothers. This should be a great concert, for sure. Tickets are $15 general admission at aca.tix.com (no fees!) and the  door on the night of show. Here's a clip of Foster performing "Ring of Fire."
On Saturday, Drury Lane Books is hosting author Cary J. Griffith to talk about his book "Gunflint Burning–Fire in the Boundary Waters, " the story of the Ham Lake Fire.
One of the most destructive wildfires in modern Minnesota history, Griffith describes the blaze, the firefighters' battle, the human toll… in short, "Gunflint Burning"  describes the key events of the fire as they unfold, transporting readers to the front lines of an epic struggle that was at times heroic, tragic, and sublime. He will read from the book, discuss the writing process with the audience, and sign books. All invited.
In Duluth on Saturday afternon, the Joseph Nease Gallery will feature artist talks at 2 p.m. with Tim White and Allen Killian-Moore, both of whom opened exhibits at the gallery recently.  White, a photographer, is exhibiting new work. Kllian-Moore is exhibiting an installation film entitled ""Permanent State of Exception."
The two artists will discuss the points of connection (and perhaps disconnection) in their work and their process. They will also give tours of their exhibits.  The gallery is located at 23 W. 1st St. in Duluth
On Tuesday, May 22, consider attending a Critical Response Process session at the Grand Marais Art Colony from 5-7:30 p.m. The Critical Response is an artist-led, multi-step, group system for giving and receiving feedback on creative processes and works-in-progress by an individual artist. The process helps the artist by offering he or she an opportunity to ask questions about their work in a non-judgemental setting.
Participants will be observing and participating in the session as part of the peer critique group, but will not bring in their own artwork for this training session. Tuition is $10. For more information and to register, call the Art Colony at 387-2737.
And on Wednesday, the Arrowhead Regional Arts Council will present the 2018 Arts Awards at the WDSE studios in Duluth at 5 p.m. Photographer and documentary filmmaker Craig Blacklock will receive the George Morrison Artist Award and filmmaker Karen Sunderman will receive the Maddie Simon Arts Advocate Award.
Because of limited space, advance reservations are required to attend the ceremony. To RSVP to attend the awards, please visit
https://20thannualarrowheadartsawards.eventbrite.com
This would be a great weekend to visit galleries and shops in Grand Marais, too.
This is the last weekend to see the exhibit "Found: 3 Views on Nature, a Group Art Show" at the Johnson Heritage Post. This show is a wonderful mix of block prints, encaustic paintings, and mixed-media artworks by Stephanie Mostre-Kotz (mixed media), Stanley Leonard (woodblock prints) and Bethany Kepler (encaustic works).
The Heritage Post is open from 10 a.m. to 4 p.m. Wednesdays through Saturdays and Mondays, and from 1-4 p.m. Sundays. It is closed on Tuesdays.
In Duluth, the Duluth Art Institute opened three exhibits last week: Jason Pearson's "Travels with My Twin: Selected Works from the Pearson Brother's Collection," Tara Austin's "Boreal Ornament" and Jonathan Herrera's "Querida Presencia."
The DAI exhibits continue through July 1. The Art Institute is located in the Depot and is open daily.
The Tweed Museum of Art on the UMD campus is hosting a Community Day on Saturday, May 19. The event includes art activities for kids and a chance to see the wide variety exhibits at the museum. Open to all. Free.
In Thunder Bay, the Definitely Superior Art Gallery will hold a gala opening reception for two new exhibits on Friday starting at 7 p.m. (EDT). The exhibits include the Lakehead University RetroGraduate Exhibit 2018, and  "Fortify This Collective" which highlights the longevity, creativity, and achievements of Indigenous artists' production in northwestern Ontario.
The exhibits continue through June 16.
The Thunder Bay Art Gallery featuring four exhibits: "Fresh Perspectives: Secondary School Art Exhibition 2-18,"  "Future Dreams and Aspirations." "Aaron Veldstra: Tarlacan" and "By Request: Collective Curation of the Permanent Collection."
Upcoming:
There's lots going on in Grand Marais over Memorial Day Weekend, May 25-27.
The Grand Marais Art Colony will hold a feature a variety of short classes, including a ceramics class,  Paint-A-Tile, and  a glass class, Glass Window Ornaments, as well as Beehive Exhibit in the Founders Hall. On Saturday, May 26, the Art Colony will host a Block Party where the street will be closed  and a number of festive activitie will be held,  including Community Ink Day: Screenprinting, Hula Hoop Making, and so more.
The Art Colony's exhibit, "The Art of Creating a Buzz: a Bee Hive Exhibition" should be great. It opens at the Grand Marais Art Colony on May 21 with work by local artists Cedar Adams, Jan Attridge, Betsy Bowen, Karen Cedarmoon, Greg Mueller and Jeff Niesen.  Each of the artists were given a hive to decorate with paints and designs safe for bees. Then at 10 a.m. on Saturday, May 26, Beekeeper Bob Janicek and the artists will be at a Meet-and-Greet at the Art Colony.
Here is what Betsy Bowen made for the exhibit. She calls it "Hollyhocks for the Bees."
Betsy Bowen's Studio will host the Spring Art Underground Show next week, and the Yellow Bird Fine Art Gallery will hold it's Grand Opening as well, and there will be special exhibits at other Cook County galleries. In Schroeder, the Cross River Heritage Center will open for the season with a number of new displays as well as demonstrations.  And not to forget, the Harbor Park Sound Garden on May 27. Stay tuned for details and/or check out VisitCookCounty.com for schedules of events for this Spring Gallery Tour.
Artist News:
The Big Lake Gallery opened this week, with the Grand Opening set for June 2.
The Plucked Up String Band was featured to TPT the other day where they talked about their music and played a few songs. Check out the clip.
Travis Novitsky has the cover shot on the the June/July issue of Lake Superior Magazine.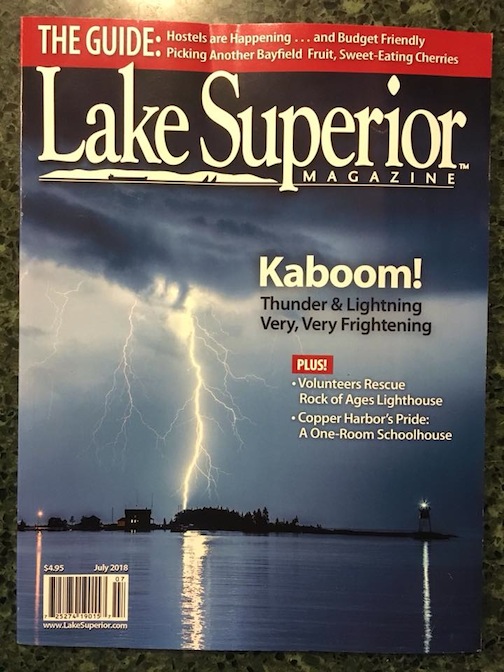 And Bryan Hansel has some photos on the edition, too.
Here's the music this week –
Thursday, May 17:
Briand Morrison, Poplar River Pub, 6 p.m.
Billy Johnson, North Shore Winery, 7 p.m.
Robert Hunter, Wunderbar, 7 p.m.
Friday,. May 18:
Timmy Haus, Voyageur Brewing Co., 4 p.m.
Ruthie Foster, Arrowhead Center for the Arts, 7:30 p.m.
Billy Johnson, Grandma Rays', 8 p.m.
Robert Hunter, Gun Flint Tavern, 8 p.m.
Brothers in Arms, Wunderbar, 8 p.m.
Saturday, May 19:
Gordon Thorne, Lutsen Resort, 7 p.m.
SisterTree, Gun Flint Tavern, 8 p.m.
Brothers in Arms, Grandma Ray's, 8 p.m.
Sunday, May 20:
Timmy Haus, Gun Flint Tavern, 7 p.m.
Open Stage, Wunderbar, 6 p.m.
Tuesday, May 22:
Eric Frost, Poplar River Pub, 6 p.m.
We found some fun photographs this week. Here's a selection.
First, wildlife:
We found some great landscapes and waterfall shots, too.
And last, but not least, this great historical photo.
Enjoy your weekend, everyone!