September is always busy on the North Shore, with music festivals and art events, as well as the beauteous colors of fall that start popping out all over. We are already getting reports of Moose Maples turning red and some maple trees have already started declaring that fall is here.
Meanwhile, we get to enjoy a lot of art and music. This month, look for the WTIP's Radio Waves Music Festival this weekend and North House Folk School's "Unplugged" next weekend. Also, the Grand Marais Plein Air Competition and Exhibit starts on Friday as artists get their canvases and set out to paint the county for a week. Their work will be on exhibit at the Yellow Bird Fine Art Gallery next Wednesday and at the Johnson Heritage Post on Friday. At the end of the month, the Fall Studio Tour opens, with art events up and down Cook County through Oct. 7.
Here are some details:
First up is the on-going instructor-in-residence program at North House Folk School, where instructors give demonstrations of their work on Thursday through Sunday and offer a mini-class on Saturday morning at 10 a.m. This week, Jess Hirsch will talk about and demonstrate natural dying of wood.
The public is invited to come watch her work. To register for the min-class, call North House at 387-9762 or drop by. All welcome.
This is the weekend for WTIP's 11th annual Radio Waves Music Festival, which draws hundreds of people to Sweetheart's Bluff in the Grand Marais Recreation Park to listen to an incredible variety of music for three days.
Radio Waves  kicks off at 4 p.m. on Friday  with the Cook County Community Swing Band. More than 30 acts are scheduled to perform during the 3-day festival.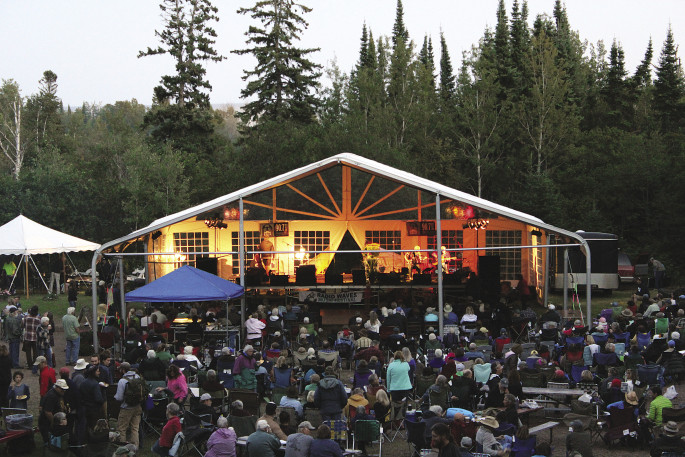 This music festival is a great opportunity for the community to get together and celebrate. There is children's tent, food vendors and campsites available for those who want to spend the entire weekend enjoying the music.
Local bands are always well represented at this music festival and this year is no exception. There are also bands from around the region and the Carpenter Ants, which are coming from West Virginia to play the Saturday night show and the Gospel Hour on Sunday morning.
Here is the complete schedule of music for the weekend, courtesy of WTIP Community Radio.
Friday, Sept. 7:
| | |
| --- | --- |
| 4:00 – 5:00 pm | North Shore Community Swing Band |
| 5:10 – 5:50 pm | SVEA |
| 6:00 – 6:40 pm | Dlutkowskis |
| 6:50 – 7:40 pm | Brothers in Arms |
| 7:50 – 8:40  pm | Pete K |
| 8:50 – 10:00 pm | Rich Mattson & the Northstars |
 Saturday, Sept. 8:
| | |
| --- | --- |
| 11:00-11:40 am | Jim McGowan |
| 11:50- 12:30 pm | Mysterious Ways |
| 12:40-1:20 pm | Gene and Amy |
| 1:30 – 2:10 | Portage |
| 2:20 – 3:00  pm | Aho Family |
| 3:10 – 3:50 pm | Maria Nickolay |
| 4:00-4:40 pm | Axtell |
| 4:50-5:40 pm | Plucked Up String Band |
| 5:50-6:30 pm | Common Ground |
| 6:40-7:30pm | Cook County's Most Wanted |
| 7:40-8:20 pm | Lake Effect |
| 8:30 pm-10:00pm | Carpenter Ants |
Sunday, Sept. 9: 
| | |
| --- | --- |
| 10 to 11:30 | Gospel Show with Carpenter Ants |
| 11:40 to 12:20 | Jim & Michele Miller |
| 12:30 to 1:10 | Casey Aro |
| 1:20 to 2:00 | Cherry Dirt |
| 2:10 to 3:00 | Sam Miltich and Briand Morrison |
| 3:10 to 3:50 | Gillis & Stamps |
| 4:00 to 5:30 | SplinterTones |
Tickets are $10 per day, $20 for the entire weekend and can be purchased at the door. See you there!
Also this weekend, Grand Marais Plein Air begins. This year, the event is a collaboration between Outdoor Painters of Minnesota and the Johnson Heritage Post. More than  75 plain air painters have registered for the event, and they will be painting throughout the county for the next week. Their work will be exhibited in two galleries this year: Yellow Bird Fine Art Gallery will hold an opening reception from 6:30-8:30 p.m. on Wednesday, Sept. 12, for the plain air painters registered for the Open Class. A gala reception and award event will be held at the Johnson Heritage Post from 6-8 p.m. on Friday, Sept. 14, featuring up to 300 plain air paintings by artists juried into the show. Jeffrey T. Larson is the juror this year.
This year's Plein Air festival will have a number of new features, including demonstrations, art events for kids, daily paint-outs at locations around the county, and 13 mini workshops taught by well-known plein air artists throughout the region. David Gilsvik starts out the workshop series on Saturday. Other well-known presenters include Neil Sherman, Lisa Stauffer, Michele Combs, Tom McGregor, Kami Mendlik, Matt Kania and more. The cost of a workshop is $50. To find out more, see www.outdoorpaintersofminnesota.org.
There will be a Quick Paint on Artist's Point again this year. It will be held from 3-5 p.m. on Thursday, Sept. 13, and is open to the public. For more information and to see the complete schedule, click here.
Also this weekend, visit the Cook County Market in the Senior Center parking lot from 9 a.m. to 1 p.m. on Saturday. The market features a wide variety of arts and crafts by local residents.
And on Wednesday author and environmentalist Grant Merritt will be at the Grand Marais Public Library at noon to discuss his recently published book, "Iron & Water."
Exhibits:
The exhibit, "Fragments of the North: Oil Paintings by Reid Thorpe" continues at the Johnson Heritage Post gallery through Sunday.
The Heritage Post id closed on Tuesdays. It is open from 10 a.m. to 4 p.m. Mondays and Wednesdays through Saturdays, and from 1-4 p.m. Sundays.
An abstract painting exhibit is currently on view in the studio gallery at Yellow Bird Fine Art.
It's one of those "by chance," exhibits… It will be up until Sept. 12, and then up again after Sept. 15 through Sept. 28. Worth checking out.
Betsy Bowen will be exhibiting her work at The Edge Center for the Arts in Big Fork, with a reception set for Friday, Sept. 9 from 5-7 p.m. The exhibit continues through Sept. 29.
In Thunder Bay, Christi Belcourt's exhibit, "Uprising: The Power of Mother Earth" continues at the Thunder Bay Art Gallery. Here are two of her paintings included in the exhibit.
Upcoming:
 Tickets are still available for both North House Folk School's music weekend, "Unplugged,"  Sept. 14-15.
There are all kinds of events and courses being held that weekend, too, including the Birch Bark Bash, featuring Rhythm & Slöjd, a one-of-a-kind live craft and music experience by Swedish guest instructor Jögge Sundqvist.  Also included are a multi-course dinner by chef Scott Graden of New Scenic Cafe, beverages by Fulton Beer, North Shore Winery, and Voyageur Brewing, and a live auction of unique craft items and "fund-a-need" opportunities supporting North House's programming.
On Saturday, Sept. 15, storyteller Kevin Kling, Marc Anderson, Dan Chouinard,  Bradley Greenwald, Prudence Johnson, Simone Perrin, Claudia Schmidt and Dane Stauffer come to the Unplugged stage for a show featuring stories, music, and more.
The Unplugged weekend also includes mini-courses, a speaker series, and the Folk Artisan Marketplace. For more info, click here.
Kudos:
Here's the music schedule in venues in Cook County this week:
Thursday, Sept. 6:
Jim & Michele Miller, Cascade Lodge Restaurant, 6 p.m.
Billy Johnson, Gun Flint Tavern, 7 p.m.
Gordon Thorne & the Wildcats, North Shore Winery, 7 p.m.
Plucked Up String Band, Wunderbar, 7 p.m.
Friday, Sept. 7:
Tim Fast, Voyageur Brewing, 4 p.m.
11th Annual Radio Waves Music Festival, Sweetheart's Bluff, Rec Park, Grand Marais, starts at 4 p.m. and runs through Sunday.
Al & Rod, Bluefin Grile, 8 p.m.
The Dead Pigeons, Wudnderbar, 8 p.m.
Saturday, Sept. 8:
Radio Waves Music Festival, Sweetheart's Bluff, Rec Park, Grand Marais
 Sonofmel, Cascade Lodge Restaurant, 6 p.m.
The Dead Pigeons, Gun Flint Tavern, 8 p.m.
The Cruisers, Wunderbar, 8 p.m.
Sunday, Sept. 9:
Radio Waves Music Festival, Sweetheart's Bluff, Rec Park, Grand Marais
Billy Johnson, North Shore Winery, 2 p.m.
Cookie, Skyport Lodge, 4 p.m.
Open Stage with Joe Paulik, Wunderbar, 6 p.m.
Tony Petersen & Jill Zimmerman, Gun Flint Tavern, 7 p.m.
Wednesday, Sept. 12:
Eric Frost, Bluefin Bay, 9 p.m.
We found some interesting photos this week.
Let's start with a wildlife shot:
Flowers and mushrooms:
Light shows:
Landscapes and skycapes:
And last, but not least:
Have a great weekend, everyone!