The first day of Spring has arrived, and here, on the North Shore, we believe it.
Lake Superior is showing blue again, and the piles of snow along the shoreline have been reduced considerably because of the warmer temps. But, rest assured, there's still plenty of snow on the ski hills and ski trails in Cook County.
Greg Fangel, a cross-country ski enthusiast, reported on Wednesday that he saw some drifts 8-feet deep in the woods during their backcountry ski. Check out the snow depth at this spot:
The point? This is a great time of year to get outside and enjoy the last month of winter in the Northwoods.
Meanwhile, there's plenty to do.
On Thursday, the Grand Marais Writer's Guild will meet for its monthly meeting at the Grand Marais Public Library. The group meets from 6-7:30 p.m. Every writer is invited. The group will discuss their writing projects as well as do a few writing prompts. Free.
On Friday, Mary Ellen Ashcroft will read from her latest book "OMG: Growing Our God Images" at the Johnson Heritage Post.
The book signing and reading will be from 6-7 p.m. All invited. Refreshments will be served.
Also on Friday, Jon Kallberg will be on WTIP's The Roadhouse to talk about his new guitar and play a few tunes. The show airs from 5-7 p.m.
In Duluth, the Joseph Nease Gallery will open a new exhibit with a reception on Friday featuring the paintings of  Sirpa Särkijärv, a native of Finland. This is the first time the Duluth gallery has featured an artist from outside the continental United States. Since opening in October 2017, the contemporary art gallery has facilitated artistic exchange in Duluth by bringing in artists from around the country, and in particular from throughout the Heartland and the Kansas City region, where owners Joseph and Karen Nease previously curated a gallery. The upcoming March 2019 exhibition, titled Transcriptions, will mark a sharp departure from this trend.
The public is invited to the opening reception, which will be held from 6-8 p.m. on Friday. The gallery is located at 23 W. First St. in Duluth.
Saturday is a great day to explore all the shops and galleries in Grand Marais, as well as the Grand Marais Art Colony and North House Folk School.
The Art Colony has just launched a beautiful new video about the Art Colony and its history. Check it out here.
On Sunday, Drury Lane Books will host the monthly Group Book Discussion, a chance to discuss a book with others who have read it. Store manager Gwen Danfelt and local book lover and WTIP book reviewer Lin Salisbury will facilitate the discussion. This month's book is Tara Westover's "Educated."
The book discussion group meets from 5-6:30 p.m. Participants are asked to come with the book read and ready to discuss. Light refreshments will be available.
And on Monday at 6 p.m., show up at the Log Cabin at the Cook County Community Center for the monthly Dance Night! This month the theme is pajamas and participants are invited to bring their favorite childhood cereal as a snack.
The music mix is guaranteed to make you want to dance–Beyoncé, Missy Elliot, and Lady Gaga will be in attendance (digitally) as well as 90s hits and dance beats from around the world. No experience is necessary and it's free. Bring a water bottle!
Exhibits:
The exhibit, "Thin Places: Encountering the Surprising Spirit on the North Shore" opened at the Johnson Heritage Post on Friday night. This is a community art exhibit presented by Spirit of the Wilderness Church and features a wide variety of work from students to professional adults.
The exhibit continues through April 7. The Heritage Post is open from 10 a.m. to 4 p.m. Thursday through Saturday and 1-4 p.m. Sunday.
The Masterpiece Art exhibit featuring works by students at the Silver Bay Elementary School continues in the Great Hall at Tettegouche State Park.
In Duluth, Natalie Salminen Rude has an art installation in the reception room in the mayor's office at City Hall.
Also in Duluth, Jonathan Thunder's multi-media installation at the Tweed Museum of Art, "Manifest'o," features three separate, yet interconnected animated vignettes of Anishinaabe stories about the Goldfinch, Star Woman, and Mishu Bishu.
The installation is located on the second floor of the Tweed Museum of Art in the large glass display case that has been transformed into a 'fishbowl' to effectively and sinuously present the animated vignettes. The exhibit continues until May.
And the Zeitgeist Cafe in Duluth is exhibiting paintings by Patricia Lenz.
 The Thunder Bay Art Gallery is featuring two exhibits by artists at Lakehead University — the Major Studio Exhibition of fourth year graduating students and a juried art student exhibit.
 Upcoming:
 Nationally acclaimed guitarist Michael Gulezian will be in concert at the Arrowhead Center for the Arts at 7 p.m. April 13.  The concert is sponsored by the North Shore Music Association. Tickets are $18 and can be purchased at www.tix.com. Here's a video:
Kudos:
 Local high school student and author Sylvia Berka recently traveled to Murfreesboro, Tenn., to take part in the Southeastern Young Adult Book Festival held at Middle Tennessee State University. Known as the SE-YA Book Fest, the annual event is designed to give teen writers and authors of young adult literature the chance to interact. The 2019 author lineup brought about 40 writers together. On that list was Becky Albertalli, the author of Simon vs. the Homo Sapiens Agenda, the book on which the film Love, Simon is based.
Sylvia was recently interviewed on WTIP Community Radio about her trip. Listen to it here.
Betsy Bowen's children's book, "Antler Bear Canoe" is part of the Karlan Collection at the University of Minnesota, which is one of the world's great children's literature archives.
Bowen was recently invited to be on a panel to discuss children's literature at the university. The book is one of her books that can be found at her studio, which is open from 11 a.m. to 5 p.m. Thursday through Saturday during the winter.
And finally, for news and information about art and art opportunities in northeastern Minnesota, check out the Arrowhead Regional Arts Council by clicking on the logo below.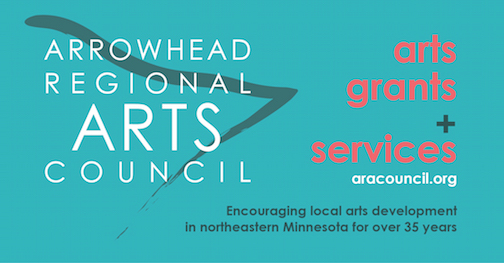 Music:
Here is the music schedule for this week:
 Thursday, March 21:
Briand Morrison, Poplar River Pub, 6 p.m.
Billy Johnson, North Shore Winery, 6 p.m.
DJ Beavstar, Papa Charlie's, 9:30 p.m.
Friday, March 22:
Timmy Haus, Voyageur Brewing Co., 4 p.m.
Portage, Grandma Ray's, 6 p.m.
Cook County's Most Wanted, Wunderbar, 7 p.m.
Thunderheads, Gun Flint Tavern, 8 p.m.
Jim & Michele Miller, Bluefin Grille, 8 p.m.
Timmy Haus, Papa Charlie's, 9:30 p.m.
Saturday, March 23:
Kilborn Quartet, North Shore Winery, 3 p.m.
Bug Dope, Papa Charlie's, 3:15 p.m.
Roxann Berglund, The Cove at Superior Inn, 5 p.m.
Jim & Michele Miller, Poplar River Pub, 7 p.m.
Common Ground, Wunderbar, 7 p.m.
Thunderheads, Gun Flint Tavern, 8 p.m.
Dessa with Monakr, Papa Charlie's, 9 p.m.
Sunday, March 24:
Briand Morrison, Mogul's Grille, 10 a.m.
Plucked Up String Band, Papa Charlie's, 3:30 p.m.
Open Stage with Joe Paulik, Wunderbar, 6 p.m.
Steve Blexrud, Gun Flint Tavern, 6 p.m.
Monday, March 25:
Dave Simonett and David Huckfelt, Monday Songwriter Series, Papa Charlie's, 8 p.m.
Gordon Thorne, Bluefin Grille, 8 p.m.
Tuesday, March 26:
Fred Anderson, Poplar River Pub, 6 p.m.
Open Mic with Eric Frost, Papa Charlie's, 8 p.m.
Wednesday, March 26:
Jam Session, Gun Flint Tavern, 7 p.m.
Martin Delaney, Wednesday Songwriter Series, Papa Charlie's, 8 p.m.
So, photographs for this week. Let's start with some of our favorite wildlife photos.
Some skyscapes… this one was taken a "little" further north and east from Cook County …
And this photo, taken many miles west of here.
Meanwhile, back on the North Shore:
A question mark in the sky over Lake Superior.
And finally, three extraordinary photographs.
Have a great weekend, everyone!