No April showers yet on the North Shore, although we had a brief snow shower the other day, which, frankly, made a few people pretty nervous.
But it's April, and we know it will take awhile before it really warms up.
Meanwhile, there's lots of hot music this week, some great art shows, one unusual event, a few art gossip tidbits and …
Two music events of interest: Easy Riders, a touring blues and rock band, is playing at three different music venues in Grand Marais this weekend, including The Wunderbar, Grandma Ray's and the Gun Flint Tavern. And, to top it off, they'll be interviewed on WTIP's The Roadhouse on Friday night. The program airs from 5-7 p.m., with musicians usually interviewed at 6:15 p.m. or so. They'll also play some music. To learn more about the band, click here. 
And this weekend, Lutsen Mountains will hold the Sweetwater Shakedown Music & Ski Festival with a great variety of bands playing all weekend at the Summit Chalet and at Papa Charlie's.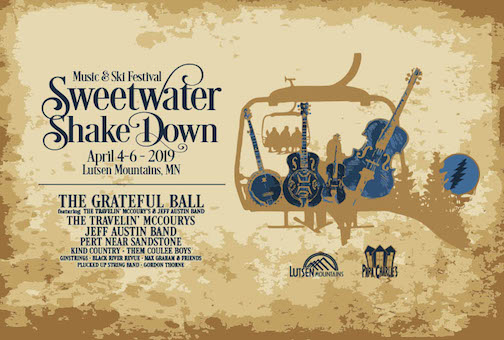 See the music schedule below and/or click here for more details.
On Friday, the Grand Marais Public Library and the Cook County Historical Center will host an opening reception for "The Gun Chronicles: A Story of America,"  an interactive mural by artist and photographer, JR, at the Johnson Heritage Post from 4-5 p.m.
This interactive mural display was awarded to the Grand Marais community by JR after his exhibit, originally titled "Guns in America," opened nationally in New York, Dallas and Los Angeles.
The mural features a video presentation of more than 200 individuals interviewed and photographed for the cover image of Time Magazine, with the ability to click on images of those participants to hear what they have to say. Viewpoints represent the full array of opinions and positions on the topic of guns. This presentation of the mural is intended to inspire thoughtful consideration of all viewpoints, to give everyone an opportunity to hear, and consider, viewpoints different than our own, and to encourage civil discussion of the topic, as well as on the mural as a piece of art.
The Historical Society plans to have equipment in place to record individuals from the community who might want to preserve their thoughts concerning guns, both past and present, as a video-history project for future generations. Those who would like to be interviewed for this project are encouraged to attend. The exhibit continues through Sunday, April 7. Free and open to the public.
Also on Friday night, the artist reception for Jeff Lundeen's photo exhibit at Tettegouche State Park will be from 7-8:30 p.m. on Friday.
Lundeen's photographs capture the landscapes of the North Shore. The exhibit continues through April.
There's another artist reception on Friday night, too, when members of the Voyageur Art Club of Two Harbors holds an artist reception for their Spring Show at the Cedar Coffee House in Two Harbors from 5-7:30 p.m.
The Voyageur Art Club exhibit continues at the Cedar Coffee House through April 3, and features a great variety of artwork from its member painters.
And on Sunday in Thunder Bay, the Baggage Building Art Centre at Prince Arthur's Landing in Thunder Bay, will hold an opening reception for its Spring Exhibition show from 1-3 p.m.  More than 30 local artists will be showing work in a variety of media.
On Monday, Sam Martinez at North House Folk School will hold the last in her three-part workshop series: Herbs as Medicine. In this session, she will discuss baking extracts, infused honeys, elixirs, and chocolate bitters. Demonstrations, taste tests, and take home recipes  are included. For more information and to register, contact North House at 387-9762.
And finally, on Tuesday, April 9, the North Shore Arts League will hold its monthly meeting at the Johnson Heritage Post. There will be two sessions to accommodate artists with different schedules: from 11 a.m. to 1 p.m. and from 5-7 p.m. Artists of every media are welcome. Artists may also bring their submissions for the League's art show, which opens at the Heritage Post on April 12.
Exhibits:
This is the last weekend to see "Thin Places: Encountering the Surprising Spirit on the North Shore," which is currently on view at the Johnson Heritage Post. The exhibit, which was organized by the Spirit of the Wilderness Church, features a wide variety of artwork from members of the community, including students and professional artists.
Note: The artist's statements in this show are worth a read, for sure. The Heritage Post is open from 10 a.m. to 4 p.m. Thursday through Saturday and from 1-4 p.m. Sunday.
In Duluth, the Tweed Museum of Art is featuring the Annual Student Exhibit 2019. All the students are studying at the Department of Art & Design at the University of Minnesota Duluth.
The student exhibit continues through April 28.
The Duluth Folk School opens an exhibit by Alison Aune and Kirsten Aune entitled "Blooma Lyca: Flower Happiness." The exhibit features paintings by Alison Aune and hand-painted fabric by Kirsten Aune.
The opening starts at 6 p.m. The Duluth Folk School is located at 1917 W. Superior St. in Duluth.
In Superior, Wis., master quilter Scott Lunt has opened at exhibit at the Kruk Gallery at the University of Wisconsin Superior featuring the quilts he has crafted over the last 20 years.
The title of the exhibit is "Quilts are Magic." It will be on display through May.
In Thunder Bay, the Thunder Bay Art Gallery continues its exhibit of student work from Lakehead University.
The exhibit continues through this weekend.
Upcoming:
The JNS Gallery in Lutsen will hold an Artist Open House from 6-8 p.m. on Thursday, April 11 at the shop in Lutsen.
Local artists who are interested in displaying their artwork on a commission basis at the shop are especially invited to come and see what JNS is all about. Artists can bring a sample of their work for consideration. Light refreshments will be served.
Nationally known solo acoustic artist Michael Gulezian will be in concert at the Arrowhead Center for the Arts at 7 p.m. Saturday, April 13.
 Opportunities:
Looking for a creative opportunity this spring? The Duluth Art Institute is accepting submissions for its upcoming show "Popular Opinions: A Cultural Discussion." This show aims to give a fresh, contemporary perspective on pop art.
f you have a piece you'd like to submit, visit our Submittable page before April 8th. Click here for more info.
 Artist News:
Fused glass artist Nancy Seaton will be exhibiting her work at the American Craft Show April 5-7 at the RiverCentre in St. Paul.
The show, put on by the American Craft Council, features work by more than 230 artists and artisans working in ceramics, jewelry, fiber arts, leather and more. To get a taste of the wide variety of exhibits in this show, click here. A preview of the show will be held on Thursday, April 4 from 6-9 p.m.
Dan and Lee Ross will open a show at the Groveland Gallery in Minneapolis April 27 with the opening reception from 2-5 p.m.
According to a release by the gallery, the concept for the show began with Dan and Lee discussing animals as landscapes. "What makes an animal different from a landscape? Animals move,"  they said. Hence the title for their current show and the poem:
            The Hill That Walked Away
      The hill that walked away
            The mountain that stayed still
     The storm that passed
           The relationship that endured
Stay tuned for more details.
And for an avant-garde video treat, check out this trailer of Hyper Dark, a feature film that was funded through the Arrowhead Regional Arts Council's  Career Development grant. The film by Lance T Karasti features  Henriette Soderlind, Ian Vincent and Tyler Chadney.
You can see Hyper Dark this summer at the Duluth Superior Film Festival.
For more information about the Arrowhead Regional Arts Council, click on the image below.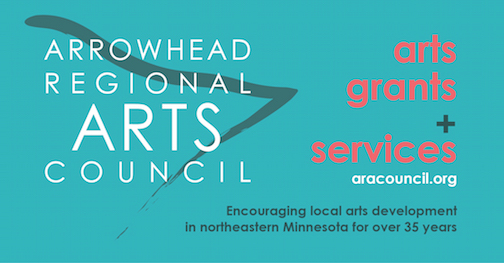 Music:
Here's the music schedule for this week:
Thursday, April 4:
JohnRuss, Poplar River Pub, 6 p.m.
Gordon Thorne, North Shore Winery, 6 p.m.
Easy Riders, Grandma Ray's, 8 p.m.
Plucked Up String Band, Wunderbar, 7 p.m.
Sweetwater Shakedown, Pert Near Sandstone, 9 p.m., Traveling McCoury's, 10:45 p.m. at Papa Charlie's.
Friday, April 5:
Sweetwater Shakedown, Summit Chalet–Black River Revue, 12:30 p.m., Max Graham & Friends, 2 p.m.; Papa Charlie's–Gordon Thorne, 4 p.m., Grateful Ball, 2 sets, 9 p.m.
Jim McGowan, Voyageur Brewing, 4 p.m.
Easy Riders, Gun Flint Tavern, 8 p.m.
Saturday, April 6:
Sweetwater Shakedown, Summit Chalet, Them Coulee Boys, 12:30 p.m., Ginstrings, 2 p.m.; Papa Charlie's, Plucked Up String Band, 4 p.m., Kind Country, 9 p.m., Jeff Austin Band, 10:45 p.m.
Common Ground, Lutsen Resort, 7 p.m.
Easy Riders, Gun Flint Tavern, 8 p.m.
Bughouse, Grandma Ray's, 8 p.m.
Sunday, April 7:
Briand Morrison, Moguls Grille, 10 a.m.
Tuesday, April 9:
Gordon Thorne, Poplar River Pub, 6 p.m.
Luckily, we found some more cool photos this week:
Wildlife:
Water:
Water and sky:
 And, a great view of the Sleeping Giant in Thunder Bay.
 And then, here are some quirky end-of-winter shots:
First, this one:
 And then, this pair of photos:
Kristofer Bowman posted this shot of a curved piece of ice that had fallen off a rock near Lake Superior on Facebook earlier this week. I think he titled it, "Shedding Their Skins."
In response,  Nancy Seaton posted this photo of one of her fused glass pieces that, coincidently, looks just like an ice shard.
Have a great weekend, everyone!
If you've had fun with NorthShore ArtScene this week, consider supporting it with a donation. Click on the link below for more info.