This week we begin one of the highlights of the season: the Grand Marais Playhouse's Summer Theater Festival.  This year, for the first time, there are two musicals that will performed in repertory – "A Closer Walk with Patsy Cline" and "The Marvelous Wonderettes: Dream On." All performances are at the Arrowhead Center for the Arts at 7 p.m. Thursdays through Fridays and 2 p.m. Sundays.
The Theater Festival opens with the first performance of "A Closer Walk with Patsy Cline" at 7 p.m. Thursday, July 18 at the ACA. In all, the "A Closer Walk…" is scheduled for eight performances: July 18, 20, 26 & 28 and Aug. 1, 3, 10 & 11.
This is not a reprise of  "A Walk with Patsy Cline" that was performed a few years ago. There are new songs and a new storyline created by Dan Regan. The play stars Diane Blanchette as Patsy Cline and Braidy Powers as "Little Big Man." Musicians in this live-music show include Mike DeBevec, Mike Roth, Thomas Stamps, Max Bichel and Russ Viton. Performances are July 18, 20, 26 and Aug. 1,3, 10, 11.
On Friday, July 19, the second musical of the festival, "The Marvelous Wonderettes: Dream On" by Roger Dean opens at the Arrowhead Center for the Arts at 7 p.m. Performances are July 19, 21, 25 & 27, Aug. 2 & 4.
There's lots of great music, singing and dancing in this play, which stars Karen Blackburn, Tina Hegg Raway, Karina Roth and Diane Stoddard.
For info on the Summer Theater Festival, click here. For tickets, click here.
There's lots going on in the county this weekend as well.
North House Folk School continues its weekly demo series. This week, Jess Hirsch will demonstrate wood turning from 10 a.m. to 4 p.m. Thursday through Sunday. He is also teaching a short workshop on Saturday morning. (See below for details.)
North House is also holding a workshop on baking in a wood-fired oven from 1-3 p.m. and from 4:30 -6 p.m. on Thursday. There's limited room in this workshop, so register early.
To register for either the baking or the wood turning workshop, call 387-9752. To find out more, click here.
Also on Thursday, the Local Food Market will be held from 4:30 -6 p.m. in the parking lot at the Cook County Community Center.
This week, look for fresh strawberries grown in Cook County, lots of fresh vegetables and fresh flowers, artisan wood-fired bread and more. Open to all.
Friday is the official start of the Gunflint Trail's Biggest Blueberry Contest. The contest will run from Friday, July 19 to Sunday, Aug. 11. Blueberries will be measured by weight, and must be picked fresh and not store-bought. There will be three Grand Prizes for the 3 biggest blueberries by weight: $100 cash for the first place winner, $50 cash for the 2nd place winner and $25 cash for the 3rd place winner. 
Weigh stations are located at resorts and venues along the Gunflint Trail. In addition to prizes for the biggest blueberries, all submissions will be entered to win randomly selected prize drawings at the end of each week.
Here's a full list of 2019's weigh stations : (Click for google map location) Trout Lake Resort , Hungry Jack Canoe Outfitters , Golden Eagle Lodge , Gunflint Lodge , Nor'Wester Lodge and Outfitters , Rockwood Lodge and Outfitters , Tuscarora Lodge and Canoe Outfitters , Chik-Wauk Museum and Nature Center , Bearskin Lodge and Wilderness Outfitters , Gunflint Pines Resort and Campground , Voyageur Canoe Outfitters , Seagull Outfitters and Cabins , Poplar Haus , Loon Lake Lodge , Way of the Wilderness . For more information about the contest, berry picking and more, click here.
Also on Friday night, "The Marvelous Wonderettes" debuts on the stage at the ACA at 7 p.m. Tickets available on-line or at the door. $25 adults, $15 ages 17-12. For tickets, click here. Performances will also be at 2 p.m. Sunday. See schedule for all the performances.
Saturday is a pretty busy day, too.
The Cook County Market, featuring work by a variety of local artists and artisans, will be held in the parking lot of the Cook County Senior Center.
The market is open from 9 a.m. to 1 p.m.  And this Saturday, locally grown strawberries!
At 10 a.m. on Saturday,  Jess Hirsch will give a workshop at North House Folk School entitled "Natural Dyes on Wood"  Participants will learn how to color wood using natural dyes. Using turmeric, indigo, and native plants, they will experiment on wooden beads. Feel free to bring your own raw wood objects to dye as well. Children 8 years and older are welcome to come with an adult. There is a $10 materials fee. To register, call North House at 387-9762.
On Saturday afternoon, the West End Garden Club will hold its annual Flower Show at the Birch Grove Community Center in Tofte from 1-5 p.m.
The title of this year's flower show is "Painted Garden." The show features a wide selection of arrangement by club members.  Master gardeners from the local Cook County Extension Office will be on hand to share information and answer questions, as well as provide valuable resources. The event is free, and refreshments will be served. All welcome.
And at 4 p.m. on Saturday, author Ruth Allard will host a presentation on the release of her new book "Stories from Superior's Northern Shore"  at the historic Chippewa City Church, 1 mile east of Grand Marais.
The book is full of great stories as well as historic photos from the Cook County Historical Society, FFor more information, call the Cook County Historical Society at 387-2883.
And not to forget, this is the weekend for the North Shore Water Festival, which will be held Saturday and Sunday on the harbor in Grand Marais.
The water festival will have experts on-hand offering fishing, touring kayak and canoe demonstrations, stand-up paddle board (SUP) demo activities in the harbor, including SUP yoga, plus new water and outdoor gear this year. Most activities are free to the public, and only require signing a waiver and/or registering in advance for SUP board yoga. All ages welcome.
Two Harbors celebrates summer this weekend, too, with the Chalk.a.Lot Festival at Thomas Owen Park on Saturday (8 a.m. to 4 p.m.) and Sunday (11 a.m. to 3 p.m.). This is a crazy, wonderful festival where artists and would-be artists of every age get down on their knees and paint sidewalk pads.
Musicians include John Cron, Gaelynn Lea and THUG. Food will also available. as well as activity booths, face painting and more. Participants can still register. For more information, click here. 
On Sunday, the International Yacht Race from Grand Marais to Thunder Bay will start just outside the Grand Marais Harbor at 11 a.m.  The yacht race is one of the oldest annual races on Lake Superior, although the course has been changed many times over the years. Check it out. The sailboats are fun to watch as they jockey for good positions at the start.
Exhibits:
Tara Austin's painting exhibit, Boreal Ornaments II continues at the Johnson Heritage Post through July 28.
The exhibit includes a wide selection of her work, including rosemaling. The Heritage Post is closed on Tuesdays. It is open from 10 a.m. to 4 p.m. Wednesday through Saturday, and Monday, and from 1-4 p.m. Sunday. All welcome. Free.
In Duluth, the Tweed Museum of Art continues its exhibit "Asymmetry: Three-Dimensional Works from the Tweed Collection.
Four sculptures are featured in the exhibit in the John Steffl Gallery at the Duluth Art Institute: Susanna Gaunt, Russell Prather, Natalie Salminen Rude, Juliane Shibata.
 Martin DeWitt, the former director and curator at the Tweed, opened an exhibit with his nephew, Andrew Webster, at the Zeitgeist Arts Cafe in Duluth. The exhibit continues through this month.
In Thunder Bay, the Baggage Building Arts Centre is exhibiting work by a number of local artists.
And here is poster of the current exhibits at the Thunder Bay Art Gallery.
Artist News: 
 Upcoming:
 Nationally recognized mystery author, Sara Paretsky, will be featured at Drury Lane Books Aug. 3, where she will read from her latest V. I. Warshawski mystery, "Shell Game." She will also take questions from the audience and sign books. Stay tuned for details.
The Arrowhead Regional Arts Council offers artists in the Arrowhead a great selection of grant opportunities plus workshops and more. Click on the logo below to visit the website and learn more.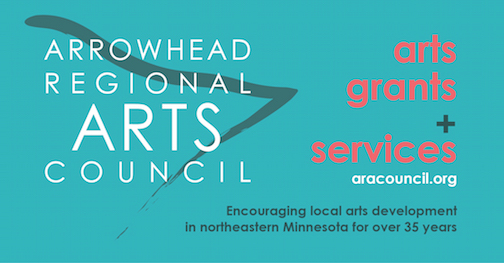 Music:
Here's the music schedule for this week:
Thursday, July 18:
Terry V's Patio Party, Wunderbar, 5 p.m.
Gene Lafond and Amy Grillo, Cascade Lodge Restaurant, 6 p.m.
Billy Johnson, North Shore Winery, 6 p.m.
Gordon Thorne, Gun Flint Tavern, 6 p.m.
A Closer Walk With Patsy Cline, Arrowhead Arts Festival, 7 p.m.
North Shore Swing Band, Wunderbar, 7 p.m.
Friday, July 19:
Christopher David Hanson Band, Wunderbar, noon
Ian Alexy, Wunderbar, 5 p.m.
Gene Lafond and Amy Grillo, Voyageur Brewing, 4 p..
Don Juan Trio, Grandma Ray's, 8 p.m.
Bug Dope, Bluefin Grille, 8 p.m.
Saturday, July 20:
Cook County's Most Wanted, Birch Terrace, 3 p.m.
Bluegrass Sundays, The Spruce Roots, North Shore Winery, 3 p.m.
Rob & Jill, Cascade Lodge Restaurant, 6 p.m.
Michael Monroe, Log Cabin Concert, rural Grand Marais, 7 p..m., www.michaelmonroemusic.com
Courtney Yasmineh, Wunderbar, 7 p.m.
A Closer Walk with Patsy Cline, ACA, 7 p.m.
Billy Johnson, Grandma Ray's, 8 p.m.
Bob and the Beachcombers, Grand Portage Lodge, 8 p.m.
Pat Ferguson, Gun Flint Tavern, 8:30 p.m.
Sunday, July 21:
Briand Morrison, Moguls Grille, 10 a.m.
Briand Morrison, Gun Flint Tavern, 2 p.m.
Pushing Chain, Music by the Lake, Skyport Lodge, 4 p.m.
Open Stage with Joe Paulik and Pat Flack, Wunderbar, 6 p.m.
Gordon Thorne, Lutsen Resort, 7 p.m.
Pat Ferguson, Gun Flint Tavern, 8:30 p.m.
Monday, July 22:
Timmy Haus, Voyageur Brewing, 5 p.m.
Tuesday, July 23:
Campfire Music with Joe Paulik, Bluefin Bay, 7 p.m.
Wednesday, July 24
Timmy Haus, Mogul's Grille, 5 p.m.
Photographs:
 Since it's summer, let's lead off with flowers.
And wildlife:
And here's a strange loon shot:
An incoming storm:
After it passes:
And then a potpourri:
Have a great weekend, everyone!