Whew! The biggest festivals of mid-summer are over, but there's still plenty to do on the North Shore.
First up, this Thursday, leatherworker Candace LaCosse will be giving shoemaking and leather working demos at North House Folk School from 10 a.m. to 4 p.m. Thursday through Sunday.
LaCosse will also teach a mini-class at 10 a.m. on Saturday on how to make hand stitch a leather wallet. Register at North House by calling 387-9762. There is a $20 materials fee.
Also at North House on Thursday –"Try It– Baking." Participants will learn about baking in a wood-fire oven. Call 387-9762 to register. Cost is $20 per person or $30 for adult/child pair. There are two sessions: 1-3 p.m. and 4:30-6:30 p.m.
Also on Thursday, the Local Food Market will be held in the parking lot at the Cook County Community Center.
This week, look for a great variety of veggies, including tomatoes, peppers, carrots, beets. cucumbers, green and yellow beans, zucchini and summer squash, kale and chard. There will also be wood-fired artisan bread and fresh flowers. At 5 p.m., Hella Buchheim will demonstrate how she makes a delicious salsa with fresh tomatoes, cucumbers and cilantro. All invited.
At 6 p.m. the monthly Writer's Guild meeting will be held at the Grand Marais Public Library from 6-7:30 p.m. The Guild is "for anyone who writes anything." All invited. Free.
Also on Thursday night, Voyageur Brewing Co. will host the Dark Sky Caravan, with an indoor slide show of the universe and a chance to see the Perseid Meteor shower and the full moon with telescopes. Free.
The Dark Sky Caravan will be at the Seagull Lake Community Center on Friday and Saturday nights as well. The viewing runs from 6-10:30 p.m.
Drury Lane Books will have a Full Moon Reading  at 7 p.m. Thursday by the bonfire. It will be a Children's Book Read Aloud.  All invited to bring their favorites to share..
Friday is the start of Book Arts Weekend at the Grand Marais Art Colony.Every class is dedicated to the art and craft of book-making.
There are still openings in some of the classes. For more info, click here and/or call 387-2737.
Also on Friday, as part of the Book Arts Weekend, there will be a Bookbinding Studio Tour with Scott Husby from 6-7 p.m.
Husby has been a conservation bookbinder since the 1970s, and has worked at the Library of Congress, the Folger Shakespeare Library, and the Smithsonian, and also served as the rare books conservator for Princeton University. Participants will have the chance to visit Scott's hand bookbindery and learn about his more than 40-year career. Scott will showcase the tools, equipment, and materials used in making hand-bound books as well as an assortment of historical bookbinding models. To register, call 387-2737. The deadline to register is Thursday, Aug. 15.
And the Thunderheads will be guests on WTIP's The Roadhouse on Friday where they will talk about their music and play a few songs. The Roadhouse airs from 5-7 p.m.
Saturday kicks off with the Cook County Market, featuring a wide variety art and crafts by local artisans.
The market is held in the parking lot of the Senior Center and runs from 9 a.m. to 1 p.m. This week, Tom Knutson will play.
A pop-up art installation by Charles Matson Lume in the new space just purchased by the Grand Marais Art Colony at 21 W. Hwy 61,  is open to the public from 10 a.m. to 1 p.m. on Saturdays through the end of August.   The exhibition, which is a study in light,  shadow and texture, is a response to the Art Colony's new space, its current condition and potential changes.
The installation is entitled "Which mothers forth mud and mint (for Mark Doty)." The public is invited to see the installation.
The Cook County Historical Society will hold a Harbor History Tour at 1 p.m. on Saturday. The tour begins at the Historical Society's museum on Broadway. The tour features visible relics of the past and stories of this small harbor and community. The tours last approximately one hour and are weather permitting. Children must be accompanied by an adult. More information at (218)-387-2883. The tours are held every Saturday throughout the summer.
In Thunder Bay, Saturday is Y-Art Sale day on Cooke Street in the downtown Waterfront District.
The event, which is presented by Definitely Superior Art Gallery, is always a lot of fun, and there are art bargains and more to enjoy. This is the 10th year that the Thunder Bay artists' group, DieActive, has organized the sale. (DieActive is well-known in Thunder Bay for the spectacular graffiti murals members have painted all over town.) This year, the  Y-Art Sale features 70 local artist vendors, live music, a Vintage Clothing and Flea Market curated by Thrifty Kid Vintage as well as food and more. Last year, 1,500 attended.
One of the musical highlights of late summer–Gunflint Woods, Winds, Strings … and a Little Jazz"– will be held at the Gunflint Volunteer Fire Department Hall No. 1 at Poplar Lake, starting at 4 p.m. on Sunday afternoon.
The line-up of musicians is almost a who's-who in music for Cook County and beyond. They include:  Philis Anderson (oboe); Prof. Anna Nekola (oboe), Sue Anderson (violin); Fred Anderson (guitar); the Borealis Brass Quintet: Eric Anderson (euphonium), Don Grant (trumpet), Dave Coleman (trombone), Alyssa Hedstrom (French horn) and Robert Reed (trumpet); a trumpet trio (Don Grant, Robert Reed, & Paul Dragsten); SVEA: Rose Arrowsmith DeCoux, Erika Ternes, and Yvonne Mills); the Sky Blue Jazz Ensemble: Mike DeBevec (piano), Mike Roth (string bass), Erik Hahn (sax), Thomas Stamps (percussion and vocal), and Karina Roth (vocal); two award-winning high school instrumental soloists: Jack Willis (trumpet solo) & Ashleigh Precord (flute solo) and others.
Tickets ($20 adult, $5 youth 5-18, under 5 is free)  are hard to get for this concert, but there still might be some left. For more info, contact Patsy Coleman at 313-673-6202 or email her at pbcoleman529@gmail.com , Checks and credit cards accepted. All concert proceeds, go the the Gunflint Trail Volunteer Fire Department. Additonal contributions  to the fund are encouraged.
Exhibits:
 Plein air painter Douglas Ross has a great exhibit at the Johnson Heritage Post. Entitled "Lake Superior Circle Tour," the exhibit features a selection of paintings he did around Lake Superior.
The exhibit continues through Sept. 8. The Heritage Post is closed on Tuesdays. It is open from 10 a.m. to 4 p.m. Wednesday through Saturday and Monday and 1-4 p.m. Sunday.
In other Heritage Post news, Leah Thomas is the Artist of the Month. Her work, including prints and collages, is featured on a wall in the gallery.
Kyle Voigtlander is the featured artist for the month of August at Tettegouche State Park. The exhibit features his creative paintings of birds using pencil, pen, brush and airbrush on multi-media paper.
The exhibit is in the Great Hall at Tettegouche.
The Tweed Museum of Art is exhibiting a number of new acquisitions, including this lithograph by Roy Lichenstein.
At the Thunder Bay Art Gallery, the exhibition, 'The Writing on the Wall: Works of Dr. Joane Cardinal-Schubert, RCA', continues until to Sept 8.
This exhibit offers commentary on historical issues affecting Indigenous people.
Upcoming:
Bluesman Ray Bonneville will be in concert at the Arrowhead Center for the Arts at 7:30 p.m. on Friday, Aug. 23.
Since leaving his career as a studio and touring blues musician to write and perform his own music, Bonneville has released nine albums, won Canada's Juno and other prestigious awards, and earned an enthusiastic following in the U.S., Canada, and Europe. He is brought to the ACA stage by the North Shore Music Association. Here's a great video of him performing "I am the Big Easy."
Tickets are $18. They can be purchased at tix.com or at the door.
Kudos:
Opportunities:
The Arrowhead Regional Arts Council is looking for new board members. There are four openings for the upcoming term: a student liaison, a representative from Aitken County and two At-Large members who can come from any of the seven counties served the ARAC. For more info, click on the icon below.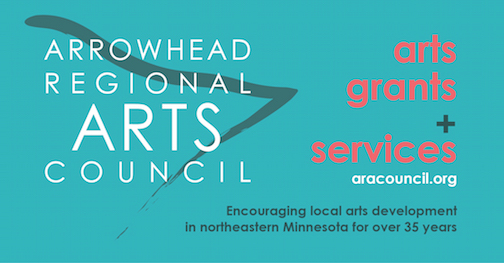 Music:
Here's the music schedule for the week:
Thursday, Aug. 15:
Gordon Thorne, Gun Flint Tavern, 6 p.m.
Andrew Huber, Cascade Lodge Restaurant, 6 p.m.
Joe Paulik, Lutsen Resort, 7 p.m.
Kilborn Quartet, North Shore Winery, 7 p.m.
Friday, Aug. 16:
The Sprigs, Poplar Haus, 7 p.m.
Gene Lafond & Amy Grillo, Music by the Campfire, Eagle Ridge Resort, 7 p.m.
Mysterious Ways, Grandma Ray's, 8 p.m.
Thunderheads, Gun Flint Tavern, 8:30 p.m.
Saturday, Aug. 17:
Tom Knutson, Cook County Market, 10 a.m. to 1 p.m.
Jim McGowan, Cascade Lodge Restaurant, 6 p.m.
Michael Monroe, Log Cabin concert, rural Grand Marais, 7 p.m. see www.michaelmonroemusic.com for more info.
Gordon Thorne, Lutsen Resort, 7 p.m.
The Fish Heads, Grandma Ray's, 8 p.m.
Thunderheads, Gun Flint Tavern, 8:30 p.m.
Timmy Haus, Papa Charlie's, 9:30 p.m.
Sunday, Aug. 18:
Briand Morrison, Mogul's Grille, 10 a.m.
Woodblind, Music by the Lake, Skyport Lodge, 4 p.m.
Gunflint Woods, Winds, Strings … and a Little Jazz, Gunflint Trail Volunteer Fire Department Hall No. 1, Poplar Lake, 4 p.m.
Open Stage with Joe Paulik & Pat Flack, Wunderbar, 6 p.m.
Jim McGowan, Gun Flint Tavern, 7 p.m.
Monday, Aug. 19:
Jim McGowan, Voyageur Brewing, 5 p.m.
Moors & McCumber, Songwriter Series, Papa Charlie's, 8:30 p.m.
Tuesday, Aug. 20:
Joe Paulik, Music by the Campfire, Bluefin Resort, 7 p.m.
Wednesday, Aug. 21:
Timmy Haus, Mogul's Grille, 5 p.m.
Jam Session, Gun Flint Tavern, 6 p.m.
Wednesday, Aug. 21:
Patio Series with Jim McGowan, Mogul's Grille, 4:30 p.m.
Joe Paulik, Music on the Deck with Joe Paulik, Papa Charlie's, 6 p.m.
Briand Morrison, Bluefin Grille, 9 p.m.
Photographs:
We were lucky again this week to find some great photographs. Here's a selection.
To see more photographs of the wolf and the bear, click here. 
Have a great weekend, everyone!