The color season in Cook County is starting. The maple trees are showing off their spectacular reds, and oranges and yellows are rampant as well. Meteorologists say we're going to have a great year for colors, and so far, they're absolutely right. FYI: Maps of the best roads and trails to enjoy fall colors can be found at the VisitCook County office in Grand Marais,
The town itself has its fair share of maple trees and streets and yards will all be decked out in fall colors this week. There's lots to do as well.
First up is the Try-It Wood-Fired Baking sessions at North House Folk School. There are two sessions on Thursday, Sept. 19: 1-3 p.m. and 4:30-6:30 p.m. These are the last sessions of the Try-It Wood-Fire Baking series for the season. Participants will get to bake a Carta di Musica and a focaccia, while learning about the history and science of bread baking. The cost is $20/person or $30 for an adult/child pair.  Minimum age: 8 with adult. Call for reservations at 387-9762.
Also on Thursday, the Local Food Market continues in the parking lot at the Cook County Community Center. If it is raining, the market will be held in  the 4-H Log Building.
It runs from 4:30-6 p.m. This week, look for tomatoes, cucumbers, beans, broccoli, kale, chard, onions, potatoes and more. Melinda Spinler will be doing a demo on horseradish. All invited.
Also on Thursday, the Writer's Guild, open to everyone who writes anything, will be held at the Wunderbar from 6-7:30 p.m. Open to all. Participants are asked to bring notebooks. Free.
On Friday, Voyageur Brewing Co. is holding a Star Party to celebrate Cook County's dark skies. There will be night-sky films, starry jazz by Pippi Ardennia and telescopes on the deck. The party is from 7-9 p.m.
Saturday leads off with the Cook County Market, featuring work by local artists and artisans in booths set up in the Senior Center parking lot. Look for pottery and weaving, glass ornaments, woodworking, jewelry, herbals and more.
The Market runs from 9 a.m. to 1 p.m. and continues each Saturday through MEA weekend, weather permitting.
Also this weekend, North House is holding a series of Luffarslöjd classes starting on Friday. Luffarslöjd is an old-world craft that is part of the tradition of making beautiful and useful objects for everyday use from simple things. Farmers always had bits of wire hanging around, and hobos traveling across the country offered to make things in exchange for food or permission to spend the night in the barn. Leftover bits of wire were used to make items like whisks, trivets, or egg baskets, as well as more decorative items like candleholders or birds.
Students in the workshops will learn how to make some of these things. Call North House at 387-9762 to register and for more information.
On the Gunflint Trail, Gunflint Lodge is offering fall color trail rides this weekend. Call 388-2294 for more info. Also, Chik-Wauk Museum and Nature Center is hosting ecologist Chel Anderson, who will give a presentation on Beavers and the Ecosystem at 2 p.m.
And here's a great event: William Kent Krueger will be at Drury Lane Books on Saturday for a Writer's Salon at 5 p.m.
He will talk about his latest book, "This Tender Land," as well as read from it and discuss writing. All invited. Free.
On Wednesday, Compas teaching artists Siama Matuzungidi and Dallas Johnson will give a presentation about the Congo, with stories and music, at the Grand Marais Public Library.
The presentation begins at 6 p.m. All invited. Free.
And Oktoberfest begins on Wednesday, Sept. 25 at Voyageur Brewing Co. and runs through Sunday with lots of music, games, tournaments and more. The event serves as a fundraiser for the Cook County Community Fund, which supports local non-profits.
The band Polkarioty performs Wednesday through Friday with the Singing Slovenes scheduled for Saturday and Sunday. Click here for more info on what games will be played when.
Upcoming:
Betsy Bowen's new show, "Rare Treasures" opens with a reception at the Betsy Bowen Gallery & Studios, 301 1st Ave. W. from 4-6 p.m. Thursday, Sept. 26. The exhibit features an incredible collection of her work from her personal archives.
Her gallery is one of the stops on the Art Along the Lake: Fall Studio Tour that begins Sept. 27.
The Art Along the Lake: Fall Studio Tour is the highlight of the fall color season, and begins on Friday, Sept. 27, and runs through Oct. 6. This 10-day studio tour features open houses and receptions from 10 a.m. to 5 p.m. daily in artist studios up and down Hwy. 61 and in Grand Marais, as well as a studio on the Gunflint Trail.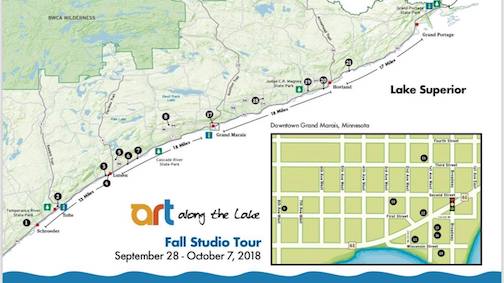 The Art Along the Lake: Fall Studio Tour, features 22 studios and galleries up and down Hwy. 61, and one up the Gunflint Trail from Sept. 27 through Oct. 6.
Look for everything from pottery to weaving, fused glass to mono prints, bead paintings, hand-made jewelry, wood carving and woodturning, plein air paintings and more. In short, it's a cornucopia of art. The nice thing about the tour is that it lasts for 10 days, giving everyone plenty of time to experience and explore the artwork in Cook County and meet the artists here. Many of the studios and galleries will have special demonstrations and events, too. Check out all the events and locations here.
Here are a few examples: Look for more next week.
That is just a sampling of what's on display during the Fall Studio Tour. Stay tuned for more photos next week. And check out VisitCookCounty for all the latest info on the tour.
Also. Jerry Riach, a printmaker who lives in Little Marais, which is near the Cook County line, will host an open studio during the Fall Studio Tour. His studio is located at Mailbox # 6452 at Milepost 65 in Little Marais. Riach's work includes woodblocks, etchings, drypoints and collagraphs. He will do demonstrations on request.
His studio will be open from 10 a.m. to 5 p.m. Sept. 28 through Oct. 6.
Exhibits:
For an extraordinary taste of the flavors in Cook County, visit the Johnson Heritage Post this week as it exhibits the work of 75 artists who participated in Grand Marais Plein Air this month. The exhibit opened to accolades Sept. 13 and continues through Oct. 6. Plein Air artist Bob Upton won the Grand Prize, but it was sold and whisked out of the gallery before we could get a photo of it. Since the artists are allowed to submit more than one painting, here's a great example of the work Upton did during the week-long plein air event.
The plein air painters painted outdoors, and competed in a number of specific events, like the Quick Paint on Artist's Point (complete a painting in two hours) and the Night Paint. Neil Sherman, who is one of the participating artists in the Fall Studio Tour, took second place in the Night Paint with this beauty.
 The exhibit at the Heritage Post continues through Oct. 6. The gallery is closed on Tuesdays. It is open from 10 a.m. to 4 p.m. Wednesdays through Saturdays and 1-4 p.m. Sundays.
In Duluth, the Duluth Art Institute held a gala opening for three new exhibits this week. The exhibits include "Jean: The inspiration behind the Birkenstein Arts Movement," "Minnesota Black Fine Art Show" and "Claudia Faith: Family."
In Thunder Bay, the Thunder Bay Art Gallery announced that this is the final week to see its exhibit of Northwest Coast masks.
Lunafest 2019, a traveling film festival celebrating, showcasing and championing women in film, will be presented at the Arrowhead Center for the Arts on Friday, Sept. 28. The film festival is a fundraiser for the Violence Prevention Center and begins at 7 p.m. Tickets sold at the door are $20 for adults & $10 for students. Stay tuned for details.
The 29th annual Bluegrass Masters Weekend, sponsored by the North Shore Music Association, will be held Nov. 1-3 at Lutsen Resort. This year, the weekend is focused on the fiddle and will feature workshops with master fiddler Dan Kelly and a concert by Michael & Jennifer McClain & the Banjocats. For more info, visit www.northshoremusicassociation.com and stay tuned for details.
And last, but not least, the Grand Marais Art Colony's North Shore Readers and Writers Festival is Nov. 7-10  this year.
The festival features a great selection of speakers, workshops, writers and books. Classes are filling fast.  For more info, click here.
Music:
Thursday, Sept. 19:
Terry V's Patio Party, Wunderbar, 5 p.m.
Gordon Thorne & Friends, Gun Flint Tavern, 6 p.m.
Joe Paulik, Music by the Campfire, Lutsen Resort, 6:30 p.m.
Kilborn Quartet, North Shore Winery, 7 p.m.
Friday, Sept. 20:
 Pippi Ardennia, jazz, Voyageur Brewing, 7 p.m.
Space Monkey Mafia, Gun Flint Tavern, 8:30 p.m.
Saturday, Sept. 21:
Pete K, Cascade Restaurant, 6 p.m.
Gordon Thorne & Friends, Lutsen Resort, 7 p.m.
Mysterious Ways, Grandma Ray's, 8 p.m.
Space Monkey Mafia, Gun Flint Tavern, 8:30 p.m.
Sunday, Sept. 22:
Briand Morrison, Mogul's Grille, 10 a.m.
Open Stage with Joe Paulik & Pat Flack, Wunderbar, 6 p.m.
Timmy Haus, Gun Flint Tavern, 7 p.m.
Monday, Sept. 23:
Billy Johnson, Voyageur Brewing, 4 p.m.
Wednesday, Sept. 25:
Timmy Haus, Mogul's Grille, 5 p.m.
Polkarioty, Voyageur Brewing, 5 p.m.
Jam Session, Gun Flint Tavern, 6 p.m.
Photographs:
 We found a lot of photographs this week. Here's a selection:
First, wildlife:
And here are some plant photographs:
And fall colors:
Here's a beautiful waterfall:
And fog:
And sunsets:
Of waves and walls:
And finally, this amazing photograph by Keith Crowley.
Have a good time this weekend, everyone!
If you enjoyed the blog this week, please consider donating to keep this volunteer effort alive and well. You can donate through PayPal with your credit card by clicking on the icon below, or mail a check to NorthShore ArtScene, P.O. Box 1232, Grand Marais, MN, 55604. And Thanks!