Welcome to winter!
There are lots of celebrations on the snow-covered hills of Cook County this weekend. There's a sled dog race, a fat bike race and a (downhill) ski festival, not to mention the hundreds of people who will be out on the cross country ski trails.  snowmobile trails and snowshoe trails enjoying the heart of winter.
The weekend starts with a few indoor events, too.
On Thursday, John Tolkan and John Beltman will lead a discussion about the Herring Skiff Project at a Brown Bag Lunch from noon to 1 p.m. in the Boat Barn at North House Folk School.
The two-year-long project is a partnership between the Cook County Historical Society and North House to build a replica of a herring skiff. The public is invited to come hear about the project's progress and learn how to get involved. Free. Open to all. It's from noon to 1 p.m. and is the first in a series on building various craft at the Folk School.
And then, on Thursday night at 8 pm., WDSE-TV will be screening "Making It: Crafting a Life," featuring the the four artists currently enrolled in the Artisan Development Program at the Folk School.Josh Tolkan (boat building), Mike Loeffler (wood craft including his bird bowls,) MaryBeth Garmoe (broom-making, birchbark) and Elise Kyllo (felting) are all featured on the show.
The show will be aired at 8 p.m. on Thursday. Here's a great interview of Making It's producer, Karen Sunderman, by WTIP's Joe Frederichs. Click here to listen.
There's quite a list to choose from on Friday.
The Grand Marais Art Colony will hold the opening reception for "Along Shifting Surfaces" by David Andree at the Art Colony from 5-7 p.m. on Friday.
During his residency, Andree has been on the shore investigating the transitory topography of snow drifts and shoreline spaces through painting and sculptural intervention. The (indoor) exhibition at the Art Colony  will include paintings, drawings and photographic prints of his work here. All invited. The exhibit in the Founders Hall continues through Feb. 16.
For movie lovers, Friday Night Reels continues at the Grand Marais Public Library with the screening of "Ulysses & Mona," at 6 p.m. Friday. It's a great story about a 55-year-old contemporary artist who spends his life in seclusion and a 20-year-old art student who meets him and changes their lives forever. The movie is in French, with subtitles. Free. Here's the trailer.
Also on Friday, the Ski Party Music Festival starts at Papa Charlie's featuring six different bands featured over the weekend. On Friday night, Portal III, Dead Man Winter and the Black-eyed Snakes will perform. On Saturday night, Humbird, Charlie Parr and the Cactus Blossoms will be on stage. Great music, and the look for new snow on the hills.
On Saturday, there are two outdoor races: The Gunflint Mail Run Sled Dog Race and the Norpine Fat Bike Classic.
The Fat Bike race will be start at Cascade Lodge at 8:30 a.m. on Saturday. Click here for more info.
The popular Gunflint Mail Run Sled Dog Race begins at Trail Center where more than 25 local and regional mushers have signed up, including winners of the John Beargrease Sled Dog Marathon.
There are two classes in the race: a 12-dog, 100-mile race and an 8-dog, 65-mile race. The races will start and finish at Trail Center, with a rest break halfway through (also at Trail Center). The races start around 8 a.m.
If you want to see the dogs on the trail, check out the north end of the trail: there is a spectator area at the Old Blankenberg Pit, where the 12-dog teams are turning around. Great viewing is also available at Big Bear Lodge and Rockwood Lodge.
For all the details of the race, including the mushers, routes, photographs, dogs and more, click here.
Here's an interesting sidebar.
Frank Moe will be in the race, and one of the people who has been helping him with his dogs this winter is Anastasia Gill, a CPA from Houston, Texas, who needed a break from urban life. She took up his offer to help out with Moe's dogs this winter and has been having a great time. She even has a podcast on WTIP Community Radio where she talks about her adventures. It's called "Sled Dogs, Cold Toes and a Gal from Texas." You can listen to it here.
To read the article about her in the Houston Chronicle. click here. The headline reads: "A Houston CPA felt a slow-burning burnout, so she traded skyscrapers for sled dogs."
Also on Saturday, the North Shore Music Association will present "Cantus: One Giant Leap" at the Arrowhead Center for the Arts at 7 p.m.
Hailed as "the premier men's vocal ensemble in the United States" (Fanfare), Cantus is known for its trademark warmth and blend, innovative programming, and riveting performances of music ranging from the Renaissance to the 21st century. The program is entitled "One Giant Leap" and celebrates the group's 25th anniversary and 50th anniversary of the Apollo 11 moon landing with music inspired by the celestial skies.
Tickets are general admission, $25 adults, $10 youth 18 & under.
Here's a clip of their work.
On Wednesday, Jan. 15, the Grand Marais Art Colony will host "Community Conversations: Hanging and Displaying Your Work" in the Founders Hall from noon to 2 p.m. The event will feature Joseph Nease, owner of the Joseph Nease Gallery in Duluth and Neil Sherman, a plein air painter who won the Best Booth Award in last year's Grand Marais Arts Festival and is a framer at Sivertson Gallery.
Nease and Sherman will be on hand to give tips and pointers that could apply to hanging or displaying both two and three-dimensional work in a home, gallery or in an arts festival booth. Also, information about the 100Day Project will be available. The project launches on Jan. 22. The event is open to the public and free.
Exhibits:
 "Wood Swept," an exhibit of work by wood worker and North House Folk School instructor, Marybeth Garmoe, is on exhibit at the Johnson Heritage Post.
Garmoe works in wood and fiber, making brooms, dustpans and carved pieces. The exhibit continues  through Jan. 26. The Heritage Post is open from 10 a.m. to 4 p.m. Thursday through Saturday and 1-4 p.m. Sunday.
This is the final week to see Mike Loeffler's Artisan Development Final Show at North House Folk School. The exhibit features his bird bowls as well as wooden furniture and more.
Grand Marais plein air painter Tom McCann is exhibiting his work at the Cook County Courthouse.
Minnetonka artist Jane Johnson is exhibiting her abstract landscape paintings in the Great Hall at Tettegouche State Park.
The exhibit continues through Jan. 31.
The Thunder Bay Art Gallery is featuring work by Benjamin Chee Chee this winter.
Artist Opportunities:
Call to North Shore Artists: The 10th annual Spirit of the Wilderness Show, featuring work by artists of every age, will be held in the halls of North Shore Community Health this year. The theme of this year's exhibit is "Kintsugi," the Japanese art of repairing pottery by mending areas of breakage with precious metals. Artists are invited to consider these themes of brokenness, healing and learning through their chosen medium. The show will open Feb. 21 and run through April. The deadline to deliver work is Feb. 17 or 18. Stay tuned for details.
The applications for the Grand Marais Arts Festival 2020 are now available online.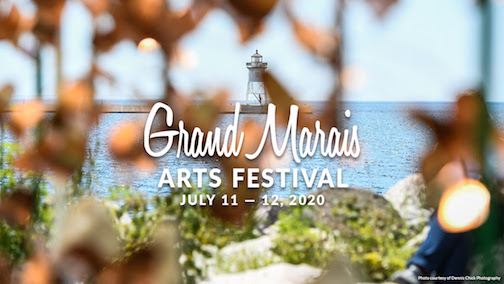 Applications will be accepted until midnight on March 9. The festival will be July 11-12 this year. To find out more and to apply, click here.
Applications are being accepted for the Porcupine Mountains Artist-in-Residence Program for the 2020 Spring, Summer and Fall and the 2021 Winter Residences. It is open to artists, artisans and musicians whose work can be influenced by the unique northern wilderness setting of Porcupine Mountains Wilderness State Park.
Each year a number of artists will be selected for residencies lasting a minimum of two weeks. Artists will be given the use of a rustic cabin located on the Little Union River and, if requested, a three-night backcountry permit so that they may live in and explore the park's 60,000 acres of natural beauty, ranging from stunning vistas to 90 miles of rugged backcountry trails.
During their residency, artists will be asked to share their experiences with the public through demonstrations or talks. The artists are required to contribute an art piece representative of their stay.
To find out more and apply, click here.
The Art Colony is offering two major mentorship opportunities for experienced printmaking artists and writers: Peter Geye's "Writing the North Shore," and Jeff Hirst's "Mentorship in Printmaking." For more information about each, click on the above links.
Upcoming:
 Auditions for the community youth play, "Cinderella," will be held at the Arrowhead Center for the Arts Jan. 27 at 3:35 p.m. This community youth play is for actors in Grades 3-8. The play includes four fairy tales with similar themes to the story commonly known as Cinderella. For more info, click here.
The 2nd annual Robert Burns Dinner will be held at the Wunderbar on Saturday, Jan. 25.
This is the traditional birthday of Scottish poet, Robert Burns, who is revered throughout the world. The evening starts at 5:30 p.m. with a social hour and live music including piping, highland dancing and fiddle tunes. A full course dinner is served at 7 p.m. followed by a program of Burns' poetry readings and some of his more famous songs. Reservations are $50 per person and may be made on evenbrite.com. Call Wunderbar at 218-877-7655 for more information.
Ann and Wayne Russ will teach an 8-week dance class on Tuesdays, Feb. 4-March 31 at the 4-H Building at the Community Center. The classes will be from 7:15-9 p.m. For more information and to register, email russ@boreal.org
 Music:
Thursday, Jan. 9:
Jim Miller, Poplar River Pub, 6 p.m.
Gordon Thorne & Friends, North Shore Winery, 7 p.m.
Friday, Jan.10:
Jim Miller, Moguls Grille, 4 p.m.
Portage, Grandma Ray's, 6 p.m.
Saints of Circumstance, Gun Flint Tavern, 8:30 p.m.
Ski Party Music Festival, 3 bands, Papa Charlie's, 9 p.m.– Portal III, 9 p.m., Dead Man Winter, 9:55 p.m., Black Eyed Snakes, 11:15 p.m.
Saturday, Jan. 11:
Briand Morrison, Lutsen Resort, 7 p.m.
Cantus: One Giant Leap, Arrowhead Center for the Arts, 7 p.m.
Brother's in Arms, Grandma Ray's, 8 p.m.
Saints of Circumstance, Gun Flint Ta vern, 8:30 p.m.
Sunday, Jan. 12:
Open Stage with Joe Paulik & Pat Flack, Wunderbar, 6 p.m.
Monday, Jan. 13:
Dave Simonett, Monday Night Songwriter Series, Papa Charlie's, 8 p.m.
Photographs:
Here are some of the photographs we found this week. First, wildlife:
Kristofer Bowman calls this Seasonal Housing.
Evidence of human life:
Have a great weekend, everyone!