This week continues our march through winter with lots of things to do and see throughout the county.
First up, the Hygge Festival, which continues through this weekend with a wide variety of events and happenings. Hygge is a Danish word, pronounced hoo-gah, and refers  to the ritual of embracing life's simple pleasures. Feeling relaxed, cozy and surrounded by the warmth of family, friends, community and fire all encompass the idea of hygge.
Cook County has taken the concept a step further by organizing lots of activities and opportunities, both outdoors and indoors, during this festival. Among them:
A fireplace self-guided tour with a whole list of great fireplaces to visit and enjoy.
The tour, which is ongoing through the end of the month, features a selection of cozy fireplaces to visit. Click here to see the list.
There are all kinds of other on-going events. Lake Superior Trading Post holds a daily Mellow Snowshoe Hike, which is free, but if snowshoes are needed, pre-registration is suggested. The hikes start at 2 p.m. Call 387-2020 for more information. And the Fireweed Bike Coop holds guided Fat bike and E Bike tours, including bike rentals. For more info, stop by the bike shop or call 370-1625.
The ski trails and snowshoe trails are in great condition this winter, too.
Click here to see a list of the best snowshoe trails in Cook County. And, not to forget, the snowmobile trails are also great this winter. Snowmobile drag races are set for Hungry Jack Lake at 11 a.m. on Saturday.
Click here for the complete Hygge Festival activities and events.
The are lots of other things happening this week, too.
Skyport Lodge and The Big Lake will host the Galentine's Market on Thursday at Skyport from 4:30-6:30 p.m. The afternoon celebrates local women makers and businesses in the community. Stop by and enjoy.
On Thursday night, North House Folk School will screen the documentary "Shepherdess of the Glaciers" at 6:30 p.m. as part of Fiber Week. The film traces the footsteps of Tsering, the shepherdess, who runs her herd of sheep in the desolate high mountains in Ladakh, India.
At the screening, Linda Cortright, a friend of the film producer, and Tsering will  introduce the film and host a Q&A following the screening. Popcorn provided. Bring your beverage of choice. All invited. Free. Here's a short trailer:
Friday is Fiber Friday at North House, featuring a full day of speakers, demonstrations, open studios and community gatherings–free for all North House Folk School enrolled students, $20 for Cook County residents.
Fiber Friday includes speakers and presentations from 9 a.m. to 1 p.m., Fiber Fabrications and open studios from from 2-4 p.m., a chili feed at 5:30 p.m. and a Show & Share at 7 p.m. hosted by the Northwoods Fiber Guild. For more info, call 287-9762 or visit www.northhouse.org
Also on Friday, the Grand Marais Public Library will screen the British film, "Julia, Naked" as part of its Friday Night Reels series. The film is a romantic comedy about life's second chances and is based on a novel by British author Nick Hornby. The film is screened at 6 p.m. Free. Here's the trailer:
Come early to get a good seat.
On Saturday, Voyageur Brewery will feature Board Games, which are open to everyone from 11:30 a.m. to 10 p.m.
And the Grand Marais Art Colony will hold two classes from 9 a.m. to 4 p.m. "Star Book with Pop-up" with instructor Sharon Giesfeldt van Ruiswyk and "The Write Time," with Cilla Walford. For more info and to register, call the Art Colony at 287-2737.
Also on Saturday, local artist Rae Klesser will facilitate a hands-on creative experience of mixed media art on canvas or wood panel at Joy & Co. at 11 a.m.. The fee is $20. Supplies included. Pre-registration is encouraged. Open to all.
One of the highlights of every winter is the Pincushion Ski Festival, which will be held at Pincushion Mountain on Saturday. The event features classic ski races, group family skis, marshmallow roasting, free ski rentals, and more.
There will be food and warm beverages available in the warming shack and a bonfire outdoors. Pros from Stone Wilderness Supply will be on-site to discuss skiing and waxing techniques. The Y-Ski Carnival activities will include a family ski, a snow shoe trek on the new Pincushion segment of the Superior Hiking Trail and a sledding hill. Races start at 10 a.m., the Y-Ski Winter Carnival starts at 1 p.m.
Then, at 2 p.m., the 2020 Best in Snow Skijoring Races will be held on the mountain, sponsored by Go Dog North Shore.
Two classes of races will be held, a 3 km and 7 km, with a one-dog limit per skier. Both races will be held on the Pincushion Mountain Ski Trails. Open to all skiers and their dogs.
To cap off a busy day outdoors, a Candlelight Ski & Snowshoe will start at the Oberg Mountain Trailhead from 6-8 p.m. The trails will be lit with candles, and a bonfire, cocoa and cookies will be available.
On Sunday, author Alex Messenger will give a presentation at Voyageur Brewing Co. from 2-4 p.m. Messenger will talk about his book, "The Twenty-Ninth Day."
This true-life wilderness survival epic recounts 17-year-old Alex Messenger's near-lethal encounter with a grizzly bear during a canoe trip in the Canadian tundra. All invited.
And at 6 p.m., The SVEA Singers will give an outdoor concert at Drury Lane Books in conjunction with the Many Tiny Lights Fundraiser. The public is invited to join SVEA around the bonfire for Swedish songs ad stories, and a marvel at a beachfront decorated with ice-globe luminaries.
A donation of $5 per candle helps support the Grand Marais PTA, which funds ISD 166 schools. The public is invited.
On Monday, Papa Charlie's weekly winter Singer/Songwriter Series will feature Sarah Kreuger at 8 p.m. The event is free.
Exhibits:
The Winter Plein Air Exhibit continues at the Johnson Heritage Post, with a great selection of paintings as well as other media created by artists during the week they spent at YMCA Menogyn on Bearskin Lake. John Franz, the group's "grandfather" artist, is lead artist this year, with a collection of his work exhibited at the start of the exhibit.
The exhibit continues through Feb. 23. The Heritage Post is open from 10 a.m. to 4 p.m. Thursday through Saturday and from 1-4 p.m. Sunday.
This is the last weekend to see "Along Shifting Surfaces: Snow Drifts and Shoreline Spaces" by David Andree at the Grand Marais Art Colony.
Members of the Northwoods Fiber Guild are exhibiting their work at the Cook County Courthouse.
Carolyn Olson has new work at Yellow Bird Fine Art.
Minneapolis painter Kat Corrigan is exhibiting her work in the Great Hall at Tettegouche State Park through February.
The Tweed Museum of Art is exhibiting a show entitled "Conflict: Soviet Era Art." A presentation about the exhibit, entitled "Art on the Edges: Non-Conformists and Spirituality" will be held on Tuesday, Feb. 18 at 6 p.m. To register, click here. The presentation is free.
The Duluth Art Institute opened its Member Show last week featuring a variety of works in all media crafted by member artists. Tonja Sell won the People's Choice Award.
The Member Show is on view through March 1.
Upcoming:
A Lunch & Learn Session about writing grants for regional grantors will be held at Cook County Higher Education from 11:30 a.m. to 1 p.m. on Thursday, Feb. 20. Grantors at the presentation will include the North Shore Health Care Foundation, Duluth Superior Area Community Foundation, IRRB, the Lloyd K Johnson Foundation and the Cook County Community Foundation. Lunch includes pork enchiladas, citrus beans, salad and a cookie for dessert. Free. For more information, contact CCHE at 387-3411.
The Spirit of the Wilderness community art show, entitled "Kintsugi: Brokenness, Healing and Meaning" will open at North Shore Health at 5:30 p.m. Friday, Feb. 21.
Kintsugi is the Japanese art of repairing broken pottery by mending the areas of breakage with precious metals. Artistic members of the community have made art around this theme of how our lives can be made more beautiful through our creative response to brokenness.
There will be a panel presentation at 6 p.m. about creativity and healing. Stay tuned for details next week.
The North Shore Music Association will present Dylan Fresco's "The Holocaust and Me," at the Arrowhead Center for the Arts at 7 p.m., Saturday, Feb. 22.
Fresco is a musician, theater artist, writer, and educator. In his performance, Fresco relates through storytelling and song how he came to realize the impact of the Holocaust on his family and his own life, despite his being born decades after it happened. Tickets are $10 adults, $5 youth ages 18 and under.
Not Shards Yet, a pottery seconds sale, will be held at the Grand Marais Art Colony's new building, Studio 21, from 10 a.m. to 4 p.m. Saturday, Feb. 22 and from 10 a.m. to 2 p.m. on Sunday, Feb. 23.
Not all pottery turns out flawless, and yet there is a goodness to these pieces. The potters from the Grand Marais Art Colony would  like to pass these piece on to their forever homes. Perfectly imperfect work will be for sale by donation and will benefit the Art Colony's ceramic studio by going toward a new wheel and upgraded glaze mixing storage containers. Stop by Studio 21 at the corner of 1st Ave. W. and Hwy 61 next weekend and see what you can find.
Celtic Crossings: An Evening of Celtic Music, will be held at the Hovland Town Hall from 7-9 p.m. on Saturday, Feb. 29.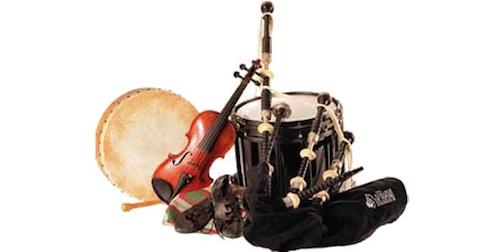 The event is hosted by the Mountain Thyme Music Studio and the TBay Trad, from Thunder Bay. Other bands to perform include Frozen Britches, Jim McGowan and North County Fair. Freewill offering at the door. Bring a sweet to share.
The Grand Marais Art Colony, in partnership with the Arrowhead Regional Arts Council, will present "For the Love of It! Professional Practice Conference" at the Art Colony March 6-8.  The conference is a smorgasbord of mini-classes and presentations covering everything from career planning, grant writing, pricing and record keeping and more. The classes are affordable and à la carte, allowing participants to pick and choose what is right for them. For more info and to see the selection of mini classes and the presenters, click here.
Call for Artists
The Creative Economy Collaboration has posted a call to artists to submit ideas for using the wood saved from the elm trees cut down this fall on Hwy 61 in preparation for a road renovation project scheduled for 2021. To find out more and how to submit an idea/application, click here.
Music:
Here's the music schedule for the week:
Thursday, Feb. 13:
Kevin Buck, Wunderbar, 6 p.m.
Bob & Jill, Poplar River Pub, 6 p.m.
Eric Frost, Date Night at the Winery, North Shore Winery, 7 p.m.
Friday, Feb. 14:
Kevin Buck, Skypot Lodge, 6 p.m.
Portage, Grandma Ray's, 6 p.m.
Jim McGowan, Cascade Restaurant, 6 p.m.
Briand Morrison, Lutsen Resort, 7 p.m.
4-Shore, Wunderbar, 7 p.m.
Wheeler Burkes Trio, Gun Flint Tavern, 8:30 p.m.
Saturday, Feb. 15:
Jim McGowan, Wunderbar, 7 p.m.
Log Cabin Concert, Michael Monroe, rural Grand Marais, 7 p.m., reservations at www.michaelmonroemusic.com
Southpaws, Grandma Ray's, 8 p.m.
Wheeler Burkes Trio, Gun Flint Tavern, 8:30 p.m.
Kevin Buck, Cascade Restaurant, 9 p.m.
Sunday, Feb. 16:
Jazz Brunch with Briand Morrison, Mogul's Grille, 10 a.m.
Open Stage with Joe Paulik & Pat Flack, Wunderbar, 6 p.m.
Many Tiny Lights Fundraiser with SVEA, Drury Lane Books,, 6 p.m.
Jim McGowan, Gun Flint Tavern, 7 p.m.
Monday, Feb. 17:
Matt Browne, Voyageur Brewing, 6 p.m.
Sarah Krueger, Singer/Songwriter Series, Papa Charlie's, 8 p.m.
Tuesday, Feb. 17:
Gordon Thorne, Lutsen Resort, 6 p.m.
Photographs:
 We found some more great photographs this week. Check out these wildlife shots:
 Some beautiful landscapes:
And this… an ode to winter
Enjoy your weekend, everyone!