So we're allowed to get quirky in these changing times.
In this case, quirky means posts from all over the place: music videos, artists' stuff, grand scenes from the Northwoods, tender garden pop-ups, the last commercial sailing vessel to round the Cape, online learning opportunities, lists of the shops, stores and restaurants doing curbside and when,  highway poetry, sketches for comfort, opera concerts in Europe and, of course, wildlife and landscape photographs. So, yep, lots of interesting stuff is popping up on social media this week. Here's a taste:
Let's start with updated information about area business hours and cancellations in the county, compiled by WTIP Community Radio. Click here to learn more.
Visitcookcounty.com has also included a lot of information, too. Click here to see.
That being said, a fair number of events/activities are going virtual, and the offerings are increasing. North House Folk School, for example, has set up a series of lunch and learn programs that can be watched on Facebook, Instagram or YouTube. This is an on-going, to-be-announced series entitled "Crafting in Place," and features demonstrations and tutorials with instructors online.
On Thursday, April 9, check out the video: Scandinavian Folk Art Style Primer: Rosemaling and Dalmalning with Kim Garrett on Facebook and YouTube.
At 7 p.m. on Thursday, Jim Sannerud will Turn a Bowl from a Log on Instagram,
And on Friday, April 10, Marybeth Garmoe will give a studio tour of her broom making.
The video can be seen Facebook and YouTube .
The North Shore Winery is planning to hold Virtual Date Nights with Gordon Thorne on Thursday nights on its Facebook page.
This week Chuck Corliss joins Gordon for the evening of music at 6 p.m. To listen, click here.
There are lots of other virtual live concerts on social media these days, too.  Here's a link to some of the choices.
And Andrew Lloyd Webber is streaming his musicals for free on YouTube. The series is entitled "The Shows Must Go On." This Friday, April 10, the 2012 production of "Jesus Christ Superstar" with Tim Minchin, Melanie C and Chris Moyles will be streamed starting at 7 p.m.
It will be available for 48 hours. To see it and read more about the series, click here.
And, on Easter Sunday, Andrea Bocelli will perform a virtual concert in Milan, "Music for Hope" beginning at 1 p.m. ET.
 To watch and/or find out more, click here.
And finally, for those who are spending a lot of time in meetings on Zoom, Skype or other platforms, Visitcookcounty has created some custom virtual backgrounds for you, including photographs of waterfalls, the northern lights, the Boundary Waters and more. There are also videos of Cook County to download.
They have even included instructions on how to use these backgrounds on Zoom.  Click here to make your choices and find out more.
Artists:
Homebound artists are often studio-bound artists, and many have taken the opportunity to continue to work. Here are a few examples.
Musician Martha Marnocha, who plays with a variety of bands in the county, said she has connected with new friends in Sussex, England and is playing with them via an online live-practice program.
Potter Natalie Sobanja has set up a studio at her home and is making some cool pieces.
 Nancy Seaton is working in her new glass studio at her home at Hungry Jack Outfitters.
Ron Piercy has been really busy in Washburn, Wis., setting up an art center which includes five working artist studios, teaching studios for ceramics, silver and goldsmithing, a classroom with live streaming audio and video, a large art gallery and … a craft beer bar.
The complex includes an art supply store. Check out it out here.
Paula Sundet Wolf has been working as well.
And Betsy Bowen has continued her Comfort series of paintings which she posts frequently on Facebook. Here is one.
Painter Jan Attridge completed this.
And for those who just feel like coloring something this week, check out the North Shore Coloring Book by Mark Klein.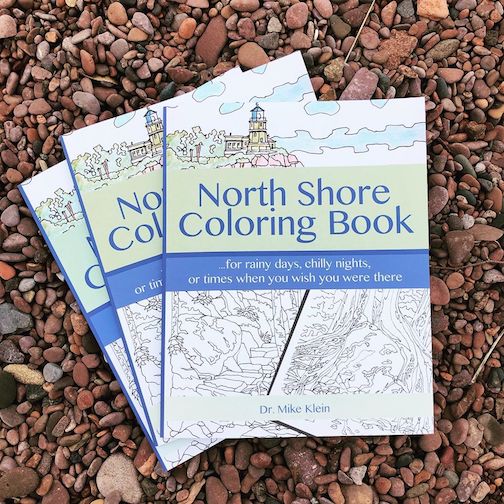 It's available at Drury Lane Books, which delivers in town.
Here's an interesting challenge. The Grand Marais Art Colony has a call for artists to create a piece addressing the idea of Habitat, the Art Colony's theme this year.
In its explanation for the call, the Art Colony writes:
HABITAT: the places we live and those we share it with
We had no idea that when we set this theme that all of our habitats would necessarily be altered so drastically. What changes have been made to yours? What new patterns, rhythms, or routines are surfacing? What is aggravating you? What is sustaining you?
An invitation: use these questions to create a unique, 4 x 6-inch painting, mixed-media piece, poem, photo, etc, etc. and send it in by May 31. Include your name and the medium on the back of the piece. Include a self-addressed, stamped envelope if you want your piece returned. We will exhibit them in the windows of our new building. Send to: P.O. Box 626, Grand Marais, MN 55604. (Please refer to USPS for guidelines on how to safely send things in the mail.) For more information, email programs@grandmaraisartcolony.org
It is a rocky time for artists and arts organizations, for sure. Cancellations of exhibits, art festivals, music festivals, plays, dance performances, concerts. and gigs at bars and other venues is definitely a challenge for everybody. But there is help out there. Federal and state programs are available for self-employed artists and arts organizations. Pat Companero has a handle on all of this and is eager to help. You can email her at pcompanero@gmail.com
The Arrowhead Regional Arts Council and Springboard for the Arts are great resources, too, and both have developed special grants for artists and arts organizations during this time. Also, check out the Artist Relief Fund, which is offering $5,000 grants to artists.
And, being human, we can't help noticing that spring is coming anyway, and we still laugh at each other's jokes, even if they're virtual or on the phone, wave when we see friends on our walks, stand in wonder as the pink moon floats overhead …
And so, just for some levity and silliness: "This Too Shall Pass Rube Goldberg Machine."
And since this is Easter weekend, let's give a bow to the Easter bunny, here captured in this photo of the bunny collection of Duluth raku artists Richard Gruchalla and Carrie Rosetti.
And here's a bow to sadness and greatness, as we find out that legendary American folksinger John Prine died of complications from Covid-19 this week. He was 73.  To read about him, details of his life and a few interviews, click here.
Betsy Bowen put it this way:
Another great way to pay homage to John Prine is to listen to his music. Here's his Tiny Desk Concert, recorded in 2018 in the NPR studios.
In this Tiny Desk concert he plays four songs, including "All The Best." And for your pleasure, click around on the site and listen to more, if you wish. What a gift he was to us.
Photographs:
Our photographers have been out and about, or staying at home, sifting through past work. We get to enjoy both. First, wildlife:
Spring:
And here are a few fun photos we found:
The Full Pink Moon:
Landscapes and Waterscapes:
And finally, we found this:
Have a good weekend, everyone. Be safe. Be smart. Be well.
P.S. Email me with ideas/links for next week's blog– joan.farnam@gmail.com
P.P.S. If you would like to contribute to NorthShore ArtScene, click on the logo below. And thank you!