Hello from here, where our balmy summer continues to everyone's delight, and people are offering to give away their basil to anyone who will take it. Well, maybe that's an exaggeration, but gardens sure are flourishing this summer. Ian Andrus of Creaking Tree Farm jokingly announces that fact in the photo.
Andrus now offers an online shop where customers can buy his produce and pick up in designated spots in Grand Marais and Lutsen. The shop is "open" from 8 a.m. to 8 p.m. on Tuesdays, with pickup on Thursdays. To find out more, click here.
In other food news, the Gunflint Trail's Biggest Blueberry Contest continues.  Participants can bring their biggest blueberry to a number of places on the Trail where they will be weighed. Cash prizes will be awarded.
To find out more about the contest and where to bring your blueberry, click here.
In normal years, this is the weekend would have been the 91st year that Fisherman's Picnic was held in Grand Marais, but it was cancelled earlier this year due to Covid-19. However, small parts remain. The Grand Marais Lions Club will hold a Mini Fisherman's Picnic this weekend. Members will be selling raffle tickets this weekend from a booth at Harbor Park. The drawing will be held at 5 p.m. Sunday.
And, if we're lucky, the Lion's Club will set up a fishburger stand on Friday and Saturday in Harbor Park.
For more information about the Fishburger Stand, contact Bob Spry at 370-0445 or email the Lions Club at gmlionsclub@gmail.com , or, just wander down to the harbor and see.
Next weekend is traditionally the weekend for the Grand Portage Rendezvous Days and Celebration Pow-Wow, but it, too, was cancelled due to the pandemic.
Changes continue to happen in the community.  To find information about businesses, lodging, dining opportunities and protocols, as well as the latest news about Covid-19 in Cook County, click here. 
Social distancing and wearing masks are in play for everyone, and VisitCookCounty is offering free masks at the Information Center.
And online and virtual events continue in the county.
On Thursday, North House Folk School instructor Cheryl Larson will present a Lunch and Learn on stitchery and fabric collage on North House Folk School's Facebook page from noon to 1 p.m. You can check it out here. 
Larson will also be demonstrating on campus from 10 a.m. to 4 p.m. through Saturday.
Thursday, July 20, is the last day to submit work to the Grand Marais Art Colony's exhibit, "Upcycled," which will be on display in the windows of its new building Aug. 3. Submissions may be dropped off at the Art Colony from 1-3 p.m. If this isn't convenient or for more information, email  info@grandmaraisartcolony.org
NorthShore ArtScene has received a few examples of work that has been submitted for the "Upcycled" exhibit so far. (Note: Artists were invited to take apart the Art Colony's summer catalog and turn it into art.  Because of Covid-19, summer workshops and classes were cancelled, making the catalog largely obsolete.) So here are a few examples of how artists tackled this challenge.
Nina Simonowicz will submit this piece, which also has been crafted from pages of the Art Colony's catalog.
The exhibit opens in the windows at 17 W. Hwy 61 on Monday, Aug. 3 and runs through Aug. 31.
On Saturday, the Cook County Market opens in The Hub's parking lot at 9 a.m. and runs through 1 p.m., and features a variety of work by Cook County residents.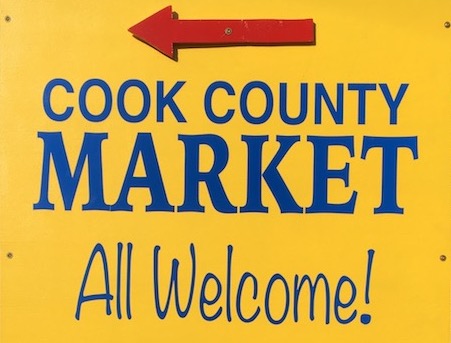 The Maker's Market, which is held in the alley next to the Beaver House, is open Thursdays through Sundays. It also features work by local artisans as well as a food stand.
Galleries in Town:
 The Johnson Heritage Post is open for the season, with cover protocols in place. Check it out. The exhibits include works by artists George Morrison and Marcia Cushmore, including archival and poster prints.
The Gallery is open Fridays from 1 – 4 p.m. and Saturdays from 10 a.m. – 2 p.m. Free.
Betsy Bowen's Gallery, 301 1st Ave. W. in Grand Marais is open from 11 a.m. to 5 p.m. daily. Masks are required in the gallery and curbside pickup is available by calling 387-1992.  A selection of cards crafted fromBowen's Comfort Series are available, as well as great selection of her books and prints as well as work by regional artists. Here's one of her latest from her Comfort Series.
 Sivertson Gallery is open daily from 10 a.m. to 5 p.m. The gallery has just received new work by painter David Gilsvik.
Galleries Not In Town: 
The Karlyn Yellowbird Gallery in Washburn, Wis.,  curated by Ron Piercy, is open from 10 a.m. to 4 p.m, featuring a wide range of art from local and regional artists.
Painter Adam Swanson opened an exhibit of his paintings at the Great Lakes Aquarium this week.  The exhibit, "The Mirrors" features paintings of the federally-listed threatened and endangered animals of Minnesota.
What makes this exhibit unique for the Aquarium is that this is its first art exhibit to feature audio descriptions of paintings, making them accessible to people with vision loss. The exhibit run through Aug. 31.
The Groveland Art Gallery's Summer Invitational exhibit features the work of 37 Groveland artists, including Lee Ross.
The virtual catalog for the show is online, and can be seen here. The gallery also is open for in-person viewing by appointment Call (612) 377-7800 or info@grovelandgallery.com  The exhibit continues through Sept. 5.
Opportunities:
The Grand Marais Playhouse will present two youth August Summer Camps:
Grades 3-5: Students will perform and create the world of  "The Sneetches" by Dr. Seuss.The play will be filmed. The camp will be from 1-4 p.m., Aug. 3-7,
Grades 6-8: Campers will write, design, perform an original piece created collaboratively and filmed. The Camp will be held Aug. 10-14 from 1-4 p.m.The cost of the camps is $100 with scholarships available. For more information go to grandmaraisplayhouse.com
The Violence Prevention Center has put out a call to artists to participate in  its second The Art of Healing exhibit which will be held at the Johnson Heritage Post January 2021. Those who have used art as a means to respond, explore, express or heal from their experiences of domestic or sexual violence are invited to share their work at the exhibit. The deadline  is Dec. 29. For more information, all 218-387-1262 or email hope4u@boreal.org
Springboard for the Arts has re-opened and is offering a variety of online events for artists, including professional development workshops. See the calendar events here.
Online Entertainment/Learning:
 Check out the Grand Marais Art Colony's Instagram account for videos of artist "takeovers" of its page. Last week, potter Ernest Miller was the featured artist and showed how he makes his signature pieces in his studio.
Other artists who have had takeovers of the Art Colony's Instagram page include painter Bonnie Cutts, Lutsen sculptor Greg Mueller, Hovland fabric sculptor Corrie Steckelberg, David and Kara Andree and Lutsen potter Maggie Anderson.
Cook County Higher Education is offering a wide variety of free webinars on a variety of topics. Check them out here.
Cook County Soil and Water is sponsoring a series of free noon webinars on the environment, entitled "Ask An Expert."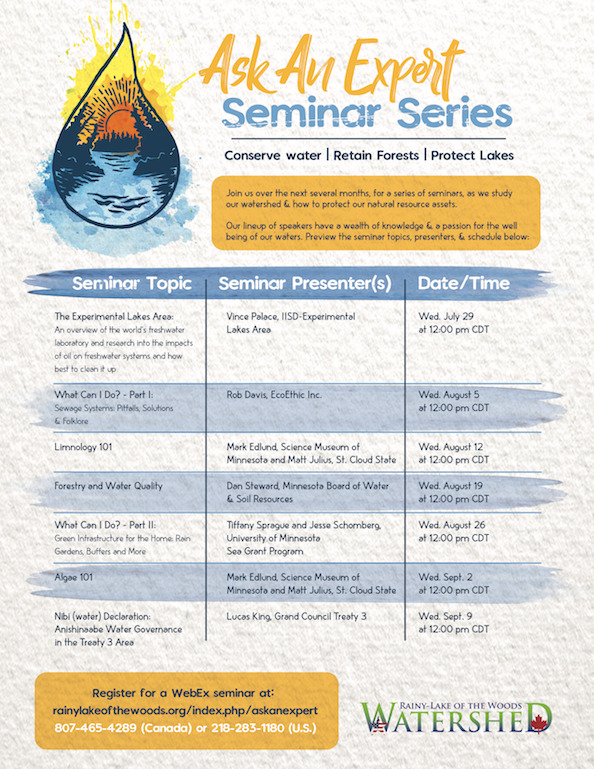 Learn more about the environment, what we can do to protect our water resources, how rain gardens work, algae, lake formation and tips on septic systems in this series. Click here to learn more and see the schedule.
 Artists at Work:
 And finally, a young South Korean potter that we follow on Facebook.
Virtual Music:
 Live Music:
Thursday, July 30:
Sunday, Aug. 2
Monday, Aug. 3:
Jim McGowan, Voyageur Brewing, 5 p.m.
Photographs:
Here is a selection of photographs we found this week:
First, wildlife:
And here are some beauteous landscapes, skyscapces, ponds capes and lakescapes:
And here are some nightcaps:
And finally, this: We're calling them the Lake Superior dolphins. Ann Ward and Alisa Berns swim in Lake Superior all year long. Here they are diving into the Big Lake from a rocky island.
Have a great weekend, everyone!