Carryin' On  — it's what's happening in Grand Marais right now.
Grand Marais artist Tom McCann, for example, is painting a series of postcards about his favorite place, Quetico Provincial Park in Ontario, just north of the border, a place he can't visit right now. Felter Elise Kyllo is giving felting demonstrations this week at North House Folk School, Maggie Anderson is firing her raku pots in her back yard, John Books is going to have a pop-up sculpture exhibit this weekend, weather permitting, and vegetable garden veterans and vegetable garden newbies are figuring out ways to save their gardens' abundance for those  cold winter days.
These are just a few of the examples of people in Cook County who are doing their best to do their best.
Covid continues to stalk the land. Cook County now has 5 confirmed cases of the disease. And rules and regulations continue to change and evolve. For the latest news and information, click here.
Meanwhile, we prevail. Here is what's happening this week:
First up is Felter Elise Kyllo, Artisan-in-Development resident at North House Folk School and an instructor there, will be demonstrating her craft this week via a Facebook Lunch and Learn video at noon on Thursday, and on campus from 10 a.m. to 4 p.m. Thursday through Saturday. Kyllo makes delightful felted animals and other wonders.
To watch and participate in the Lunch and Learn session, click here. Note; These sessions are recorded and can be viewed at any time. For example, basketmaker Emily Derke's presentation last week is online, as are the other noon events.
Also, the good ship The Hjordis is sailing out of North House this month as well, offering 1-hour family tours.
Painter and printmaker Andy Ness is the Instagram Takeover Artist for the Grand Marais Art Colony on Thursday and Friday. He is an Art Colony instructor and a regular in the Print Studio. He has a BFA from Pratt Institute and his MFA from Rhode Island School of Design. His work has been shown both nationally and internationally and he has been a guest artist and teacher at many schools across the country. He currently splits his time between Minneapolis and Grand Marais.
These are very fluid presentations and include live videos and still shots. You can watch it here. Also, previous Instagram Takeover Artists can be viewed here as well.
The Arrowhead Regional Arts Council has put out a call for artists from the region to participate in Zoom Forums to plan for and suggest ideas for ARAC grant development and offerings for the next year. The forums will be held Thursday, Aug. 13 at 4 p.m. and Monday, Aug. 17 at 5 p.m.
ARAC writes: "The Coronavirus pandemic has been devastating for the artistic community. At ARAC, we understood and shifted to create four new funding programs to help individual artists and arts organizations get through the early parts of the shutdown and pandemic. We were able to make 117 grants for just a little over $146,000. Most of those grants we responded to in days or weeks rather than the usual timeline of about two to three months.
We also kept almost all of our existing programs and funded 130 grants for $455,959 in non-COVID related grants in the fiscal year that ended June 30, 2020." Now, however, ARAC is in a holding pattern. It is unclear at this time what exactly the funding will be this year. It's expected that there could be at least a 15 percent (perhaps more) cut in funding, and the money will be transferred at a slower rate than a typical year.
ARAC would like artists to consider these questions for the Zoom forums::
"Would you like us to continue those "Emergency Working Artist Grants" for $2,000 for this year, or would you like us to return to our normal Individual Artist Project Grants that we normally offer twice a year? (Those grants are for up to $4,000.) Or should we do a round of the smaller grants this fall and return to "normal" in the spring?"
For organizations:
Since so many projects have had to be delayed for a year, possibly more, should we shift some of our organizational funding to our Operating Support program and increase the size of grants there or keep that at about the same size and get back to offering project grants, even if that money may not be able to be spent for six-to-12 months?
For artists and/or organizations
We've also received a grant to do technical assistance for artists. What kind of help do you need as an artist now, either as individuals or as organizations?
To. participate in the Zoom meetings, send a request to info@aracouncil.org and tell us which session you'd like to attend. You can also email your thoughts to Drew Digby, ARAC executive director at digby@aracouncil.org
On Saturday, there are two outdoor markets scheduled for downtown Grand Marais, weather permitting: The Cook County Market, held in The Hub's parking lot from 9 a.m. to 1 p.m., and the Maker's Market, which is held beside the Beaver House Thursdays through Sundays.
On Sunday,  the Woods, Winds, Strings & A Little Jazz concert, which is an annual  fundraiser for the Gunflint Trail Volunteer Fire Department, will be held virtually this year. This year's concert will be a short, happy performance at 4 p.m. on Aug, 16, preceding the kayak and quilt raffle drawings.
Many of the concert's favorite local and regional performers, new and returning, will be involved. A GoFundMe page has been set up for donations.  To find details about about the concert and making donations to the GTFD click here.   The goal is to raise $3,000.  Here is the Zoom connection.
Galleries:
The Johnson Heritage Post continues its exhibit of poster and prints by George Morrison and Marcia Cushmore. The featured artist this month is Thunder Bay watercolorist, Evelyn Konrad.
The Heritage Post also features a large gift shop with works by local artists. It is open from 1-4 p.m. Fridays and 10 a.m. to 2 p.m. Saturday.  Covid protocols are in place, including a mask requirement, hand sanitizing stations and social distancing. All welcome. Free.
The Grand Marais Art Colony is featuring "Upscale," an exhibit composed of pieces created from its (mostly) obsolete summer catalog. The exhibit is in the windows of its new building at 17 W. Highway 61.
Sivertson Gallery has new work by Duluth painter Adam Swanson.
John Books will have a sculpture exhibit in the Leng's backyard, weather permitting. this weekend. The Leng's house is located right across the street from the Grand Marais Art Colony.
The outdoor pop-up exhibit includes bronze and wood sculptures and is entitled "The Wreck of Time." The exhibit will be open from 11 a.m. to 4 p.m .Saturday and Sunday. Masks and social distancing required. All welcome. Free.
The Plein Air Grand Marais competition and exhibit, which will largely be a virtual show this year, has developed a web page to display works by artists who are painting in place. The online shop, which is updated daily, and will be through the start of the show in September, features what artists have painted so far.  Here's a painting by Mary Ann Davis called Clouds of Summer.
To see the paintings currently in the shop and to check often, click here.
In a related post, Kathie Wheeler, who is the juror for the Grand Marais Plein Air this year, is offering a class entitled "The Poetry of Plein Air" through the Grand Marais Art Colony Sept. 18-19.
To find out more and to register, click here.
 Upcoming:
WTIP's annual Radio Waves Music Festival will be virtual this year.  It will be a one-day, on-air, live music event from 9 a.m. to 10 p.m. on Saturday, Sept. 12. There's quite a line-up of great music. To find out more, click here.
North House Folk School's "Unplugged 2020″ will also be virtual this year as well. The concert will be held starting at 6 p.m. on Saturday, Sept. 19.
Starting at 6 p.m.Grand Marais-based Plucked Up String Band will play, followed at 6:30 with Beth Dooley showing how to mix a signature cocktail for the evening. Later,  Robin Wall Kimmerer, author of Braiding Sweetgrass, will be the featured presentation, which will be followed by a live auction and fund-a-need opportunities. Then, at 7:15  p.m. Grammy-nominated singer-songwriter Eliza Gilkyson will take the stage for our featured concert.
For more information and ticket packages, click here.
Artists at Work:
Fun Stuff To Listen To, Read or Watch:
First, opera. Here are scenes from productions of the Lyric Opera of the North. This was originally streamed on Facebook, but you can still watch it. It's great. Enjoy!
Here's a fascinating article about Lawren Harris, the ringleader of Canada's Group of Seven. The article was written by Jason McBride and is entitled "The Mystic."
 Here's the link to the article:
Virtual Music:
:
  Live Music:
Thursday, Aug. 13:
Joe Paulik, Music on the Beach, Lutsen Resort, 7 p.m.
Gordon Thorne & Friends, North Shore Winery, reservations here or call 218-481-9280.
Saturday, Aug. 15:
Bump Blomberg, Cook County Market, 1o:30 a.m. to 1 p.m.
Gordon Thorne, Music on the Beach, Lutsen Resort, 7 p.m.
Sunday, Aug. 16:
Billy Johnson, Weekend Wine Down, North Shore Winery,3-6 p.m.  Reservations here or call 218-481-9280.
Bug Dope with Rod Dockan and Al Oikari, Music by the Lake, Skyport Lodge on Devil Track Lake, 4-7 p.m.
Gunflint Woods, Winds, Strings & a Little Jazz Virtual Concert, 4 p.m. via Zoom. For details, click here. 
Photographs:
We found some great shots this week. Here is a selection: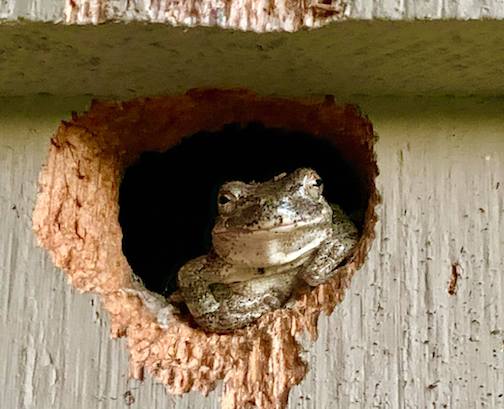 Just hanging out in an old woodpecker hole by Mike Ettore
Here is a series of photos Paul Sundberg took about raising a brood of Cedar Waxwings.
A few flowers:
Beauty: Landscapes, waterscapes, skyscapes:
Carryin' On:
Have a great weekend, everyone!