We read somewhere that orange was the color of happiness, and if that's the case, the North Shore is having a big party these days. The woods are alive with every shade, but orange is the queen and red her most raucous attendant. So yes, we're at peak fall color and happy about it.
This is also the week that we celebrate the arts and artists on the North Shore with the annual Art Along the Lake Fall Studio Tour. Covid-19 has changed how the tour has been organized. In past years, the tour has included home studios as well as galleries with guest artists all along Hwy 61 in Cook County. This year, some of the tour stops may not be open to the public due to the pandemic, but their work is available online.
This makes for a new and unusual art experience. Art lovers can get it both ways — in-person for some places, virtual-browse-at-your-own-pace in others. There are 21 galleries and studios participating in the tour this year, running along Highway 61 and up the Gunflint Trail.
Stops include home studios as well as galleries with guest artists. Some of the tour stops may not be open to the public due to the COVID-19 pandemic. All locations open to the public will be open from 10 a.m. to 5 p.m. daily for the duration of the tour.  Masks are required and some studios may limit occupancy.
Starting at the county line with Lake County, here are links and info about the studio tour: Note: The web pages will be live on Friday, Sept. 25.
Mary Jane Huggins, Tall Tale Shop, 19 Music Row, Tofte, open, with guest artists Julie Arthur, fiber, and Marcie McIntire, beadwork.
Greg Mueller | Mueller Studio, 17 Railroad Drive, Lutsen, online only..
Steve Hahn | Jeweler of the North Shore/JNS Gallery, is open during the tour.
Kari Vick | Kari Vick, Ink, featuring her paintings and prints, is closed for the tour. Online participation only. Click the link to see her work.
Maggie Anderson | Clay Phoenix Ceramics, 4690 Cascade Beach Road in Lutsen. Guest artists Mary Bebie, fused glass, Rebecca Wicklund, jewelry, Beth Wicklund, letter press.
Kathy Fox Weinberg | KFox Studio, online only this year. Click the link to see her work, Guest artist is Kat Gabrielsen, jewelry.
 Sharon & Steve Frykman | Art of the Elements gallery is online this year. The location is closed. Guest artists are Natalie Sobanja, Clay; Brittany Foster, Jewelry; Paul Bondhus, Stone; Bryan Hansel, Photography; Lara Hollway, Clay.
Mary Reichert | Otlak Felt Studio, online only this year. Locatin closed. Click link to learn more.
Jim Sannerud | J. Sannerud Studios, is online only, this year. Sannerud is a designer and maker of furniture, turned treenware and sculpture. Guest artist is Mike Loeffler, Woodenware.
 North House Folk School is open for the tour, featuring craft demonstrations as well as tours on the Hjordis.
The Grand Marais Art Colony's new space, at 21 Highway 61, Grand Marais is open for the tour.  Featured artists are Nan Onkka, Printmaking; Andy Ness, Painting & Drawing. The exhibit in the Art Colony's new space also includes work by instructors and studio artists.
Betsy Bowen | Betsy Bowen Studio at 301 W. 1st St., is open during the tour. Guest artists include Elise Kyllo/Works in Wool, Hand Felted Whimsy and Craft; Christine Novotny, Weaving; Melissa Wickwire/Wickwire Clay Works, Custom Hand Made Tiles and More; Maxene Linihan, Freeform Woven Paper Collage.
Yellow Bird Fine Art, 101 West Highway 61, Grand Marais is open during the tour. Guest artists are  Kenneth Albrecht, Jewelry; Quay Flom, Jewelry; Deborah Spear, Stone Carving.
Upstate MN, 16 1st Ave. W.  is open featuring contemporary items created by smaller makers, designers, and artists from Minnesota and beyond.
The Big Lake, 21 1st Ave. W., is an approachable art gallery and gift shop that reflects the unique beauty and culture of the North Shore of Lake Superior.
Sivertson Gallery, 14 W. Wisconsin St., is celebrating its 40th anniversary of bringing Art of the North to the community.
Nancy Hemstad Seaton, 318 South Hungry Jack Road, Gunflint Trail, featuring fused glasswork.  The studio is open during the tour. David Seaton, Seaton Guitars, will also be showing his handmade guitars.  Guest artist is Joan Farnam, pottery.
 Hannah Palma Laky | Hannah Palma Ceramics. Online participant only.  Click on the link to learn more.
Jo Wood | Jo Wood Bead Art, online participant only. Click on the link to learn more. Guest Artist: Jacob Carr, Woodwork.
Neil Sherman, Plein air painter, 4194 County Road 69, Hovland.
Dan & Lee Ross, online participation only. Location closed for the tour. Click on link for more info. The artists work in stone, clay, glass & mono-prints. This year features collage work and stone and clay sculptures. On view on their website.
\Lou Pignolet | Lou Pignolet Bowls, 20 Tamarack Trail, Hovland, will be open for the tour. Pignolet makes bark-edged bowls, handmade on a lathe from local wood, and will be displaying bowls and showing how they are made. Click on the link for more.
The Art Along the Lake Fall Studio Tour opens on Friday, Sept. 25 and runs through Oct. 4. Enjoy the double experience of this online/in-person art tour this year!
In other community events, the Cook County Market opens at 9 a.m. on Saturday, Sept. 25, in The Hub parking lot featuring work by local artists. The market runs until 1 p.m.
The North Shore Winery will hold a plein air event on Saturday, weather permitting, featuring artist Savanna Corliss. For reservations, visit https://www.exploretock.com/northshorewineryor call at (218) 481-9280. The event starts at 3 p.m.
Exhibits:
Grand Marais Plein Air has opened at the Johnson Heritage Post featuring a great selection of work created by artists who painted in the county for a week. There is an online component of the exhibit as well. Check it out here.  The Heritage Post is open on Fridays from 1-4 p.m. and Saturdays from 10 a.m. to 2 p.m. Covid protocols are in place.
Plein air painter Neil Sherman recently gave a great live t0ur of the show. Click here to see.
 Live Music this week:
Thursday, Sept. 24:
Saturday, Sept. 26:
Bump Blomberg, Cook County Market, The Hub parking lot, 10:30 a.m. to 1 p..
Sunday, Sept. 27
Photographs:
Here's an interesting story. Paul Sundberg and David Johnson were out in the woods calling moose. They got a bull to respond, but they also called in a big wolf pack.
Here's a shot of the wolf pack that responded.
To see all the photographs and read about Sundberg's experience, click here.
Other wildlife photographs we found this week:
And for a little humor:
'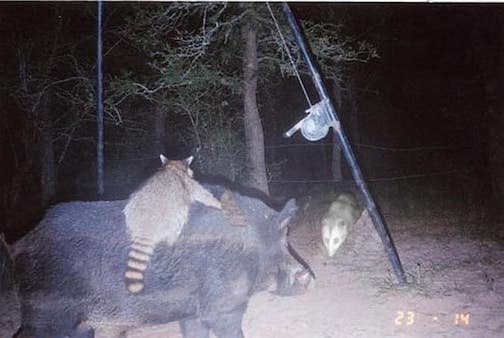 Why is the media not covering the fact that raccoons are breaking wild hogs and riding them into battle against the opossums? By Carol Dal Porto.
And here are a few plant/vegetable shots:
And some beautiful landscapes, skyscapes.. without orange.'
And now, for the oranges and reds of a spectacular fall.
Have a great weekend, everyone! And stay safe.