Greetings! and welcome to the first snows of winter that have kissed the land. Expected and unexpected, one might say.
Just to do a brief weather history — at this time last year, Thomas Spence recorded this:
And here is what it looked like in Duluth two years ago this week.
So, yes, we don't expect 70 degrees for Moose Madness Weekend here in Grand Marais. Covid-19 has made the event even more complicated this year, but, as always, the "Moosey spirit" continues with special activities for families, both in-person and online, throughout the community.
For avid fans, the Moose Medallion Hunt is on! Sponsored by the Grand Marais State Bank, the medallion will be secreted somewhere in downtown Grand Marais and clues will be posted online, instead of being  picked up at the Visit Cook County headquarters. Moose Central (the Visit Cook County headquarters) will be closed this weekend to protect the health and safety of participants. However, clues are still in play and can be found in two places: the VisitCookCounty web page and the VisitCookCounty Facebook page. The clues will be released at 9 a.m., 12 p.m. and 3 p.m. on Friday and will continue to be released throughout the weekend until the medallion is found.  Good luck to everyone! A cash prize of $100 goes to the winner.
North House Folk School will be open and will feature a number of drop-in classes  and activities for families as well as "take-out" craft projects and online projects. Craftspeople will also be demonstrating this weekend.
North House is also organizing a Moose Madness Family Instagram Challenge to create a moose with almost anything and then post a photo on its Instagram page. A random drawing will award prizes and gift certificates to the winners. For more information about the weekend at North House, click here.  Other weekend events include surprise bags for kids at the Cook County Coop and an art supply sale under the orange tent at Joy & Co., to list a few.
Also this weekend, weather permitting, the 2nd annual Grand Marais Apple Festival will be held on Saturday from 10 a.m. to 5 p.m., featuring apple picking at four orchards, cider-making at Great Expectations School, caramel apple demos and sale at the Gunflint Mercantile and an Apple Farm Stand and winter vegetable sale in the parking lot of the Cook County Community Center in the afternoon.
For more information about the Apple Festival and all the activities planned for this weekend, click here.
Art is alive and well on the North Shore, as we all know, and this weekend, the Johnson Heritage Post celebrates that with an exhibit by Grand Marais photographer David R. Johnson. The exhibit is entitled "Cook County Through My Eyes: Vol. II."
The exhibit features a great selection of David Johnson's photographs taken in all seasons. The Heritage Post is open from 1-4 p.m. on Fridays and 10 a.m. to 2 p.m. on Saturdays, with Covid protocols in place including masking, hand sanitizing and social distancing. You may also schedule a viewing of the exhibit here.
Also on Saturday, the two craft markets in town, the Cook County Market and the Maker's Market, will be open, weather permitting. The Cook County Market is held in the parking lot of The Hub and is open from 10 a.m. to 2 p.m. The Maker's Market is located next to the Beaver House and is open Thursday through Sundays.
In Duluth, the Duluth Art Institute, located in The Depot in downtown Duluth, presents two new exhibits this weekend.' "Reflections," two large-scale wearings by Kristen Kaas. The pieces are located in the Depot entrance.
The Art Institute is also featuring a temporary installation of artwork for sale. Instead of waiting for an exhibit to end, art lovers can bring their choices home right away, making for a lively and changing exhibit. Artists currently represented include: Shaun Chosa, Michael Dahmen, Sue Rauschenfels, Alyssa Swanson, and Blair Treuer.
The Tweed Museum of Art on the UMD campus is currently closed to the public, but it posts artwork regularly on its Facebook page.
Artists at Work:
Here's a selection of pieces we found this week:
 Opportunities:
Applications for the The Arrowhead Regional Arts Council's $2,000 Emergency Working Artist Grant are currently open. The deadline to apply is Oct. 30. The grant provides $2,000 for working artists to do a work of art in the next six months and sustain themselves during the COVID-19 crisis. For more information and to apply, click here. 
The Grand Marais Art Colony is offering an opportunity for artists to have their work photographed by Jess Oullis Smith, a professional photographer.  Art Colony members can schedule a session for Nov. 17. Cost is $55. For more information and to register, click here.
The Art Colony is also offering a number of virtual classes and workshops. To find out more, click here.
Virtual Music:
Michael Lipton of The Carpenter Ants will be interviewed on WTIP's The Roadhouse on Friday. The Carpenter Ants have a new album out, "Tearin'  Down the House."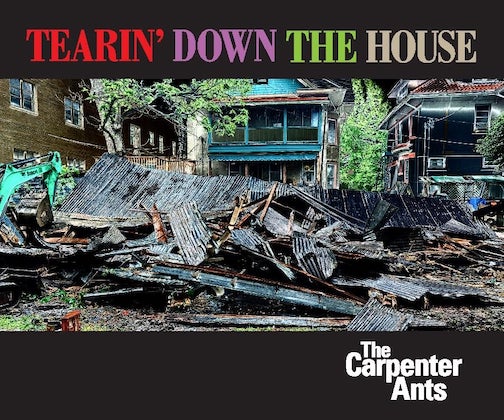 Lipton will talk what it was like making an album during the pandemic and play a few cuts from the new work.
The Roadhouse airs from 5-7 p.m, with the featured musician usually starting about 6:20 p.m.
And here's some more gospel we found this week– The Eagle Rock Singers.
 Live Music:
Thursday, Oct. 15:
Eric Frost, Date Night at the Winery, 6 p.m., Reservations required. Reservations are required. Reserve here  or call at (218) 481-9280.
Friday Oct. 16:
Michael Monroe, Log Cabin Concert, rural Grand Marais, visit www.michaelmonroemusic.com for more info.
Saturday, Oct, 17:
Boyd Bump Blomberg, Cook County Market, 10:30 a.m., weather permitting.
Photographs:
Here's a collection of photographs we found this week.
First, let's start with flowers and leaves.
And this wildlife explanation. It's a Facebook link. Hope you can see it.
From the air:
And landscapes, skyscapes, treescapes, waterscapes and more:
Have a great weekend, everyone! Stay safe.